Pusher
User Type: Company Profile / Owner In this doc you'll find out how to connect […]
User Type: Company Profile / Owner
In this doc you'll find out how to connect one of supported WorkDo apps to Pusher.
Editing Pusher Settings
To access the settings panel, log into your super admin AccountGo account.
Then, head over to Settings > Pusher Settings and fill in the Pusher App ID, App Key, App Secret, and App Cluster.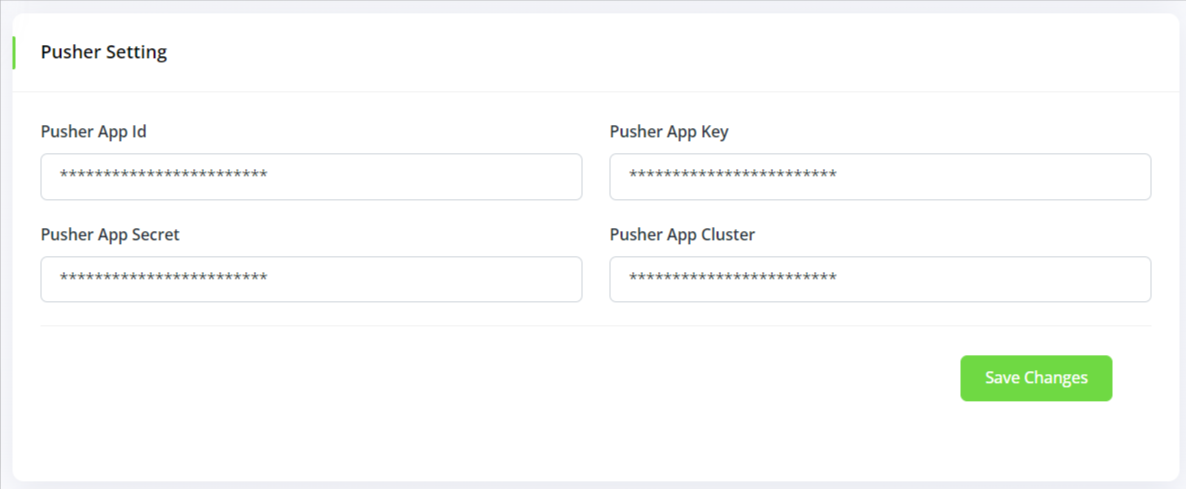 Getting Your Pusher Credentials:
Head over to https://pusher.com/channels and log into your Pusher account.
Select "Channels" and click "Create app". Next, enter your app's name and select your geography in the cluster option.
Next, select JQuery in the frontend and Laravel in the backend windows:

Once the app is created, select apps > "my channels" > select "App keys". There, you'll find the API key and other information required for configuring the API in your platform.
Need more
help

?

Are you still confused or seeking specific professional help? Contact us anytime via email or submit a ticket with a detail of your issue. Our experts are ready to assist you with any query and are available 24/7. You will get a response in no time.
Love
what you see?
If you like how we have established the programs and applications, or do you like the design of the website itself, get such excellent designs for your website or apps too. Please select a plan or offer that best suits your idea, and let us bring your imagination into reality.