AccountGo Budget Planner
User Type: Company Profile / Owner A budget planner allows you to create budgets and […]
User Type: Company Profile / Owner
A budget planner allows you to create budgets and assign them to people or projects. Each budget can be created for a different period: month, quarter, half a year, or a year.
Getting Started
To find this module, log in to the Company/Owner Profile. You'll find Budget Planner in the navigation menu: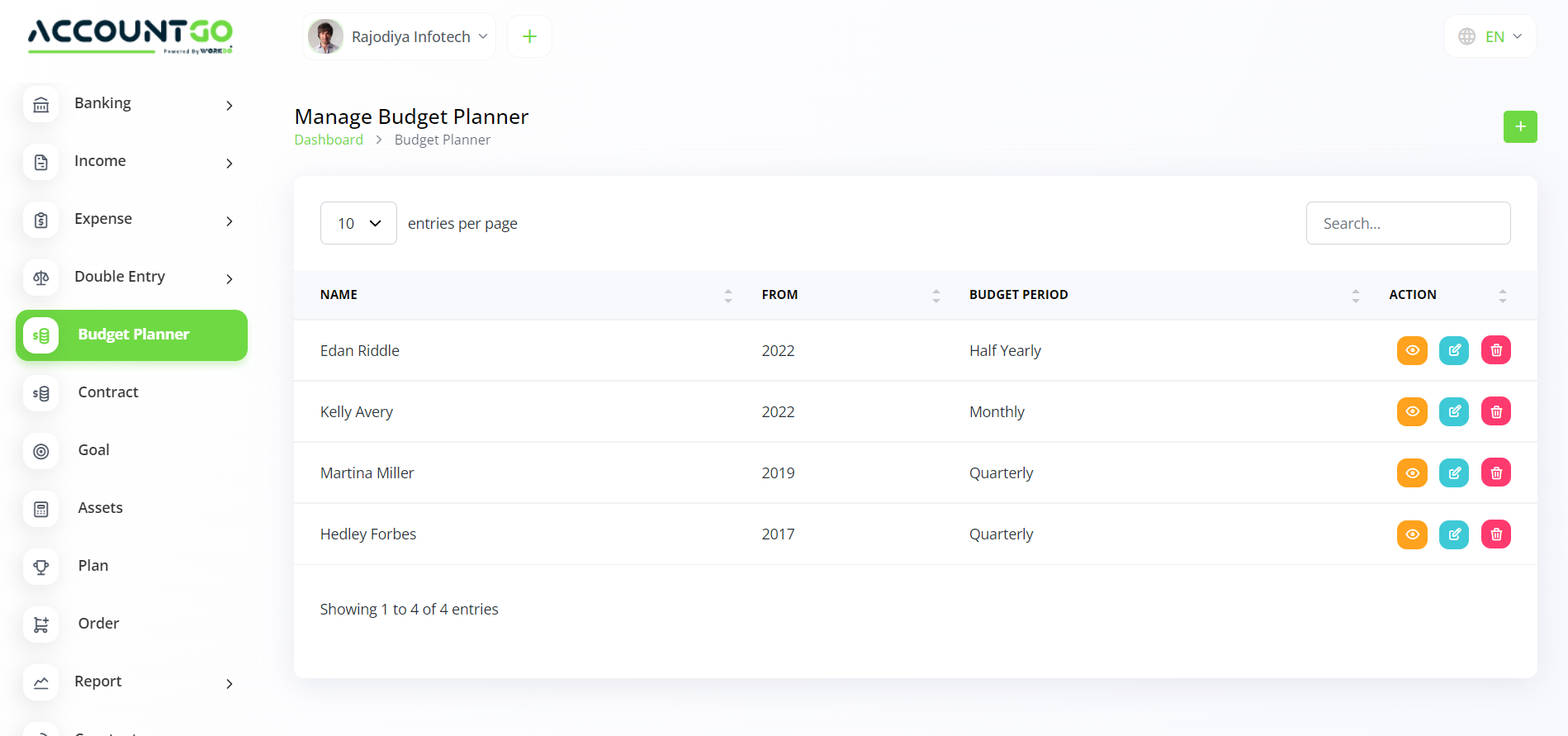 There are four things you can do: create, view, edit or delete a budget. Here's how each of them works.
Creating a Budget
It allows to create a budget by providing a few details:
Name (for example, client or project)
Budget Period (monthly/quarterly/half-yearly/yearly)
Year
You can then add the respective figures for each period for every income and expense category.
For example, you can use (see below example):
Income: maintenance sales, product sales
Expense: rent or lease, travel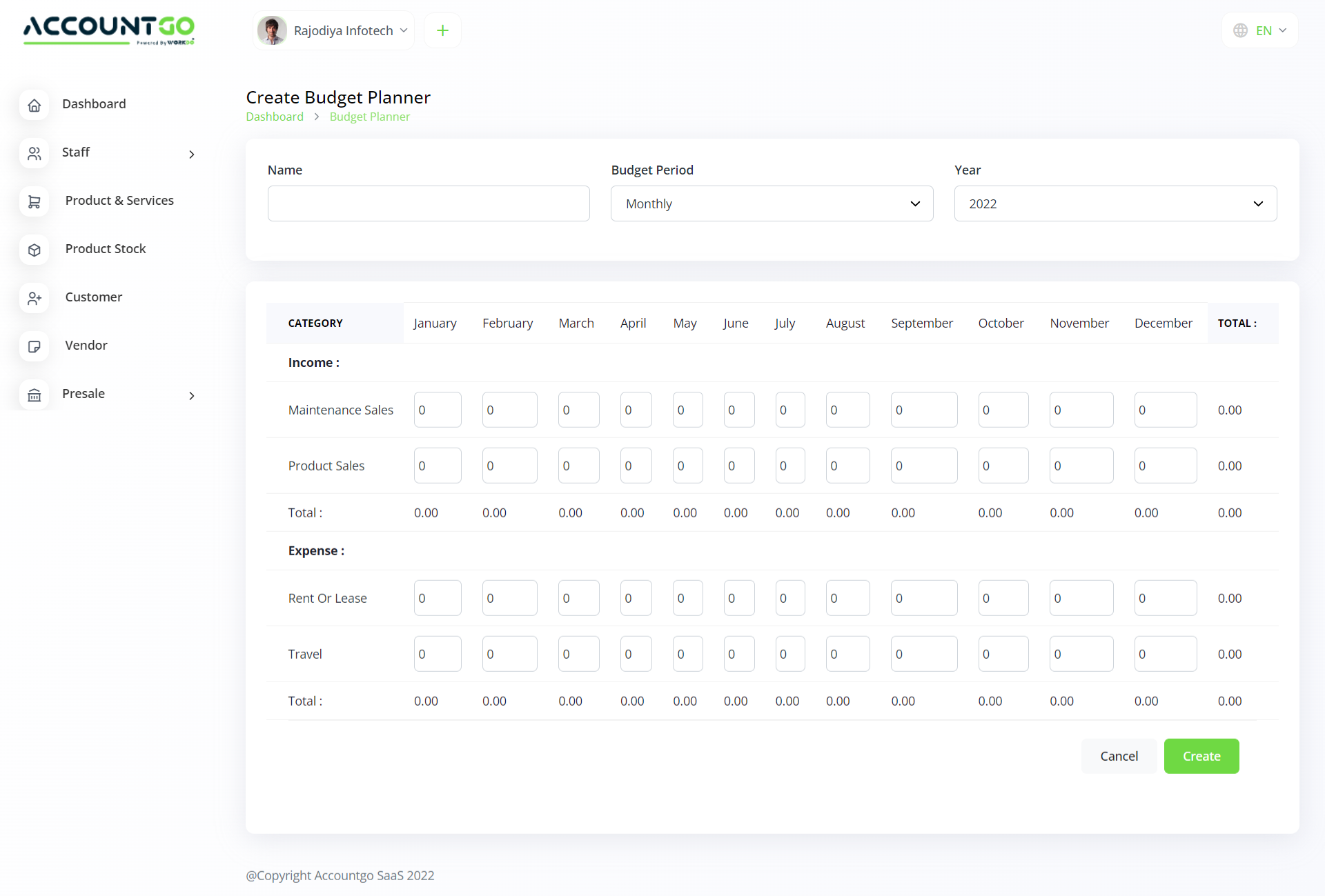 Every budget comes with three options – view, edit, delete (as seen in the first image).
View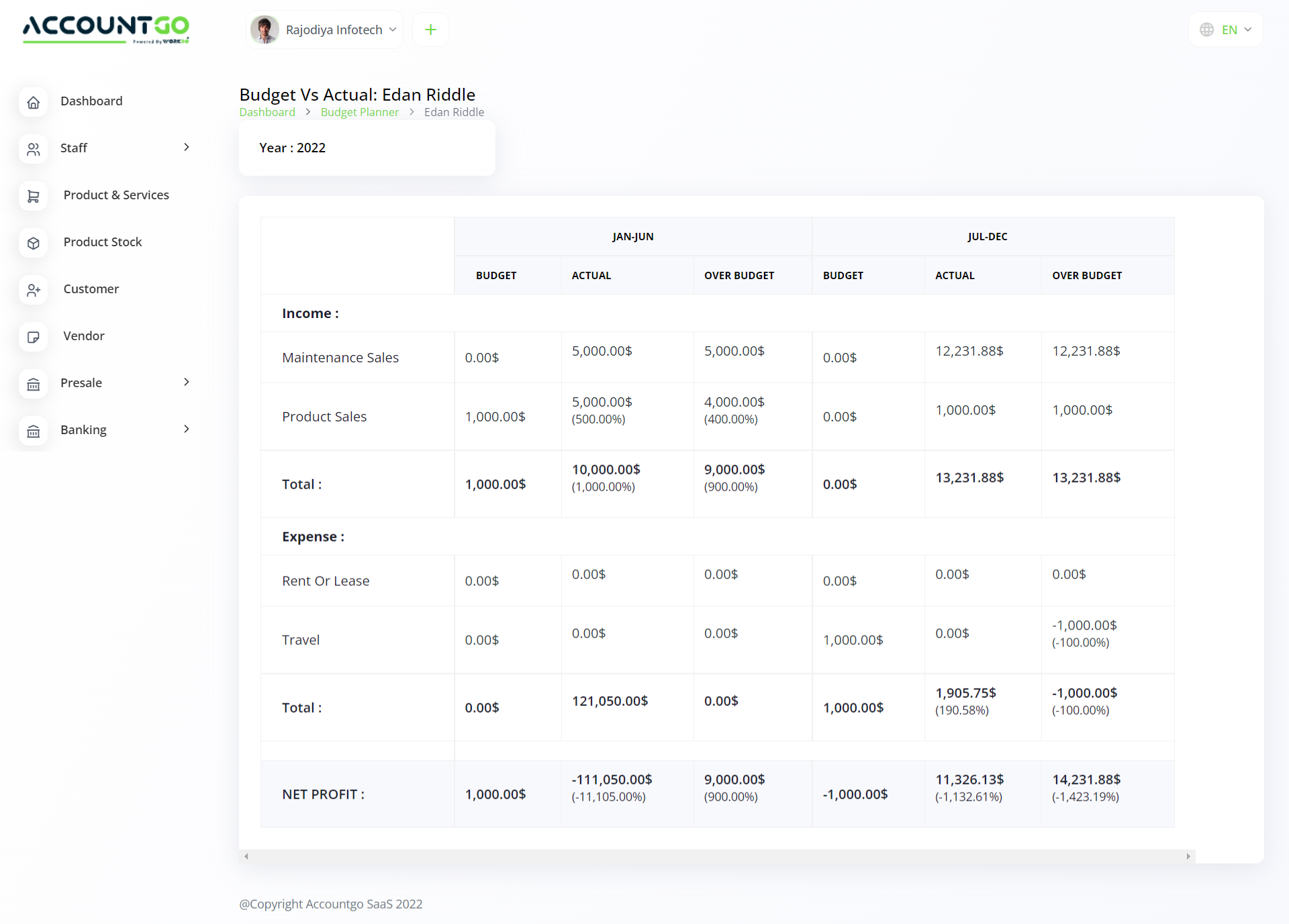 In the view mode, you can see the different categories of each budget with their respective figures (divided by period). The period shown will depend on that of a budget. The figures then get compared with actual figures reported in the system.
Each budget comprises of the following elements:
Time period (Half yearly)
Allocated budget (Budget)
Actual cost (Actual)
Income and its categories
Expense and its categories
Net Profit/Loss figures
Edit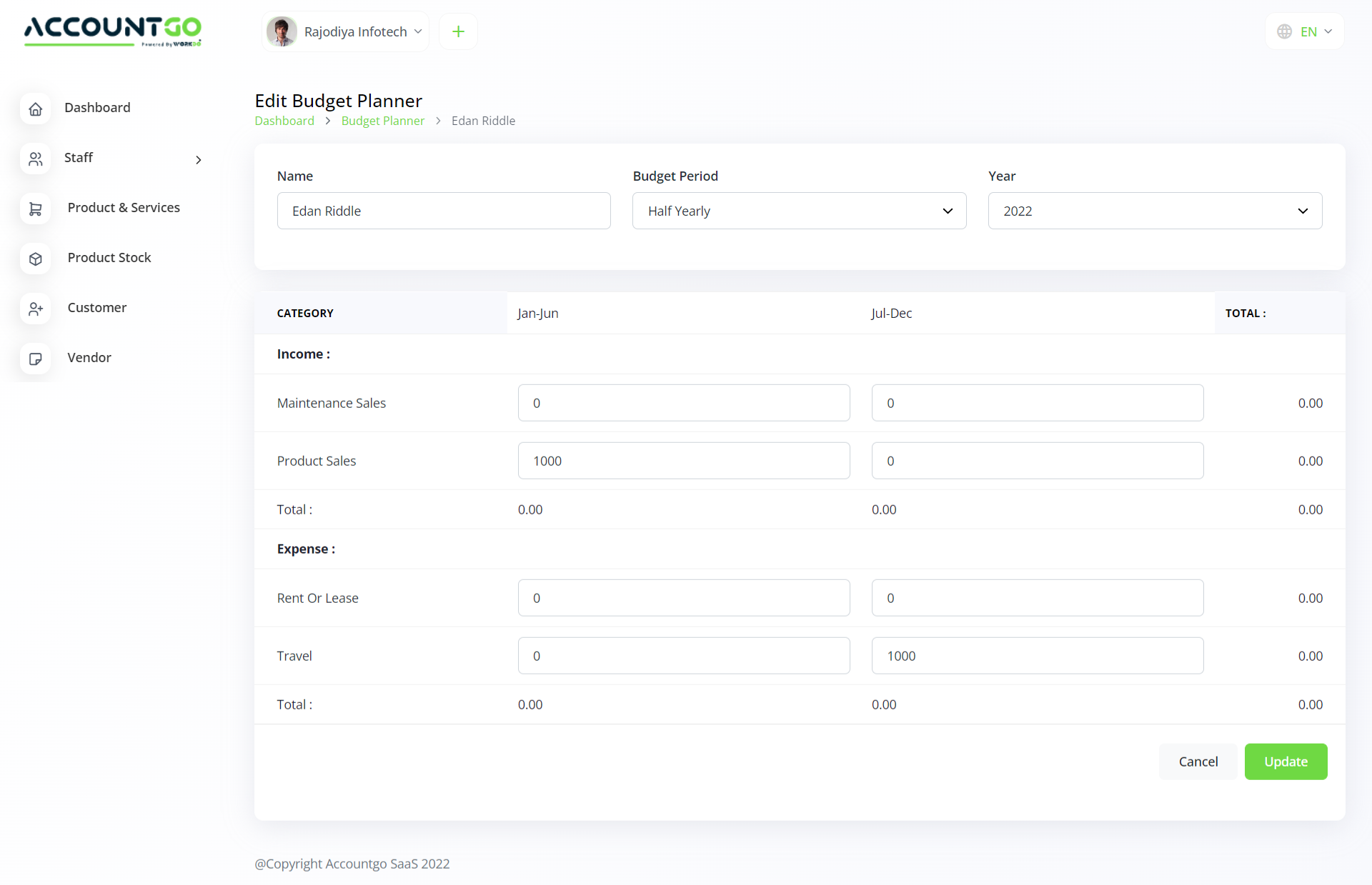 The edit mode allows you to change the following budget details:
Budget name
Budget period (monthly/quarterly/half-yearly/yearly)
Budget year
Income & Expense category names and their respective figures
Delete
This function allows you to delete an entry from the system.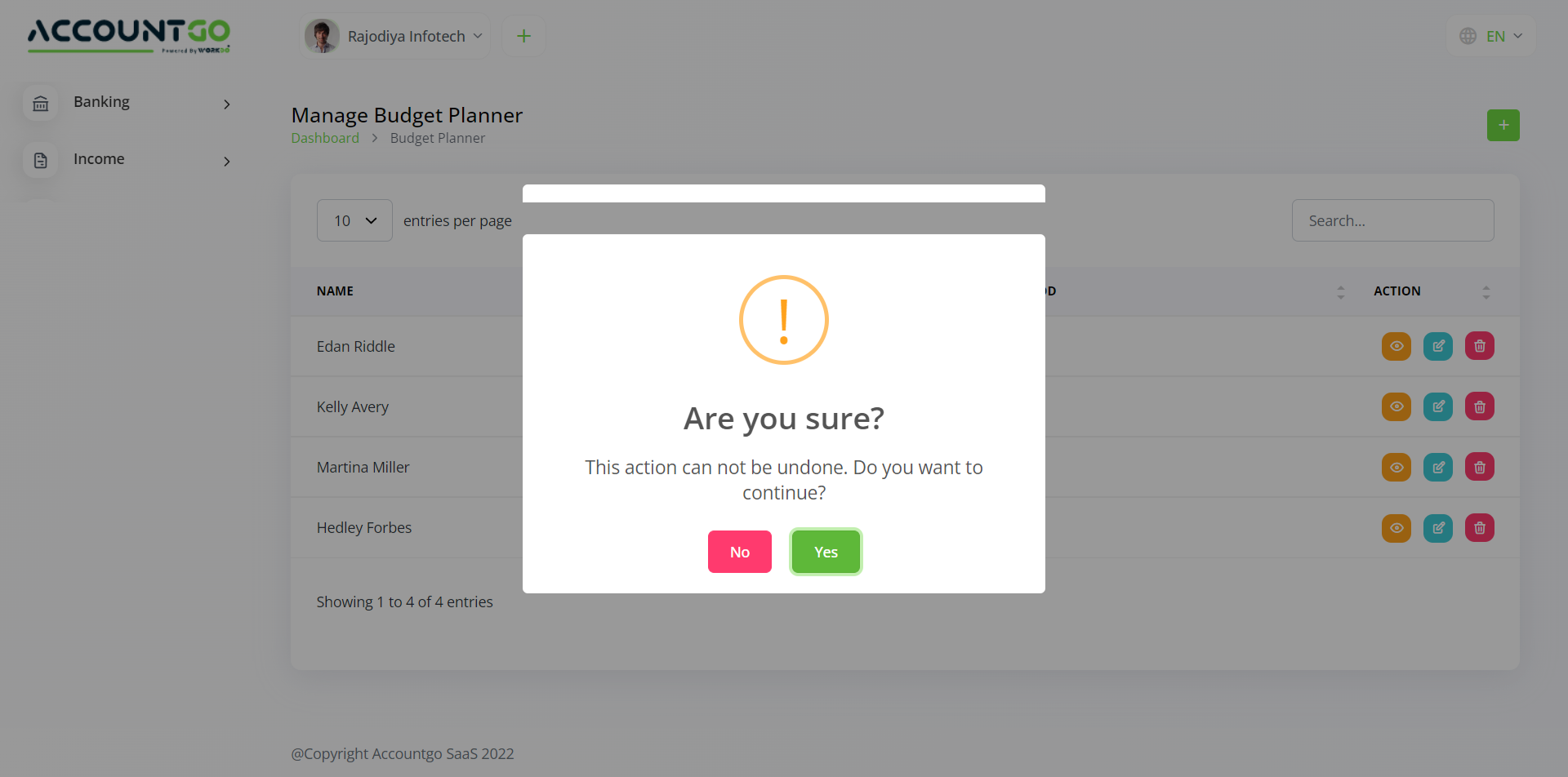 Need more
help

?

Are you still confused or seeking specific professional help? Contact us anytime via email or submit a ticket with a detail of your issue. Our experts are ready to assist you with any query and are available 24/7. You will get a response in no time.
Love
what you see?
If you like how we have established the programs and applications, or do you like the design of the website itself, get such excellent designs for your website or apps too. Please select a plan or offer that best suits your idea, and let us bring your imagination into reality.