Themes That Help
You Sell
We put years of eCommerce experience into every theme. Thanks to that, our themes don't
just look good but give you the features you need to grow your eCommerce business.
Share All Product Details with
Compelling Sales Pages
The Garden theme helps you give every plant the attention it deserves. Give your audience easy access to all the product details, high-quality images, and compelling videos they need. Let them learn as much as they need
before making a purchase and then convince them to take action.
Help Your Audience Find the

Plant They Want
Finding the right plant can be tricky especially with so many different kinds of plants out there. Not to mention the pots or other supplies. Thankfully, with Garden, you give your audience an easy way to browse your offer. Simply categorize your products, add specifications, and let your audience use
dynamic filters to find the one.
Your customers want to feel comfortable when browsing your offer. They want to shop on a fast, intuitive, and secure website.
With Garden, you give your audience the website speed and shopping comfort they deserve. Clear design, intuitive navigation, and are just a few of the things that help Garden create excellent UX.
With the Garden theme, you get a foundation for building a strong brand in the gardening world. Its modern design gives you credibility and helps you build trust. This, in turn, is key to attracting new customers and making them come back for more.
Build a Store Your Audience


Will Buy From

There are many gardening stores. Here's how Garden helps you increase the chance that your audience picks yours.
Product Wishlists
Give your audience a reason to visit you again. With one-click wishlists, your audience can easily save the products they're interested in for later. You can then remind them about those products and get them to come back.
Intuitive Product Filters
Let your audience find the ideal plant or pot with ease. Thanks to intuitive product filters, your audience can sift through hundreds of products with ease. This lets them find the ones they're interested in buying in a matter of seconds.
A Mix of Videos & Images
Engage your audience with a mix of product images and videos. Help your customers choose what they want to see and let them get to know all the details they need before they make a purchase.
Plug & Play Product Pages
Use the built-in dashboard to easily add creatives and develop high-converting product pages. Take advantage of the premade, conversion-optimized product page layout to skyrocket your sales.
Mobile-Friendly Design
Give your audience an opportunity to shop on any modern mobile device, no matter where they are. When designing Garden, we put extra effort into creating and optimizing its mobile shopping experience.
Speed-Optimized Code
A fast eCommerce theme is the foundation of a high-converting store. With Garden, you get a theme that was carefully optimized for speed right during its design and development process.
Secure Theme Architecture
As an experienced eCommerce development team, we understand the importance of security. That's why we carefully test each theme that we release, and provide regular security updates to all our products.
Build a Gardening

Brand

See the different design variations of the Garden theme.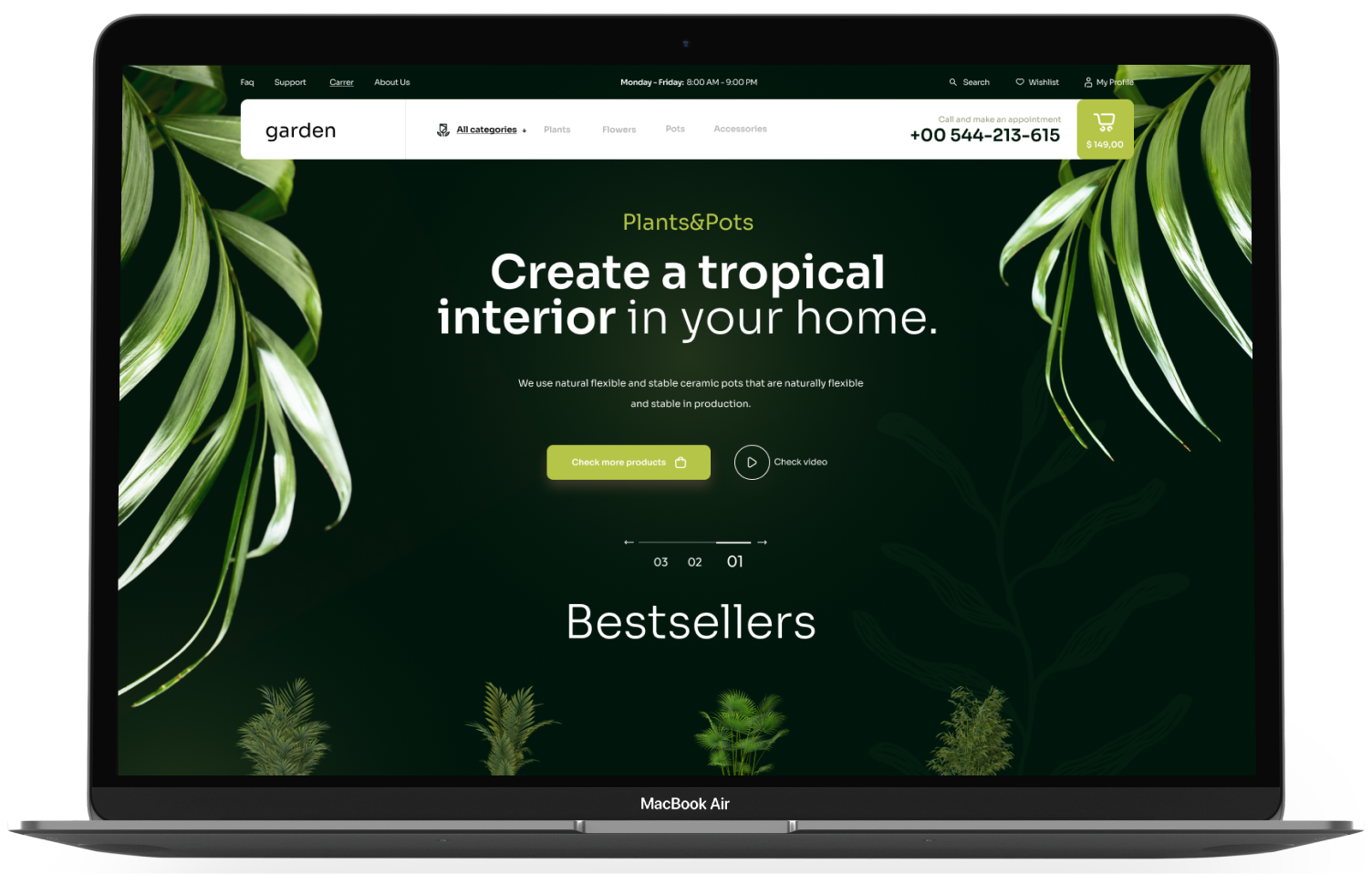 Developed

by an Experienced
eCommerce Team

Garden was developed by a team with years of experience in eCommerce sales and development.
Ready to Sell
Getting the Garden theme is the simplest way to start selling gardening products. It offers you all the features you need to start and build a profitable online store. Simply install the theme, customize it, and add products to start selling!
Optimized for Conversion
Never sold a product online? No problem! Garden comes with built-in, high-converting product page layouts you can use to give your sales a boost. Simply fill in all the product information, add creatives, and watch new orders rolling in.
Focused on One Niche
We built Garden with one goal in mind - to help you sell more products in the gardening niche. By getting a theme focused on one particular industry, you can create a brand that stands out and that's recognizable by your audience.
Compatible with Third-Party Apps
Whether you pick Shopify, Opencart, or WordPress, each platform offers dozens of integrations. To help you take advantage of them, we ensured that Garden can integrate with the most popular eCommerce plugins and payment gateways.
Want to Go

Beyond the
Garden Theme ?

Pick a platform and let us create a store that your audience will remember and want to buy from.
A Gardening-Centered Theme
Stand out in your industry with a theme built to sell your products. Garden comes with all the features you need to start growing an online business. Add products, upload creatives, and track sales using a single intuitive dashboard.
Online Store with a Recognizable Brand
The Garden theme is an excellent foundation for a strong gardening brand. But you'll only benefit from it if the quality of your online store is up to par. By getting the eCommerce package, you can leverage years of eCommerce experience from our development team
A Head Start Over Your Competitors
Save weeks if not months and start selling even sooner. Let our team do all the work for you - from store development to theme deployment and customization. Avoid bugs and delays, and get a product that's ready to go live and start selling.
Questions and Answers
Frequently Asked Questions