A Flexible Theme Tailored for
Every Business
Every element has been thoughtfully designed to ensure that your business's essence shines through. From color palettes that echo your brand's personality to layouts that elegantly present your products or services, 'Versatility Redefined' transforms your website into an inviting, immersive experience. Seamlessly transition between styles, elements, and functionalities as your business evolves – all while maintaining a cohesive and compelling online presence.
Jewelry
Diamonds
Engagement rings
Precious gemstones
Elegant adornments
Custom jewelry
Fine craftsmanship
Luxury accessories
Personalized jewelry
Timeless elegance
Exquisite designs
Diamond jewelry
Theme Features
OpenCart 4.0.1.1

Responsive theme

Multi currency

Easy theme setup

Custom Product Tabs

Dummy data provide

default modules redesigned

List/grid product view

Cloud Zoom effect

Carousel displays

Custom top menu feature

Product "Sale" badge

Product Reviews

Stock Countdown

Wishlist Product
Diamond Designed to Help

You Drive Sales
Here's why Diamond is the theme to choose if you want to sell jewelry online.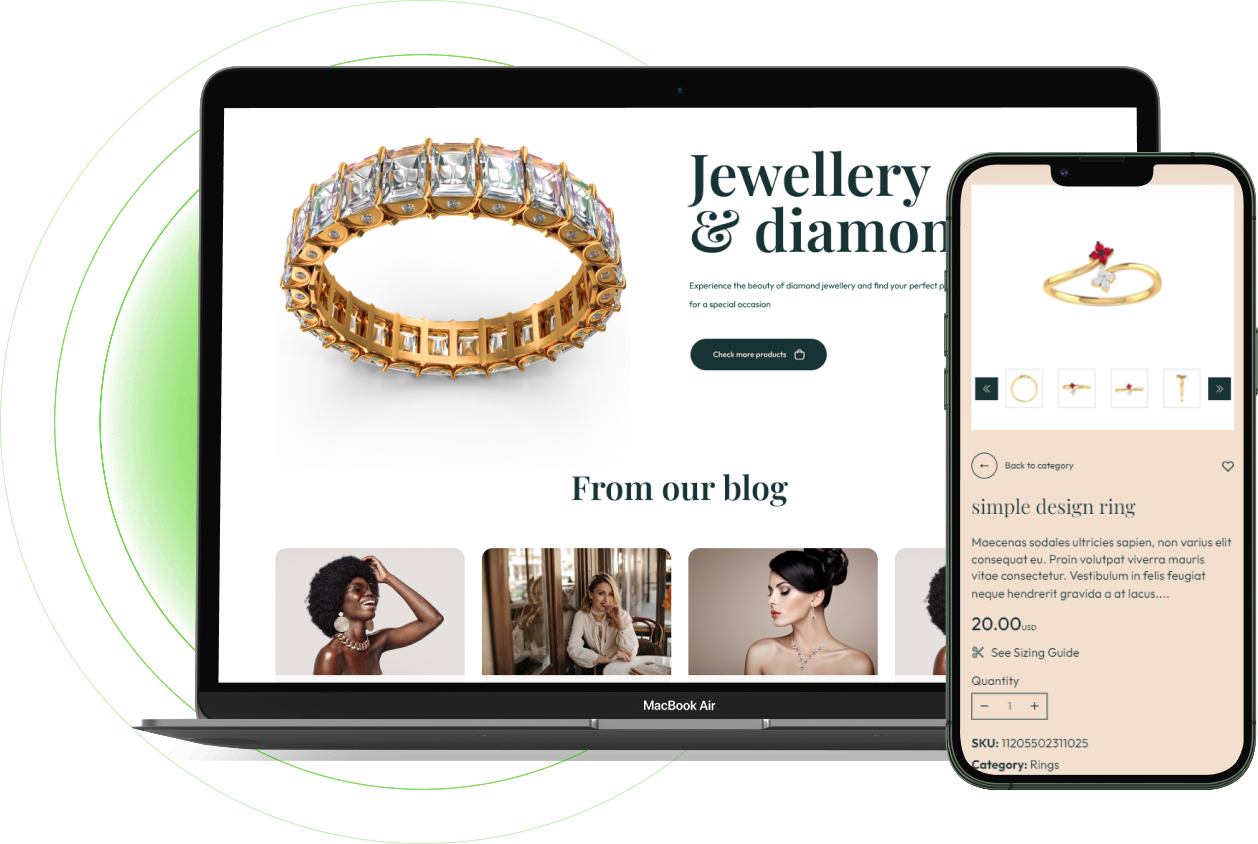 Share All the Key Details
Your Audience Needs
Help your future customers make an informed buying decision.
Use a user-friendly dashboard to upload product images, videos, and add product details.
Follow all that with social proof and leverage high-converting landing pages to skyrocket your sales.
Help Customers Find the Right

Product in a Few Clicks
Take advantage of Diamond's built-in dynamic filtering system to save your customers time.
Let even non-tech-savvy customers search and filter the results with ease.
Help anyone find their desired products in a matter of minutes, not hours!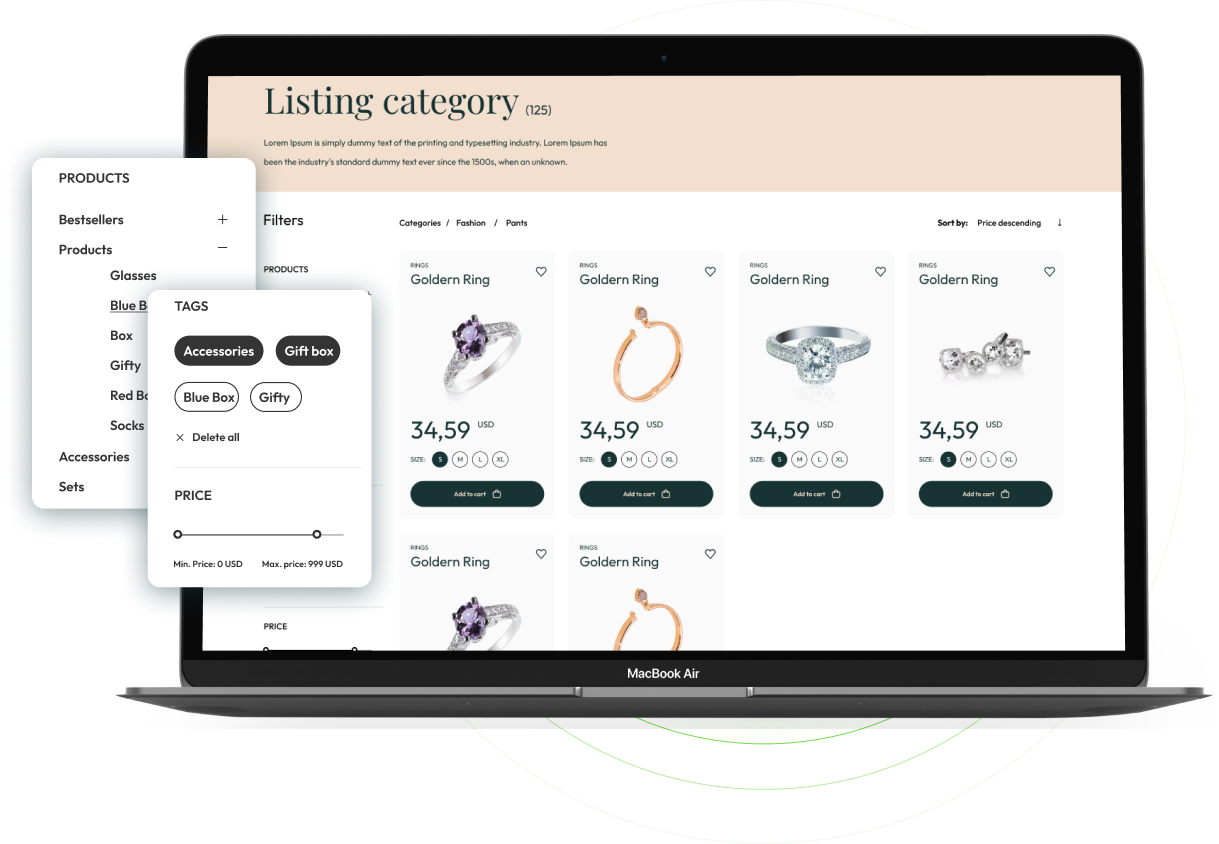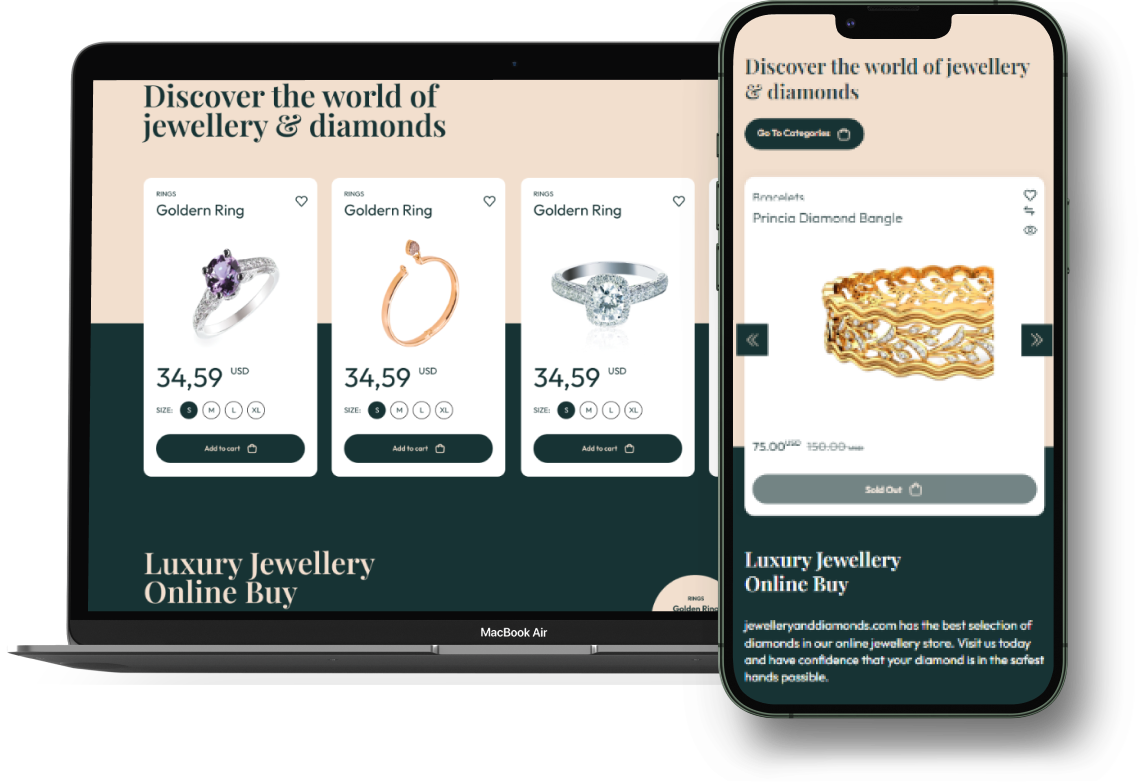 Ensure User Experience Reflects

the Products You're Selling
To succeed at selling jewelry online, you need to offer your audience a top-notch user experience.
Diamond's speed optimization, security, and responsiveness help you offer them exactly that.
Ensure your potential customers enjoy a smooth shopping experience no matter where they are, what device they're using.
With the Diamond theme, you don't just sell jewelry. You help your audience find the right product, learn all they need to make an informed decision, and then encourage them to take action. And, once they're happy with the purchase - you watch them come back for more.
How Diamond

Helps You
Sell Jewelry

The jewelry industry is lucrative but competitive. Here's how the theme helps encourage your customers to pick your store.
Easy-to-Use Wishlists
Thanks to Diamond's intuitive wishlists, you can build stronger relationships with your audience. Let your audience pick the products they want to save for later and then use that information to remind them to come back.
Advanced Search & Filtering
Looking for the perfect ring, bracelet, or band just got easier. Thanks to the intuitive search & filtering system, your customers can narrow down search results. Help them find the ideal match for their needs in no more than a few clicks.
Marketing Product Videos
Today, videos are one of the most powerful marketing tools. With Diamond, you can easily add them right inside product galleries. Showcase your products, share all the key details, and skyrocket your conversion rate.
High-End Product Pages
Presenting luxury jewelry products requires you to use landing pages that can stand up to the task. We've designed Diamond to allow anyone to create detail-rich, high-converting product pages with ease.
Full Mobile Responsiveness
When designing Diamond, we made sure it works great on all mobile devices. After all, you never know where your potential customers will be when they decide to look for jewelry. And, as the share of mobile commerce is on the rise, mobile's become more important than ever before.
Top Speed Optimization
Speed is a critical ranking factor and has a significant impact on your user experience. The latter is especially important in a luxury niche such as jewelry. That's why we optimized Diamond's code for speed right during its development process.
Air-Tight Security
Data security is critical in business - especially if you're selling jewelry online. Because of that, before we released Diamond, we carefully tested the theme for integrity and security. On top of that, all our themes (Diamond included) receive frequent security updates.
Create a Recognizable


Jewelry Brand

Check out the different design variations of the Diamond theme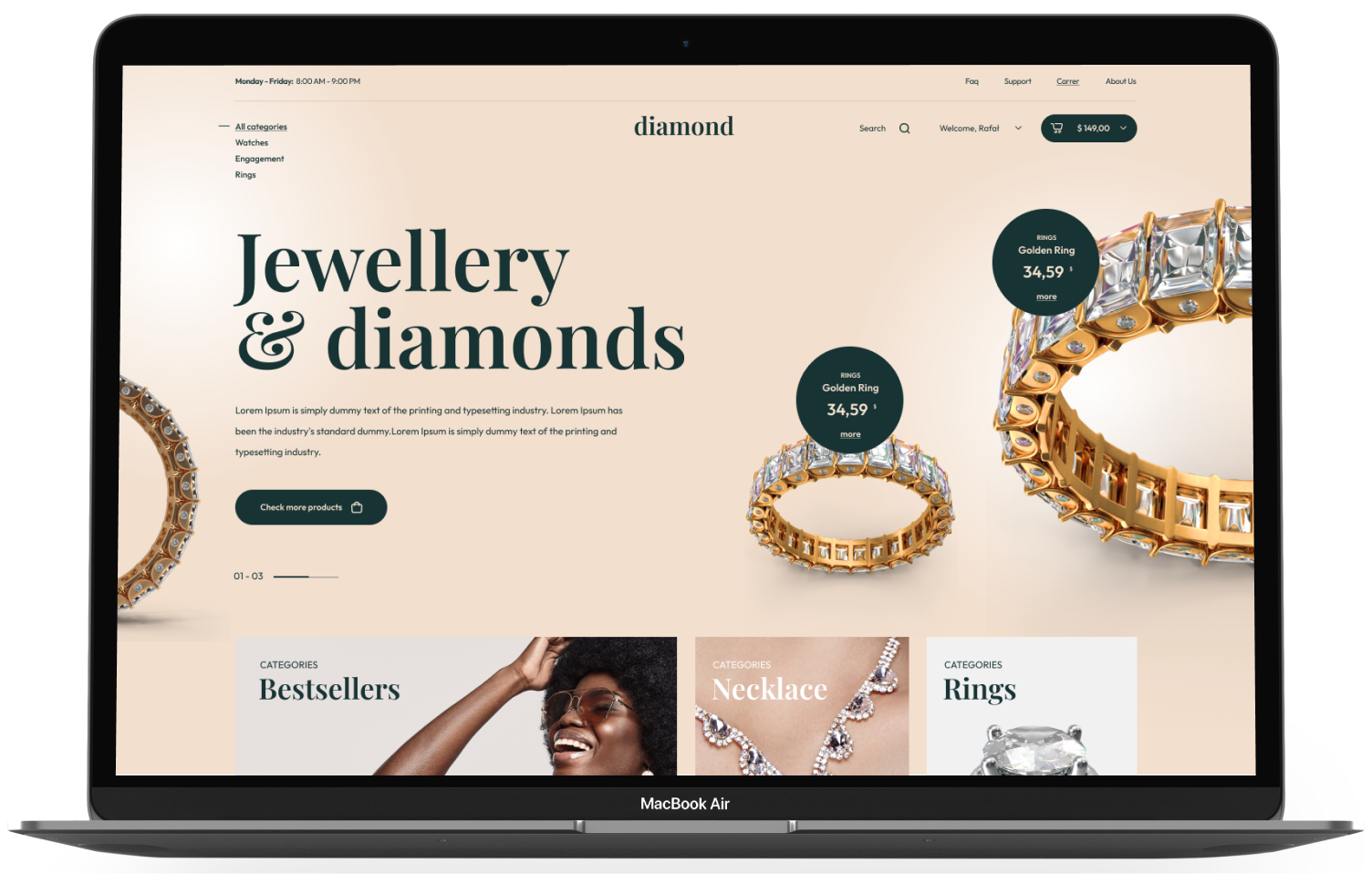 Developed by a Team

with Years
of eCommerce Experience

We've spent years coding and designing eCommerce themes. This expertise is what allowed us to create Diamond.
Everything You Need to Sell Jewelry
Want to start selling Jewelry online? Diamond's got you covered. The theme gives you all the features you need to get started. Easily manage products, add photos and videos, and create high-converting landing pages. Attract traffic, drive sales, and grow your business.
A Theme Built to Convert
Promoting your store and driving traffic is just half the battle. You still need to convert your audience into buyers. Diamond can do the heavy lifting for you. Thanks to its high-converting landing pages, it's much easier to turn your audience into loyal customers.
Focused on the Jewelry Industry
The jewelry industry is like no other. To succeed, you need a theme that'll boost your brand's credibility and make your customers feel safe. Diamond's high-end design helps you build trust and positions you as a trustworthy partner in the jewelry market.
A Wealth of Third-Party Integrations
Easily integrate with key third-party services and apps. It doesn't matter if you pick WordPress, Opencart, or Shopify theme versions. Diamond is compatible with dozens of different eCommerce apps that you can find on each platform.
Need the

Entire Package?

Let our team of experts develop a complete eCommerce package:
A High-End eCommerce Theme
Diamond is a professional eCommerce theme built for selling luxury jewelry products. It comes with everything you need to add products, present them to your visitors, and manage incoming sales.
Store Design that Suits Your Brand
Let us design a store that suits your brand. Take advantage of years of eCommerce design experience. Get a store that stands out, converts, and turns your brand into a recognizable asset.
Work Done for You
Forget about doing the manual work and focus on growing your eCommerce business. We'll develop a complete eCommerce store on the platform of your choice. Choose between WordPress, Shopify, and Opencart.
Questions and Answers
Frequently Asked Questions