A Theme That Helps
Boost Your Sales
Our themes are backed by years of cumulative experience of designers, ensuring that they are not just aesthetically
pleasing but come equipped with everything you need to grow your e-business successfully.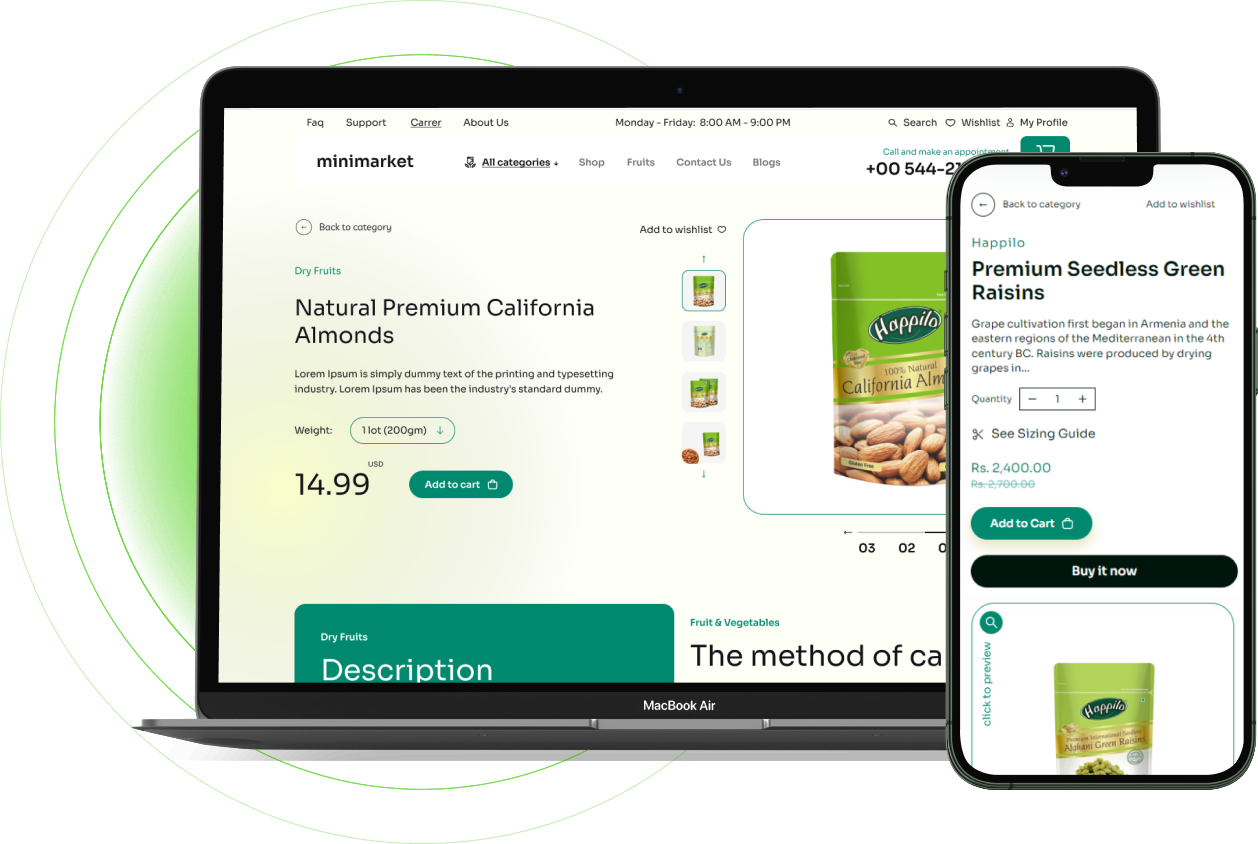 Let Your Customers View
All Product Details
With our Minimarket theme, you can include as many images and videos for your products as necessary so that your customers can make better-informed buying decisions, allowing you to build credibility and boost your conversion rate.
Make Your Audience's Search

For Desired Products Easier
The success of your eCommerce site is largely dependent on how easy it is to navigate. With advanced filtering and searching features, customers can find their desired products within seconds. Help your audience with their product research by easily adding and sorting product features.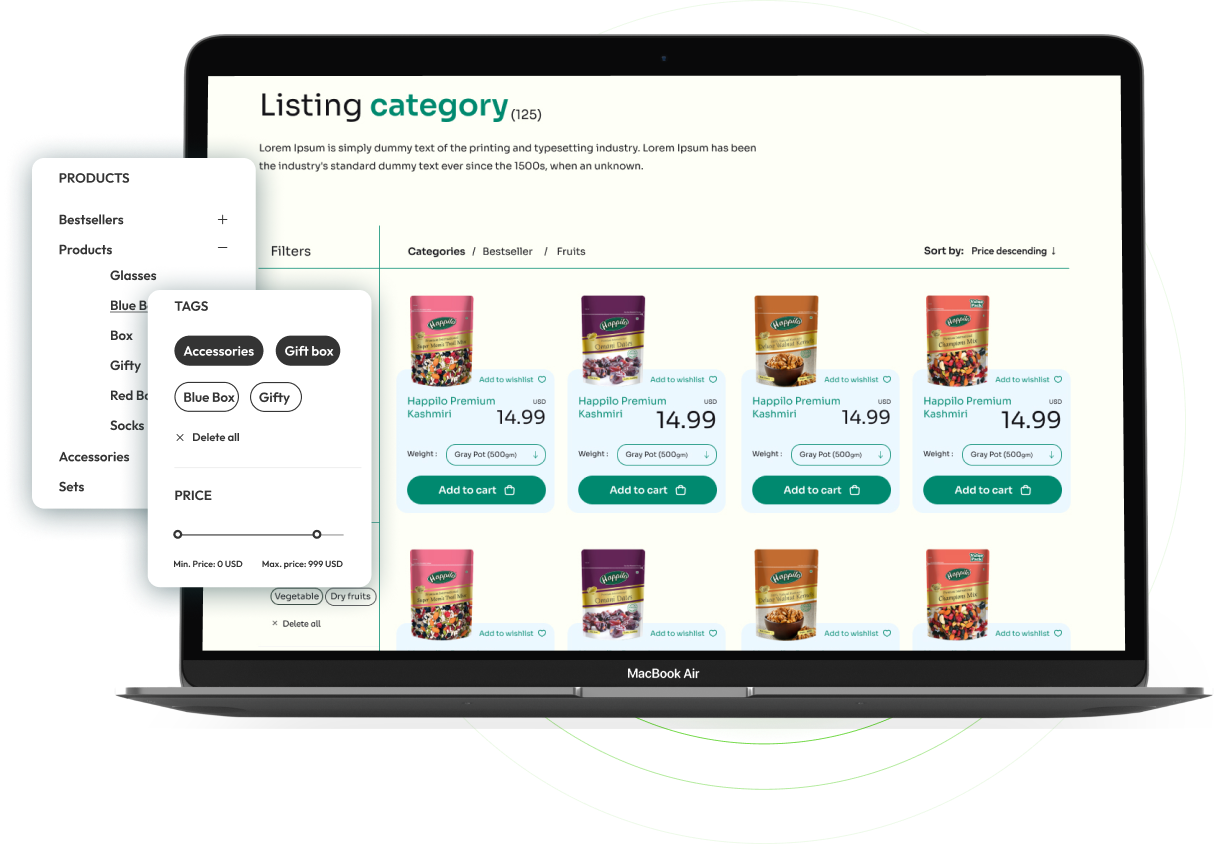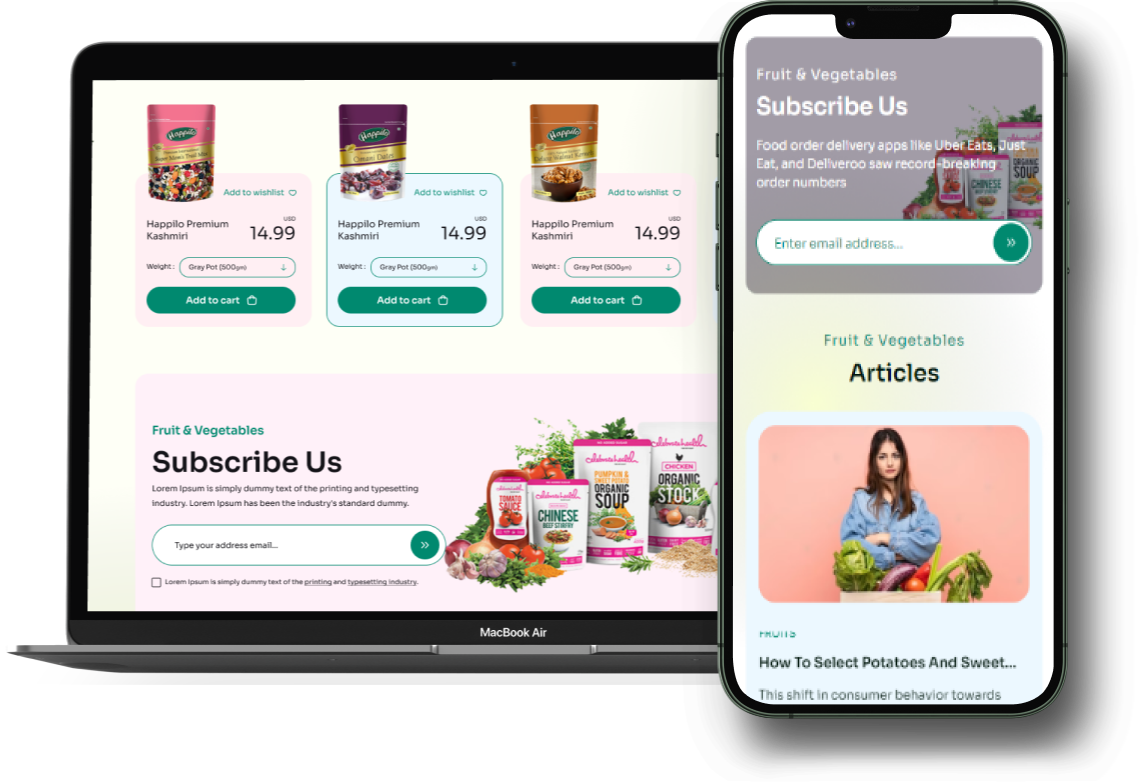 Help Your Customers Enjoy A Shopping
Experience Like No Other
Customers today expect a shopping experience that is easy, efficient, and enjoyable. With our theme, you get to design an eCommerce store that is intuitive and works perfectly on a range of mobile devices so your customers can get the shopping journey they love no matter where they are.
With our Minimarket theme, you don't just get an eCommerce store; you get to build a brand with a loyal customer base, allowing you to build a trustworthy relationship with your audience and invite them to visit your store again and again.
The eCommerce Market

Is Saturated
With Competition That Is Equally
Accessible To Customers

Our theme helps ensure your store is customers' first choice.
Curated Wishlists
The easier it is for your customers to customize and personalize their product wishlists, the more likely they are to revisit your store. You can use this data to attract customers to your site, motivate them to buy the products they like, and boost your sales.
Intuitive Filtering
With our easy-to-use product filters, customers can efficiently look for desired products on the basis of various characteristics like price, color, availability, and more.
Product Visualization
When it comes to catching the attention of a vast audience, videos are known to do better than graphics. You can easily add video links to product galleries. You are bound to give your audiences an unparalleled shopping experience with a clever combination of images and videos.
Improved Navigation
Our theme ensures that your customers can easily and quickly find all the information they need about a product on the product page, making the shopping process smoother and the buying decision easier.
Easy-to-use Interface
Several customers choose to use mobile devices for online shopping. Thanks to the rigorous testing on various devices that our theme has undergone, you can give your customers an impeccable shopping experience regardless of which device they use to shop.
Speed-optimization
Everything from conversion rate and page rankings to search engine optimization and overall user experience depends on the speed of your site. Our backend is specifically designed to keep speed optimization in mind.
Reliable Backend
Our code undergoes rigorous integration, reliability, and security testing before release. We ensure that all your data, and that of your customers, is in safe hands. Simultaneously, we also frequently release updates for our themes that often come equipped with new features for security.
Everything You Need For

A Successful E-Business
Combined Into One Theme

Discover all the ways our theme can be customized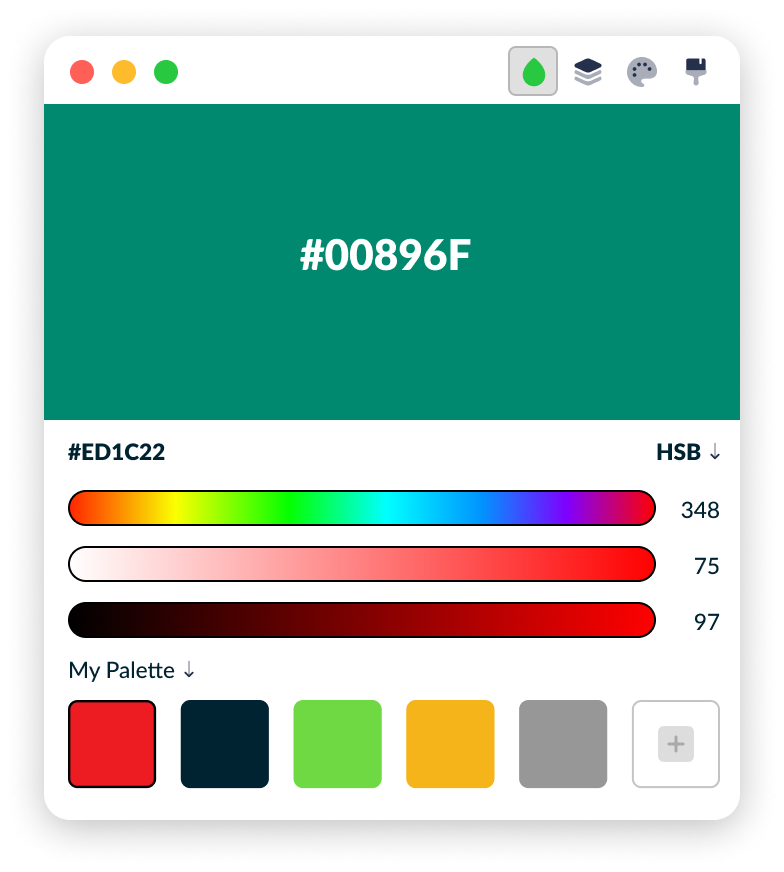 Designed By

Experts With Years
Of eCommerce Experience

The professionalism that reflects in the code
A Well-rounded eCommerce Solution
Our team members have worked for years on managing and scaling e-businesses. This experience reflects our themes so you can build a successful store that is easy to manage.
An Easily Convertible Theme
Years of eCommerce experience have taught us a lot about this industry. Although we can not provide you with product visualizations, we give you a conversion-optimized theme for everything, including speed and age layout.
Designed Especially For Your Business Needs
You have several eCommerce themes easily available, but the success of your store depends on choosing one that fits your niche best. Our Minimarket theme will help ensure that you build a lasting brand.
Conveniently Include New Features
Using a dedicated theme is only the first step; adding external integrations helps you utilize your store's maximum potential. With the Minimarket theme, you can easily incorporate third-party integrations like various payment options and autoresponders.
Get More Than

Just A Theme ?

Enjoy all the perks of a well-rounded eCommerce package that will have you selling in no time.
A Niche-Focused Theme
Get a theme specific to your niche and fast, intuitive, and conversion-optimized, and it will let you start selling your products instantly.
Build A Brand
Reliability amongst customers is what guarantees the success of your store. With our theme, you can design a brand instantly recognizable and trusted by customers.
Step Into Business Instantly
Getting our theme means you will not waste time setting up your store. Our package comes completely equipped with everything you need to start selling within mere days.
Questions and Answers
Frequently Asked Questions