Themes That Make Selling
A Breeze
We have integrated our extensive eCommerce expertise into making each theme. For this reason, our Housewares theme not just pleases the eye but also provides you with features to expand your eCommerce business.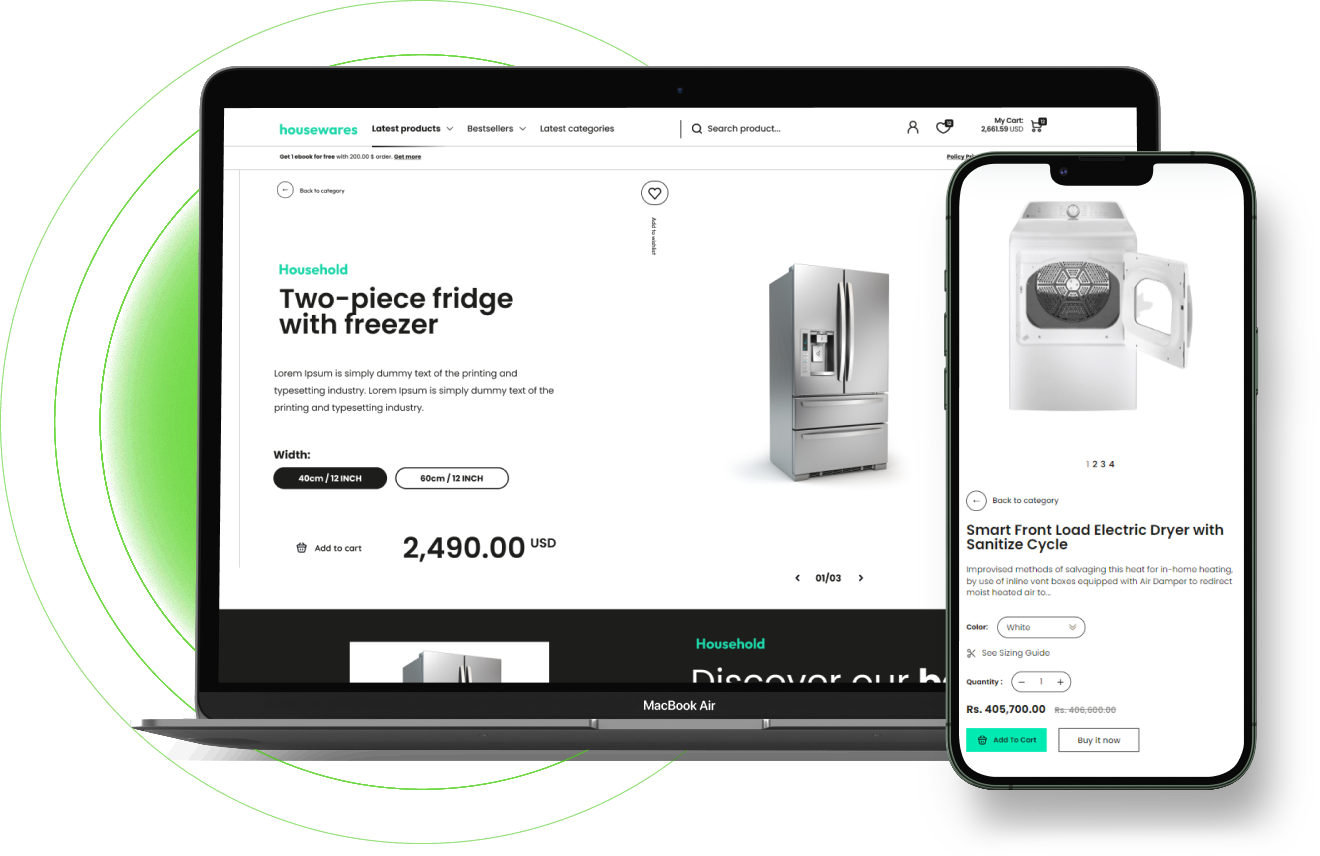 Let the Buyer Know All the
Product Details
Feel free to add countless product images and high-res videos defining each product. Give the audience everything they need to know about the product. Build relationships, showcase authenticity, and witness your conversion rates rise to an all-time high.
Ensure Your Customers Find What

They Are Looking For
Convenient navigation is the key to every successful online store. Your audience can grab anything they need with advanced filtering and search options. Be sure to introduce new and unique product features, classify them, and give the buyer a chance to delve deeper into your store' offer.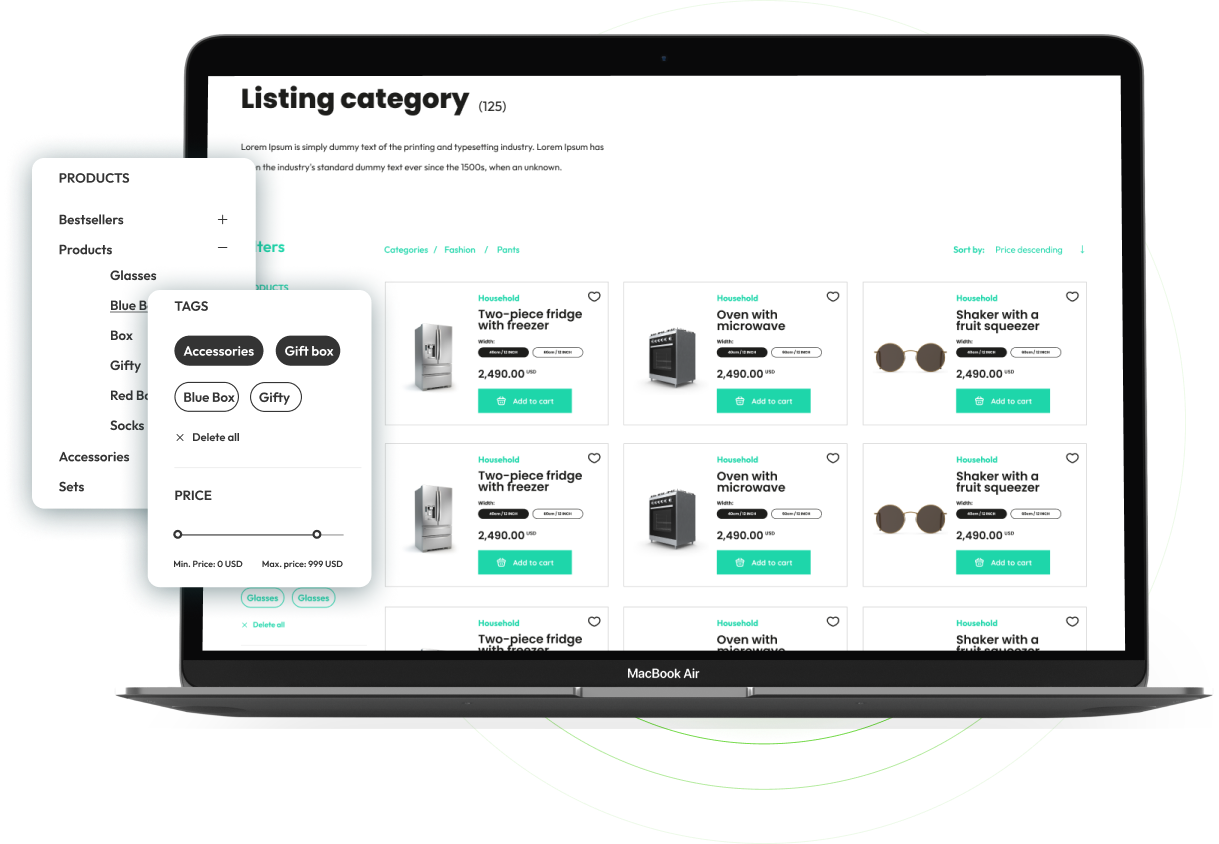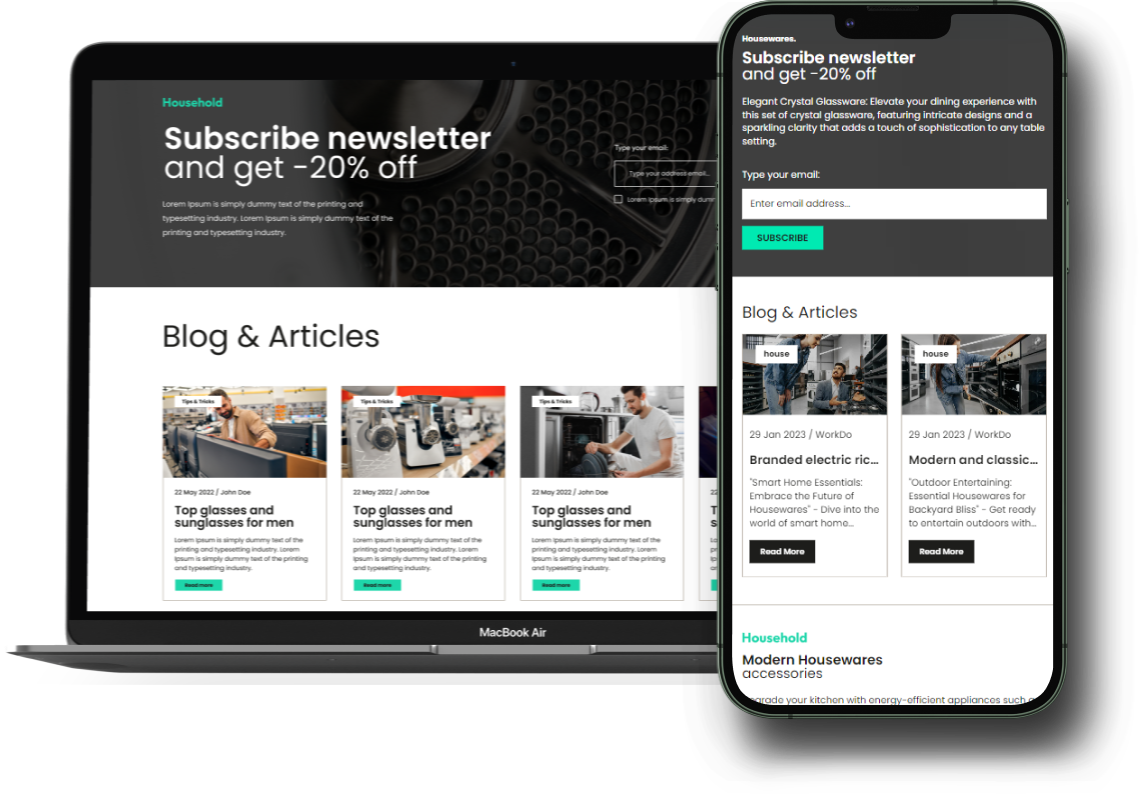 Promise An Unmatched

User Experience
Everyone loves a smooth and pleasant shopping experience.
Housewares theme can help you develop a responsive store that is carefully optimized and works perfectly on all smart devices.
With this theme, you don't create another eCommerce store. You develop a brand that attracts the audience. Let them bond with you while ensuring they keep coming back for more.
The Buyer Has Countless Stores

to Choose
From, Just One Click Away

With this theme, give them a solid reason to prefer yours.
Products Wishlists
Force your audience to keep coming back for more! Help them make a custom product list that they wish to purchase. Utilize the data to inspire them into purchasing and up your revenue.
Smart Filters
Put dynamic product filtering to use and help your audience find what they need. Sample filters inculcate product availability, size, color, brand, and product type.
Product Graphics
Videos drive sales. Take a step further from product images to high-res videos. Link them to the product gallery and combine them with product images to promise an interactive shopping experience.
Intuitive Page Layout
Make shopping at your store a breeze. Ensure that every product page highlights all the product details to help the buyer make an informed buying decision.
Responsive Layout
Promise your audience a breezy shopping experience with a fully-optimized theme that is tested to run on all modern smart devices.
High-Speed Configuration
Speed is a major determinant when it comes to user experience. Our Housewares theme is configured perfectly to ensure high conversion rates, thanks to our fully-optimized code that ensures blazing speed.
Protected Code
We put our themes to trial to check for integrity and security before releasing them publicly. We also dispatch regular theme updates for customers to ensure data privacy and safety.
Every Star eCommerce

Feature Put
Together Into A Single Theme

Take a glance at the numerous aspects of the Housewares theme.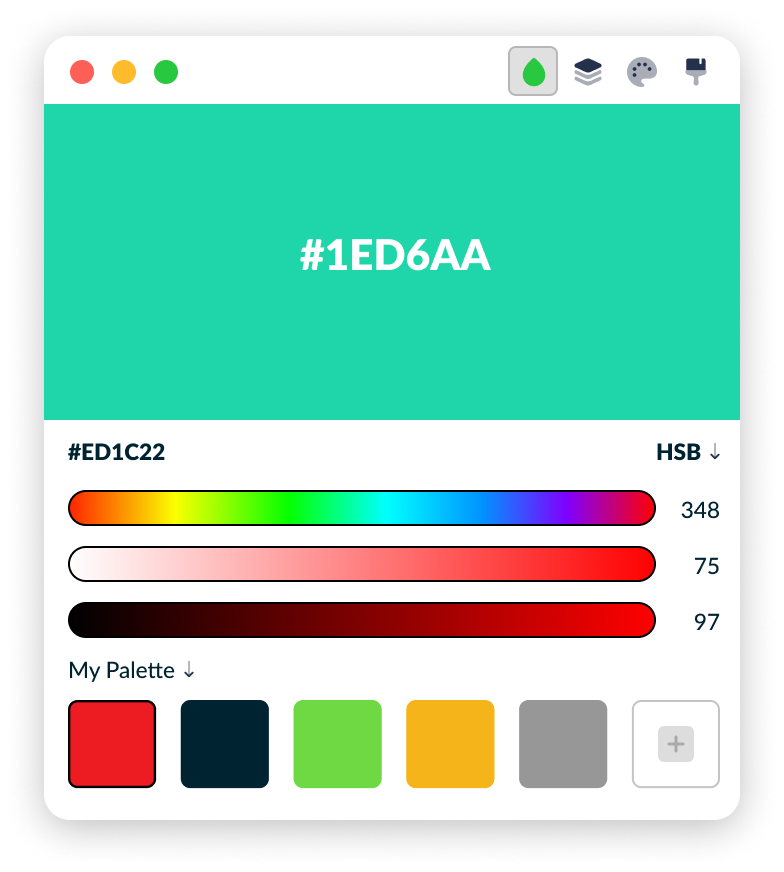 Developed From

The Best In Business

Years of eCommerce expertise transformed into code.
Get All the Features To Drive Sales
We have a long history of running and expanding eCommerce businesses. For this reason, we excel at developing themes that promise all the key features you need to operate and expand a trusted online store.
A Theme That Converts
Vast industrial exposure has taught us the ifs and buts of eCommerce businesses. We deliver a theme that is optimized for conversion. Speed? Product pages? Layout? You name it; we provide it.
Perfectly Designed For Your Niche
You can find a handful of eCommerce themes ready to be sold. But building a successful store requires a theme that is tailor-made for it. With the Housewares theme, you get everything you need to create it and more.
Hassle-Free Integrations
The integration of third-party tools can make or break a theme. With the ease of adding integrations, this theme promises compatibility with renowned eCommerce applications entailing autoresponders and payment gateways.
Require More Than

Just A
Housewares Theme ?

Try your luck with an off-the-shelf eCommerce store that is ready to sell.
A Stylish Theme
Enjoy a high-speed and responsive eCommerce theme that helps drive sales. The Housewares theme is tailor-made while keeping in view the trends of your industry. From enticing to retaining customers, you get all you need.
Product-Friendly Interface
Start with a contemporary eCommerce store from which the audience will trust and feel secure purchasing. Put all the great features of this theme to use, and begin creating a reliable brand from the start.
Begin Selling Today
Setting up an online store can be time-consuming and demanding, but not anymore! Get your hands on our eCommerce package and start selling your business offerings today.
Questions and Answers
Frequently Asked Questions