Themes That Help
You Sell
We put years of eCommerce experience into every theme. Thanks to that, our themes don't
just look good but give you the features you need to grow your eCommerce business.
Let Visitors See Every Detail
of Your Product
Add as many product images and high-quality videos as you need for each product. Give your audience all the information they need to make a buying decision. Show credibility, build trust, and skyrocket your conversion rate.
Ensure Your Customers Always

Find What They Need
Clear navigation is the foundation of every successful eCommerce store. Thanks to advanced filtering and search, your audience can easily find anything they need. Add product features, categorize them, and let your audience dive deep into your store's offer.
Give Your Audience an Unparalleled

User Experience
Your audience wants you to make the entire shopping process smooth and pleasant. Style helps you build a responsive, fast store that works great on all modern mobile devices.
Let people buy your products wherever they are, no matter how they choose to visit your store.
With the Style theme, you don't just build another online store. You build a fashion brand that your audience can become loyal followers of. Let them build a relationship with you and watch them keep coming back for more products.
Your Audience Has Dozens of Stores


at a Click of a Mouse Button

With the Style theme, you can give them many reasons to choose yours.
Product Wishlists
Give your audience a reason to come back! Let them create personalized lists of products they want to buy. Use the data to encourage them to come back to make a purchase and skyrocket your revenue.
Dynamic Filtering
Use smart product filters and make it easy for visitors to find the exact product they're looking for. Sample filters include product availability, price, color, size, product type, and brand.
Product Videos
Videos sell. Go beyond product images and boost your conversion rate with videos. Link them directly in the product gallery and mix them with images to make the whole experience even more interactive.
Intuitive Product Pages
Make shopping at your store easy! The design of every product page ensures that all key details are clearly visible and easy to find. This, in turn, helps your visitors make a buying decision.
Responsive Design
Today, mobile commerce accounts for almost half of all online sales. Let your audience enjoy a smooth shopping experience no matter which device they use to visit your store. To help you do that, we tested the theme on different modern mobile devices.
Speed-Optimized
If there's one thing that's critical for both user experience and SEO - that's speed. It's an important ranking factor and has a significant impact on your conversion rate. That's why we keep the code of every theme that we build clean and speed-optimized.
Secure Code
Before we release any theme to the public, we carefully test its code's integrity and security. We also regularly release theme updates, which often include new security features. This ensures your store and its customers (and their data) are secure at all times.
All the Key eCommerce Features,

Available
in One Powerful Fashion Theme

Check out the different faces of the Style theme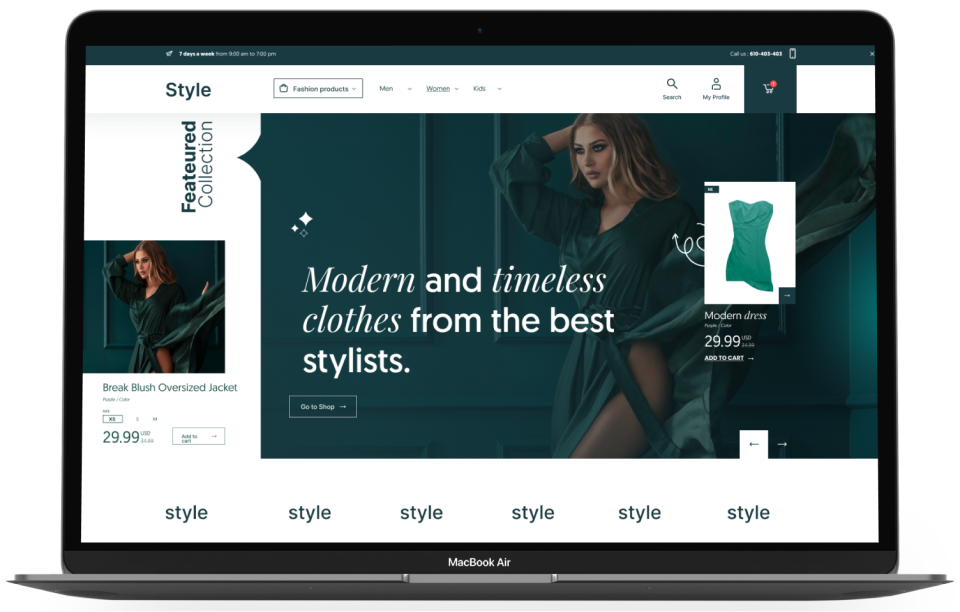 Built

By eCommerce Experts

Years of eCommerce experience put into code.
Get Everything You Need to Sell Online
Some of our team members spent several years running and growing eCommerce businesses. Thanks to that, we were able to create a theme that offers all the features you need to build and run a successful online store.
A Theme that Converts
Years spent in the industry have taught us what works and what doesn't. While we can't create product images for you - we can give you a theme that's optimized for conversion. This optimization includes things such as speed, product page elements, and layout.
Built for Your Specific Niche
There are many eCommerce themes out there. But to create a truly successful store, you need a theme that's built specifically for your niche or industry. With our Style theme, you get everything you need to create a successful online fashion business.
Ease of Adding Integrations
A theme is just the beginning. To help you get the most out of your eCommerce store, you want to integrate it with third-party tools. Style is easy to integrate with dozens of popular eCommerce apps. These include leading autoresponders or payment gateways.
Need More

Than Just a Theme?

Get a complete eCommerce store that comes ready for you to start selling.
A Fashion-Centered Theme
Get a fast, responsive eCommerce theme that helps you sell your products. Style is a modern theme optimized for conversion and developed with the fashion industry in mind. The theme gives you everything you need to attract and retain customers.
Brand-Friendly Design
Get a modern eCommerce store your audience will trust and feel safe to buy from. Take advantage of all the great features that the Style theme has to offer and start building a recognizable, trust-worthy brand from day one.
Start Selling Sooner
Don't waste a minute of your time setting up the store. With our eCommerce package, you get a complete store that's ready to start selling. All that in a matter of days, not months!
Questions and Answers
Frequently Asked Questions