A Theme That
Encourages Sales
Experience in every topic of eCommerce for years. Design that is appealing
and features crucial for expanding an online store.
Customers Should Get A Detailed
Description Of Your Product
For clients to make wise purchasing judgments, make sure there are a lot of product photographs and good videos available. Increase reliability, build a reputation, and increase conversion rates.
Making It Simple For Users To Find What They Need
Will Guarantee Customer Satisfaction
Smooth navigation and successful eCommerce. Efficient product discovery with advanced filtering and search. For thorough shop browsing, consider product attributes and classification.
Deliver An Outstanding User

Experience To Your Clients
Make purchasing goods smooth for consumers. Create a shop that loads quickly and responds to user input on all mobile devices. Allow clients to purchase goods at any time, location, or device.
"Create a high-end brand around this idea to win over devoted customers. Establish strong bonds with your customers and watch them return for more merchandise repeatedly."
With Only One Click,

Customers Can
Easily Access Many Stores

The Shoes theme gives clients several good reasons to pick your shop.
List Of Specific Products
Used to encourage return visits. Let clients make their lists of wanted items, then utilize this data to encourage repeat business and boost sales.
Dynamic Product Filtration
Dynamic Filtering for effective product search to help customers identify the specific thing they want, offer intelligent filters for product availability, price, color, size, product category, and brand.
Videos Of Product Demonstrations
Add video demos to your image-based product advertising strategy. Mix them with photographs for a more engaging experience, and include them right into the product gallery.
Easily Accessible Product Pages
By providing customers with clear and easy-to-access product information, you may improve their purchasing experience.
Flexible Layout
Make it mobile-friendly! Your business should function flawlessly across all platforms to give your audience a seamless purchasing experience. This theme has been tested on various mobile devices to provide an excellent mobile experience.
Enhanced Speed
For both user experience and SEO, a website has to load quickly. Faster speed is a critical ranking criterion that may significantly impact your conversion rate. This theme has been speed-optimized with clean, effective code to enhance user experience and SEO.
Safe Code
Protect your shop and client data with our thoroughly examined and often updated themes. To give your shop and consumers the highest level of protection, our themes undergo rigorous security testing before release.
One Comprehensive

Theme
With All eCommerce Features

Have a look at numerous types of themes.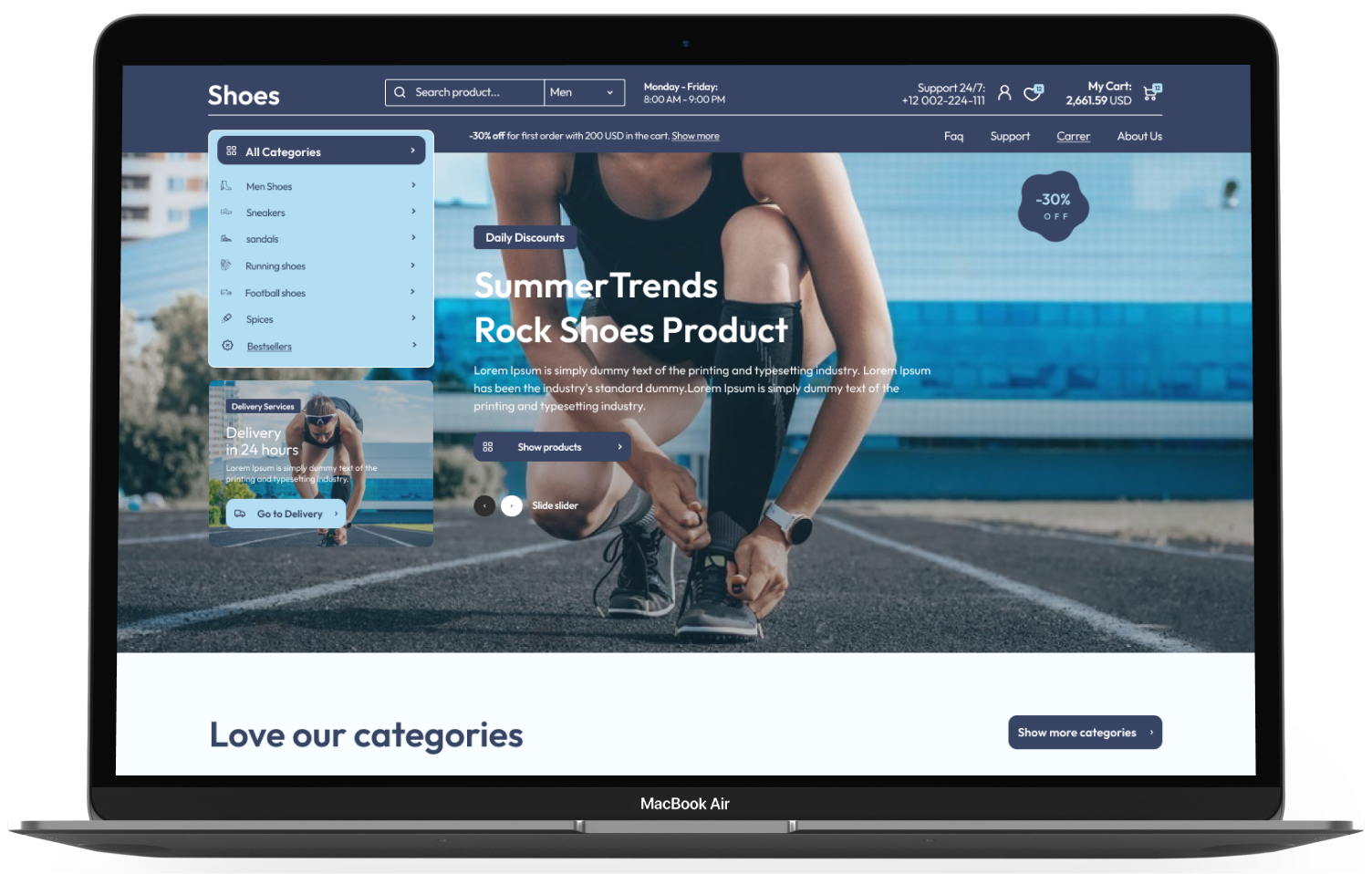 Years Of eCommerce

Experience
Put Into Code

Put into code are many years of eCommerce expertise.
Receive All the Tools You Have To Sell Online
Our staff has years of experience operating and expanding online shops, giving us a plethora of knowledge in the eCommerce sector. Because of our experience, we have been able to create a theme that offers everything you need to start and run a successful eCommerce store.
A Converting Theme
A theme that covers everything required to set up and manage a profitable online store was developed using our years of expertise in eCommerce. Our team, which has years of expertise managing eCommerce businesses, has developed a theme that is conversion-optimized through attributes like quick loading time, user-friendly product page design, and optimized layout.
Specifically Designed For Your Niche
In order to help you create and manage a profitable online business, this theme was specially created for this sector. It has all the necessary functionality.
Simplicity Of Adding Integrations
With simple integration, streamline your eCommerce processes. It helps you optimize your online company activities by being compatible with a variety of well-known eCommerce software, like payment gateways and autoresponders.
Want More Than

Just A Theme ?

Get an eCommerce store that is fully equipped and ready to accept orders.
A Theme With A Unique Focus
Get a simple, mobile-friendly eCommerce theme made to boost sales. A modern conversion-boosting theme built especially for this industry. The theme provides everything you need to draw in and keep clients.
Friendly To Brands Design
Obtain a cutting-edge internet store with this theme that your consumers will feel confident and comfortable using for their buying needs. Make use of all the amazing features this theme has to offer and start building a well-known, reliable brand right now.
Sell More Quickly
Invest in an eCommerce store already configured and operational to save time and effort. Instead of needing to spend months on setup, this theme bundle allows you to have a fully operational online business in only a few days.
Questions and Answers
Frequently Asked Questions