Themes Built To Sell
Our themes have been coded and designed by professionals that guarantee sales and brand success at all costs.
Flaunt Each Detail
We have enabled the option to add multiple images and videos with each product so you can offer greater detail and information. This influences buying decisions positively.
Offer An Excellent Surfing Experience
A great customer experience while browsing the site is a must to ensure sales. It is also key to boosting brand credibility and customer loyalty. The Timer theme offers a stunning, fast, and responsive layout to ensure this.
Enable Quick Product Search
The advanced filters and search options embedded into the theme enables an easy product search among thousands of products. This feature keeps users from getting agitated and offers a great shopping experience.
This is no ordinary theme. It is meant to help you establish your watch brand as reputable and trustworthy, which is key to ensuring repeat sales and greater revenue.
Give The Audience A Reason

To Shop From You Instead Of Being Attracted To Other Stores

The Timer theme flaunts all the right features necessary to boost revenue.
Wish List
The wish list feature allows buyers to save products to a separate list that they hope to buy in the future. This is a guaranteed way to keep customers coming back to the site in the future.
Advanced Filters
Advanced search filters and categorization by type, size, weight, color, brand, style, price, and more ensure easy search and allow the buyer to land on the closest product that matches the description.
Product Videos
HD-quality videos and images with each product listing allow shoppers to see what a watch looks like and how it works. Visualization is key to boosting online sales.
Product Pages
Separate product pages that open up when a listing is clicked offer greater detail regarding a watch's specifications, warranty, and care information. This helps declutter the main page.
Responsive
The Timer theme is highly responsive and versatile. It responds to each click promptly so users can stay hooked to your website.
Fast-Loading
This theme is speed-optimized, which means it loads fast without wasting user time and offers a smooth checkout experience.
Highly Secure
Our experts made sure to design code that is powerful and secure. This gives you peace of mind and keeps the customer's information safe which helps boost brand trust.
All The Best Features Merged To

Form One
Incredibly Useful Theme

Check out the multiple theme faces.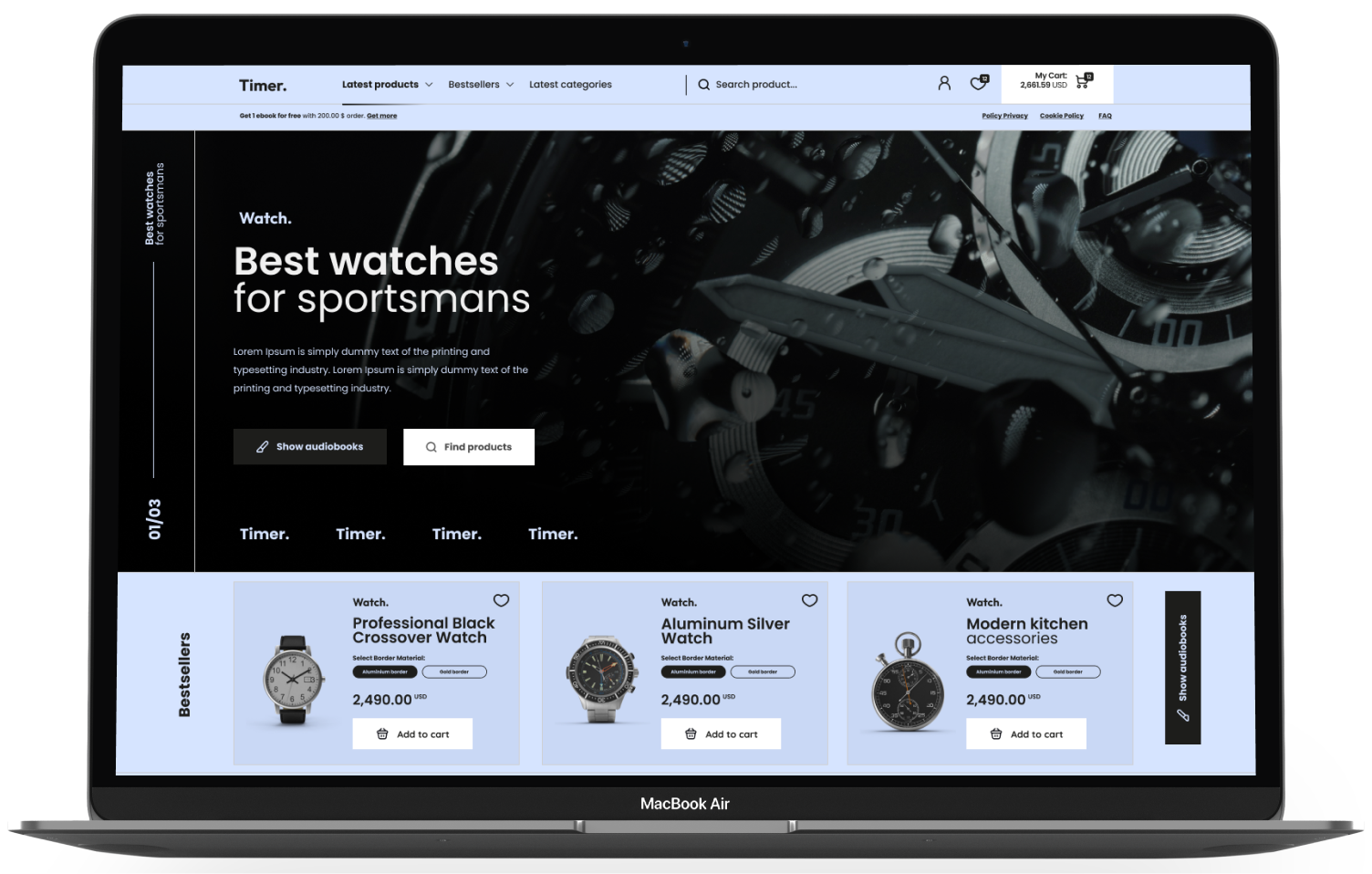 Designed

By Top Industry Experts

Powerful code that guarantees success at all costs.
Establish A Brand
The best part about the Timer theme is the features that allow you to come across as a professional brand right from the start. Our programmers have years of eCommerce market experience, so they embedded all the features you need into this theme for guaranteed success.
Make Greater Revenue
The Timer theme allows you to sell watches and accessories easily. The responsive and fast theme layout keeps customers hooked and returning for more.
Designed For Your Industry
The visual elements, including font, color, and theme design, have been carefully put together so you can blend into the watch industry seamlessly. There is no need to customize or modify the theme to make it relevant to your industry.
Add Third-Party Apps
Integrate third-party apps easily with the theme to enable added functionality. This can help you make your site unique while allowing it to grow as you gain exposure as a brand.
Want More?
Consider investing in our full-fledged Timer eCommerce package.
Industry Specific
The Timer eCommerce package is dedicated to the watch-selling industry, which is why it is perfect for any brand that wishes to sell watches and other related accessories online. You do not need to modify, design, program, or code the package in any way to merge seamlessly into your target market.
Brand-Friendly Layout
The Timer eCommerce solution is also brand-friendly, meaning that it has all the necessary features to launch you as a professional brand from day one. The best part is that the design and style of the package are also great for building brand credibility and obtaining customer trust.
Start Driving Sales
This eCommerce package is ideal for those without knowledge of programming, designing, and website function. You only need to invest, install and launch your website to start driving sales instantly!
Questions and Answers
Frequently Asked Questions