A Flexible Theme Tailored for
Every Business
Every element has been thoughtfully designed to ensure that your business's essence shines through. From color palettes that echo your brand's personality to layouts that elegantly present your products or services, 'Versatility Redefined' transforms your website into an inviting, immersive experience. Seamlessly transition between styles, elements, and functionalities as your business evolves – all while maintaining a cohesive and compelling online presence.
Eyeglasses Shopify
Eyewear elegance
Optical boutique design
Prescription frames
Trendy sunglasses
Online shopping
Visual clarity
Personal style
Optical retailers
Fashionable eyeglasses
Digital storefronts
Eyewear collections
Theme Features
Google's SEO

Mobile Optimized

Shopify's Font Picker

Lazy Loading Image

Custom Product Tabs

GDPR Cookie Popup

Builder Sections Home

Sticky Add to Cart

Ajax Cart popup

Custom logo

Newsletter Signup

HTML5 and CSS3 Tableless

Multiple Currencies

Stock Countdown

Product Reviews (app)

Compare Product

Wishlist Product

Quick View Product
Multiple Languages
You can create multiple Shopify stores, each dedicated to a specific language, and then link them together.
A Layout That
Increases Sales
Every design results from years of eCommerce experience. Because of this, our themes look great and
provide you with the capabilities you need to expand your online business.
Allow Users To See Your Spects

Merchandise In Depth
For each item, add as many high-resolution pictures and clips as necessary. Provide your viewers with all the details they require to decide to buy. Increase your conversion rate by demonstrating authenticity and fostering trust.
Make Sure Your Clients Can Always

Locate What They Want
The cornerstone of any profitable online store is easy browsing. Your customers can easily locate whatever they need owing to sophisticated sorting and searching. Let your consumers explore the depths of your company's offerings by adding product attributes and categorizing them.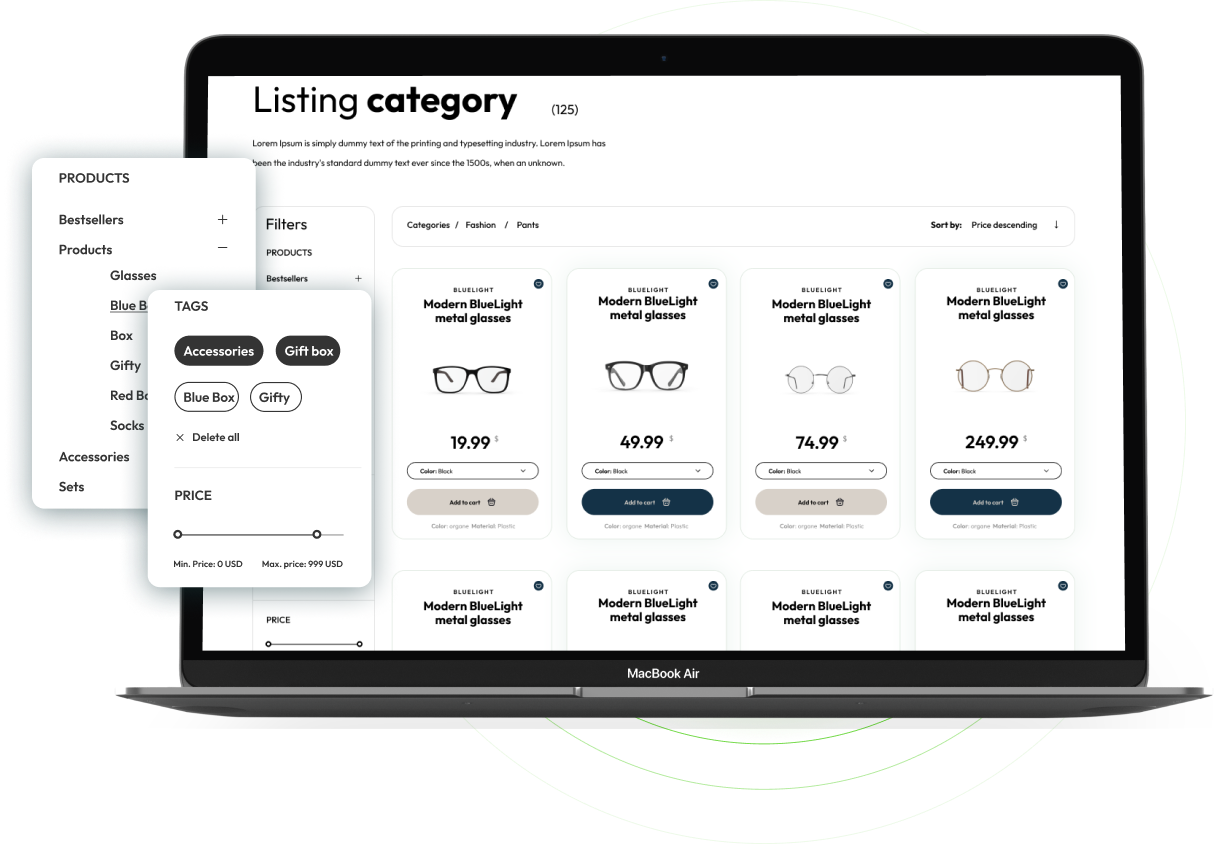 Provide An Unmatched Customer

Experience To Your Audience
Your target market expects you to create the entire purchasing experience simple and enjoyable. This theme assists you in creating a store that is quick to load, intuitive, and excellent on all current smartphones.
Let people buy your products wherever they are, no matter how they choose to visit your store.
You don't just create a new digital storefront with the template. You create a flawless identity that your consumers may adopt as their own. Allow them to get to know you and witness as they come back for more products.
Your Customers Can Access Hundreds


Of Retailers With A Single Click

Provide customers with several motives to pick your business with this design.
Merchandise Wishlists
Give your viewers a cause to return! Let them make customized shopping carts with the spects they want to purchase. Increase your sales by using the info to entice customers to return and buy the item.
Adaptive Filters
Make it simple for customers to discover the exact item they're searching for using intelligent search filters.
Product Visuals
Use multi-media clips to engage customers instead of just photos of the spects. Mix photographs and connect them to the item portfolio to make the process more engaging.
Easy-To-Use Pages
Every product page's layout ensures that all information is easily accessible. This, in turn, facilitates the purchasing decision of your clients.
Adaptive Style
Currently, most internet sales are made through mobile devices. No matter what platform your client uses to visit your business, let them have a seamless purchasing journey.
Speed-Optimized
Speed is essential for both customer satisfaction and SEO. It's a crucial factor and affects your conversion rate greatly. Because of this, we make sure that every design we create has clean code.
Safe Code
We thoroughly examine the privacy and authenticity of any theme's code before making it available to the general audience. Also, we frequently publish theme upgrades that add new security measures. By doing this, you can be sure that your business, its clients, and their information are always protected.
Combining All The

Requirements Of
A Successful eCommerce Store

Have a look at all the aspects of the Spects theme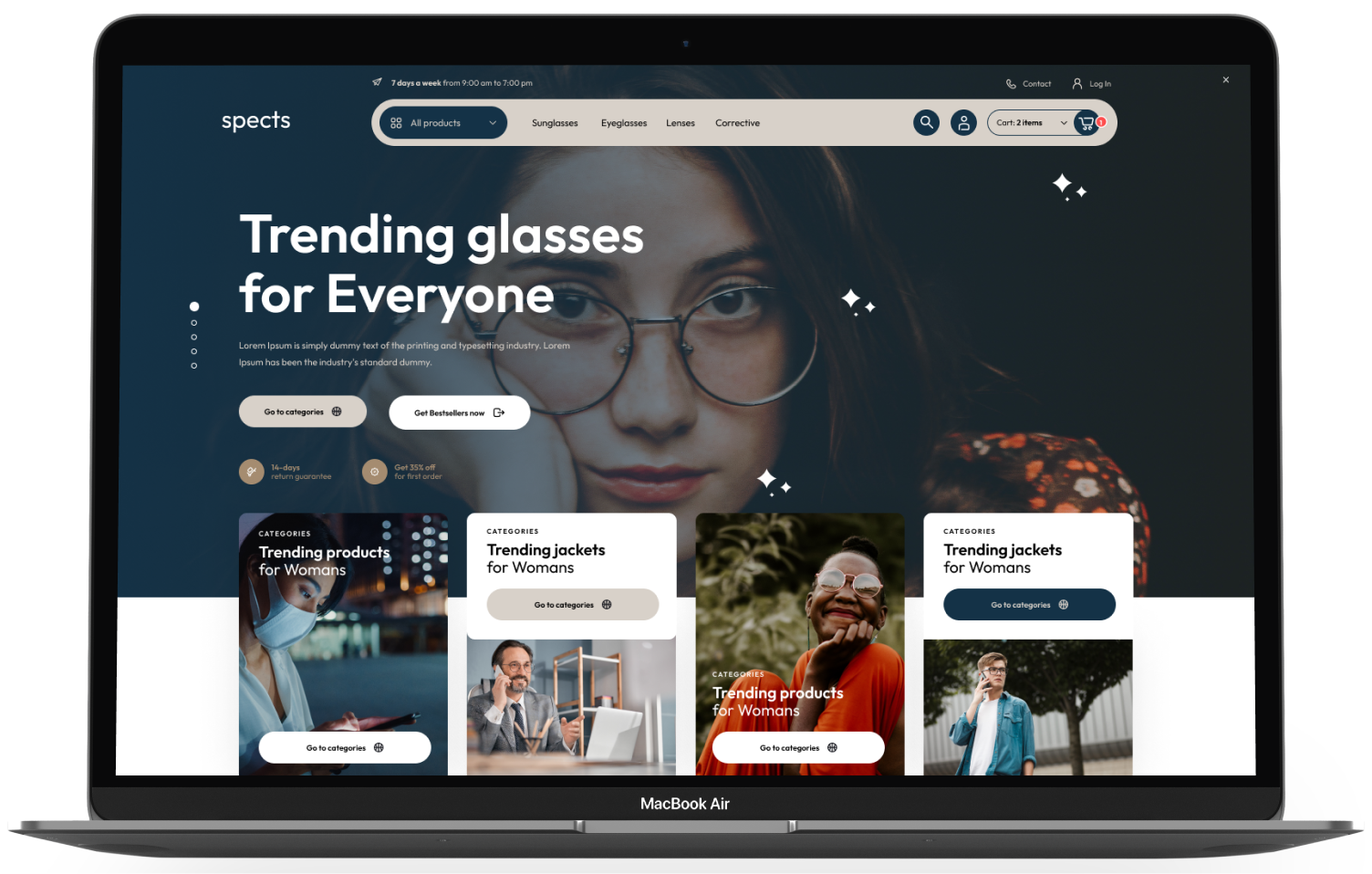 Made by

Professionals
Of eCommerce Field

Our themes are made by experienced and qualified eCommerce personnel
Get All The Tools You Require To Sell Online
Some of our team members spent several years running and growing eCommerce businesses. Thanks to that, we were able to create a theme that offers all the features you need to build and run a successful online store.
A Converting Theme
While we are unable to produce product photos for you, we can provide you with a theme that is conversion-optimized. The aspects of the product page, design, and performance are all part of this strategy.
Designed For Your Specialty
There are lots of themes available for online business. But you require a design created for your market or sector to have a real profitable shop. You have all you need to start a profitable internet business with our Spects template.
Easy Integration
A template is only the start. Combine your online business with third-party solutions to maximize its potential. Integrating Spects theme with numerous well-liked eCommerce apps is simple. Popular finance or marketing automation tools and apps are examples of them.
Do You Require A Complete

Spects
eCommerce Package?

You will get a finished end-product catering to your Spects Store's needs.
Modern Design
Get a quick, customizable eCommerce framework that will aid in the sale of your goods. A contemporary theme designed with the design industry in view, Spects is conversion-optimized.
Brand-Friendly
Obtain a cutting-edge digital commerce store that customers will feel confident using. Use all the wonderful elements that the Spects design has to provide and create a recognizable, reliable brand immediately.
Begin Your Sales Early
Spend as little time as possible setting up the shop. With this package, you receive a finished store prepared to begin taking orders in a few days rather than months!
Questions and Answers
Frequently Asked Questions