Themes Meant To
Generate Revenue
Our experts have combined years of experience into code for each website theme. Therefore, our themes are aesthetically pleasing and have the right features to build a brand from scratch.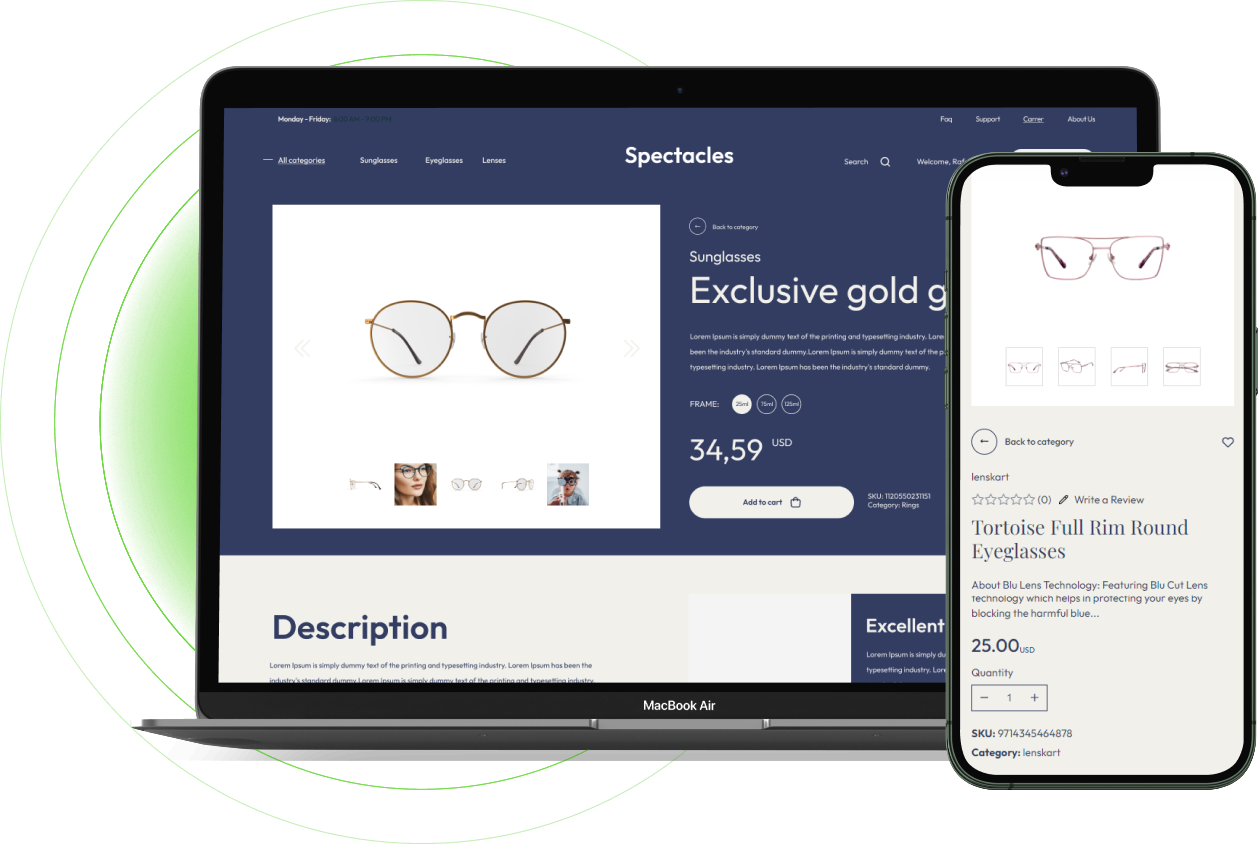 Allow Visitors To Get A Closer Look
Into Your Products
With the Spectacles Theme, you can add as many images and videos as you like for each product. This not only provides a clear visual representation of what you are selling but is also likely to coax a customer into making a purchase.
Guarantee Product Search
The advanced filtering and search tools embedded into the theme make product search a breeze. The best part is that customers love websites that allow them to find exactly what they need without any hassle.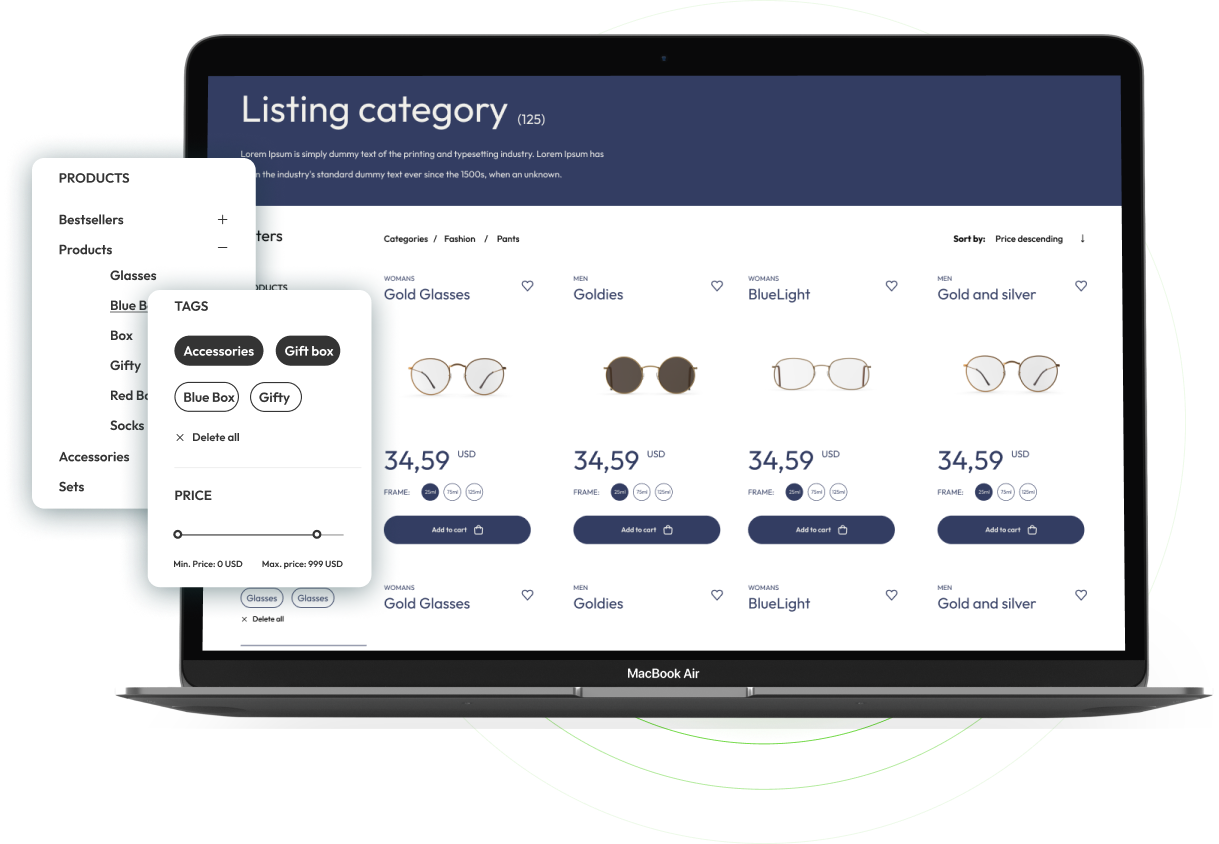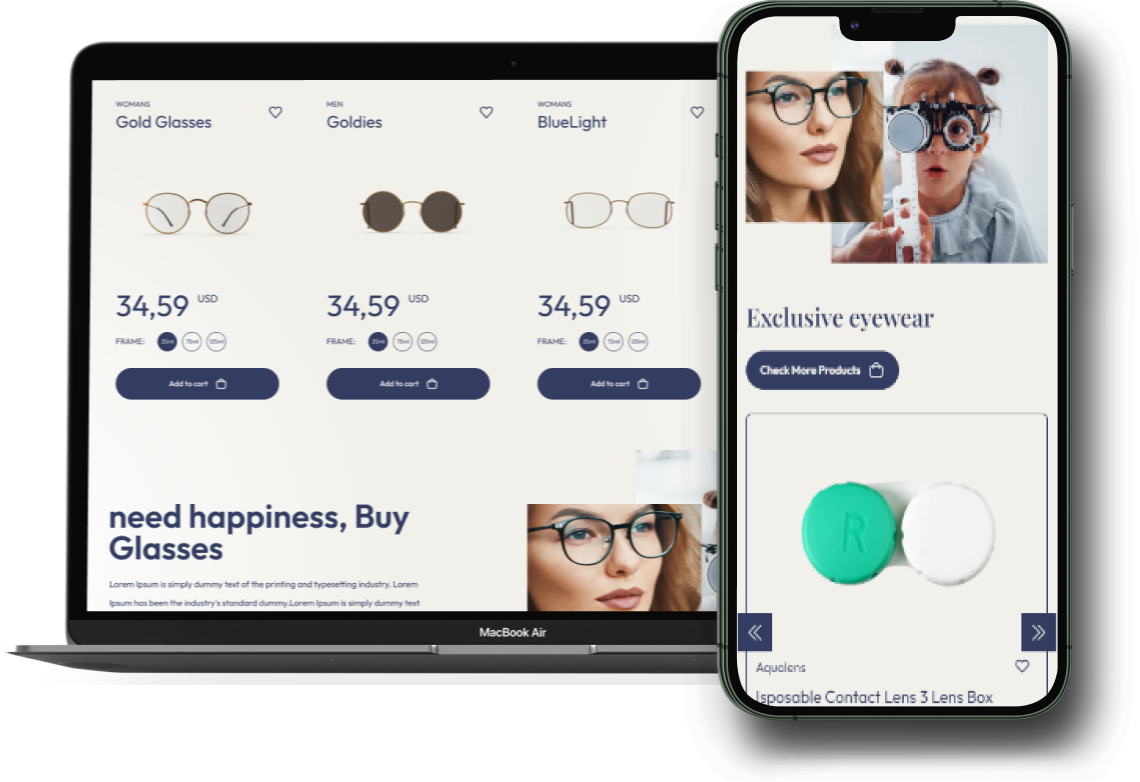 Offer An Amazing Site Experience
A seamless online shopping experience is key to doubling revenue. Our Spectacles theme ensures your store is fast, responsive, and user-friendly. Mobile compatibility further ensures visitors can use any digital device to visit your site.
The Spectacles theme is designed to be industry-specific and brand-centric, meaning that you need not input added effort to build a website that can truly rule your online niche.
With Dozens Of Online Stores,


Spectacles Acts As A Magnet To Attract Consumers

Give the audience a reason to select you, test you out, and stick by.
Wish List
This may seem like an ordinary feature, but it surely is not. Wish lists not only act as a catalog for products that have caught the buyer's attention, but it also allows them to store these separately to make a purchase later on easily. It is the best way to guarantee profits.
Filters
Search filters like finding a product using its size, brand, type, color, weight, style, and more ensure a highly immersive shopping experience. The best part is that users will not get bored while looking for the product they need.
Product Video
Videos and images offer visual insight into the articles you are selling. Since a physical inspection is impossible in online shopping, videos and images for each product ensure easy purchase.
Landing Pages
Product landing pages allow individual products to stand out. They also allow you to add specifications, images, videos, reviews, and other details for positively influencing buying decisions.
Responsive
A highly responsive and optimized website is guaranteed when you use the Spectacles theme. A fast-loading site keeps users interested and ensures that each click is responded to promptly.
Speed Optimization
Speed optimization and mobile compatibility allow shoppers to swarm to your website using any digital device. This includes PCs, tablets, laptops, and even smartphones.
Secure
The code used to build this theme is highly secure, fast, and reliable. You can guarantee a smooth and safe checkout without worrying about data theft.
A Galore Of Features Merged

Into One Stunning Theme

Check out the different theme faces to pick one that suits your brand.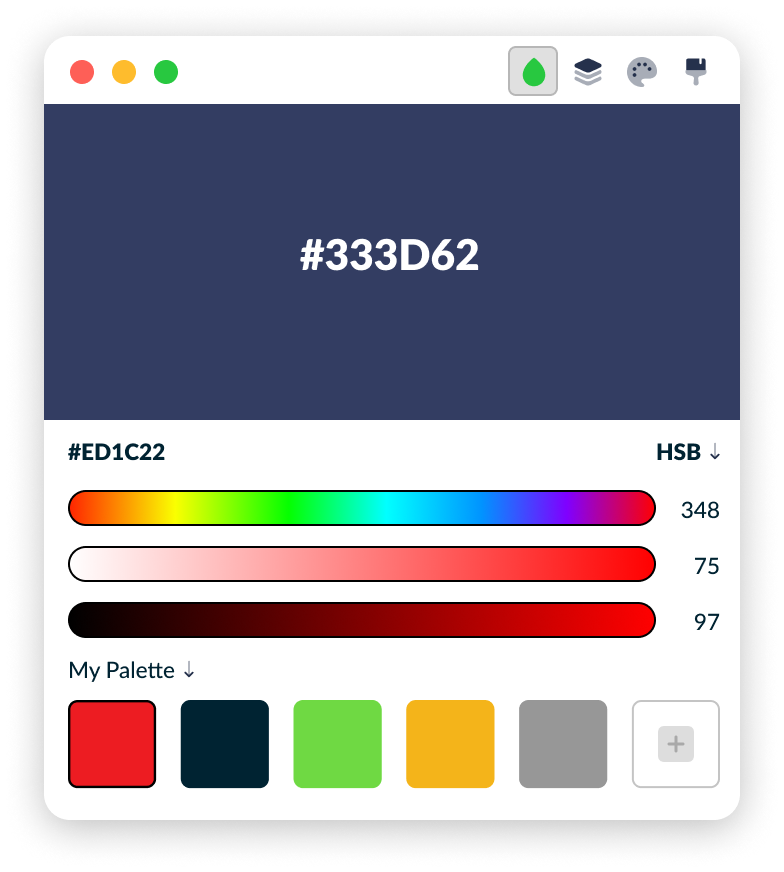 Created By Experts
Spectacles has been designed by experts with years of experience in the eCommerce industry. We boast strong, powerful, reliable, and secure code.
Built To Sell Online
An array of features necessary to establish a brand and online presence while generating sales are jam-packed into this theme. Once you pick Spectacles, brand credibility and presence are automatically established
A Theme Meant To Convert
There is no use setting up an online eCommerce platform that does not drive sales. Spectacles has been carefully designed to guarantee sales and keep customers hooked, so they keep returning for more.
Rule Your Market
Industry-centric features allow your brand to stand out, crush the competition, and rule your target market, unlike anyone has ever done before. With Spectacles, watch sales double without added effort on your part.
Integrate Away
Want to add some functionality and features to make the theme more unique? Then, worry not! Spectacles is not only super versatile but also compatible with third-party apps.
Need A Full Package?
Consider investing in our full-fledged Spectacles eCommerce package.
Industry Specific
Similar to our theme, the eCommerce Package is also geared towards attracting the audience in your industry. It is simple yet sophisticated and flaunts an extremely powerful code.
Perfect For Branding
Want a package that helps you establish a brand from scratch? Then, Spectacles eCommerce solution is the right choice for you.
Start Right Away
This eCommerce package is perfect for those who want to start selling immediately without wasting time on website creation, programming, and designing. Once you invest, you can launch a business online without any hassle.
Questions and Answers
Frequently Asked Questions