Say Hello To Property: One Out Of Several Professional Themes
Created Just For Your Business
Our professional team has designed themes that promise to sell. Whether you are a new business or already established online,
the Property theme can easily help you succeed as a real estate agent.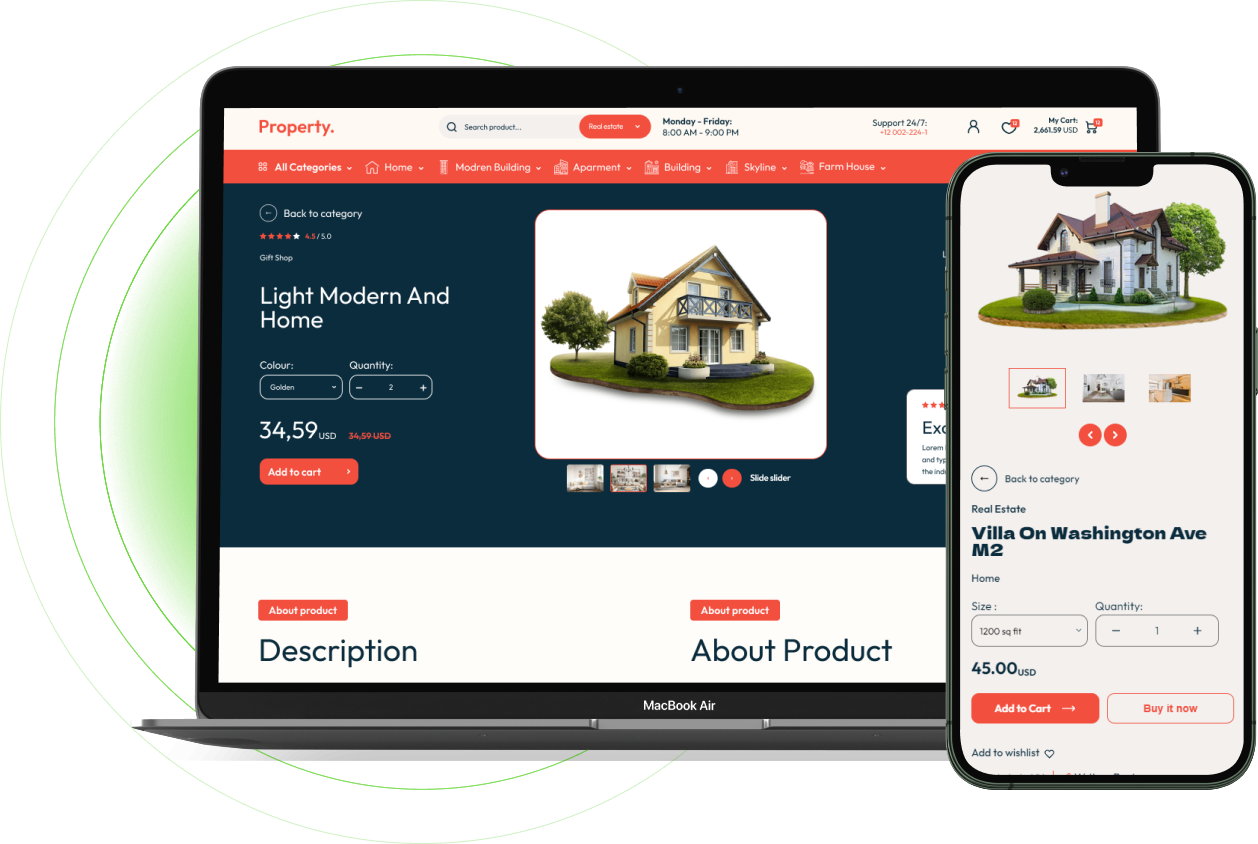 Offer Greater Insight
Into Your Listings
Add countless images and videos with each listing to make it stand out. This visual representation is a great way to attract buyers and a foolproof method to land a deal without the need for physical inspection.
Allow Customers To

Find Exactly What They Are Looking For
Some customers may want to buy a house, while others look forward to renting a small apartment. No matter what they are looking for, prouduct categories, search options, and filters will allow them to narrow down easily to the best possible choices.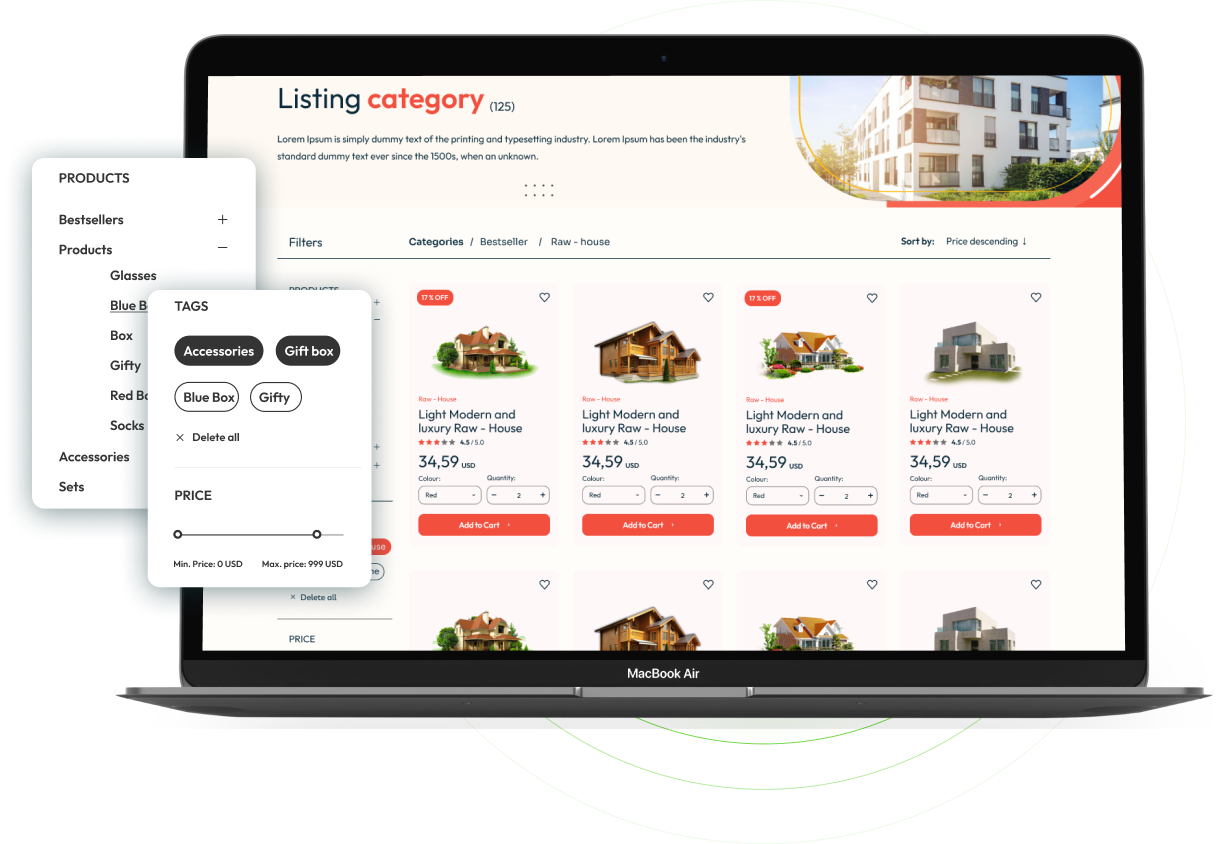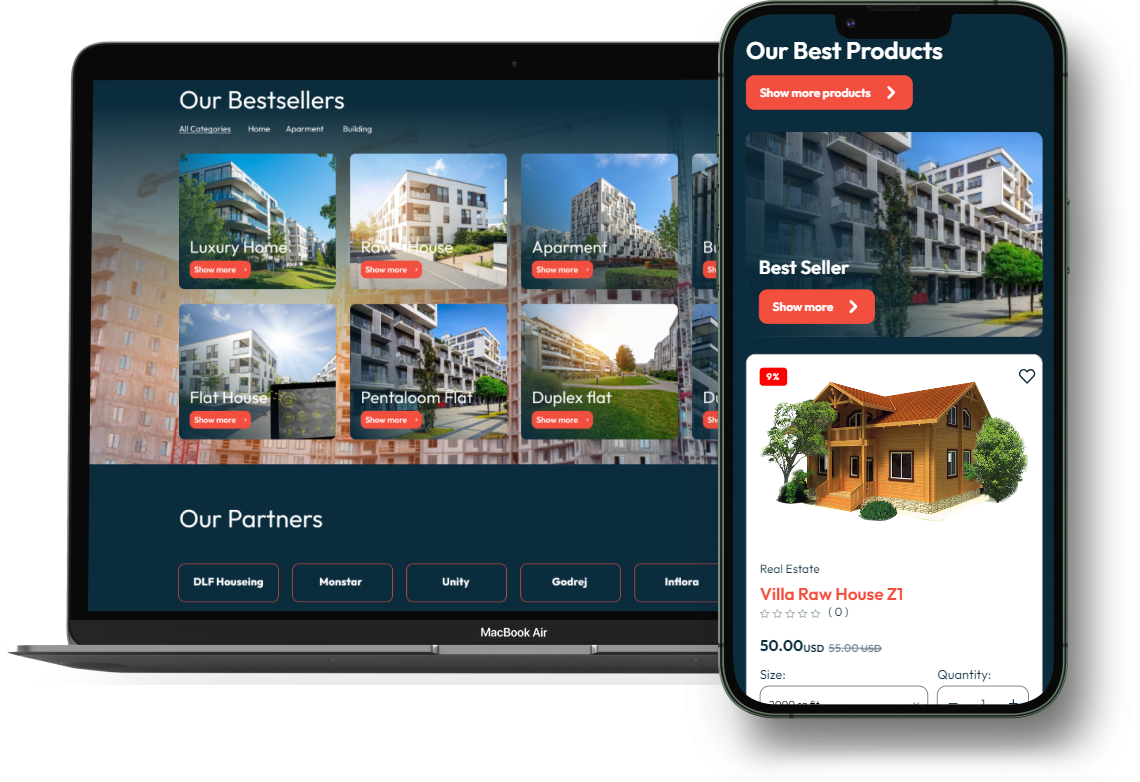 Ensure A Great Online

Experience
Visitors that land on your page are likely to navigate away if the site does not respond promptly or load up fast. To eliminate this issue, we have made sure that the Property theme is highly responsive, versatile, compatible, and fast-loading.
The Property theme does not help create an ordinary property listing website. Instead, it allows real estate agents to establish a brand that customers can look up to and trust. This allows them to keep coming back for future investments.
With Multiple Property Listing Sites,

The Property Theme
Gives You A Chance To Shine Through!

An array of features gives customers several reasons to pick you and stay loyal.
Wish List
Wish lists are a great way to allow customers to save listings they like for future reference. This ensures sales and gives consumers a reason to keep visiting your site.
Advanced Filters
Advanced search and filtering options make finding the most suitable and relevant listings easy amongst thousands of properties. The best part is that this saves time and prevents buyers from getting bored or navigating away.
Videos
High-quality videos and images added to each listing enable buyers to see what a property looks like without visiting the site. It also allows them to see how spacious a site is and whether it fits their aesthetic.
Listing Pages
Separate listing pages for each product allow you to add images, videos, location, pricing, and other information related to each property. This helps with making buying decisions and offers a seamless and uncluttered surfing experience.
Extremely Responsive
The Property theme is not just highly responsive, but it also ensures your site and its listings load up speedily. Mobile compatibility further allows users to visit your site using any digital device.
Optimized
A speed-optimized site prevents buyers from getting bored. They need not wait too long for the website or individual listing to load properly as the Property theme ensures this happens with lightning speed.
Safe Code
Our code is advanced, safe, and secure. It has been tested to prevent data breaches and identity theft. Due to this, you can enjoy peace of mind regarding any online transactions.
A Versatile Theme With All The Top Features
Check out the various faces of the theme.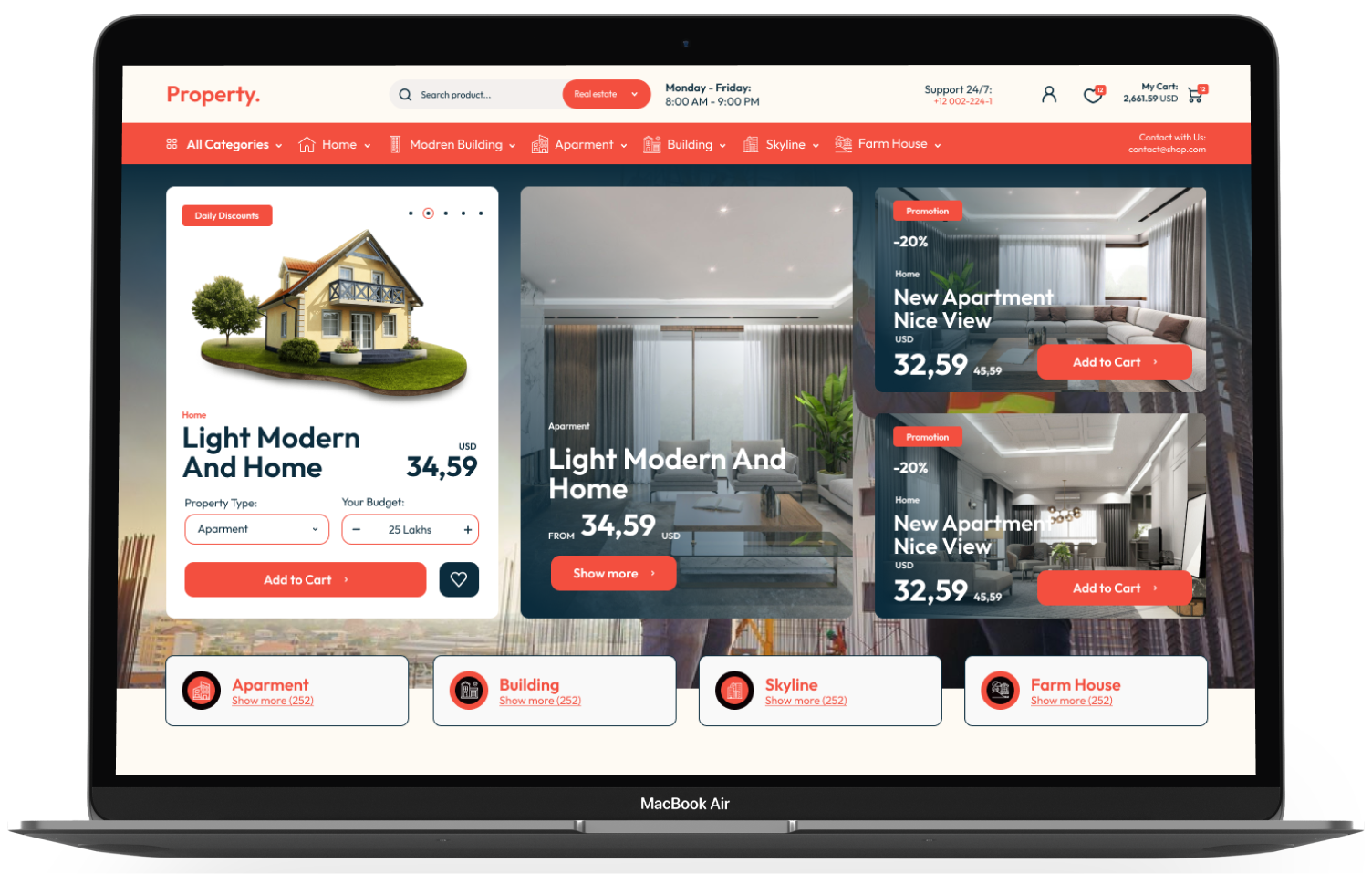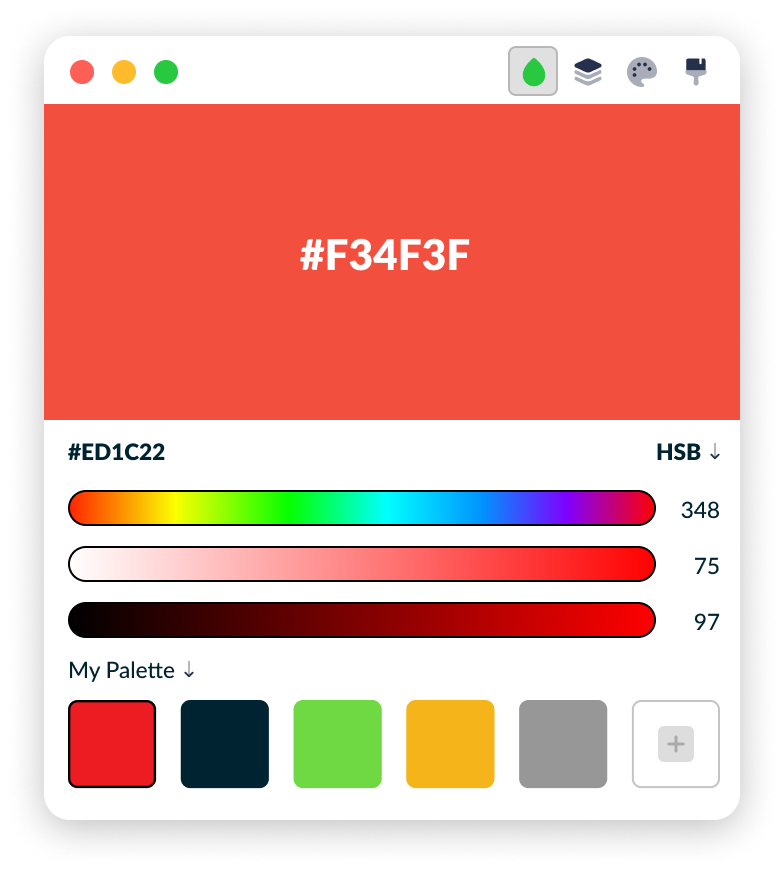 Built

By Experts

The code has been designed by experts with years of experience in the eCommerce industry.
An All-In-One Solution To Selling Online
Some of our team members have years of experience in the eCommerce industry. Due to this, they know the exact features and functionality you will need to march toward success as an online real estate agent.
Earn Profits
The Property theme is not just meant to attract buyers to the various listings you upload. Instead, it is meant to coax visitors into investing. Superb functionality and excellent site features guarantee success at all costs.
Specialized
This theme is meant for real estate agents and companies that wish to sell property. Our specialized code and perfect design will allow you to launch into the property industry with ease.
Integrate Easily
We understand that some site owners may need added functionality, so we have ensured you can easily integrate third-party apps with the Property theme.
Looking For A Full Package?
Get your hands on the Property eCommerce package that has everything you need to start uploading listings right away!
Relevant To Your Industry
The Property eCommerce package is built to launch as a real estate business easily. You do not need to program, adjust or design anything to make it relevant to your niche.
Build A Brand
This solution allows you to establish a brand presence, credibility, and loyalty from day one. When you come across as a brand that buyers can trust, you can enjoy greater revenue.
Start Now
This eCommerce package is perfect for those that know nothing about programming and website design. It is also perfect for those that wish to launch into the online market this very instant.
Questions and Answers
Frequently Asked Questions