Themes Crafted for
Successful Sales
Our themes are the fruits of extensive eCommerce experience. They not only have an attractive aesthetic but are equipped with features that promote the growth of your eCommerce enterprise.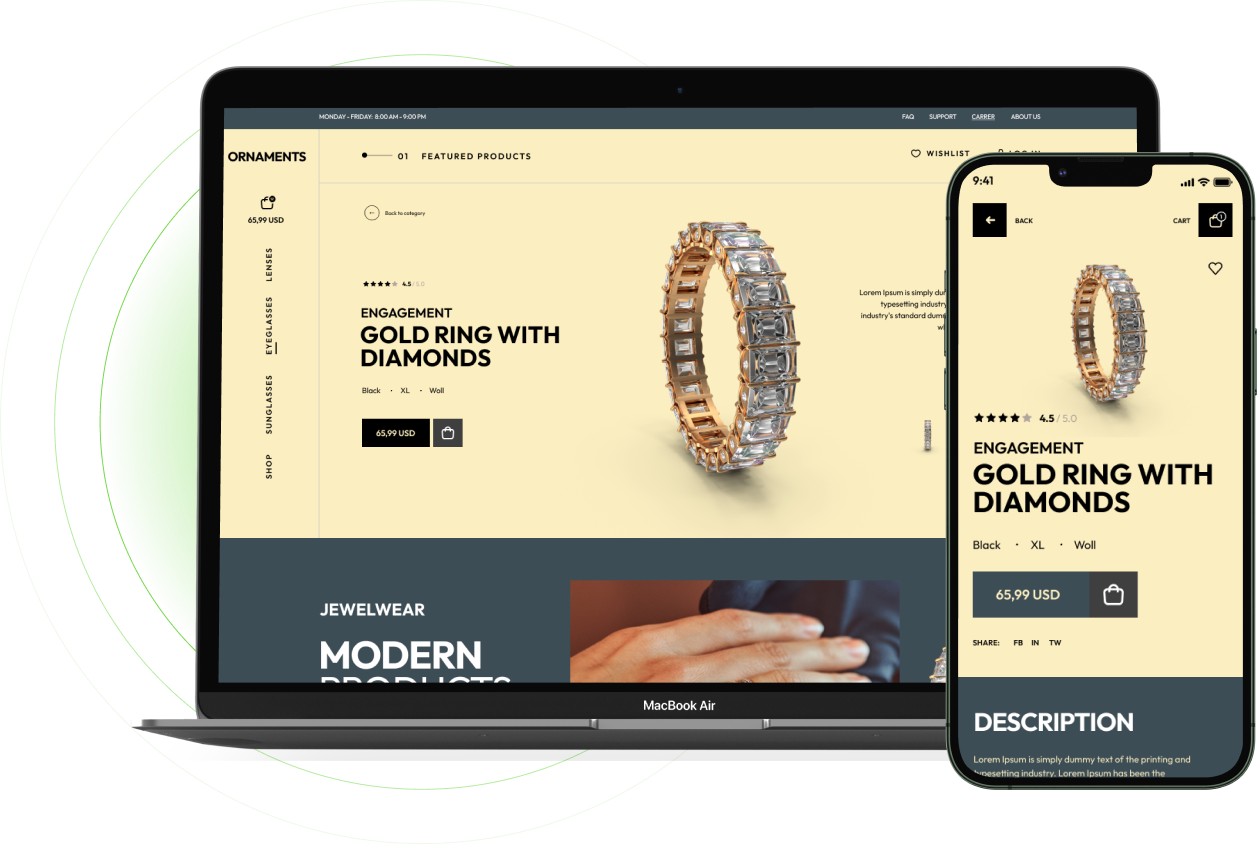 Illuminate Each Aspect of
Your Products
With the ability to add limitless photos and high-definition videos for each product, you can provide customers with comprehensive details to aid their purchase decisions. It's a sure way to establish reliability, cultivate trust, and ramp up your sales.
Deliver A Superior
User Experience
Your customers must enjoy a seamless and delightful shopping journey. Our theme lets you construct a speedy, responsive store that performs flawlessly on every modern mobile device.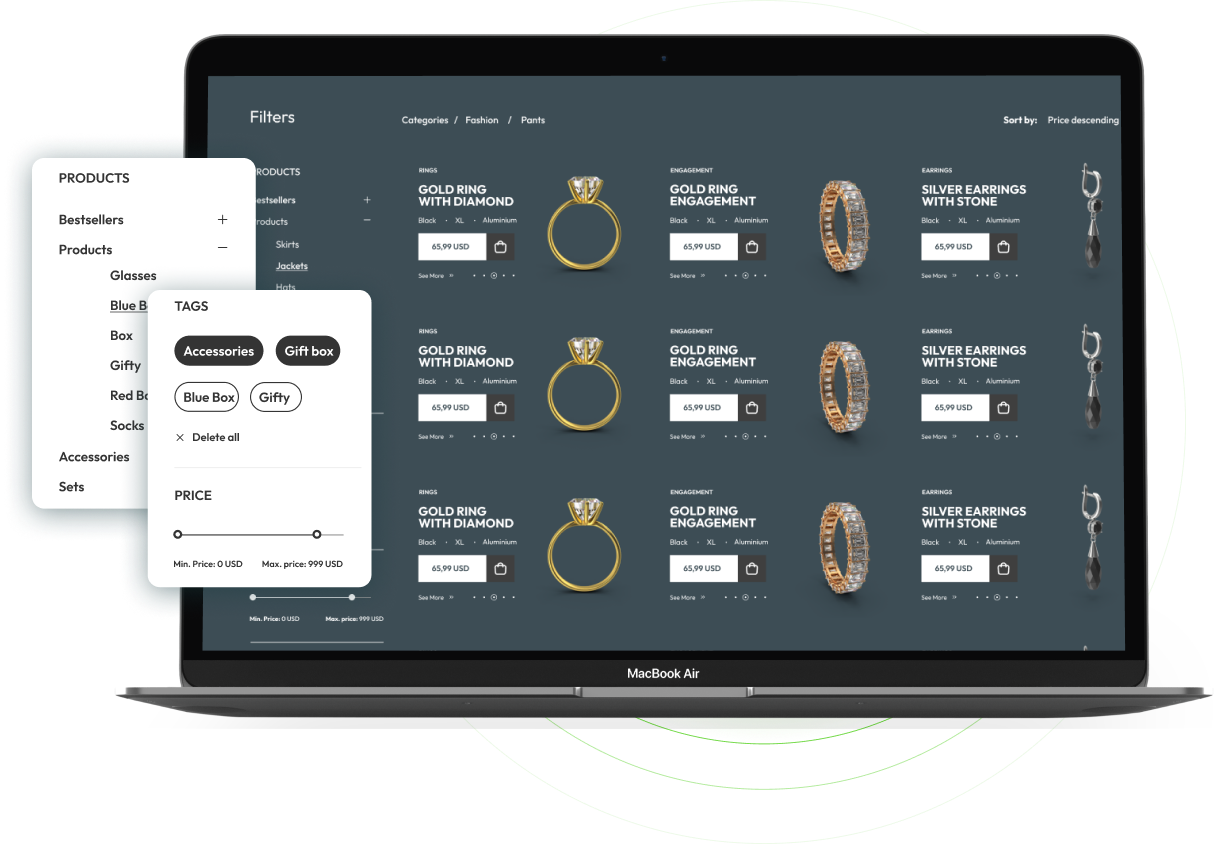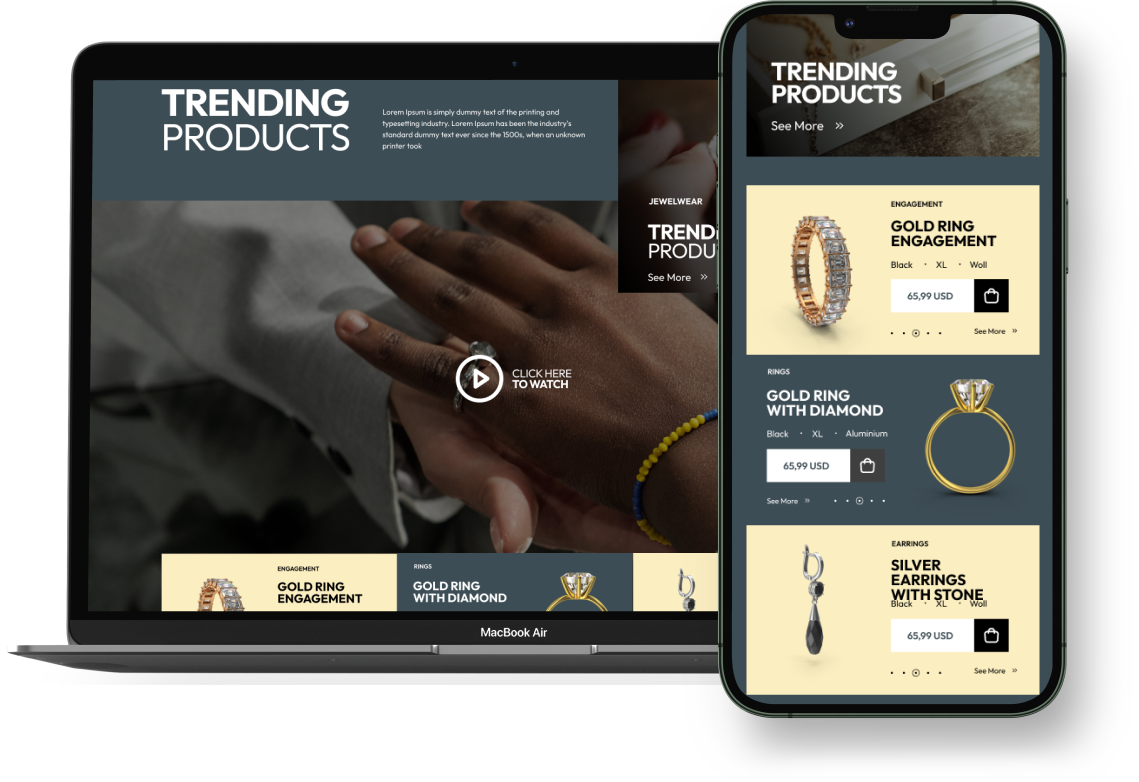 Navigation Made Easy for
Your Customers
Efficient navigation is vital to any successful eCommerce store. Our Ornaments theme has superior search and filtering functionalities, enabling customers to effortlessly locate whatever they need.
Organize your product details, categorize them, and let your customers delve into your store's offerings.
Creating more than just an online shop. Using our theme, you're not merely setting up an online store; you're forming a unique brand that can earn loyal customers. Foster strong relationships with your customers and observe them repeatedly returning to purchase more products.
Provide Reasons For Customers


To Choose You

In a world overflowing with online stores, our theme ensures you stand out and gives customers ample reasons to pick you.
Product Wishlists to Retain Customers
Enable customers to create tailored wishlists of the products they aspire to buy. It's a brilliant strategy to keep them coming back and drive your revenue upwards.
Efficient Product Filtering
Smart product filters simplify the process for visitors to find their desired products. These filters include product availability, price, color, size, type, and brand.
Product Videos To Boost Sales
Product videos can substantially enhance sales. Incorporate them directly into the product gallery, alongside images, to enrich the shopping experience.
User-friendly Product Pages
We ensure that shopping at your store is effortless. The layout of each product page makes critical details highly visible and easily accessible, aiding your visitors in making purchase decisions.
Responsive And Mobile-ready Design
As mobile commerce continues to surge, it's vital to offer a frictionless shopping experience across all devices. We have thoroughly tested our theme on various modern mobile devices to ensure this.
Optimized for Speed And SEO
Website speed is paramount for both user experience and SEO. That's why we have ensured our theme is speed-optimized to positively impact your conversion rate
Guaranteed Security
Every theme we release undergoes rigorous testing for code integrity and security. We also periodically roll out theme updates, often including new security features, ensuring the safety of your store, your customers, and their data.
A Comprehensive Theme with

All Key
eCommerce Features

Explore the diversity of our theme, built by eCommerce veterans.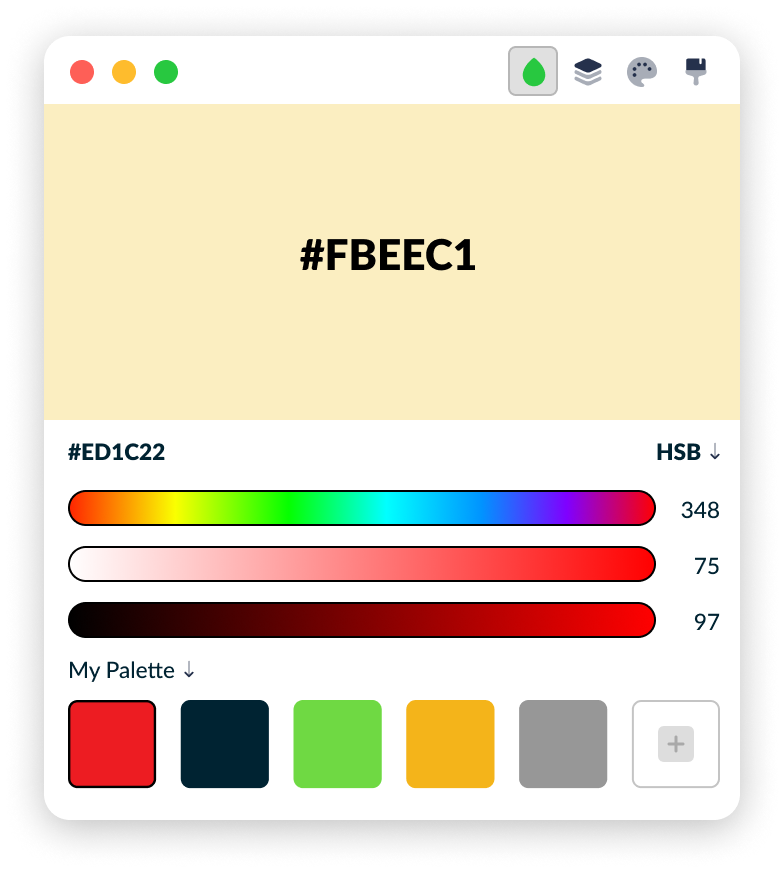 Powerful Theme with All

The Necessary eCommerce Features

Designed by experts.
A Theme Engineered for Sales
We've applied our industry knowledge to design a theme that's optimized for conversions. This includes speed, product page components, and overall layout.
Tailored To Your Niche
For a genuinely successful store, you need a theme that's precisely designed for your niche or industry. Our "Ornaments" theme provides everything you need to succeed in the online industry.
Ease Of Integrations
"Ornaments" theme smoothly integrates with a host of popular eCommerce applications, including leading autoresponders and payment gateways.
Everything You Need to Sell Online
Having spent years running and growing eCommerce businesses, we've developed a theme that embodies all the functionalities you need to launch and manage a prosperous online store.
Need More

Than a Theme?

We offer a comprehensive eCommerce store setup, ready for you to kick-start sales.
A Niche-Centric Theme
"Ornaments" is a modern, speedy, responsive eCommerce package developed with the decoration industry in mind. It's equipped with everything you need to engage and retain customers.
A Design That Resonates With Your Brand
Create a contemporary eCommerce store that inspires customer trust. Leverage all the fantastic features that the "Ornaments" package provides, and commence building a brand that's recognizable and reliable from day one.
Launch Your Sales Quickly
Don't spend valuable time setting up your store from scratch. With our eCommerce package, you'll have a fully functional store that's ready to commence sales within days!
Questions and Answers
Frequently Asked Questions