A Flexible Theme Tailored for
Every Business
Every element has been thoughtfully designed to ensure that your business's essence shines through. From color palettes that echo your brand's personality to layouts that elegantly present your products or services, 'Versatility Redefined' transforms your website into an inviting, immersive experience. Seamlessly transition between styles, elements, and functionalities as your business evolves – all while maintaining a cohesive and compelling online presence.
Kitchen
Cooking
Culinary
Cookware
Home cooking
Appliances
Food preparation
Family meals
Kitchen gadgets
Culinary adventures
kitchen makeovers
Chef knives
Theme Features
Google's SEO

Mobile Optimized

Shopify's Font Picker

Lazy Loading Image

Custom Product Tabs

GDPR Cookie Popup

Builder Sections Home

Sticky Add to Cart

Ajax Cart popup

Custom logo

Newsletter Signup

HTML5 and CSS3 Tableless

Multiple Currencies

Stock Countdown

Product Reviews (app)

Compare Product

Wishlist Product

Quick View Product
Multiple Languages
You can create multiple Shopify stores, each dedicated to a specific language, and then link them together.
We are Committed to Drive
Increase
Your Sales
Use a dedicated kitchen theme and add all the latest features to your web page.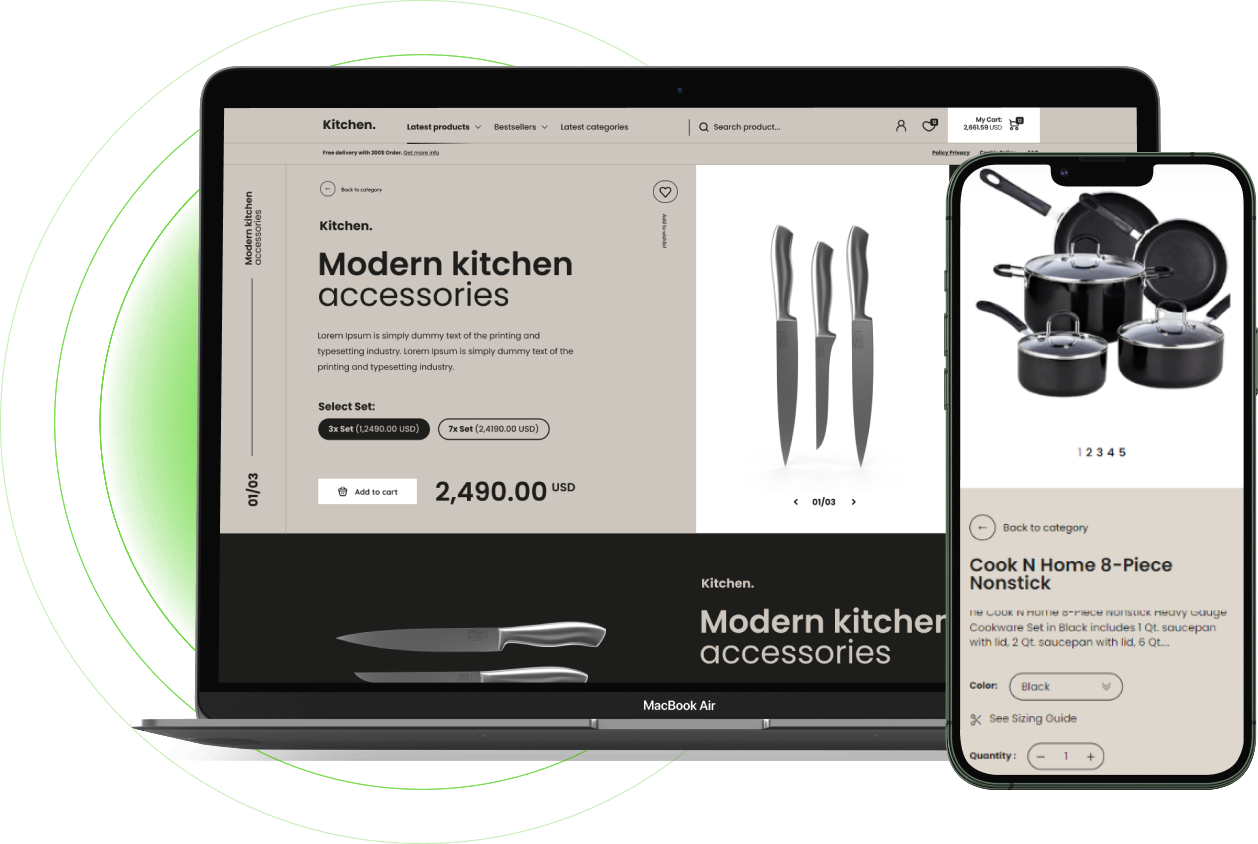 A Theme Made For

Your Business
The Kitchen theme is created according to the nature of your business. You can easily showcase your products in detail and engage your audience instantly to increase your sales.
Make Yourself Prominent

in the Market
Your competitors might also be using eCommerce themes. Our exclusive design will make you prominent in the market. Kitchen will ensure your business stands out among other competitors.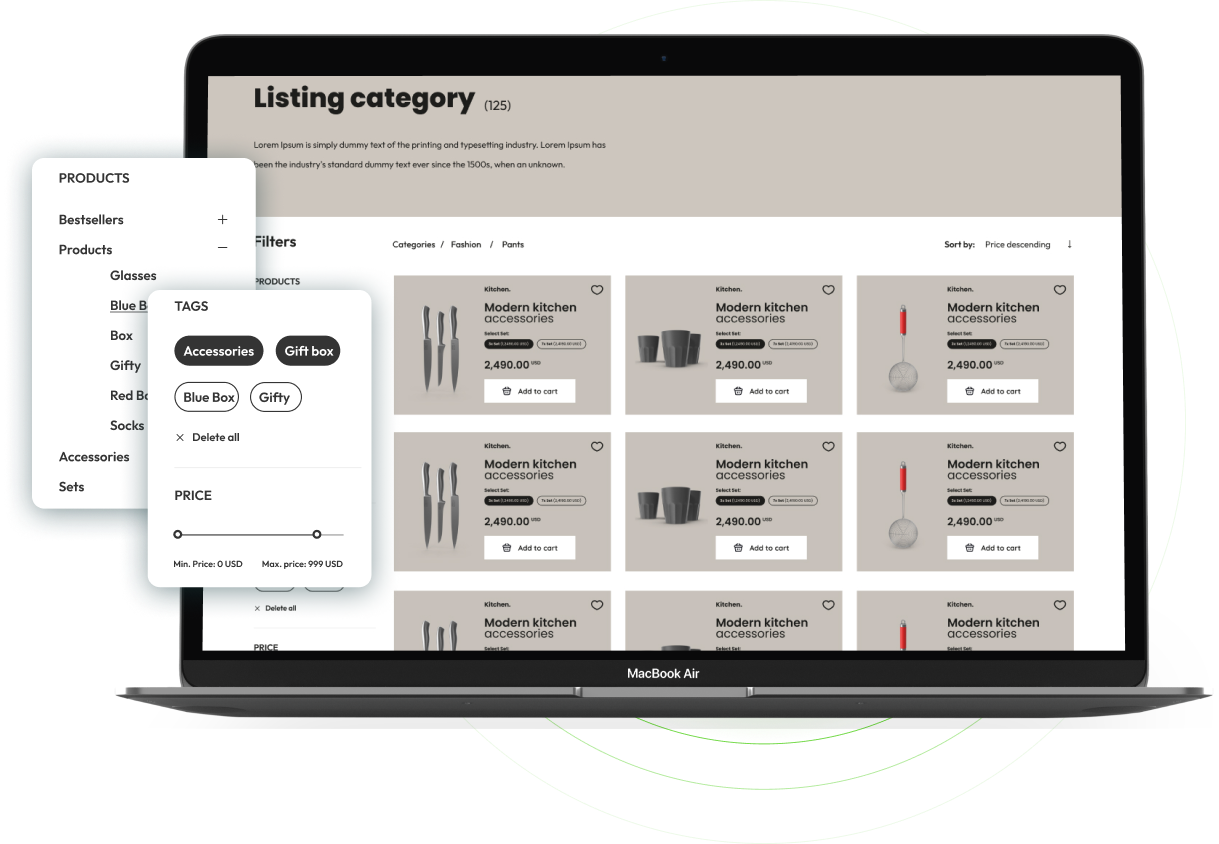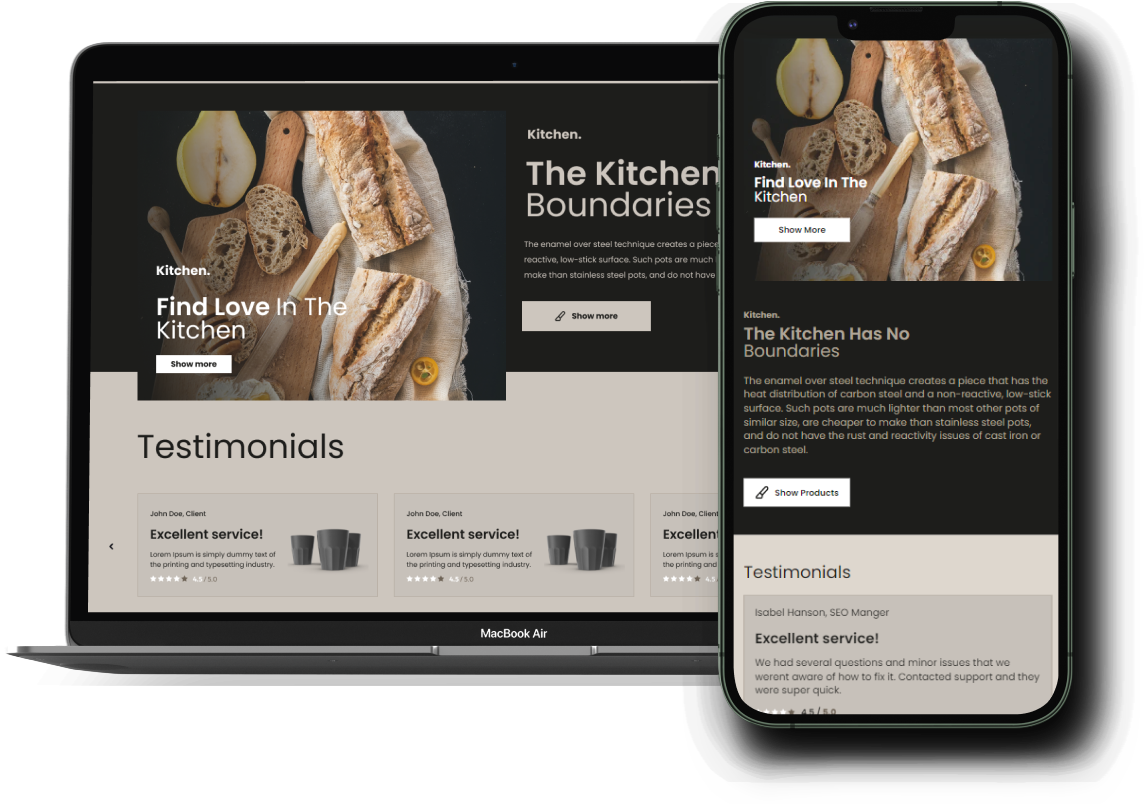 Kickstart your business with a high-spirited and modern brand page.
Make a lasting impression in the minds of the audience instantly. The credibility of your brand will earn popularity and traffic.
The Kitchen Theme pages will give instant results and higher traffic on your page. The captivating model of the page and a solid foundation of your business will increase revenue.
The Interesting And Pleasant Model of Your Store


Will Make Your Customers Regular Visitors

Our Kitchen Theme will keep
Create Wishlist
Allow your audience to make a wishlist of their favorite products. By using data, reach out to them to encourage them to buy the products they like.
Clever Navigation
Let your customers quickly find what they are looking for through product filters and a built-in innate navigation.
Video Library
Virtual shopping experiences can be improved for the audience by adding a detailed video of the products so the audience can easily trust them.
Share Products on Social Media
To generate more traffic and gain popularity and boost sales, allow visitors to share their favorite products on their social media accounts.
Effortless Management
The Kitchen theme's simple and user-friendly dashboard allows anyone to add items and manage them in the store without extensive technical knowledge.
Natural and Captivating
The visitors will not take long to exit your page if they don't find it interesting. Capture their attention and make them stay with the intuitive design of the page.
Pleasant Outlook
To capture the attention of busy visitors, you need an attractive layout. Our modern kitchen designs will make your visitors turn into regular buyers and skyrocket your sales.
Theme with Dynamic Design and Features

To
Mark an Impression on your Audience

Explore the large variety of designs available for Kitchen theme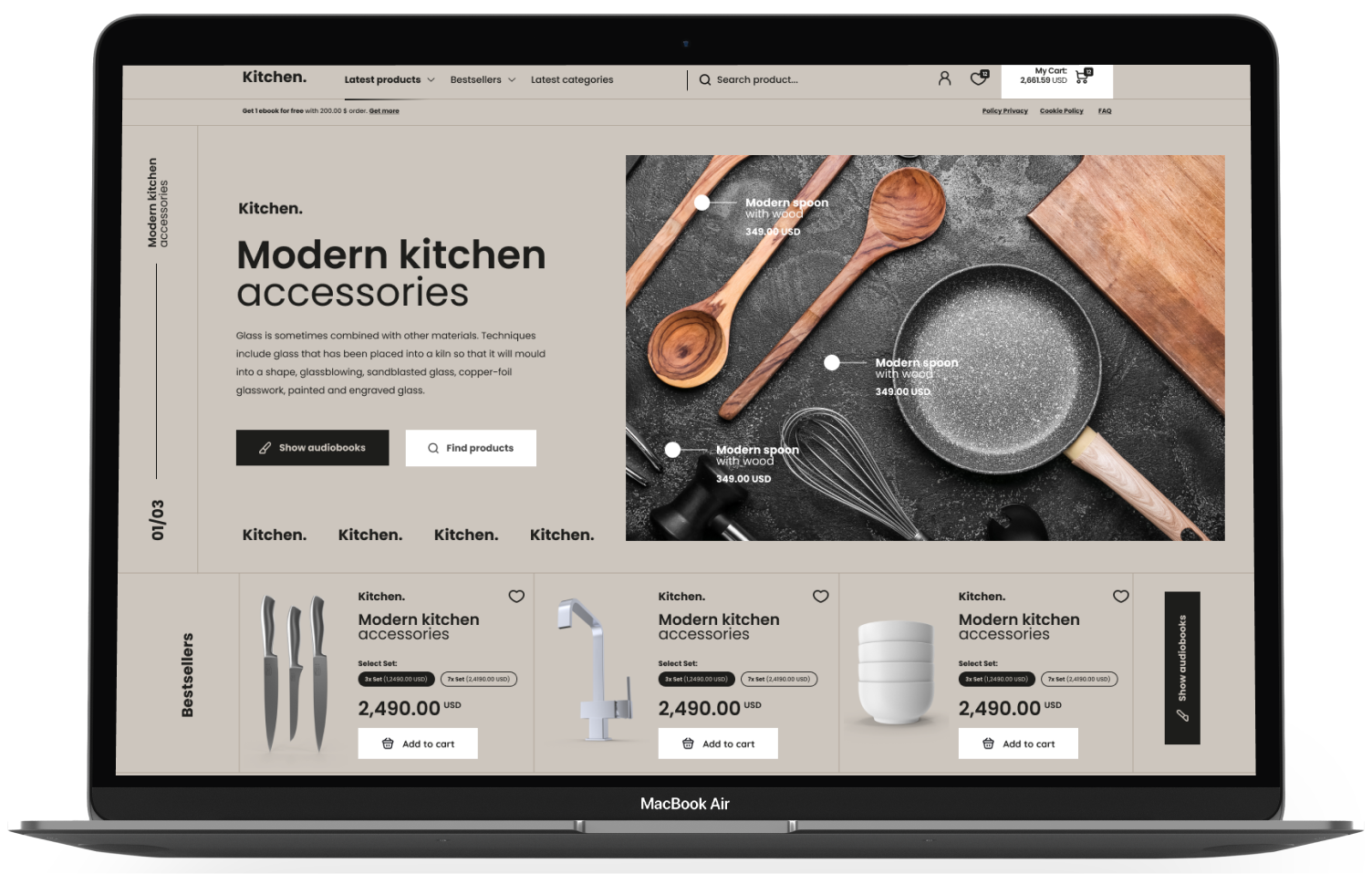 Programmed

by a Team With Experienced
And Talented Individuals

The code reflects the expertise we have gathered through years of experience.
Safe Framework
The safe PHP framework has been used for many years now. The new frameworks lack the years of experience and trial and error that assures quality and durability.
Durable Codebase
Laravel framework is reliable and durable. The smart developers working for Laravel have perfected the codebase and keep it updated with the latest needs.
Ready to Integrate
An online store means constant alterations and improvements. Add or remove features without any hassle. Create easy payment getaways or integrate a third-party app without any complications.
Designed for your business
The Kitchen Theme has been designed while keeping in view the demands of your business. A non-complicated and attractive theme results in more sales.
Offering you a

lot more
than Kitchen Theme

Develop a store that has everything you need to start selling your products right away.
Theme that Aids in More Sales
The main goal of developing the Kitchen Theme is to help you start your business without any delays. There is everything you need, from payment gateways to product categorization and smart navigation systems to gain customer loyalty.
Design with your Brand in Focus
A solid base to start your business is the most important thing you need. A credible brand image will help form a long-lasting relationship with your customers.
Kickstart your Business in No Time
Entrepreneurs who set up their business with us don't have to worry about their page development. You will have time to focus on other things, such as inventory and marketing.
Questions and Answers
Frequently Asked Questions