A Flexible Theme Tailored for
Every Business
Every element has been thoughtfully designed to ensure that your business's essence shines through. From color palettes that echo your brand's personality to layouts that elegantly present your products or services, 'Versatility Redefined' transforms your website into an inviting, immersive experience. Seamlessly transition between styles, elements, and functionalities as your business evolves – all while maintaining a cohesive and compelling online presence.
Thoughtful presents
Personalized keepsakes
Unique tokens
Gift seekers
Special moments
Heartfelt gestures
Online gift store
Cherished connections
Meaningful expressions
Gift ideas
Occasion gifts
Token of affection
Theme Features
Google's SEO

Mobile Optimized

Shopify's Font Picker

Lazy Loading Image

Custom Product Tabs

GDPR Cookie Popup

Builder Sections Home

Sticky Add to Cart

Ajax Cart popup

Custom logo

Newsletter Signup

HTML5 and CSS3 Tableless

Multiple Currencies

Stock Countdown

Product Reviews (app)

Compare Product

Wishlist Product

Quick View Product
Multiple Languages
You can create multiple Shopify stores, each dedicated to a specific language, and then link them together.
A Theme to Increase

Your Sales
Every theme results from years of eCommerce experience. Because of this, our themes offer you the features
you need to expand your eCommerce business and have a wonderful layout.
Allow Visitors to View

Your Product in Detail
For each product, add as many high-resolution images and videos as necessary. Give your audience all the details they require to decide why they should buy. Increase your conversion rate by illustrating credibility and fostering trust.
Clients Can Always Find

What They Want
The basic principle of any successful eCommerce store is easy navigation. Thanks to intelligent filtering and search, your audience can easily find anything they need. Allow your audience to explore the depths of your store's offer by adding product features and categorizing them.
Deliver an Unparalleled Consumer

Experience to Your Viewers
Your target market expects you to make the entire purchasing experience simple and satisfying. This theme assists you in creating a store that is quick to load, adaptable, and can work on all mobile devices. Let customers purchase Gifty products from any location.
Let people buy your products wherever they are, no matter how they choose to visit your store.
You don't create another online store with this theme. You create a flawless Gifty brand that your audience will love to shop from. Create your brand image and great customer relations.
Competiton is High in

your
product category

Let's look at the features that will help you stand out using our themed website.
Merch Wishlists
Give your viewers a reason to return! Let them make customized shopping lists of the items they want to purchase. Increase your sales by using the data to entice customers to return and make a purchase.
Adaptive Filtering
Make it simple for visitors to find the precise product they're looking for by using intelligent product filters. Gift availability, price, color, size, type, and brand are a few examples of filters.
Video Descriptions
Videos are commercially successful. Use videos to increase your conversion rate instead of just product images. Mix the whole process with images and link them directly to the product gallery to make it more interactive.
Easy-to-Use Product Pages
Make it simple to shop at your store! Every product page's layout ensures all relevant data is easily visible and accessible. This, in turn, facilitates the purchasing decision of your visitors and helps convince them.
Adaptive Design
Today, almost half of all online sales are made through mobile devices. No matter what device your viewers use to visit your store, let them have a seamless shopping experience. We tested the theme on various contemporary mobile devices to avoid any inconvenience
High-Speed Optimization
Speed is the one factor that is essential for both user experience and SEO. It's a significant ranking factor and affects your conversion rate greatly. Because of this, we make sure that every theme we create has smooth, speed-optimized code.
Safety Codes
We thoroughly examine the security and protection of any theme's code before making it available to the general public. Additionally, we frequently publish theme updates that include new authentication methods. By doing this, you can be sure that your business, its clients, and their data are always protected.
An Efficient Online

Store
Packed in One Theme

You can also change the layout and colors according to your brand requirement.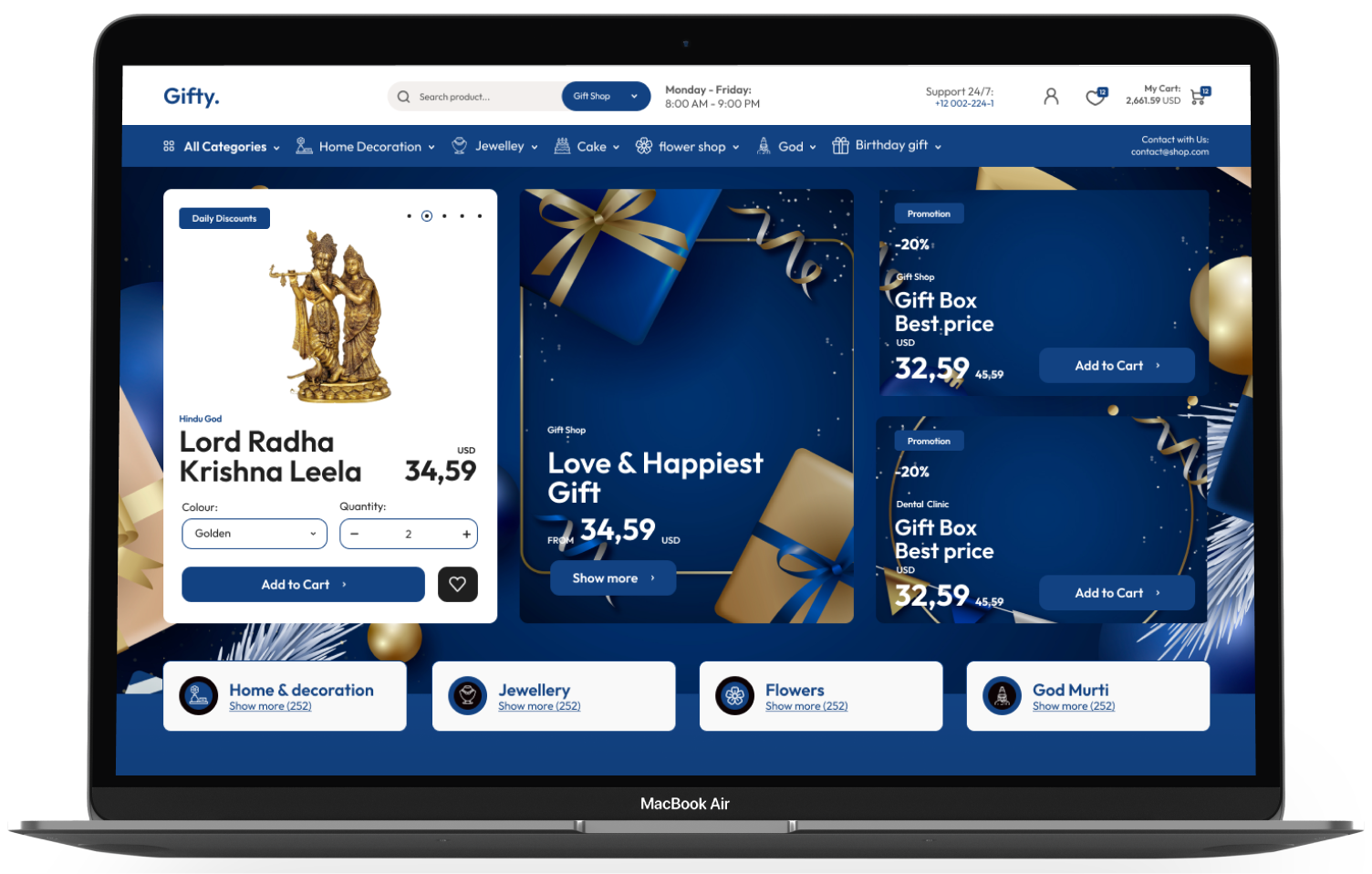 Built By The Top

eCommerce Coders

Our coding team has great experience in this field and puts in all their effort and knowledge
in creating the most suitable theme for your Gifty brand.
It has Everything you Need to Manage Your Online Storey
Most of our team members have several years of experience managing and expanding online stores. As a result, we produced a theme with all the features required to establish and managing a profitable online store.
A Themed Website To Increase Your Conversion Rate
Years of experience in the field have taught us what is effective and ineffective. While we are unable to produce product images for you, we can provide you with a theme that is conversion-optimizedThe elements of the product page, layout, and speed are all part of this optimization.
Created Specifically For Your Target Market
There are lots of themes available for eCommerce. But to build a long-lasting and successful store, you require a theme created especially for your market or industry. You have everything you need to start a profitable online Gifty business with our Gifty theme created according to your brand image.
Add New Features In Just A Few Steps
A theme is only the start. You should integrate your eCommerce store with third-party tools in order to maximize its potential. Integrating Gifty with dozens of well-liked eCommerce apps is simple. Leading payment portals or email alerts are examples of these.
Much More

Than Just A Theme

A complete store with everything you need to start selling.
A Gifty-Centered Theme
Purchase a quick, responsive eCommerce theme that will aid in the sale of your Gifty products. A contemporary theme designed with the Gifty industry in mind, Gifty is conversion-optimized. You have all the tools you need to draw in and to keep customers coming back.
A User-Friendly design
Get a cutting-edge eCommerce website that customers will feel confident using. Utilize all the wonderful features that our Gifty theme has and begin to create an identifiable, reliable brand right away.
Sart Selling Right Away
Without wasting time setting up the store and creating a generic theme. Use our pre-designed layout to start you online store right away.
Questions and Answers
Frequently Asked Questions