A Flexible Theme Tailored for
Every Business
Every element has been thoughtfully designed to ensure that your business's essence shines through. From color palettes that echo your brand's personality to layouts that elegantly present your products or services, 'Versatility Redefined' transforms your website into an inviting, immersive experience. Seamlessly transition between styles, elements, and functionalities as your business evolves – all while maintaining a cohesive and compelling online presence.
Gift shop
Gift ideas
Thoughtful tokens
Special occasions
Present shopping
Expression of love
Memorable gifts
Cherished moments
Gift-giving joy
Heartfelt presents
Occasion gifts
Unique souvenirs
Theme Features
Google's SEO

Mobile Optimized

Shopify's Font Picker

Lazy Loading Image

Custom Product Tabs

GDPR Cookie Popup

Builder Sections Home

Sticky Add to Cart

Ajax Cart popup

Custom logo

Newsletter Signup

HTML5 and CSS3 Tableless

Multiple Currencies

Stock Countdown

Product Reviews (app)

Compare Product

Wishlist Product

Quick View Product
Multiple Languages
You can create multiple Shopify stores, each dedicated to a specific language, and then link them together.
Built to Help
You Sell
Find out how Gifts can help you drive your sales up.
Promote & Sell All
Kinds of Gifts
Gifts come in all shapes and sizes. Whether you're selling individual products or complete gift packages, the theme makes it easy to promote them to your audience. Take advantage of conversion-optimized landing pages and high-quality product galleries. Give your customers all the information they need to take action and use compelling CTAs to encourage them to do so.
Make Finding Any

Gift a Breeze
Choosing the right gift is hard even in the offline world. With the Gifts theme, you can create filters and categories your audience can use to find the right product Then, give your potential customers the option to use said filters to find the perfect gift.
Ensure the Buying Process

Is Quick & Easy
If you want to build a strong brand, you've got to outperform your competitors in all areas. This includes user experience.
We built Gifts to help you offer your audience a fast, reliable, and secure shopping environment. No matter what device they're using to browse your offer and buy your products.
Gifts is more than just another eCommerce theme for selling personalized gift packages. It's a theme designed with the idea that to succeed in eCommerce, you need to build a brand. And then it gives you all the core tools you need to start building that brand.
Stand Out from

the
Crowd with Gifts

Find out key Gifts' features you can use to encourage your audience to buy from you.
Gift Wishlists
Give your customers an easy way to keep track of their desired gifts and plan future purchases. Use the wishlist data to send personalized reminders and invite customers to come back.
Convenient Product Filtering
Improve your user experience and help your audience find the perfect gift with intuitive filtering. Let them filter your offer by different criteria including gift price, type, or category.
Promotional Videos
Sell even more gift packages with videos. Mix images with video content and engage your potential customers. Help them learn all the details about your offer and encourage them to take action.
Product Reviews
Increase your credibility and skyrocket your sales with extra social proof. Let your audience rate your products and leave valuable feedback that'll help others make a buying decision.
Mobile Responsiveness
Offer your visitors an unparalleled UX and adapt your website to your visitors' mobile devices in an instant. With Gifts, you ensure that the website is easy to navigate and buy from. It helps create a seamless shopping experience, regardless of the devices that your customers are using.
Speed-Optimized Code
A fast-loading website is critical if you want to achieve high conversion rates and positions in search engine results. With Gifts, you can save your audience the frustration of a slow site and give them a store they'll love to shop at.
Secure Framework
Data security is critical to any eCommerce business. As an experienced team, we understand the importance of data security. That's why we based Gifts on the latest and most secure PHP framework. This, together with frequent security updates helps keep your customer data and your business secure.
Different Styles,

Same
Powerful Theme

Customize Gifts and adjust it to suit your branding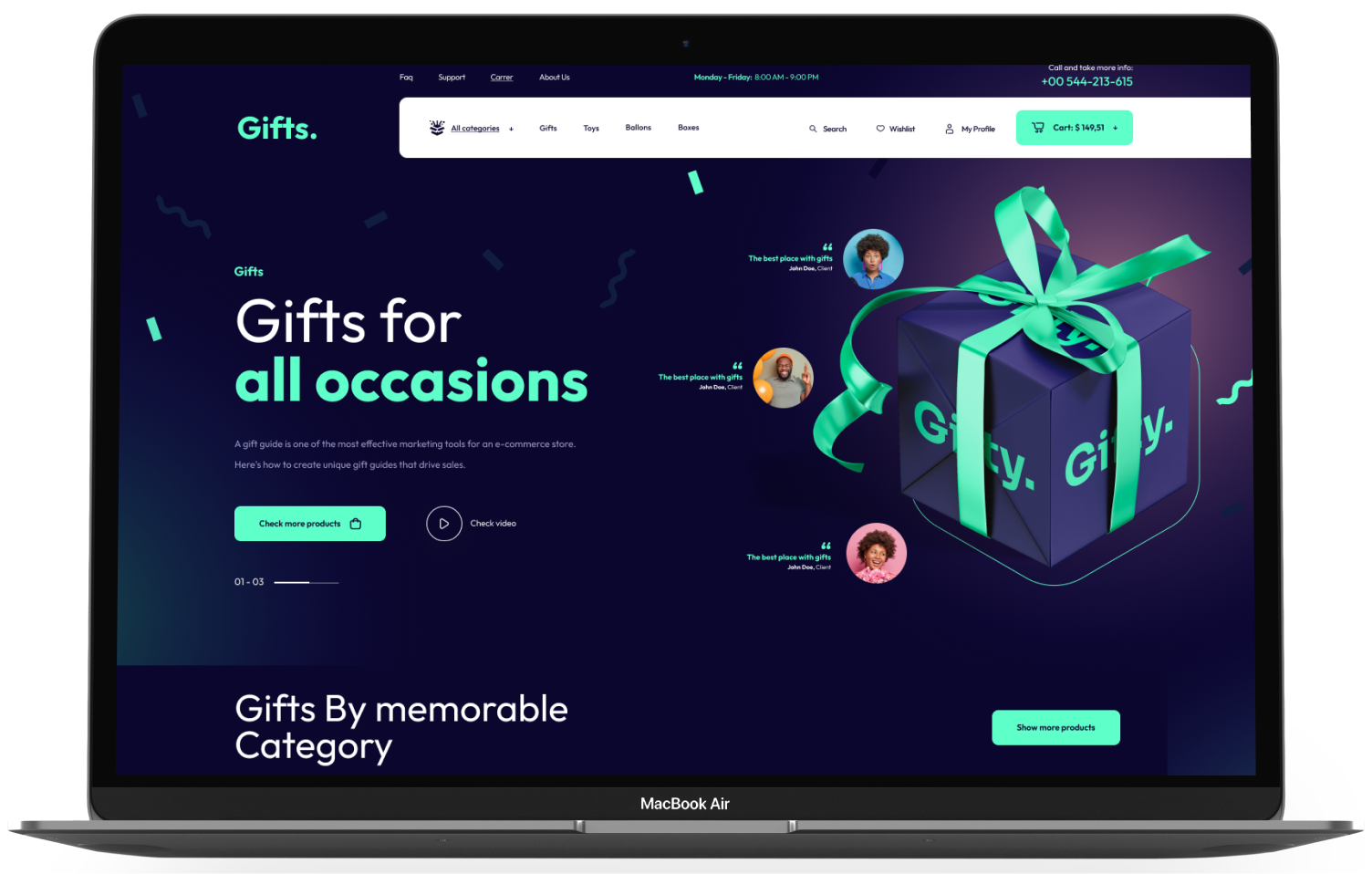 We've Spent

Years Learning eCommerce
Design Best Practices

We then used all that knowledge to build Gifts - a high-converting eCommerce theme.
Key eCommerce Features
Our experienced team of developers and UX experts has worked on dozens of successful online stores. We now took all that knowledge and created a theme that gives you everything you need to start an eCommerce business.
Conversion-Optimized Product Pages
To succeed in eCommerce, you need a store that sells. With Gifts, you can easily build a modern online store that helps you sell. One that not only lets you present your products but that helps encourage your audience to take action
Built for Gifts
Just as the name of the theme suggests, we built it with particular types of businesses in mind. Whether you're into business gifting or in a personal gifts niche, the theme helps you build a brand that stands out from your competition.
WordPress, Shopify, or Opencart Compatibility
We've thoroughly tested the functioning of each theme version. Thanks to that, you get a product that's fully compatible with your respective platform. This also helps ensure excellent speed and user experience optimization.
Want to

Go Beyond Gifts ?

Grab a complete eCommerce package and get a head start over your competitors.
A Gifts Theme
Get your online store built with a fast, responsive eCommerce theme. Gifts is a modern eCommerce theme that follows all the latest development best practices. The theme boasts an intuitive dashboard and conversion-optimized design.
A Modern eCommerce Store
Let us handle all the work and get a store that's built specifically for your products and brand. Leverage years of development experience and get an edge over your competitors.
A Head Start Over Your Competitors
Save money and time, and give your business a head start over your competitors. We'll build your store while you handle all the other things related to running your eCommerce store.
Questions and Answers
Frequently Asked Questions