A Flexible Theme Tailored for
Every Business
Every element has been thoughtfully designed to ensure that your business's essence shines through. From color palettes that echo your brand's personality to layouts that elegantly present your products or services, 'Versatility Redefined' transforms your website into an inviting, immersive experience. Seamlessly transition between styles, elements, and functionalities as your business evolves – all while maintaining a cohesive and compelling online presence.
Gaming accessories
Gaming equipment
Gaming merchandise
High-performance gaming
Collectible items
Gamer community
Gaming gear
Online gaming store
Gaming enthusiasts
Gaming releases
Virtual adventures
Gaming excitement
Theme Features
Google's SEO

Mobile Optimized

Shopify's Font Picker

Lazy Loading Image

Custom Product Tabs

GDPR Cookie Popup

Builder Sections Home

Sticky Add to Cart

Ajax Cart popup

Custom logo

Newsletter Signup

HTML5 and CSS3 Tableless

Multiple Currencies

Stock Countdown

Product Reviews (app)

Compare Product

Wishlist Product

Quick View Product
Multiple Languages
You can create multiple Shopify stores, each dedicated to a specific language, and then link them together.
A Theme Designed to
Assist You in Selling
By incorporating years of eCommerce experience, we have crafted themes to boast visually appealing designs
and offer the essential functionalities for the expansion of your eCommerce enterprise.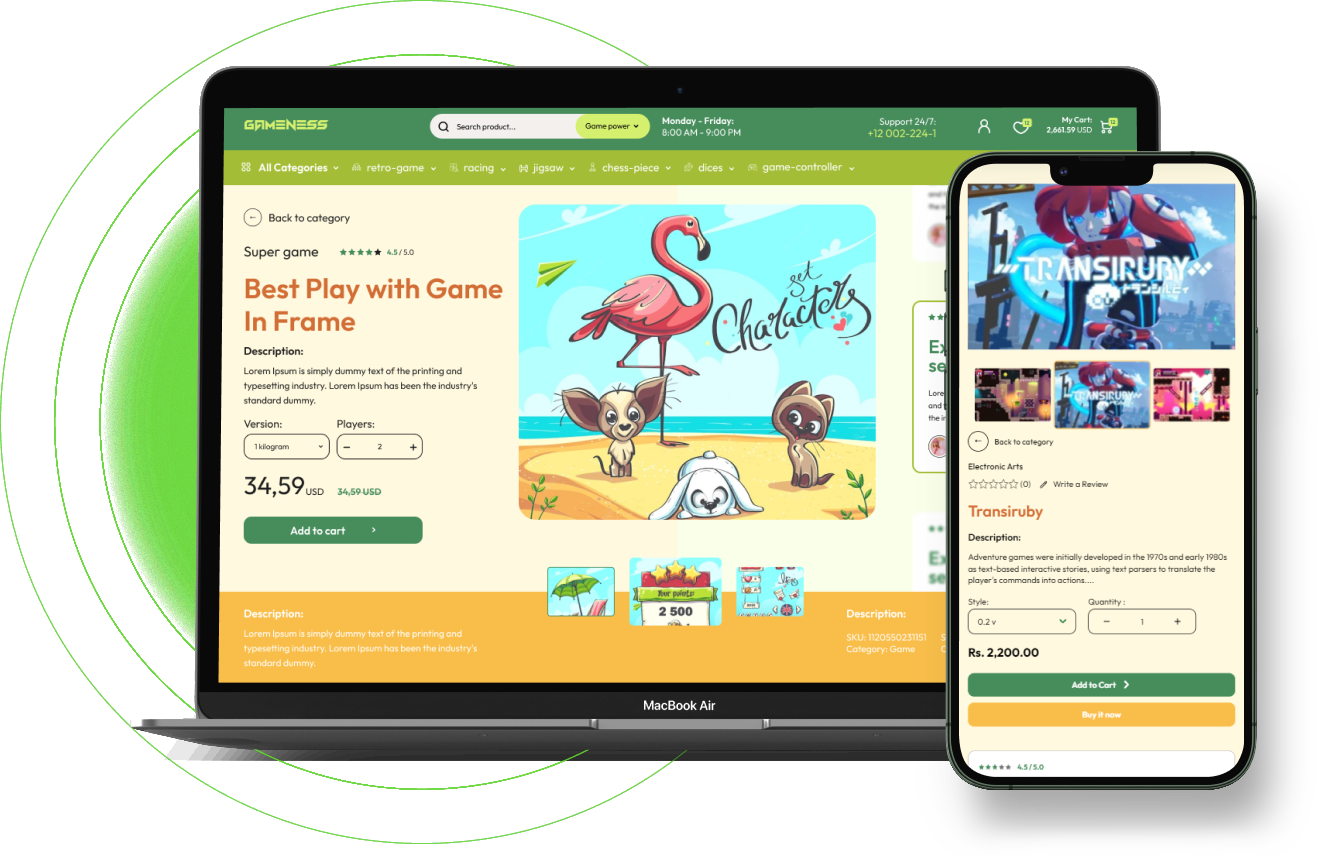 Enable Your Visitors To See Every

Intricate Detail of Your Product
You can include many product images and high-quality videos per product to provide your audience with comprehensive information. This practice can help establish credibility, build customer trust, and substantially increase conversion rates.
Guarantee That Your Customers Can
Consistently Every Discover What
They Are Searching For
With the aid of advanced filtering and search functionalities, your audience can effortlessly locate any item. You can add product features, categorize them, and let your audience thoroughly explore your store's offerings.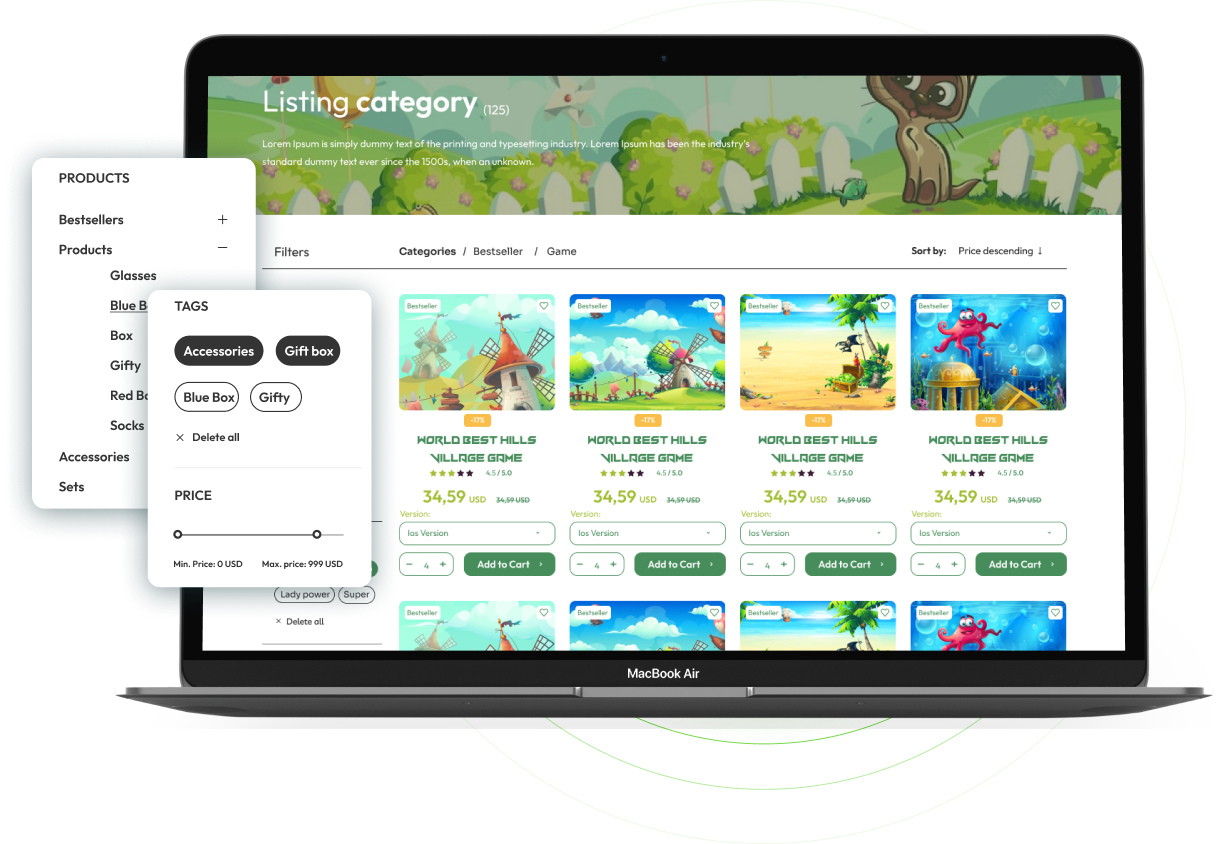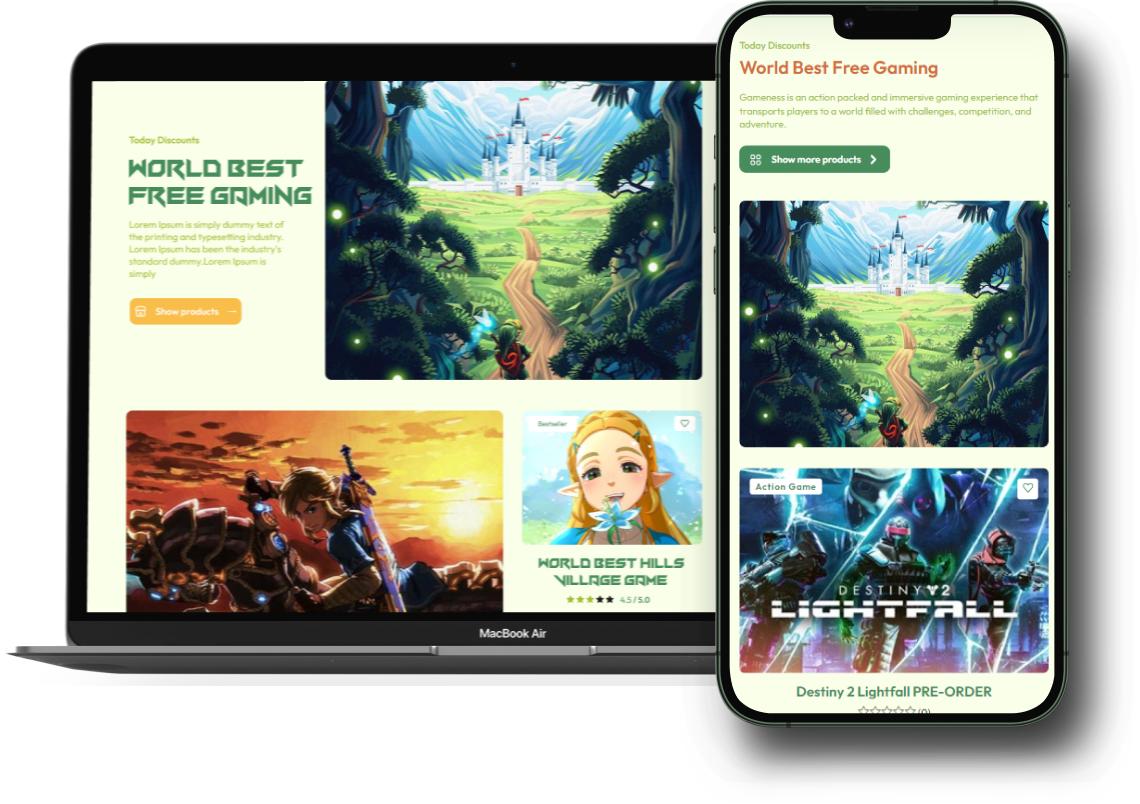 Provide Your Audience With An

Unparalleled User Experience
Your audience expects a seamless and enjoyable shopping experience. This theme assists in creating a responsive and fast store that functions well on modern mobile devices.
Let people buy your products wherever they are, no matter how they choose to visit your store.
This theme creates more than just an online store - it allows you to establish a perfect brand that can foster loyal followers. By cultivating a relationship with your audience, you can observe them return to purchase additional products.
With a simple click of a mouse button, your


audience has access to numerous stores.

This theme allows you to provide them with multiple reasons to select yours.
Product Wishlists
Motivate your audience to revisit your store by enabling them to curate customized lists of products they desire. Leverage this data to encourage them to return and complete their purchase, significantly increasing your revenue.
Dynamic Filtering
Use smart product filters and make it easy for visitors to find the exact product they're looking for. Sample filters include product availability, price, color, size, product type, and brand.
Product Videos
Utilize the power of videos to enhance your conversion rate, surpassing the impact of product images. Incorporate videos directly into the product gallery, mixing them with images to create a highly interactive shopping experience.
Intuitive Product Pages
Facilitate hassle-free shopping at your store! Each product page's design guarantees that all vital information is prominently displayed and effortlessly accessible, enabling your visitors to make an informed purchase decision.
Responsive Design
Mobile commerce presently constitutes almost 50% of all online sales. Ensure that your audience has a seamless shopping experience, regardless of the device they utilize to access your store. To accomplish this, we conducted testing of the theme on various modern mobile devices.
Speed-Optimized
When it comes to both user experience and SEO, speed is paramount. It is a vital ranking factor that can significantly impact your conversion rate. Therefore, we ensure that the code of every theme we construct is optimized for speed and kept clean.
Secure Code
Prior to publishing any theme to the public, we thoroughly evaluate its code for both integrity and security. We also frequently release theme updates that frequently incorporate new security features to guarantee the continuous safety of your store and its customers, including their data.
One Robust Theme, Providing All Essential


eCommerce Features at Your Fingertips

Explore the diverse appearances of the theme.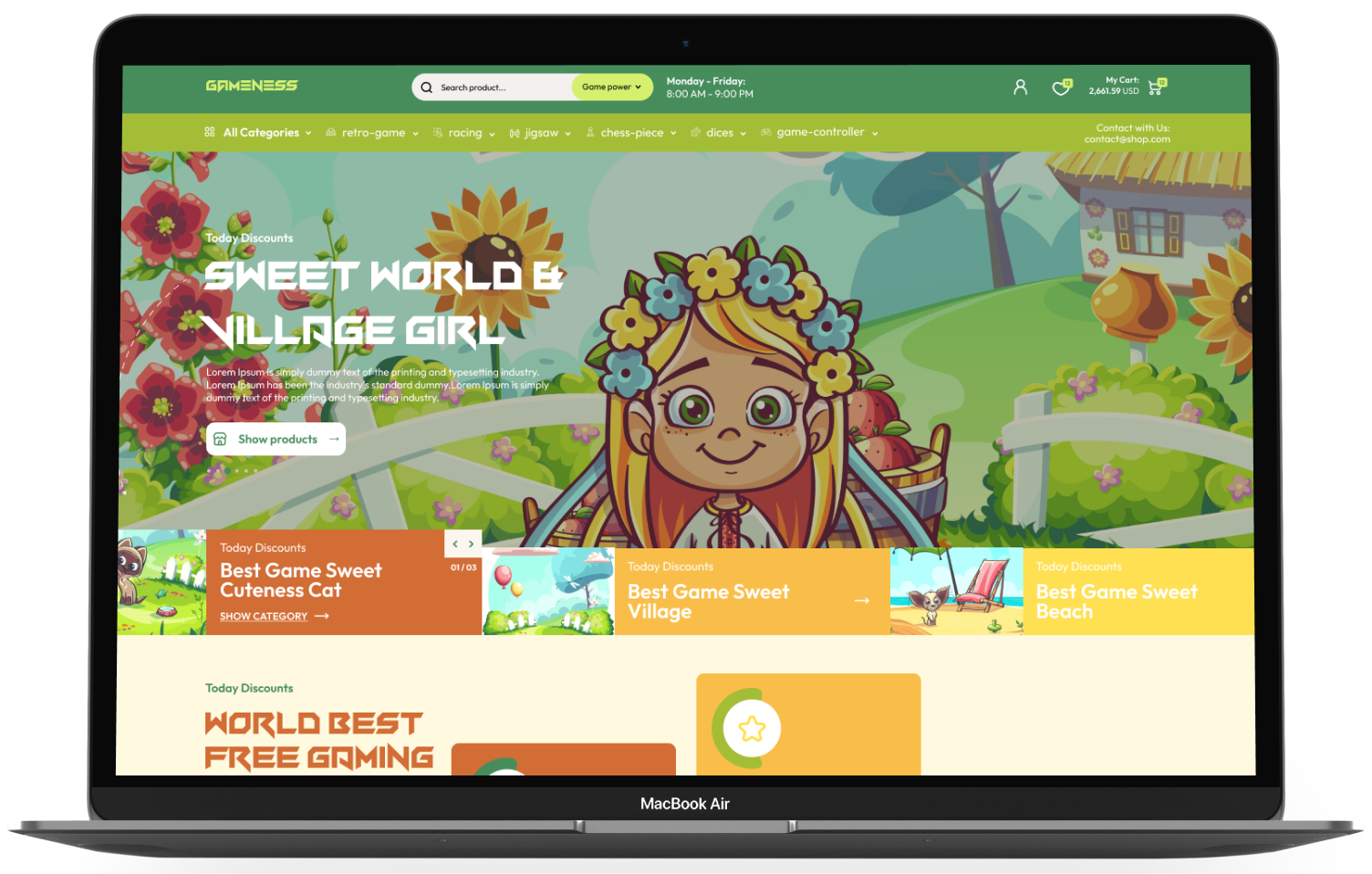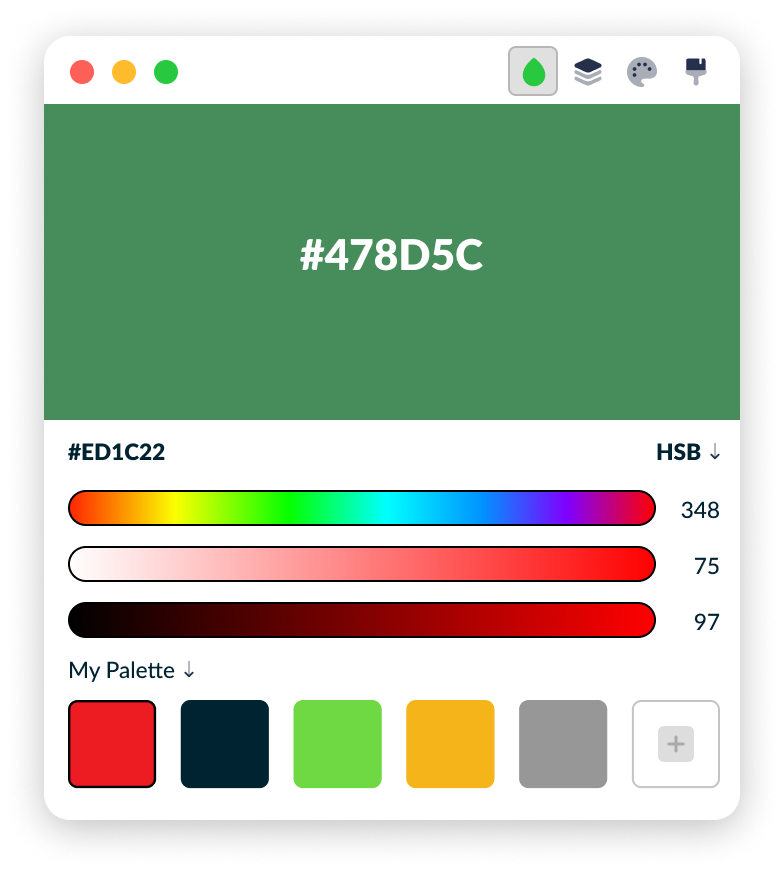 Crafted

by Professionals
in eCommerce

The code reflects extensive eCommerce expertise gained over the years.
Get Everything You Need to Sell Online
A few of our team members have devoted years to managing and expanding eCommerce enterprises. As a result, we have developed a theme that provides you with all the necessary elements to construct and manage a thriving online store.
A Theme that Converts
Having spent many years in the industry, we have gained valuable insights into what strategies are effective and which ones are not. Although we cannot produce product images on your behalf, we can provide you with a conversion-optimized theme. This includes optimizing factors like page speed, product page elements, and layout.
Built for Your Specific Niche
Numerous eCommerce themes are available, but for a thriving online store, a theme tailored to your niche or industry is crucial. Our Gamenesstheme provides all the necessary components for building a flourishing online Gaming business.
Ease of Adding Integrations
Integrating third-party tools is essential to maximizing the potential of your eCommerce store, and a theme is only the starting point. Our Gamenesstheme is designed to seamlessly integrate with a wide variety of popular eCommerce apps, such as top autoresponders and payment gateways.
Do you require more elements


beyond a mere theme?

Acquire a fully functional eCommerce store that is prepped for you to commence selling.
A Theme Focused on Gaming
Obtain a swift and adaptable eCommerce theme that facilitates the sale of your products. Gamenessis a contemporary theme fine-tuned to enhance conversions and created with the Gaming sector as the focus. The theme provides you with all the essential features to lure in and keep customers.
Design Conducive to Branding
Secure a contemporary eCommerce store that inspires trust in your audience and ensures their confidence in making purchases. Utilize the impressive array of features that the Gamenesstheme offers and commence developing a reputable and dependable brand right from the start.
Start Selling Sooner
Make the most of your time by avoiding any store setup delays. With our eCommerce package, you receive a fully functional store that is prepped for sales, and all of this can be accomplished in a matter of days, not months!
Questions and Answers
Frequently Asked Questions