A Theme That Helps You Establish
A Reputable Brand
Coded by experts, our themes have been carefully designed to ensure brand establishment and credibility,
which is key to driving sales and ranking high on search engines.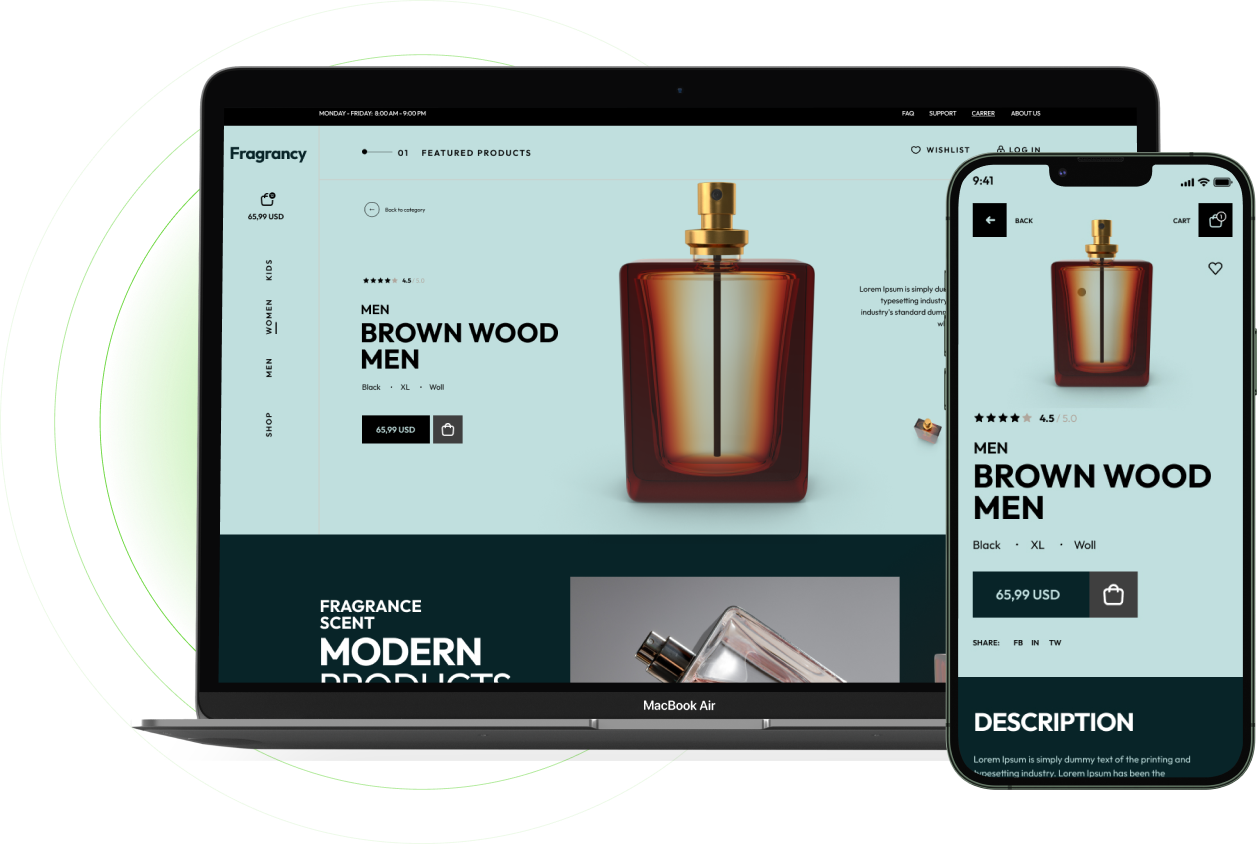 Flaunt Product Features
Add images and videos to each listing to allow customers to see what the perfume body looks like, its color, and what they can expect the scent to smell like. This will guarantee sales.
Exhibit Unparalleled CX
Great CX or customer experience is key to brand credibility and customer retention. You are likely to get popular by word-of-mouth as well due to this. The Fragrance theme's stunning, responsive, and fast layout ensures success without fail.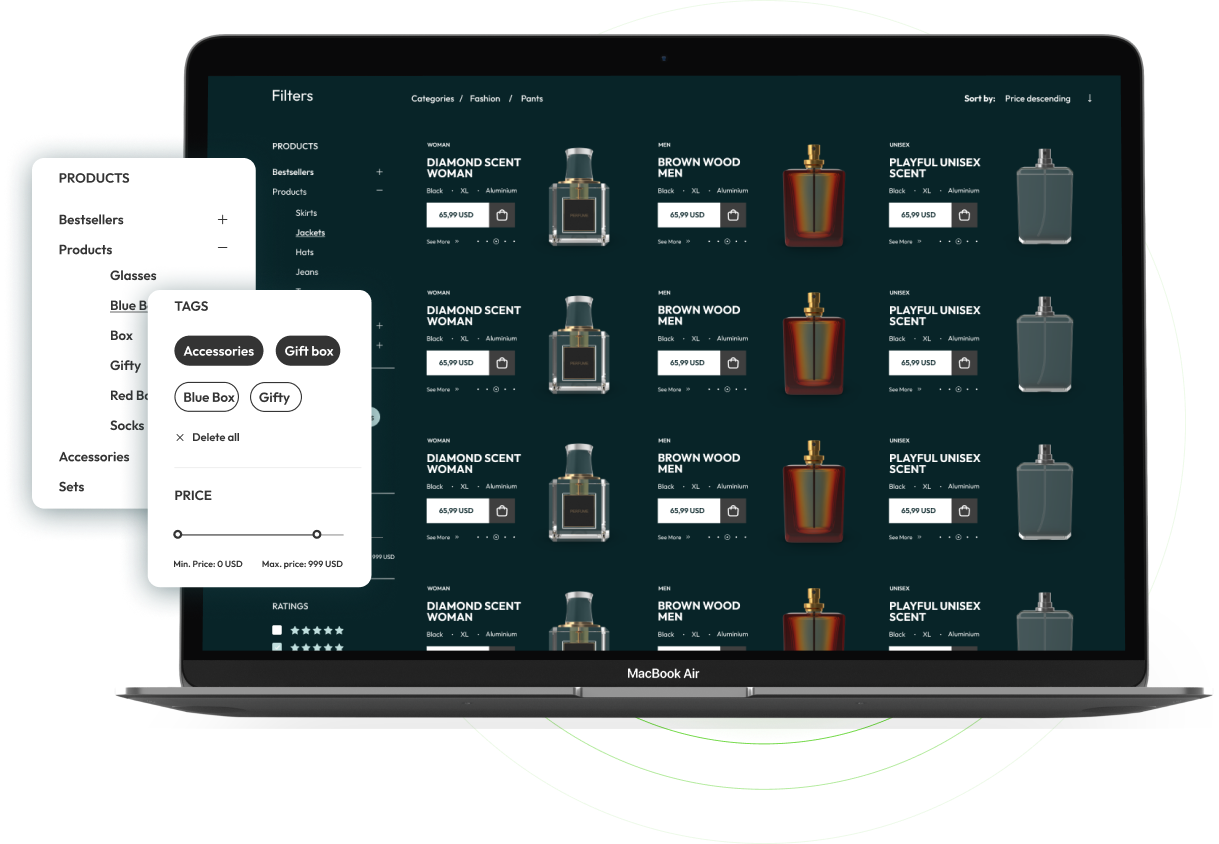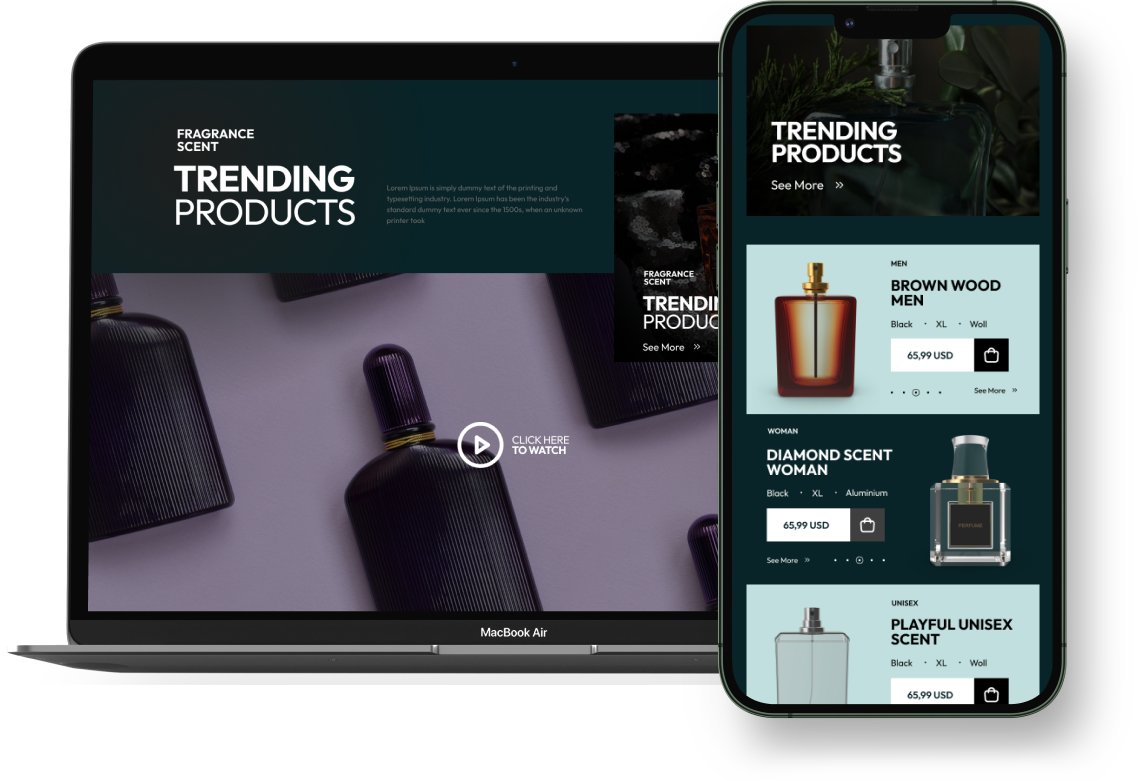 Allow Buyers To Search for

Their Favorite Perfumes Easily
Search and advanced filters make brand or perfume search a breeze. This keeps buyers hooked and enables them to find the exact product they want each time without added effort in just a few seconds.
We know that there are a variety of themes available online, but Fragrances stands out amongst them all. Our experts have carefully coded this theme to guarantee brand establishment and great revenue. This keeps buyers coming back for future purchases.
With Multiple Stores Available Online,


Give The Audience Several Reasons To Shop From You!

The Fragrance theme is a merger of the best eCommerce features meant for online success.
Wish Lists
A wish list allows consumers to save products they like or wish to purchase in a separate section. Only they can view this for product review and comparison, which gives a personalized feel.
Advanced Search Filters
Search filters that allow buyers to find scents and sprays by categories like brand, type, size, weight, volume, price, and other features aid surfing and guarantee an enjoyable shopping experience.
HD Videos
Videos and images are key to driving online sales. They will help you enable the buyer to understand the scent without smelling it and appreciate the bottle design before they make a purchase.
Landing Pages
Separate landing pages for each product help you provide added information to the buyer. These open up when you click each listing which means a more organized and functional site that is fun to surf.
Responsive Design
The highly responsive and versatile layout of the Fragrance theme allows users to find products within seconds. This also prevents them from getting bored and eventually navigating away.
Speed Optimization
The Fragrance theme is speed-optimized, meaning it loads up fast, and each user's click is responded to in real-time. This ensures a smooth checkout experience.
Safe And Secure Code
Our expert programmers designed highly safe and secure code that prevents data breaches in all cases. This gives you and the buyers peace of mind while ensuring brand credibility.
The Most Wanted eCommerce Features

Combined To
Form One Extraordinary Theme

Check out the multiple theme faces.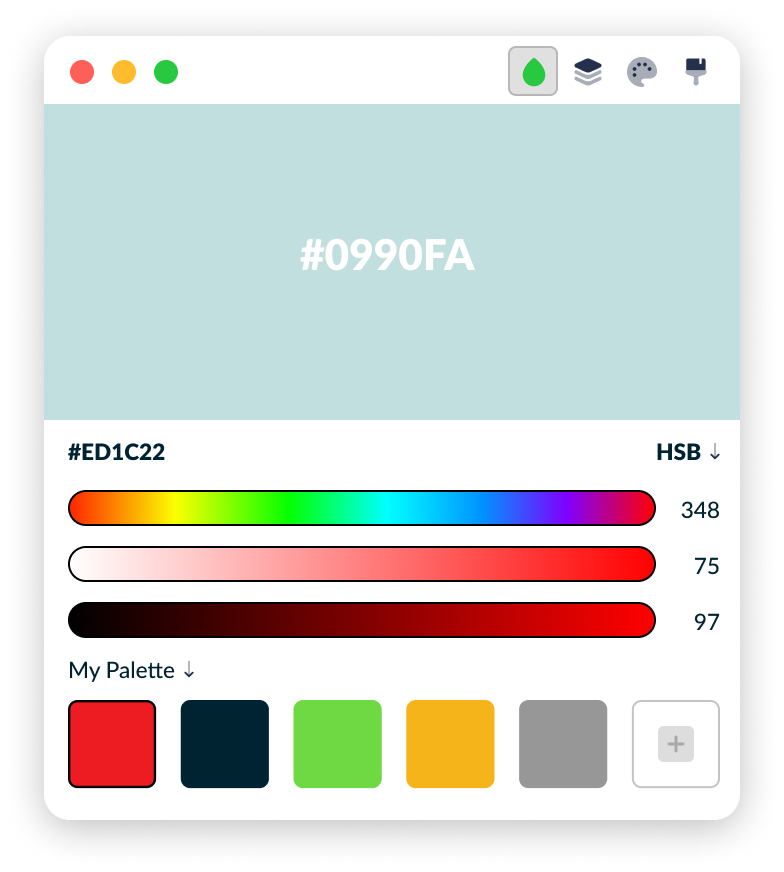 Designed

By Experts With Years Of Professional eCommerce Experience

Code that is meant to sell at all costs.
All-In-One
A theme with all the right features to guarantee revenue and higher SEO rankings. With the Fragrance theme, you can sell out your stock quickly.
Greater Revenue
When we say that the Fragrance theme has a high conversion rate, we truly mean it. The stunning design, beautiful colors, and grasping visual elements of the theme are enough to catch the eye of buyers. On top of this, mobile compatibility and advanced search options make shopping a whole lot more exciting!
Meant For Selling Perfumes
The Fragrance theme stands by its name by being perfectly designed to help you blend in with your target market seamlessly. This is key to becoming a reputable brand from day one and ensures customer loyalty.
Integration Ready
This theme can be easily customized and modified as required. The best part is that we have also enabled third-party integrations, which help add further functionality you may require as your brand grows.
Need More?
Consider investing in our full Fragrance eCommerce solution.
Targeted And Specific
Like the Fragrance theme, the eCommerce solution directly targets your niche specifically. This means there is no need for added customization, and you can start selling immediately right after you invest.
Aesthetic Design
Our eCommerce solution is visually stunning and aesthetically pleasing. It is the perfect ready-made solution to set up your brand anytime and anywhere.
Begin Now
The eCommerce package is a solution for those with no time to waste. It requires no programming, design, or modification, so you can start selling immediately and establish a brand in no time.
Questions and Answers
Frequently Asked Questions