We Built Themes That Are
Meant To Drive Online Sales
Our professional team with years of eCommerce expertise has coded several themes,
including Floweret, perfect for launching into your online target industry.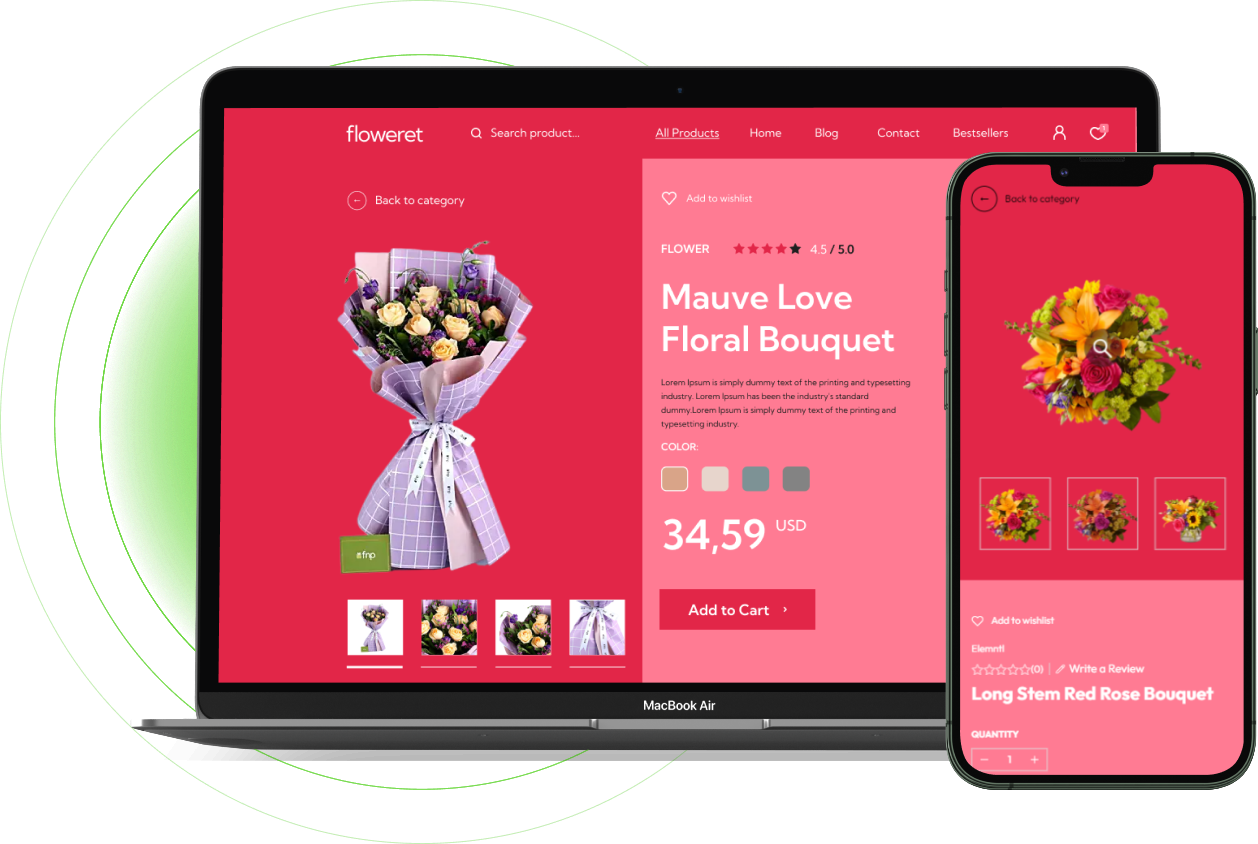 Flaunt Each Detail
Selling fresh flower bouquets and single clippings online means the customer cannot see or smell the flowers physically. Your best bet in this scenario is to offer stunning details via images, videos, and descriptions to guarantee sales. All of this is made possible when you pick the Floweret theme.
Make Online Shopping Enjoyable
Shopping for flowers online does not only need to be boring, it must be enjoyable and exhilarating. The Floweret theme ensures this by offering a stellar browsing experience; the theme is fast, responsive, and mobile compatible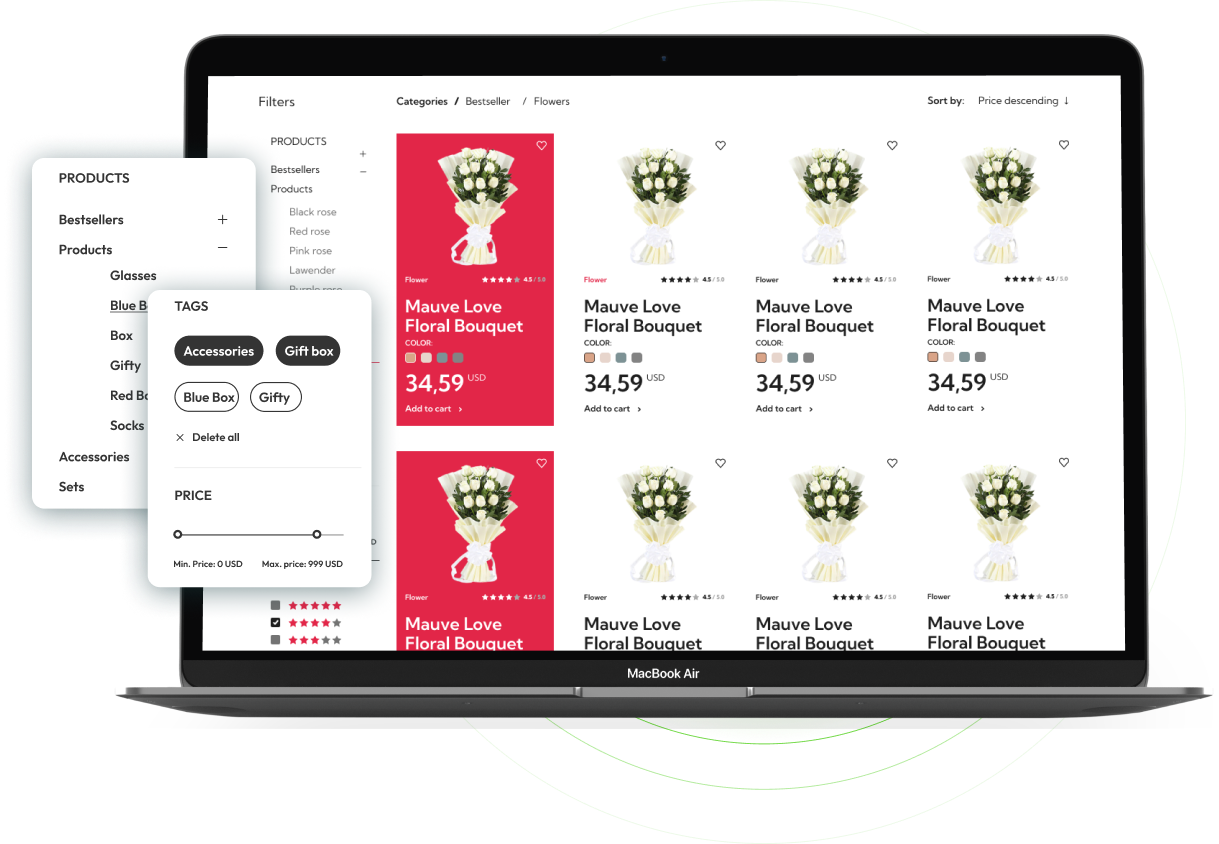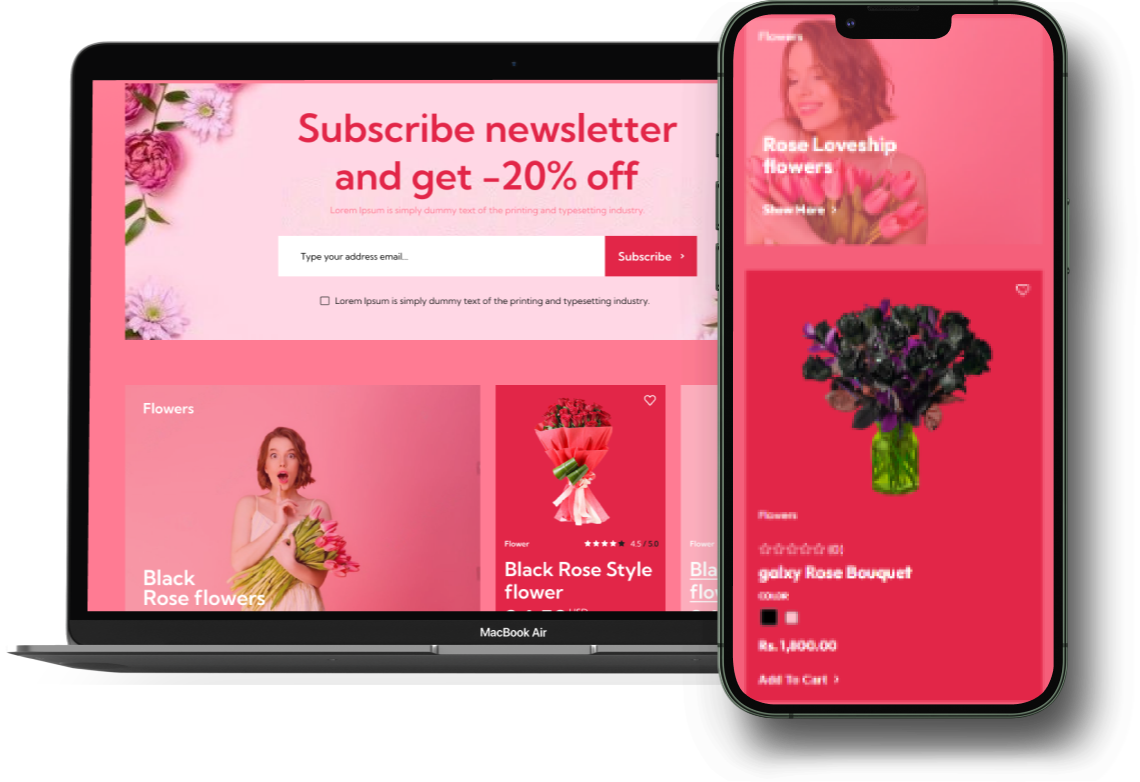 Enable Flower Search
If you have a good variety of flowers and mixed bouquets to sell, a search option with advanced filters is necessary so that customers can land on the exact product. This will reduce the hassle of sifting through your entire collection manually.
The Floweret theme is meant to attract and retain buyers. This will not only help you establish a brand with added credibility,
but the ability to build customer trust immediately increases recommendations. At the same time, loyal followers keep coming back for more.
With Several Online Stores Competing For The Top Position,


Give Your Shop A Chance To Stand Out

The Floweret theme gives buyers plenty of reasons to stick to your brand.
Wish List
The wish list feature lets buyers store products they like in a separate section. This aids future purchasing and gives buyers a reason to revisit the site.
Advanced Search Filters
Search filters and categories like weight, price, size, color, type, etc., enable easy search. This reduces hassle and prevents wasted time which can drive users away.
Videos
Product videos in HD quality offer deeper insight into what you are selling and what a product looks like to help you convince buyers to purchase. The best part is that the Floweret theme allows you to add multiple videos or images to each product listing.
Separate Product Pages
Individual product pages highlight each product better. You can upload images, videos and even add specs to add further information. These pages also prevent site cluttering as listings leads to these only when they are clicked on.
Responsive
The Floweret theme loads quickly, is highly responsive to each click, and is mobile-friendly. Buyers can swarm to your site using any digital device and purchase without the website hanging or falling to load.
Speed Optimized
Speed optimization allows you to load up fast and ensures a smooth buying experience. Modern users love a site that does not waste their time and allows them to quickly land on what they are looking for.
Highly Secure
Online transactions can get quite tricky, especially when there are bank details and personal information involved. Thanks to the highly secure and powerful Floweret code, you and the buyers can enjoy peace of mind. Customer information and brand reputation are both kept safe at all times.
All The Features You Need To Join

The Online eCommerce Industry

Check out the different faces of the theme.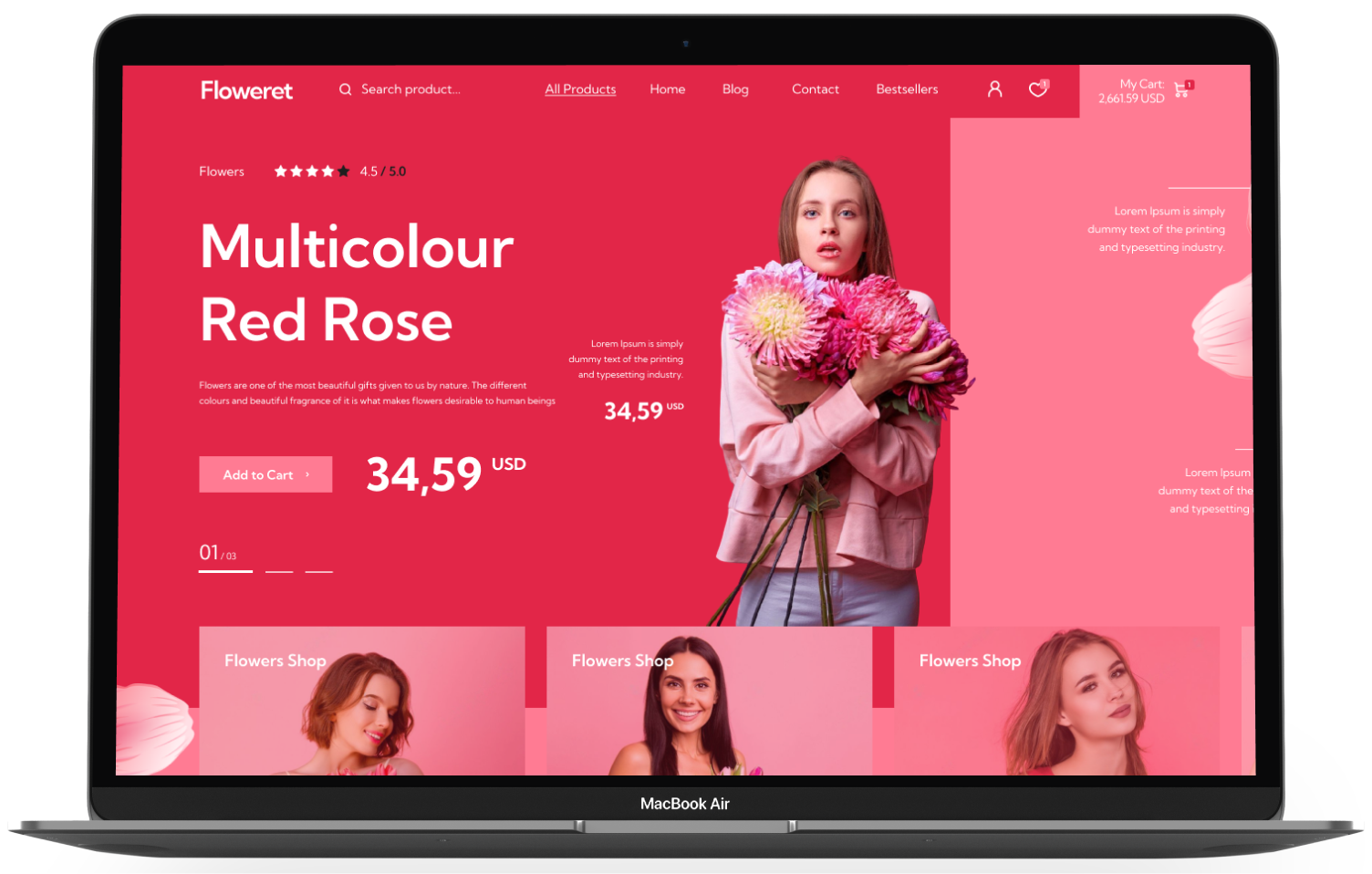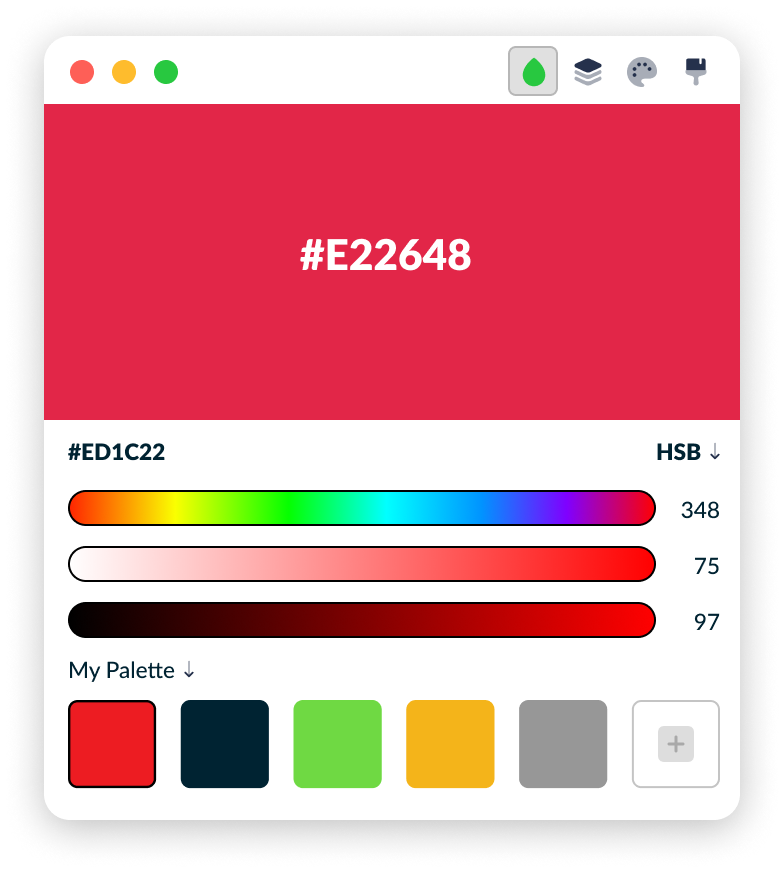 Coded

By Experts

Our professional team of programmers worked day in and day out to design powerful code,
all thanks to their years of eCommerce experience.
Establish Yourself Online
We know what it takes to establish a brand, but we are experts in helping you establish a presence online. The Floweret theme has all the features necessary to attract online buyers.
High Conversion Rate
The Floweret theme is stunning, attractive, and responsive. This guarantees sales and ensures a high conversion rate and better SEO rankings.
Niche Friendly
We researched brands that sell flowers online thoroughly to come up with the Floweret theme. Due to this,
Floweret is not only extremely specific to the industry, but it also has all the right features to blend in seamlessly without coming across as an amateur brand.
Easy Integration
Require additional features? Worry not! Floweret is designed to enable third-party apps and enable compatibility to create a truly unique site with functionality that best caters to your audience.
Want More?
Get your hands on the complete Floweret eCommerce package!
Industry-Centered
Like the Floweret theme, the eCommerce package is also completely relevant to the online flower-selling market. This will guarantee sales and help you establish a brand in no time!
Brand-Friendly
We know that you do not just wish to sell flowers online but wish to build a brand that sells just using its name. The Floweret eCommerce package guarantees this and ensures you can come across as a professional from the start.
Begin Today!
The Floweret eCommerce package only needs to be purchased and installed, after which you can start selling immediately. There is no need to set up, program, or worry about other features, as we have already done the job for you!
Questions and Answers
Frequently Asked Questions