A Flexible Theme Tailored for
Every Business
Every element has been thoughtfully designed to ensure that your business's essence shines through. From color palettes that echo your brand's personality to layouts that elegantly present your products or services, 'Versatility Redefined' transforms your website into an inviting, immersive experience. Seamlessly transition between styles, elements, and functionalities as your business evolves – all while maintaining a cohesive and compelling online presence.
Coffee shop
Espresso
Coffee culture
Café ambiance
Barista brews
Pastry delights
Café conversations
Coffeehouse vibes
Relaxing atmosphere
Coffee flavors
Coffee beans
Organic coffee
Theme Features
Google's SEO

Mobile Optimized

Shopify's Font Picker

Lazy Loading Image

Custom Product Tabs

GDPR Cookie Popup

Builder Sections Home

Sticky Add to Cart

Ajax Cart popup

Custom logo

Newsletter Signup

HTML5 and CSS3 Tableless

Multiple Currencies

Stock Countdown

Product Reviews (app)

Compare Product

Wishlist Product

Quick View Product
Multiple Languages
You can create multiple Shopify stores, each dedicated to a specific language, and then link them together.
Effectively Engage Customers

With The Right Theme
Our Coffee theme provides you with more than just a great look. Our years of eCommerce knowledge mean that this theme is designed to help your
business succeed – equipped with all the features and tools necessary for growth.
Let Visitors Explore Every
Aspect Of Your Offering
It's essential to show your audience the full picture when making a purchase. Equip them with the most up-to-date visuals and videos of your products so they can make an informed decision—which will ultimately boost credibility, establish trust in you as a business, and skyrocket conversions.
Keep Customers Satisfied With

An Array Of Options
With well-structured navigation, your eCommerce store can thrive. Use advanced filters and search capabilities to provide an effortless experience for customers looking for something specific; assign product features, organize them into categories - let their exploration take the lead!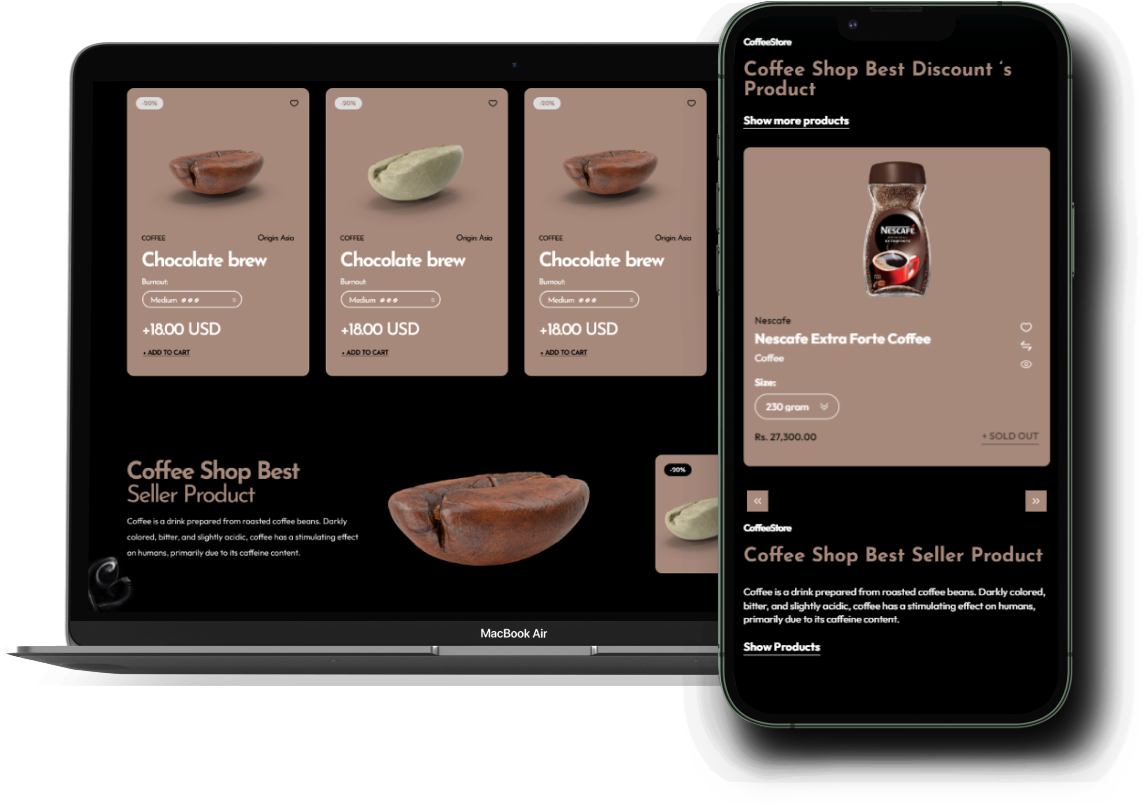 Unlock A Seamless Experience For Your Audience With An
Unparalleled User Journey
Provide your customers with an effortless shopping experience on any digital device! With this specialized theme, create a streamlined and swift store that performs optimally across all mobile platforms. Customers can now shop for your products anytime, anywhere - regardless of their preferred access method.
Create a lasting bond with your customers by building an online store that reflects the perfect brand. Give them something worth investing in, and you'll find that they will become passionate followers of all you have to offer!
Your Customers Have Endless Shopping


Possibilities Just a Click Away!

Give customers an unparalleled motivation to choose your product with this powerful Coffee theme.
Create Your Wishlist Today And Bring Those Items Into Fruition
Keep your audience enticed with the ability to customize and create their wishlists! Utilize this data for engaging platforms that will drive ROI by pushing them back towards a purchase. It's time to skyrocket those revenue figures!
Showcase Your Products With Captivating Videos
Make it simple for customers to find their perfect product with our cutting-edge filtering system. The possibilities are endless with filters such as availability, price point, color palette, size range, and product type or brand!
Creating A Positive Impression Every Time With Product Images
Showcase your products in a whole new light. Enhance customer engagement and attract more attention with videos linked to the product gallery - an interactive experience that will help boost conversion rates!
Constructing Product Pages That Adapt To Intuitive User Experiences
Shopping at our store is easy - every product page has an intuitive design that puts all the key details in plain sight. Our customers don't have to search for information, allowing them to make informed decisions quickly and easily.
Enhance Your Digital Presence With Responsive Design
Today, mobile commerce is taking the lead in online sales. With 50% of shoppers using their phones and tablets for browsing & checkout, ensure your audience enjoys a seamless shopping experience no matter their device with our tested theme that runs smoothly on modern devices.
Enjoy Lightning-Quick Performance With Speed Optimization!
Our focus on speed doesn't just pay lip service to user experience and SEO. It's essential for effective rankings, increased conversion rates, and site performance optimization - so we build our themes with lightning-fast code that puts you ahead of the competition!
Safeguard Your Enterprise With Secure Code
We're committed to offering you the most certain themes on the market. We rigorously test each theme before launch and frequently roll out updates containing advanced security features so that your store remains safe and reliable for customers and retailers.
Create A Unified Shopping Experience

That Unlocks
Your True eCommerce Potential

Explore the versatile facets of the Coffee theme, uncovering new elements each time.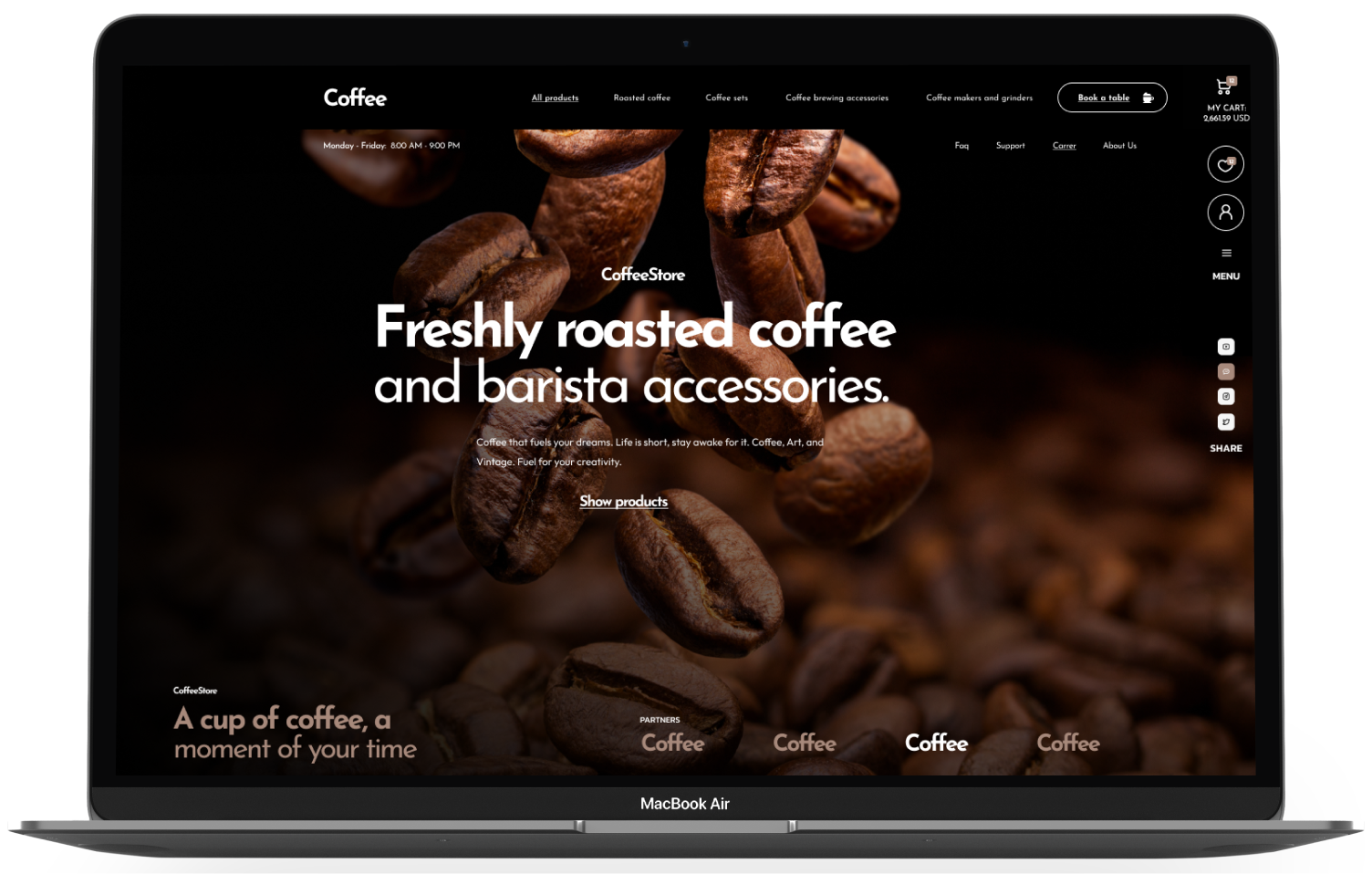 Handcrafted eCommerce


Solutions By Experts

Leveraging decades of eCommerce expertise, our coding professionals have developed the perfect blend of knowledge and technology to optimize results.
Unlock Your Business Potential & Sell Globally
Drawing from years of experience in eCommerce, our team crafted this theme with everything needed to launch and support an online store - driving success for businesses across the web.
Unlock Your Site's Potential With A High-Converting Theme
Drawing on our extensive experience in the industry, we offer this tailored Coffee theme that has been tested for conversion. Our optimized solutions cover page loading speed and product presentation to ensure customers get a seamless shopping journey.
Designed To Suit Your Unique Needs Perfectly
Take your Coffee business to the next level with our Coffee themes. Get industry-specific features and an optimized design for maximum eCommerce success without settling for generic, off-the-shelf themes. Create a store that stands out from the crowd!
Streamline Your Workflow With Easy Integration Solutions
This theme offers effortless integration with several top-notch third-party applications to take your eCommerce store to the next level. You can effortlessly sync autoresponders and payment gateways - no extra setup is required! Unlock powerful capabilities while keeping things simple: use our Coffee theme as a launching pad for achieving online success.
Need More

Than Just A Theme?

With our eCommerce store, you can quickly and easily start selling immediately! Get your business up and running in no time with everything you need.
It's Time To Show Your Style
Make your eCommerce store stand out with the ultra-responsive Coffee theme that's been developed to perfection just for you. This modern design is optimized specifically to help boost conversions and keep customers returning - giving you all the tools necessary for success.
An Inviting Brand Experience - Effective Design Solutions For Your Business
Establish a brand your customers will love in no time with the outstanding features of the Coffee theme. Define yourself as an eCommerce store that is up-to-date and reliable, inspiring trust from day one!
Unlock New Opportunities With Early Sales
Don't delay any longer - set up your online store with our streamlined eCommerce package in a few days! With pre-built features and an accelerated setup, you can start selling quickly without sacrificing quality.
Questions and Answers
Frequently Asked Questions