A Flexible Theme Tailored for
Every Business
Every element has been thoughtfully designed to ensure that your business's essence shines through. From color palettes that echo your brand's personality to layouts that elegantly present your products or services, 'Versatility Redefined' transforms your website into an inviting, immersive experience. Seamlessly transition between styles, elements, and functionalities as your business evolves – all while maintaining a cohesive and compelling online presence.
Civil law
Legal services
Legal counsel
Family law
Property disputes
Contract negotiations
Personal injury claims
Legal advocacy
Justice system
Legal expertise
Equitable solutions
Rule of law
Theme Features
Responsive Design & Mobile Optimized

Google Web Fonts Integration

Lazy Loading Image

GDPR Cookie Popup

Builder Sections on Homepage

Custom logo

Newsletter Signup

HTML5 and CSS3 Tableless

Multiple Languages
Multiple Languages
You can create multiple Shopify stores, each dedicated to a specific language, and then link them together.
A Theme Built
For Success
Years of experience and expertise have turned our themes into what they are today. They are the perfect
combination of all the features you will need to grow a sustainable online business.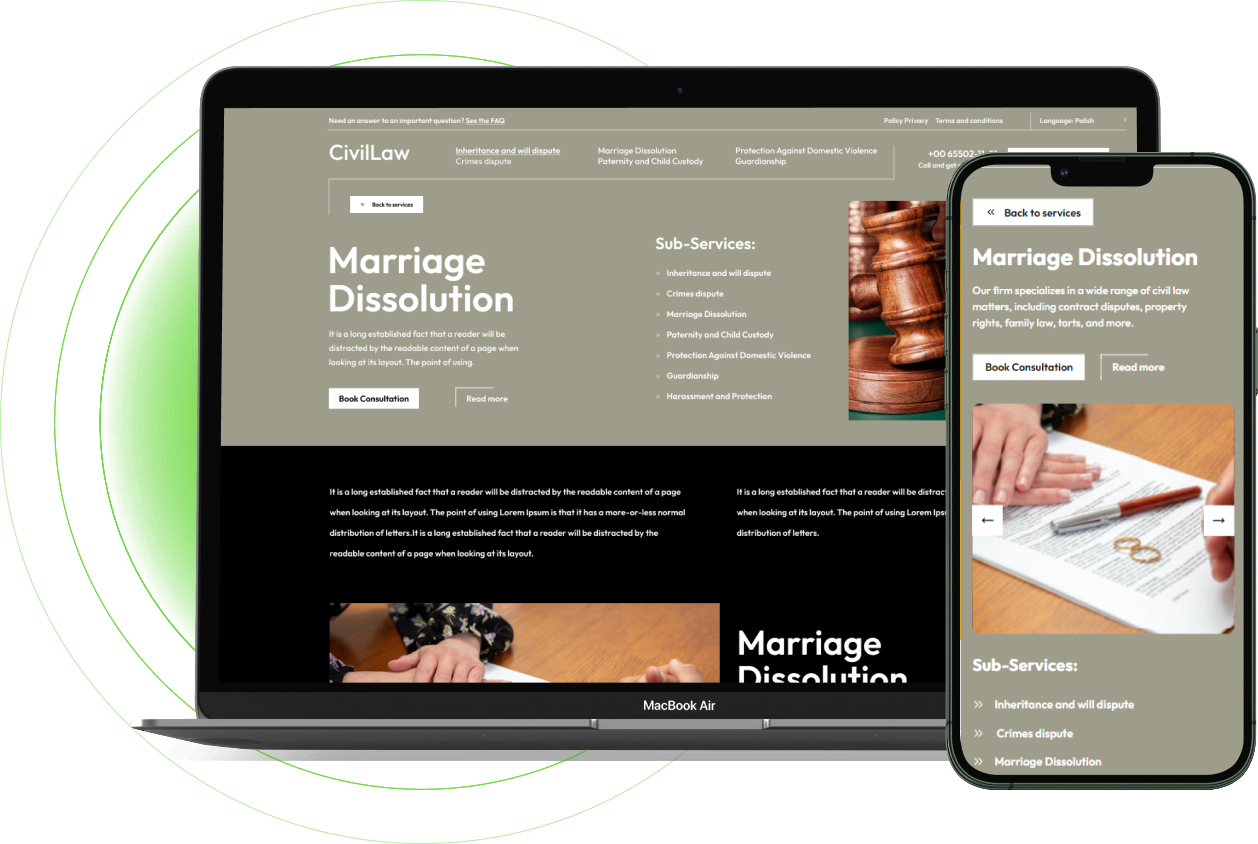 Flaunt Every
Detail
Add information, multiple images, and videos to help visitors truly understand your products/services. With our theme, showcasing every minute detail becomes a breeze.
Offer The Ultimate

User Experience
Build a fast, secure, responsive, and reliable store with the Civil Law theme. You will be able to offer a seamless user experience that visitors will not forget very easily.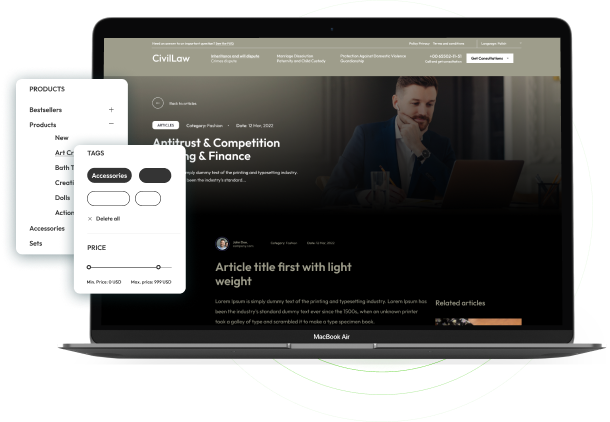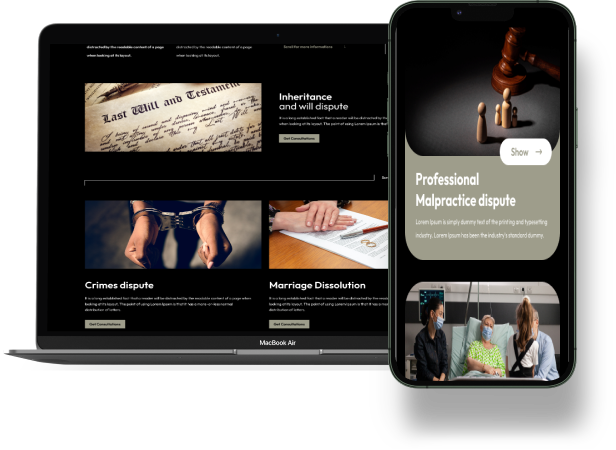 Allow Customers To Find Exactly
What They Are Looking For
Advanced search and filtering options allow customers to locate exactly what they are searching for. Product features and added details can also be used to allow customers to feel more engaged.
The Civil Law theme not only helps build the dream online store, but you can also establish brand credibility and garner customer loyalty. New visitors easily turn into recurring customers.
There are several online services, but the Civil


Law theme users to click, visit and stay.

One of many reasons to pick our theme include:
Product Lists
Wish lists allow visitors to save products for later. This feature causes visitors to return to the website when they are ready.
Product Filters
Search filters embedded into the theme allows visitors to land exactly the product/service they are looking for in just a few clicks.
Product Videos
Our video galleries allow you to back up your products so customers can know about every detail before making an order.
Attractive Product Pages
User-friendly product page designs keep users hooked, make shopping more fun, and give visitors a reason to turn into loyal customers.
Intuitive And Responsive
Both mobile and PC compatibility lets your customers enjoy a seamless shopping experience.
Fast
With the Civil Law theme, your website will load up in just a few seconds. You can now keep customers hooked and prevent them from running impatient and browsing away.
Secure
Our themes are thoroughly tried and tested before release to ensure there aren't any security loopholes. Civil Law offers complete security to both website visitors and owners.
A Complete Package Of The Best


eCommerce Features

Check out the different faces of the theme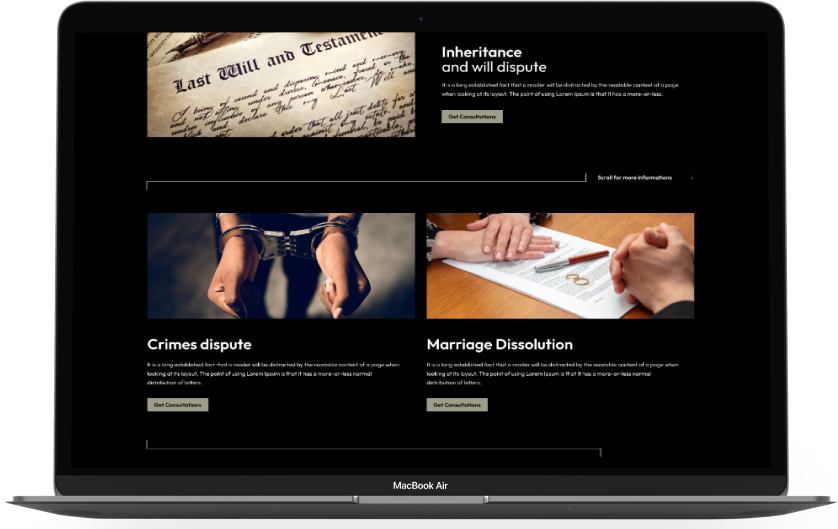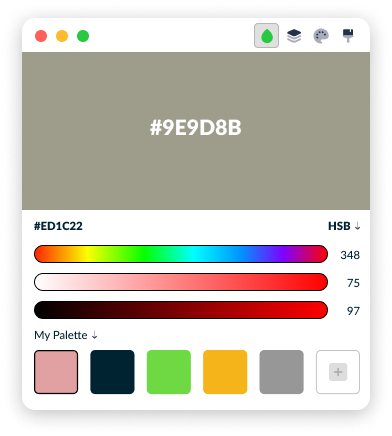 Made With Love

By True eCommerce Professionals

Years of knowledge combined into one awesome theme.
All The Features You Need To Set Up An Online Business
Most of our team members have spent years perfecting the code that backs up the Civil Law theme. The constant effort and vast knowledge base allowed them to create a theme that has all features you will ever need to successfully run an online business.
Spike Conversion Rates Right After Installation
Our developers simply did not cluster all eCommerce features into the Civil Law theme; instead, they formulated a theme that can help business owners skyrocket sales right from the start.
Stand Your Ground In Your Target Market
Each of our themes has been specifically created to help brands break into their target industry. With the right tools and functions, you can easily get ahead of competitors in no time.
Integrate As You Go
Our themes are not just responsive and secure, but they are also highly functional and compatible. You can easily embed 3rd party apps and make use of additional features as your business starts to expand.
Want A Complete

eCommerce Package ?

Get your hands on our eCommerce package so you can start selling straight away!
Revolves Around Civil Law
Our fast, user-friendly, secure, and responsive theme allows you to showcase your services perfectly. The Civil Law industry was kept in mind during the design stage, so business owners can attract the right audience and make them stay.
User-Friendly Design
Our modern and industry-specific designs allow users to trust your brand. You come across as credible, and visitors are also most likely to spread the word about your brand.
Start Earning Right Away
With the Civil Law eCommerce package, you get to start selling straight away. There is no hassle of setting up your website on your own as our complete package includes a Laravel backend, theme, and mobile app.
Questions and Answers
Frequently Asked Questions