Themes Perfect For
Selling Online
Our expert programmers have combined years of eCommerce experience into powerful code, producing themes meant for greater sales.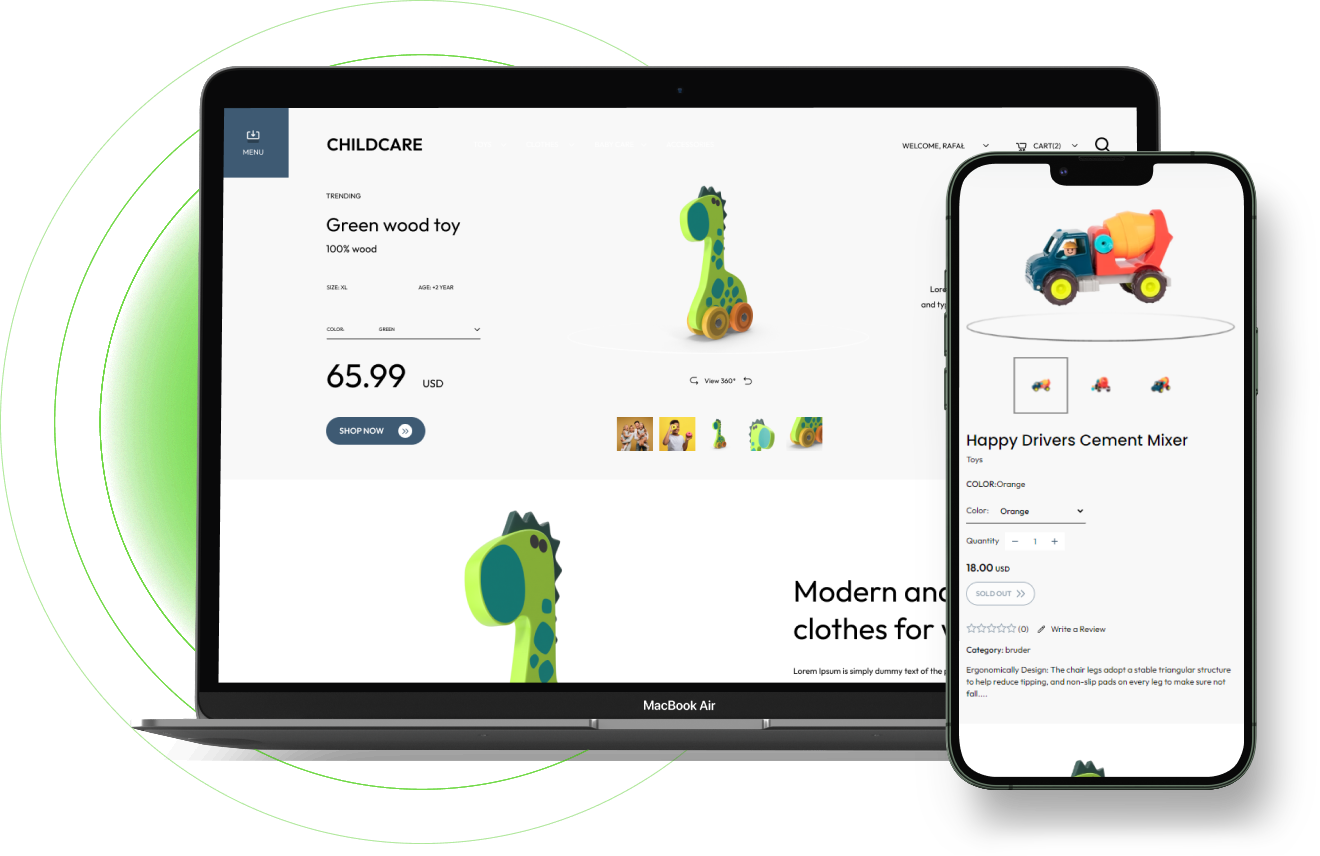 Offer Precise Details
High-quality graphics, including videos and image galleries for each product, offer greater insight which helps make buying decisions simpler. With Childcare, you can watch sales double while building brand credibility.
Easy Search
This theme offers advanced filtering options, which not only simplify the search process but also prevent customers from getting bored or irritated. They can land on the product they need each time without wasting effort.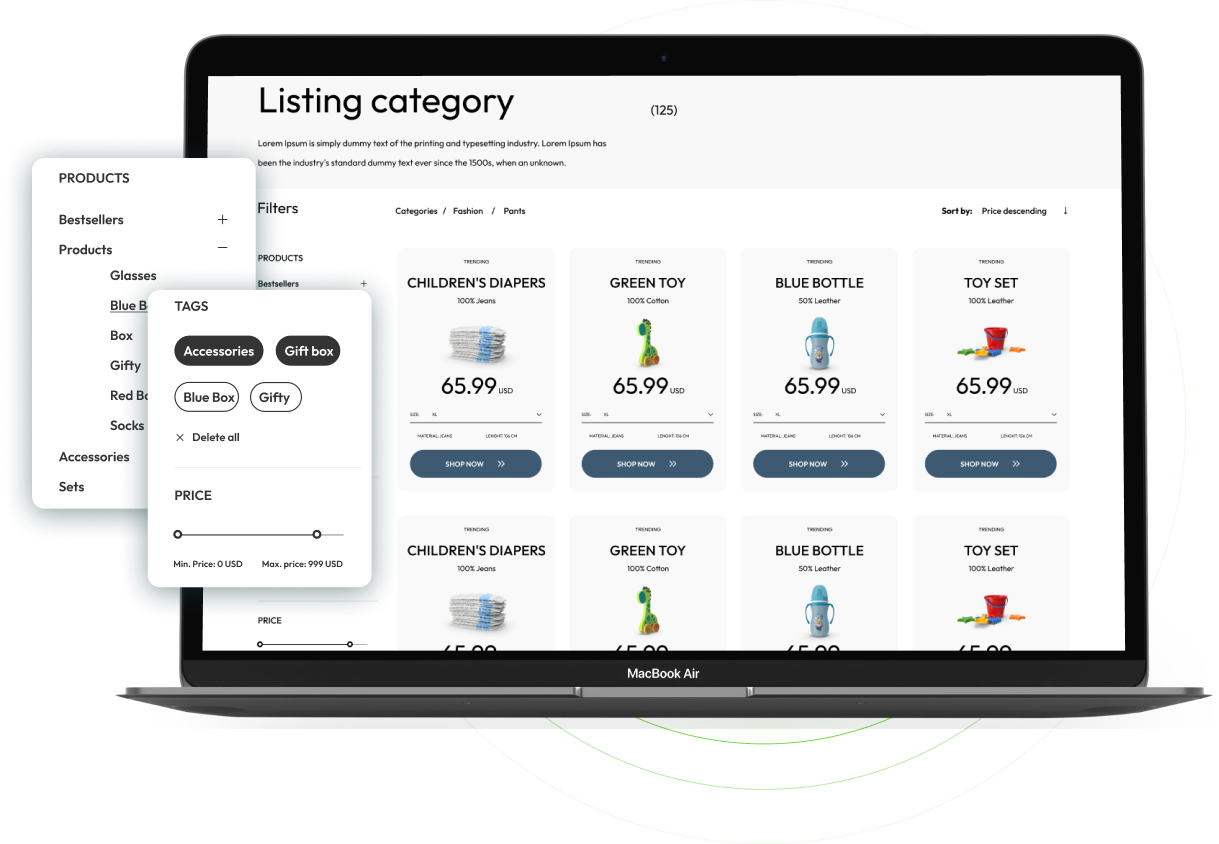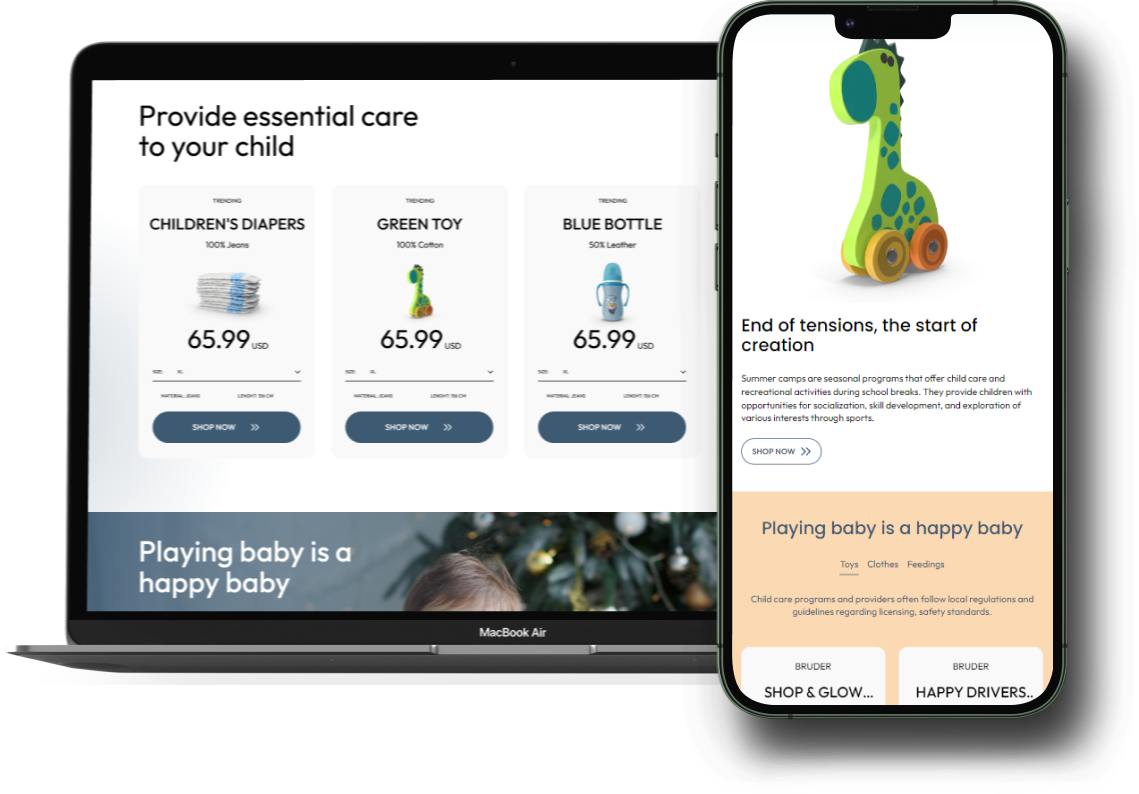 Interactive User Experience
Offer the best user experience to your customers with a fast-loading, optimized, secure, and highly responsive theme. Mobile compatibility further ensures buyers can visit your website using any digital device.
The Childcare theme ensures you do not build an ordinary online store. It guarantees that your website is fully functional, industry-specific, and well equipped to give a tough time to competitors.
Buyers Have A Ton Of Options
Give visitors a reason to adore your site, love your brand, and stick by.
Wish Lists
Wish lists allow customers to add all their favorite products to the cart before checking out. The best part is that they can also serve as a catalog of products that attract the buyer and ones they hope to buy in the future. The perfect way to double revenue!
Advanced Filters
Product filtering based on categories like brand, type, size, color, weight, price, model, etc., ensures buyers find exactly what they need. This eases navigation and keeps visitors hooked.
High-Quality Videos
The feature to add quality videos and images with each product allows buyers to learn more about the article, which enables them to make a purchase more easily.
Smart Product Pages
Dedicated pages for each product not only highlight the importance of each article in your inventory, but also allow buyers to learn all the details in a more reliable fashion.
Highly Responsive Design
A website that responds instantly to each click and loads fast not only guarantees higher SERP rankings but also ensures users are kept entertained.
Speed Optimization
A theme that is optimized to load fast and perfectly across all digital devices not only offers a stellar buying experience but also guarantees sales to double in a short amount of time.
Greater Security
Buyers trust you when they enter personal details and bank information onto your website to make a purchase. The Childcare theme ensures this trust is not broken by offering a highly secure checkout thanks to the perfectly safe code.
Top eCommerce Features

Merged Into One Theme

Check out the various theme faces to pick one that suits your style best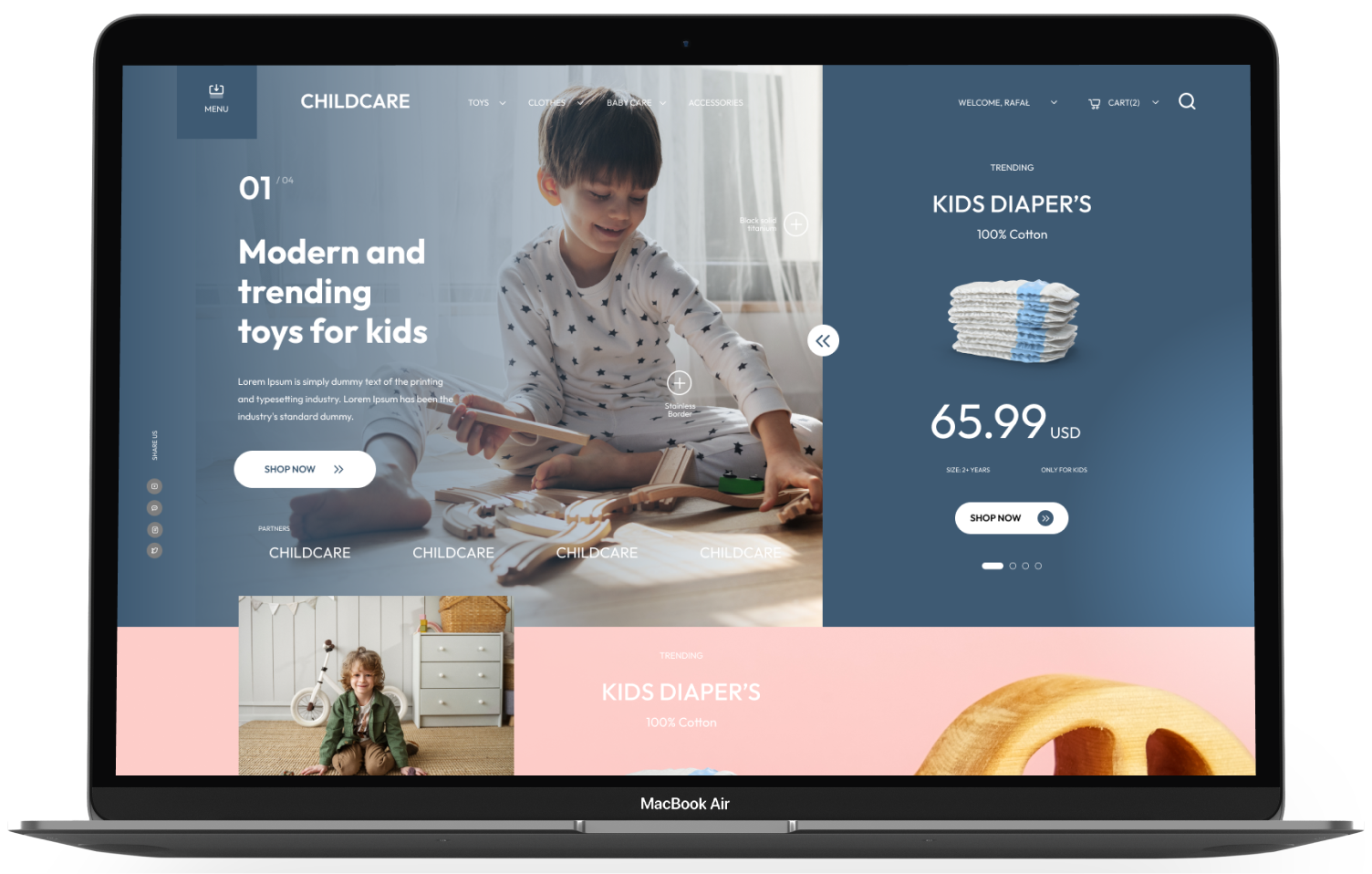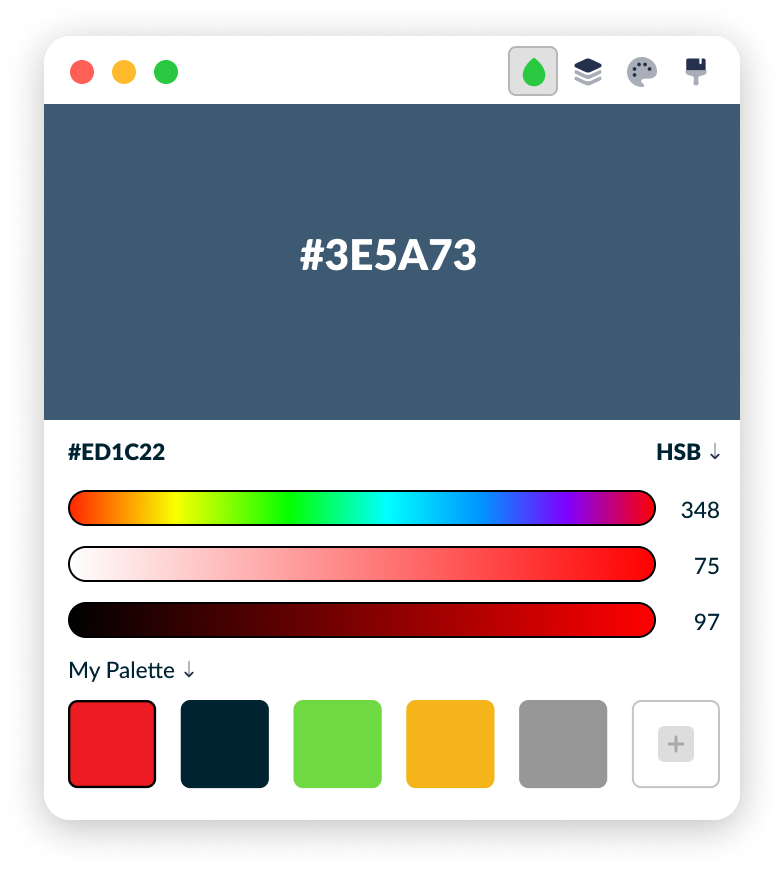 Created

By Industry Experts

The knowledge of talented programmers combined into powerful code.
Establish A Presence Online
The Childcare theme offers all the features and functionality you need to set up a childcare product business online. This theme is perfect for selling toys, clothes, books, accessories, and more.
Double Revenue
Investing in a theme that allows your site to appear stunning is not enough; you need a theme with functionality that can stand out in the industry and push visitors into purchasing. The Childcare theme is designed to double revenue and keep customers attracted.
Niche Optimized
The Childcare theme stands to its name by allowing you to easily sell products in your dedicated niche. Our programmers have researched childcare products well enough to produce a theme that is fit to sell in your target market.
Add Third-Party Apps
Are you looking for functionality that is not already offered in the theme? Then all you need to do is integrate third-party apps to make your site unique and enable it to offer a fresh buying experience.
Looking For More

Than Just A Theme?

Learn more about our eCommerce package loaded with everything you need to start selling immediately!
Childcare-Centered
The Childcare eCommerce Package is perfect for your industry. Not only does it have all the features and functionality you need to sell childcare products easily, but it also offers a unique buying experience, unlike other competitor websites.
Built For Your Brand
Invest in a modern, reliable, stylish, and optimized eCommerce store that users can trust and adore. Build a brand that screams credibility and offers the best products from day one!
Start Selling Right Away
The eCommerce package reduces the hassle of setting up a store by offering you everything you will need to establish your presence online as a brand. You can start selling immediately once you get your hands on the Childcare package!
Questions and Answers
Frequently Asked Questions