A Flexible Theme Tailored for
Every Business
Every element has been thoughtfully designed to ensure that your business's essence shines through. From color palettes that echo your brand's personality to layouts that elegantly present your products or services, 'Versatility Redefined' transforms your website into an inviting, immersive experience. Seamlessly transition between styles, elements, and functionalities as your business evolves – all while maintaining a cohesive and compelling online presence.
Coffee shop
Brewing equipment
Coffee blends
Exotic roasts
Coffee beans
Coffee enthusiasts
Coffee ritual
Coffee flavors
Online coffee store
Coffee lovers
Rich brews
Aromatic coffee
Theme Features
Google's SEO

Mobile Optimized

Shopify's Font Picker

Lazy Loading Image

Custom Product Tabs

GDPR Cookie Popup

Builder Sections Home

Sticky Add to Cart

Ajax Cart popup

Custom logo

Newsletter Signup

HTML5 and CSS3 Tableless

Multiple Currencies

Stock Countdown

Product Reviews (app)

Compare Product

Wishlist Product

Quick View Product
Multiple Languages
You can create multiple Shopify stores, each dedicated to a specific language, and then link them together.
Drive Revenue
Unlike Before
Our Brew theme is jam-packed with all the tools and features you will ever need to attract coffee lovers!
Advertise The Minuscule
Details
All buyers wish to know everything about a product they want to purchase. The Brew theme allows you to offer all the information they need with immersive videos and pictures that make it vividly clear what customers can expect when they make a purchase. High-quality images will ensure that customers will be compelled to buy your products.
Make Navigation

Straightforward
Finding the exact product a customer is looking for keeps them hooked and makes it less likely that they will browse away.
Brew has in-built filtering and navigation tools that enable users to find exactly what they are looking for in a few simple clicks.
Offer A Seamless Customer
Experience
The Brew theme can be applauded for its attention to detail and smart filtering tools. However, it cannot be ignored for its outstanding customer experience. Are you looking for a fast-loading, responsive, secure, and attractive theme to sell coffee and tea? Then, picking the Brew theme is your best bet! It allows you to cater to mobile and PC users while making the shopping experience more fun and immersive.
"The Brew theme allows the creation of an unmatched online store. It enables the establishment of a brand that screams credibility and trust while offering the most modern features. Brew helps build a solid shopping platform visitors can return to for their coffee and tea stash.'
Compel Your Audience To


Shop From Your Brand

The eCommerce market is booming, and several websites sell products similar to yours. Therefore, you require an attractive theme
that can turn first-time visitors into loyal customers. With the Brew theme, this becomes a breeze.
Customer Wishlists
A wish list allows website visitors to save the products they love to a list quickly. They can easily access this list the next time they visit your website to make a purchase. Lists give customers a reason to keep coming back.
Smart Filtering
Filtering features like price, color, size, product type, and brand allow buyers to navigate to the exact product they are searching for quickly. The easier it is to find a product, the more likely the customer will make a purchase.
Video Gallery
Videos are the most interactive form of media and possibly the best way to educate your audience about your products. Our Brew theme allows you to set up image and video galleries to provide the best customer experience.
Interactive Product Pages
Simplify shopping by providing detailed information and categorization on each product page.
Responsive And Secure
Mobile eCommerce is growing speedily, and this calls for a theme that can allow your website to load smoothly across multiple devices. We tested the Brew theme to make sure of this feature so all visitors can enjoy shopping on your platform.
Speed-Optimized
We coded the Brew theme with utmost care so it can load up fast, respond on time, and fail to lag. A fast-loading website means fewer visitors will get bored and navigate away.
Safe
No customer wants to enter their personal information and card details into a highly insecure website. Our Brew theme is not only reliable but also offers the safety and security customers need to shop in a hassle-free manner. This has been made successful by our smart coding practices and highly secure framework.
A Powerful And Stunning Theme

All The
Tools You Need To Skyrocket Sales

Pick one of your favorites from several design variations so your website can stand out.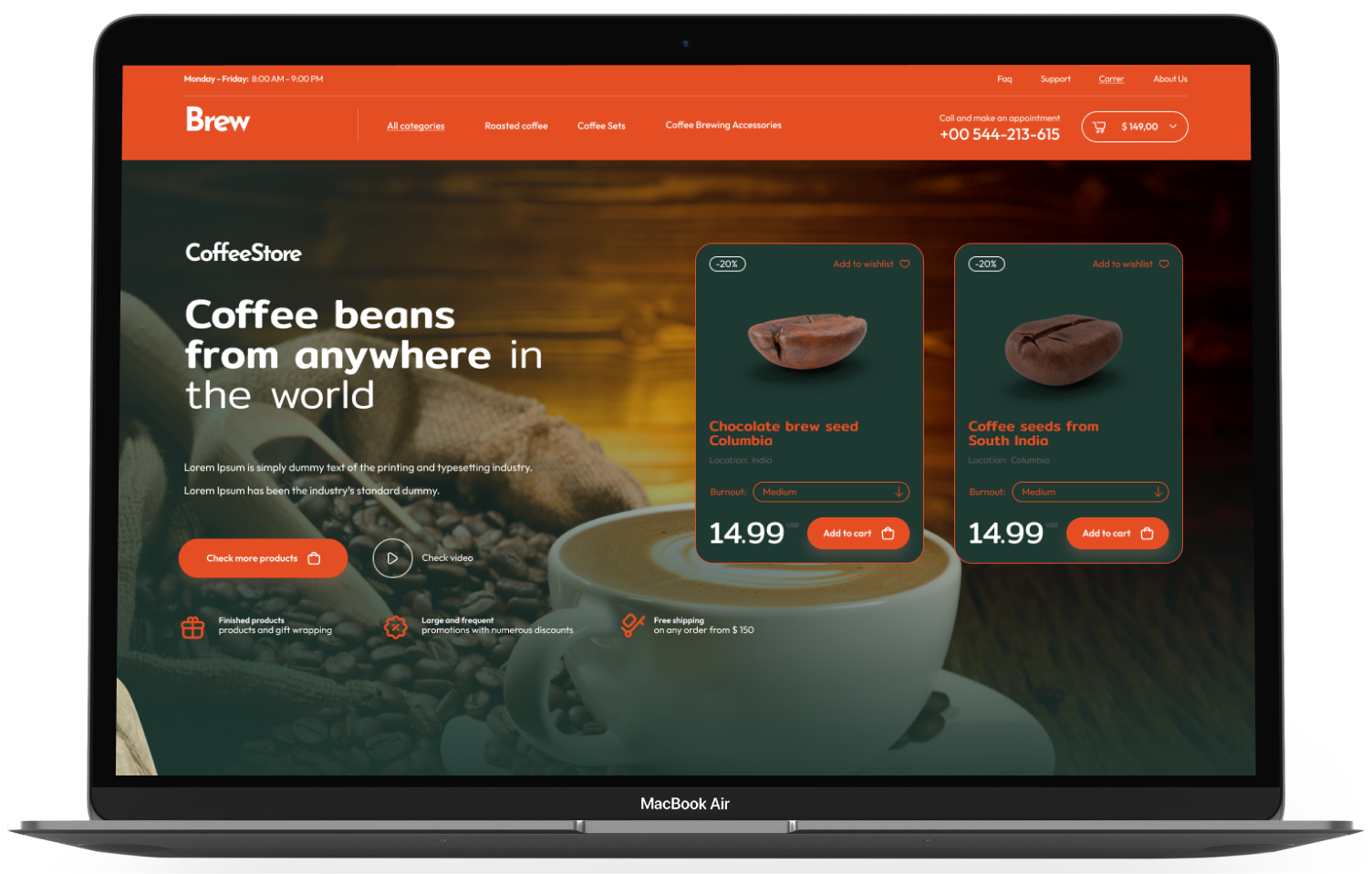 Made With Dedication

By An Experienced
eCommerce Developer's Team

We made use of the expertise of several developers to design powerful and secure code.
A Complete Package
The Brew theme has been designed by expert developers who have multiple years of professional experience in the eCommerce industry. Purchase, install, and customize the theme to start selling immediately!
Boost Sales
Tons of experience means the code is solid and the best way to establish a brand and drive sales. The Brew theme offers excellent loading speed, tons of navigation tools, product pages, and the most stunning layout. It is perfect for all your business needs!
Target Your Industry
With a ton of services offering website themes, it can get quite difficult to make the final selection. Our Brew theme has been designed with great care to make it the best pick for selling coffee and tea products.
Integrate Smoothly
Easily embed third-party apps and integrations to enable additional functionality in your website. The best part is that the integration process is smooth and easy, which allows you to offer an unmatched user experience. Visitors will land on a user-friendly website that offers various payment gateways, newsletter opt-ins, and third-party app integrations.
Need Something More

Sophisticated
Than A Brew Theme ?

We can easily design a complete online store with excellent functionality and features that boost revenue.
A Theme That Doubles Sales
Brew is a fast-loading and highly responsive theme that attracts the target audience in your niche perfectly right from the start. You only need to purchase and install the theme to start selling immediately. Our package offers all the tools and functions you need to set up a website in minutes!
Brand-Friendly Design
The Brew theme helps lay a solid foundation for your eCommerce store. The stunning design and carefully made layout allow your website to look unique, which ultimately helps build brand credibility. A modern layout also means that visitors will be attracted immediately and will choose to stick by.
Start Selling Right Away
When you select the Brew theme, you can sit back, relax and enjoy our unparalleled code. Install the package and publish your website to start driving sales!
Questions and Answers
Frequently Asked Questions