A Flexible Theme Tailored for
Every Business
Every element has been thoughtfully designed to ensure that your business's essence shines through. From color palettes that echo your brand's personality to layouts that elegantly present your products or services, 'Versatility Redefined' transforms your website into an inviting, immersive experience. Seamlessly transition between styles, elements, and functionalities as your business evolves – all while maintaining a cohesive and compelling online presence.
Books
Bookstore
Literature
Reading
Classic books
Bestsellers
Reading nook
Literary treasures
Bookshop
Storytelling
Bookstore chains
Bookbinding
Theme Features
Google's SEO

Mobile Optimized

Shopify's Font Picker

Lazy Loading Image

Custom Product Tabs

GDPR Cookie Popup

Builder Sections Home

Sticky Add to Cart

Ajax Cart popup

Custom logo

Newsletter Signup

HTML5 and CSS3 Tableless

Multiple Currencies

Stock Countdown

Product Reviews (app)

Compare Product

Wishlist Product

Quick View Product
Multiple Languages
You can create multiple Shopify stores, each dedicated to a specific language, and then link them together.
Enhancing User
Experience
Our highly experienced team guarantees that the Books theme is visually stunning and comprehensive in its feature
set, ensuring your eCommerce business has all the tools it needs to excel.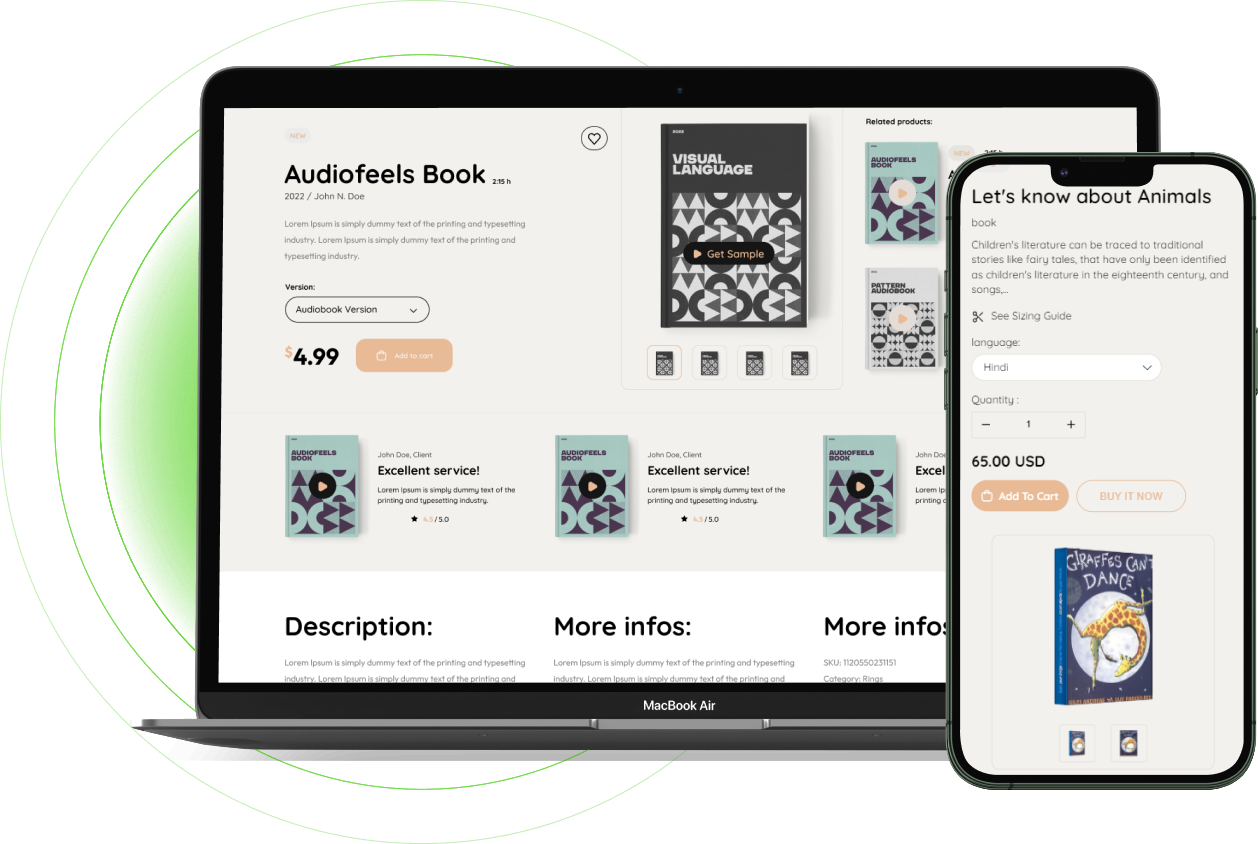 Let Visitors Get An In-Depth Look
At What You Have To Offer!
Give your audience the complete picture to help them make an informed purchase. Help build customer confidence and trust by adding multiple product images and quality videos - this will boost conversions in no time! Provide all the key info that customers need for a successful transaction.
Convenient Shopping Give What

Customers Are Looking For!
Utilizing advanced filtering and search capabilities, your eCommerce store can provide customers with the optimal user experience. Streamlined navigation allows shoppers to quickly explore various product features - enabling them to find exactly what they need in no time. Elevate customer satisfaction by categorizing offerings - ensuring an efficient online shopping journey!
Deliver The Ultimate

User Experience
Give your audience a seamless and enjoyable shopping experience with this theme, designed for maximum convenience on all modern mobile devices. Enjoy lightning-fast loading times that keep customers engaged from start to finish.
Give customers a shopping experience tailored to their needs, allowing them to purchase your products from any location and in whatever format best suits them.
Turn your online store into a powerful brand that will attract customers and keep them coming back for more. Allow shoppers to establish an emotional connection with you and witness the loyalty they develop toward your business.
Give Your Audience Unparalleled Shopping


Convenience With Just A Simple
Click Of The Mouse!

Selling your product has never been easier! Let our Books theme provide the persuasive reasons customers need to choose you.
Personalized Products
Encourage your customers to create personalized wishlists and keep them coming back for more! Strengthen customer loyalty by offering product lists tailored to their needs - you will boost revenue and ensure a happier audience.
Dynamic Filtering
Create a smooth shopping experience for every customer with intelligent product filtering. Make it simple to track down the ideal item, whether they're after availability, price point, color choices, or size options – even specific brand names are just a few clicks away.
Video Production
Increase engagement and drive sales with product videos! Leverage high-quality, interactive visuals for customers to get an accurate feel of your products. Easily link them directly into the image gallery - providing a unique viewing experience that can further increase conversion rates.
Well- Designed Product Pages
Maximize the shopping experience in your store! With an intuitive design, product pages ensure key details are easily accessible to help customers confidently make their purchases.
Engaging Design
With mobile commerce rapidly becoming the new norm, ensure your audience has a seamless shopping experience on any device. Our team has tested and optimized this theme across various modern devices to guarantee this smoothness regardless of the device used to visit your store.
Speed Optimization
Superior speed is the bedrock of great user experience. To maximize customer satisfaction and SEO performance, we prioritize building fast-loading code into all our themes to ensure optimal loading times for a superior internet browsing experience.
Code Security
To keep your store and customers safe, we take extra precautions when releasing any theme to the public. We test code integrity and security on an ongoing basis to mitigate potential risks. Plus, continuous updates are deployed with new security features, so your business is always secure from threats.
Make Ecommerce Capabilities Easier

With
One Simplified Books Theme

Uncover the multifaceted wonders of the Books theme explore its differing perspectives and marvel at all it has to offer.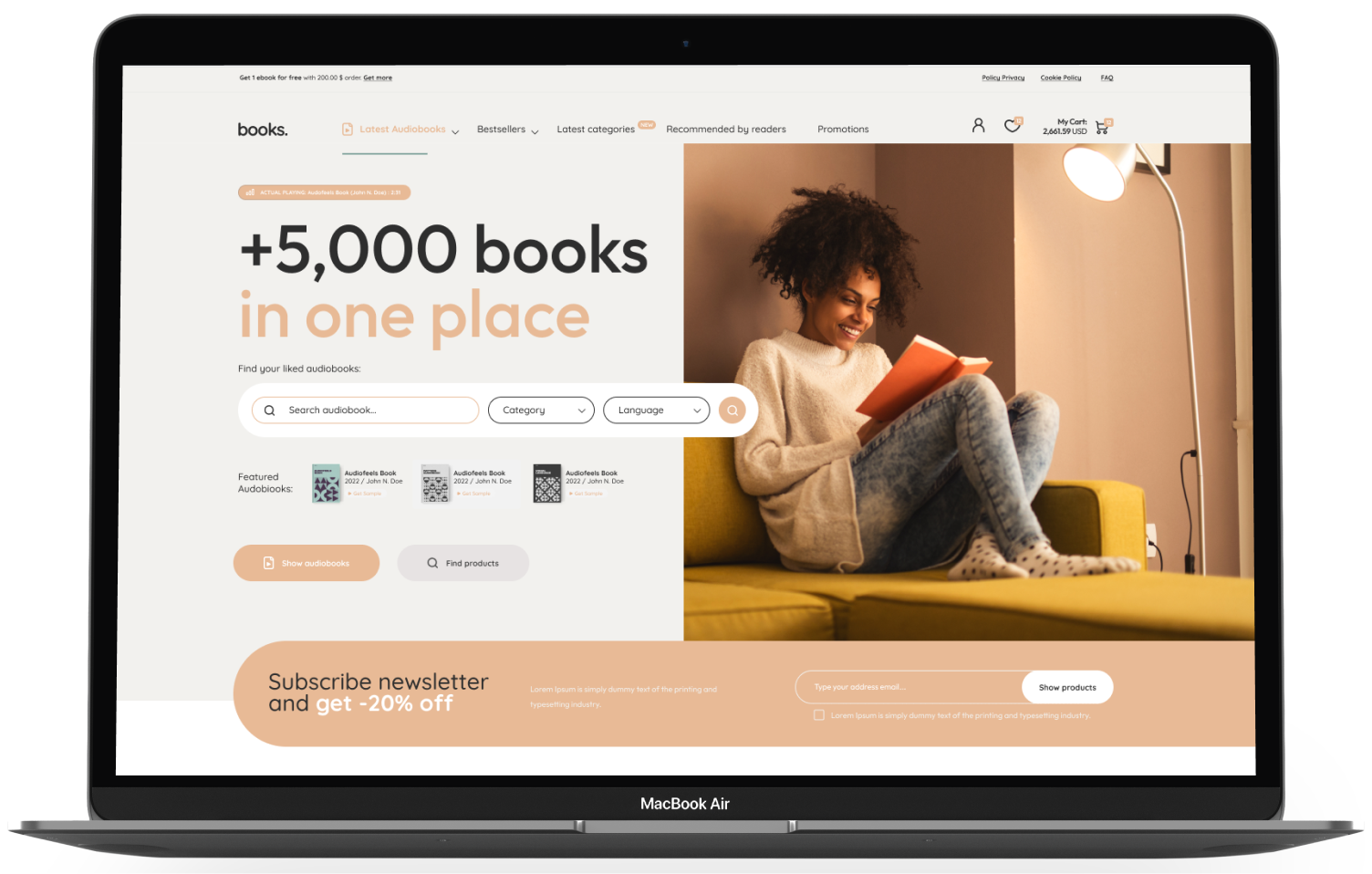 Power Your Store With Professional eCommerce Books Strategies.

Unlock The Selling Potential
Of Your Business Today!

Leverage our extensive eCommerce expertise with custom-coded solutions tailored to your unique business needs.
Unlock The Possibilities Of Selling Online
Our team has a wealth of experience when it comes to eCommerce. This hard-earned expertise enabled us to develop an advanced Books theme with all the necessary tools to create and manage a high-performing online store.
Achieve Success With A Theme That Drives Conversion!
Our decades of experience have cemented the knowledge of what works and what doesn't. Let us help you develop a theme that's tailored for maximum conversion! Our optimization techniques cover speed, product page elements, and layout - all designed with performance in mind.
Make Your Mark In A Niche Market
Create an online Books business that stands out from the crowd with our Books theme- a specialized eCommerce theme built to help you thrive in your niche or industry. With our feature-rich platform, all of the necessary tools are at your fingertips so you can focus on crafting success.
Make Adding Integrations Quick And Effortless
An effective eCommerce store goes beyond just the theme. To get the most out of your business venture, consider integrating it with third-party tools, which have proven successful and easy-to-use integrations with some of today's leading autoresponders or payment gateways.
Want Something

More
Than Just A Theme ?

Get a complete eCommerce store that comes ready for you to start selling.
Fashion-Forward Theme
Books is the perfect eCommerce theme to give your online business an edge. Get a fast and responsive website with optimized conversion specifically designed for book stores, helping you attract and retain customers more effectively than ever!
Innovative Branding Design
Make your mark in the eCommerce world with a modern store that quickly engenders customer trust and comfort. With Books theme, you can ensure all essential foundational aspects of branding are taken care of right away - strengthening customer relationships from day one.
Get Started Right Away
Don't wait any longer! With our eCommerce package, you can have a fully operational store within days. No more wasted time; get your business up and running fast with minimal effort.
Questions and Answers
Frequently Asked Questions