Themes Crafted To
Drive Sales
Our experience in the eCommerce industry over the years has been utilized in the construction of each theme. These themes not only offer an appealing look but also provide the functionalities crucial for the progression of your eCommerce venture.
Exhibit Every Detail
Of Your Product
Incorporate unlimited images and superior quality videos for each of your commodities. Grasp your potential customers with the essential data for making an acquisition decision. Prove your credibility, create trust, and escalate your conversion rates.
Provide A Superior

User Experience
Your customers expect a seamless and enjoyable shopping procedure. Our theme empowers you to construct a swift, responsive store that functions perfectly on all modern mobile devices.
Ensure Your Customers Have A

Smooth Shopping Experience
Effective navigation is paramount for every successful eCommerce store. Our advanced search and filter functions allow your customers to effortlessly locate what they need. Showcase your products, classify them, and allow your customers to delve deep into your store.
Transform One-Time Shoppers into Loyal Customers. With our theme, you don't just construct an online store, you construct a potent brand that your audience can genuinely resonate with. Foster strong bonds and watch your customers keep coming back for more.
Give Your Store An Edge
With our theme, you can provide ample reasons for customers to prefer your store over others.
Interactive Wishlists
Encourage your audience to compile personalized lists of products they wish to acquire. Utilize this data to nudge them to return and finalize their purchases, thereby augmenting your revenue.
Adaptive Filtering
Incorporate intelligent filters to make product discovery smooth for visitors. These filters can include parameters such as product availability, price, color, size, product type, and brand.
Leverage Videos To Drive Sales
Videos are a potent selling tool. Enhance your conversion rate by incorporating videos into your product gallery and provide an immersive shopping experience.
Customer-Centric Product Pages
Our product pages are designed with a user-centric focus. All key details are prominently displayed and simple to locate, aiding your visitors in their buying decisions.
Optimized For Mobile Devices
With a significant portion of online sales transacted on mobile devices, it's essential for your store to cater to this segment. Our theme is carefully tested across multiple modern devices to ensure a flawless shopping experience.
Prioritizing Speed
Speed is integral for user experience and SEO. Our clean, speed-optimized code ensures swift page loading, directly influencing your conversion rate.
Secure Code
We meticulously test our code's safety before releasing any theme. Regular updates also include additional security features, safeguarding your store and the data of customers.
A Comprehensive

eCommerce Solution

Delve into the multifarious features of our theme.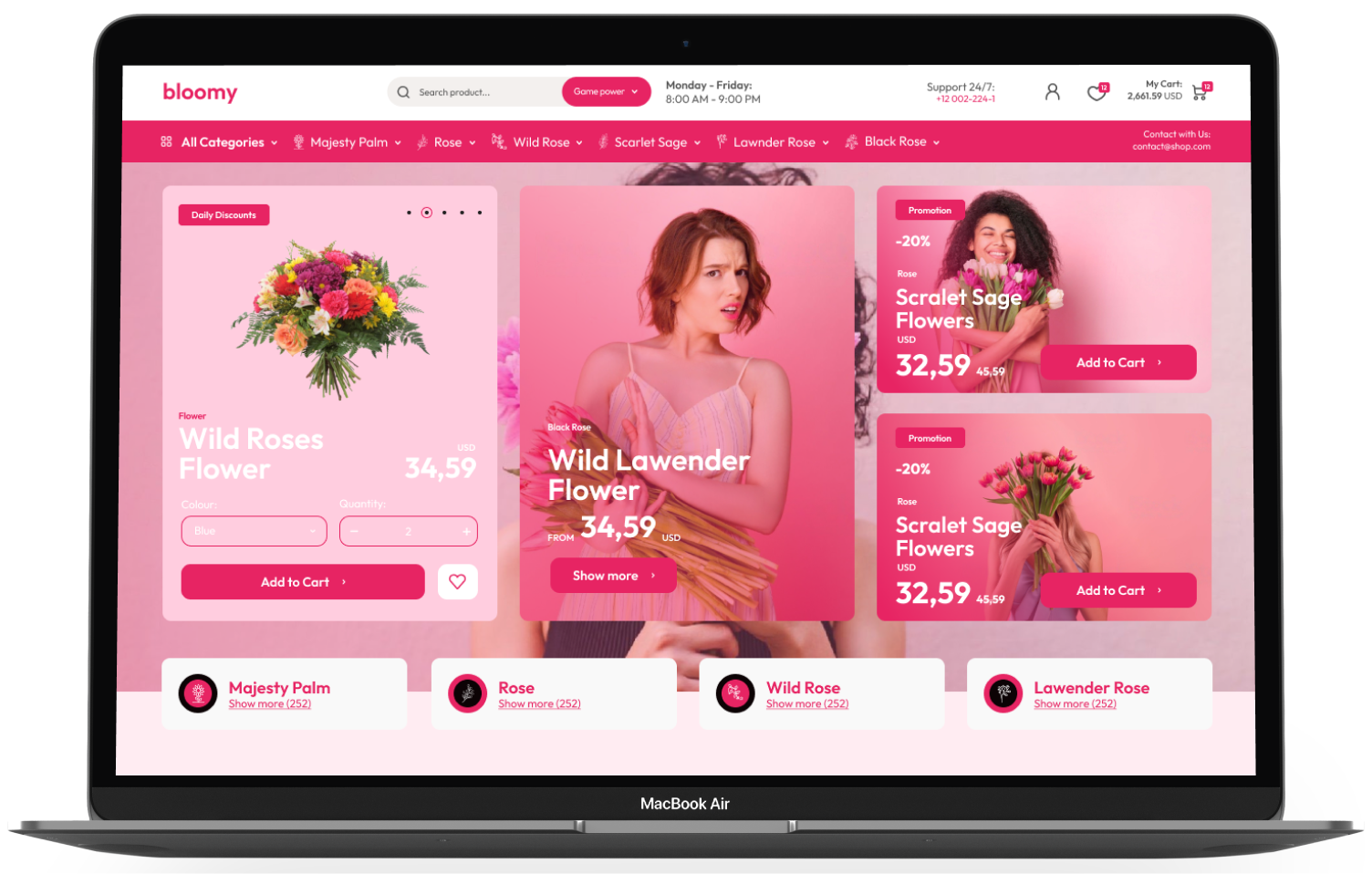 Developed

by eCommerce Pioneers

Our themes are the fruit of extensive experience in the eCommerce industry.
Equipping You With All You Need For Online Sales
Our team comprises individuals with considerable experience in operating eCommerce ventures. This expertise has enabled us to develop a theme embedded with all the necessary features for a triumphant online store.
Theme Optimized For Conversions
Our experience in the industry has taught us the best practices. This theme is engineered with conversion optimization in mind, focusing on elements like speed, product page composition, and layout.
Customized For Your Niche
To thrive in eCommerce, you need a theme designed with your specific sector in mind. Our "Bloomy" theme provides you with all the essentials for a prosperous online flower business.
Seamless Third-Party Integrations
The Bloomy theme is engineered to integrate effortlessly with an array of popular eCommerce applications, including top autoresponders and gateways.
Seeking a

Comprehensive eCommerce Solution?

We offer a total eCommerce package, fully equipped, and ready for you to commence sales.
A Theme With a Flowery Focus
Bloomy is a responsive eCommerce solution, specially engineered for the flower sector. Optimized for conversions, "Bloomy" equips you with all the tools you need to attract and retain a loyal customer base.
Brand-Centric Design
Establish a modern eCommerce store that your audience can trust and feel safe to purchase from. Leverage the multitude of features offered by the "Bloomy" package and start constructing a recognizable, trustworthy brand from day one.
Start Trading Promptly
Don't waste your precious time setting up your store. Our eCommerce package delivers a complete store that's prepared to commence sales in days instead of months!
Questions and Answers
Frequently Asked Questions