We Built Themes That Can Help
You Rank And Enable Sales
Our programmers put years of eCommerce expertise into code, so they are guaranteed to sell and double revenue.
Offer Stunning Details
Online shopping is most enjoyable when you enjoy a truly immersive experience. Biking enables you to add multiple images and videos with each product to enable buyers to view each detail before they make a purchase.
Offer Remarkable CX
Great CX (Customer Experience) is key to driving sales, keeping buyers hooked, and doubling revenue. The Biking theme guarantees this with a fast, responsive, and stunning design.
Allow Customers To Land On

What They Need
If you have several listings, it can get hectic for customers to sift through all your items manually. The Biking theme enables buyers to land on the exact products and similar ones each time using advanced search and filtering options.
This theme is not ordinary; it is meant to guarantee success and allow you to build a top-notch brand. Invest in the Biking theme to amass an audience that is always looking forward to your new launches.
Attract All Buyers To Your Brand So


They Can Forget About Others

The Biking theme has been carefully designed to give a professional feel and establish brand credibility right from the start.
Favorites
A wish list allows buyers to store their favorites separately to enable easy comparison and quick purchasing. This also gives users a reason to revisit the site in the future.
Advanced Filters
Search categories like weight, brand, type, size, color, etc. ensure a guided and straightforward online buying experience.
High-Quality Videos
Adding multiple videos and images in HD quality with all products aids online purchases. Give consumers a reason to be convinced that the products you are selling are top-notch and require no physical inspection.
Product Pages
Individual product pages pop up when a listing is clicked, to give further information. This will allow buyers to gather all the necessary data required to make the correct buying decisions.
Very Responsive
The Biking theme is versatile and highly responsive. Each click is responded to in real time, which prevents users from getting bored easily and navigating away.
Speed Optimization
This theme is also speed optimized, meaning that your website will load up fast and smoothly across all digital devices. Attract the attention of both mobile and PC users in a breeze.
Secure and Safe
Our experts have designed safe and secure code that prevents data breaches and identity theft in all cases. This ensures a safe checkout experience and boosted brand trust.
All The Best Features Combined

To Form
One Incredibly Powerful Theme

View the various faces of the Biking theme.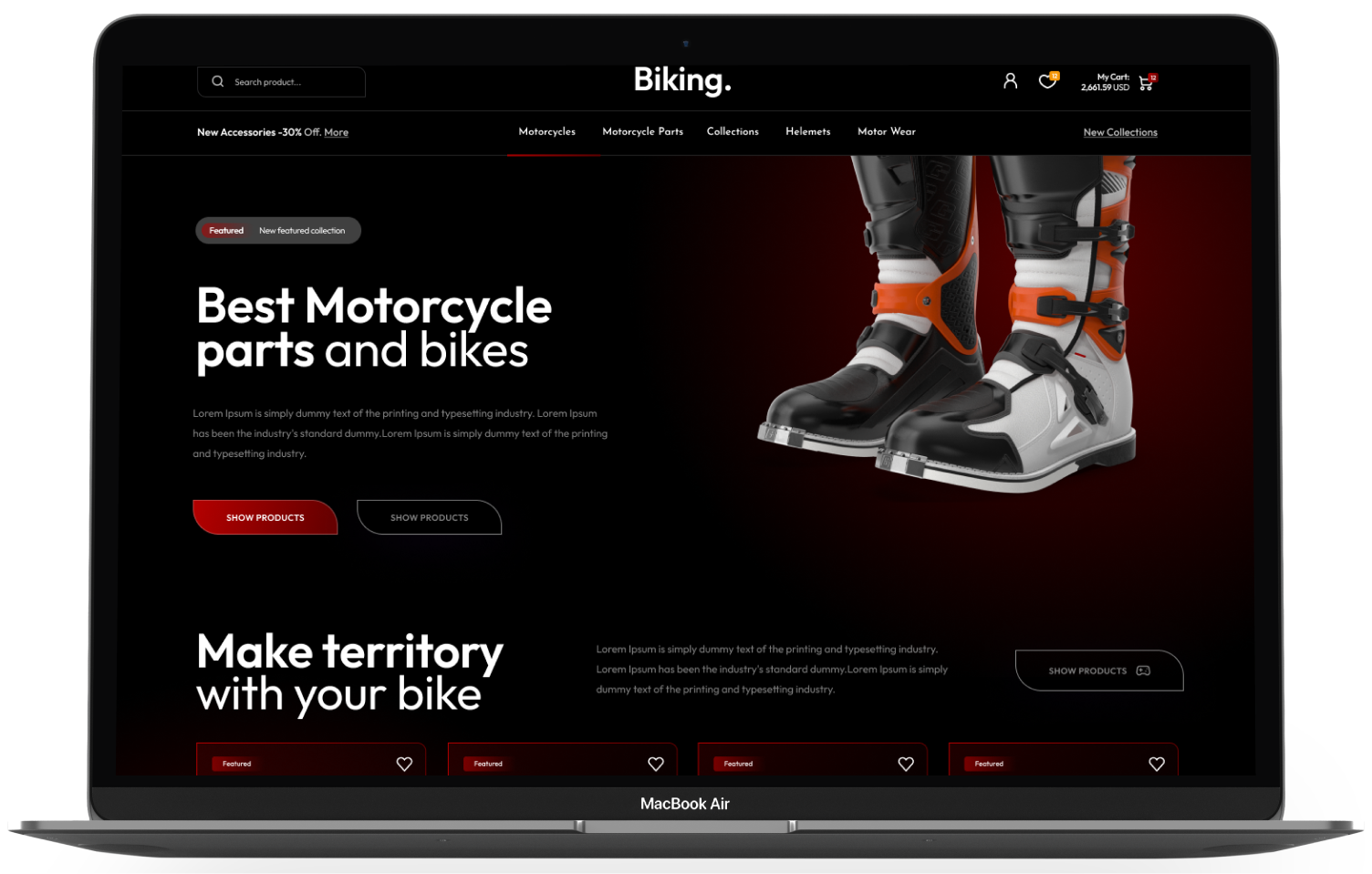 Coded

By Industry Experts

The Biking Shopify theme code has been designed by programmers that have tons of experience in the eCommerce industry.
Features Necessary To Establish Online Presence
When you pick the Biking theme, you can sit back, relax and watch the features automatically help establish an online presence. All you need to do is customize the theme slightly to allow it to fit perfectly with your brand's style.
Greater Conversion
The Biking theme's code has been designed carefully and embedded with the right features that guarantee sales. Brand credibility establishment from day one means higher conversion rates, all thanks to better SEO rankings.
Niche Specific
This theme is niche specific and requires no programming or customization to make it relevant to your target industry. The design, style, and features will allow you to come across as a top professional biking products brand the day you start.
Third-Party App Integration
Easy integration of third-party plugins and apps enables added functionality. We have carefully tested compatibility, so your site does not hang even when heavily customized.
Want A Full Package?
Consider the Biking eCommerce solution.
Product- Centered
The Biking eCommerce package targets your niche and product range specifically. This will allow you to come across as a professional brand, merge seamlessly, and double revenue easily.
Brand-Friendly Design
The brand-friendly design guarantees professionalism and allows you to sell ordinary biking products under a reputable name. This boosts profits and ensures customer pour-in via word of mouth as well.
Begin Today!
Our eCommerce package does not need to be heavily customized or coded to launch your website. It is highly versatile, compatible, and responsive. The best part is you only need to invest and install it to start selling immediately!
Questions and Answers
Frequently Asked Questions