A Flexible Theme Tailored for
Every Business
Every element has been thoughtfully designed to ensure that your business's essence shines through. From color palettes that echo your brand's personality to layouts that elegantly present your products or services, 'Versatility Redefined' transforms your website into an inviting, immersive experience. Seamlessly transition between styles, elements, and functionalities as your business evolves – all while maintaining a cohesive and compelling online presence.
Road bikes
Mountain bikes
Cycling passion
Bike shop
Bicycle variety
Cycling styles
Cycling dreams
Bike design
Riding performance
Cycling adventures
Eco-friendly rides
Pedal power
Theme Features
Google's SEO

Mobile Optimized

Shopify's Font Picker

Lazy Loading Image

Custom Product Tabs

GDPR Cookie Popup

Builder Sections Home

Sticky Add to Cart

Ajax Cart popup

Custom logo

Newsletter Signup

HTML5 and CSS3 Tableless

Multiple Currencies

Stock Countdown

Product Reviews (app)

Compare Product

Wishlist Product

Quick View Product
Multiple Languages
You can create multiple Shopify stores, each dedicated to a specific language, and then link them together.
Theme That Can
Make Selling Easy
Our theme brings years of eCommerce experience to the table. Not only do they look amazing,
but they are also packed with features to help you expand your online business.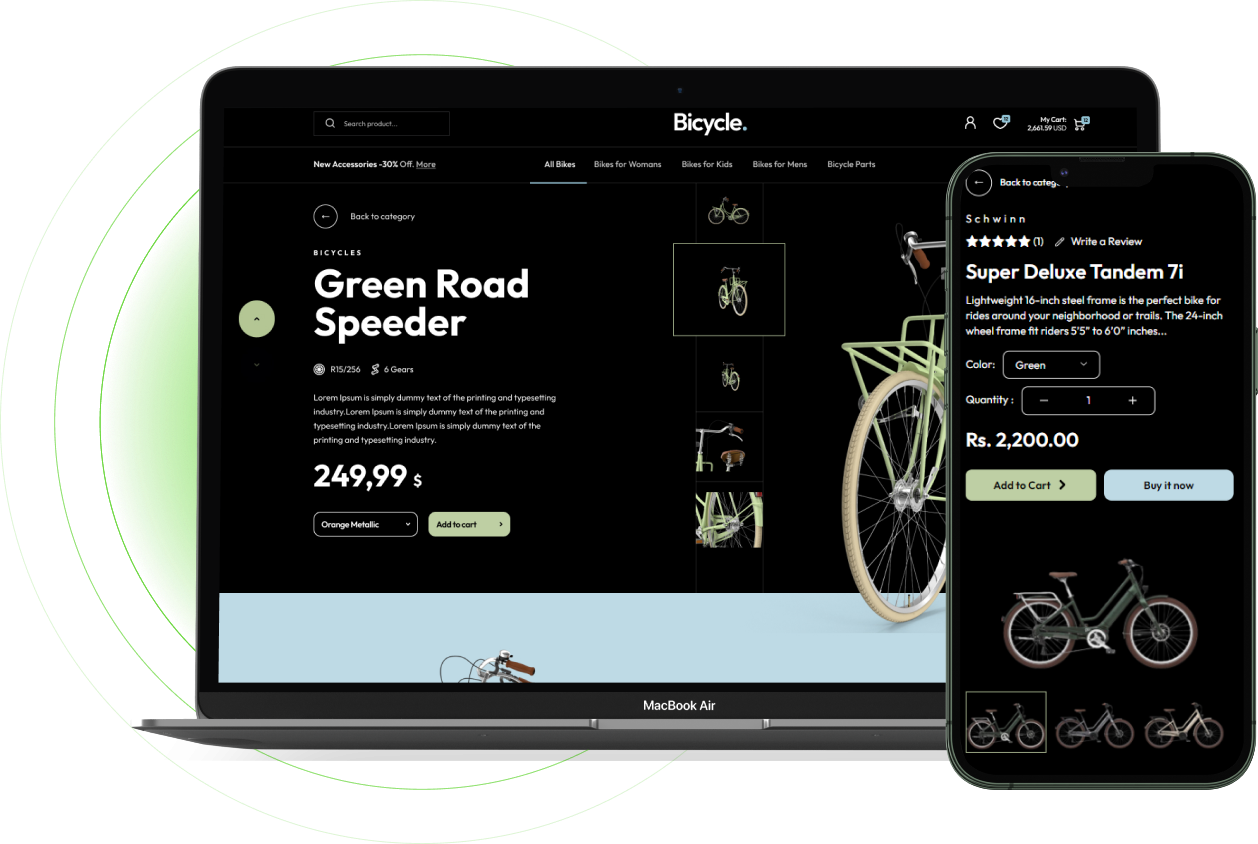 Provide All Details of
Your Products
With our theme; you can easily upload multiple product images and videos for each item in your store. Showing more angles, close-ups, and clear footage of each product will help build trust in your online business while giving customers the information they need to make an informed purchase decision.
Let Your Audience Find

What They Need
Advanced filtering and search features make it easy for customers to find what they're looking for - no matter how deep the selection goes. Thanks to this intuitive navigation, customers now have a streamlined way of browsing your store's offers and increasing their chances of making a purchase every time!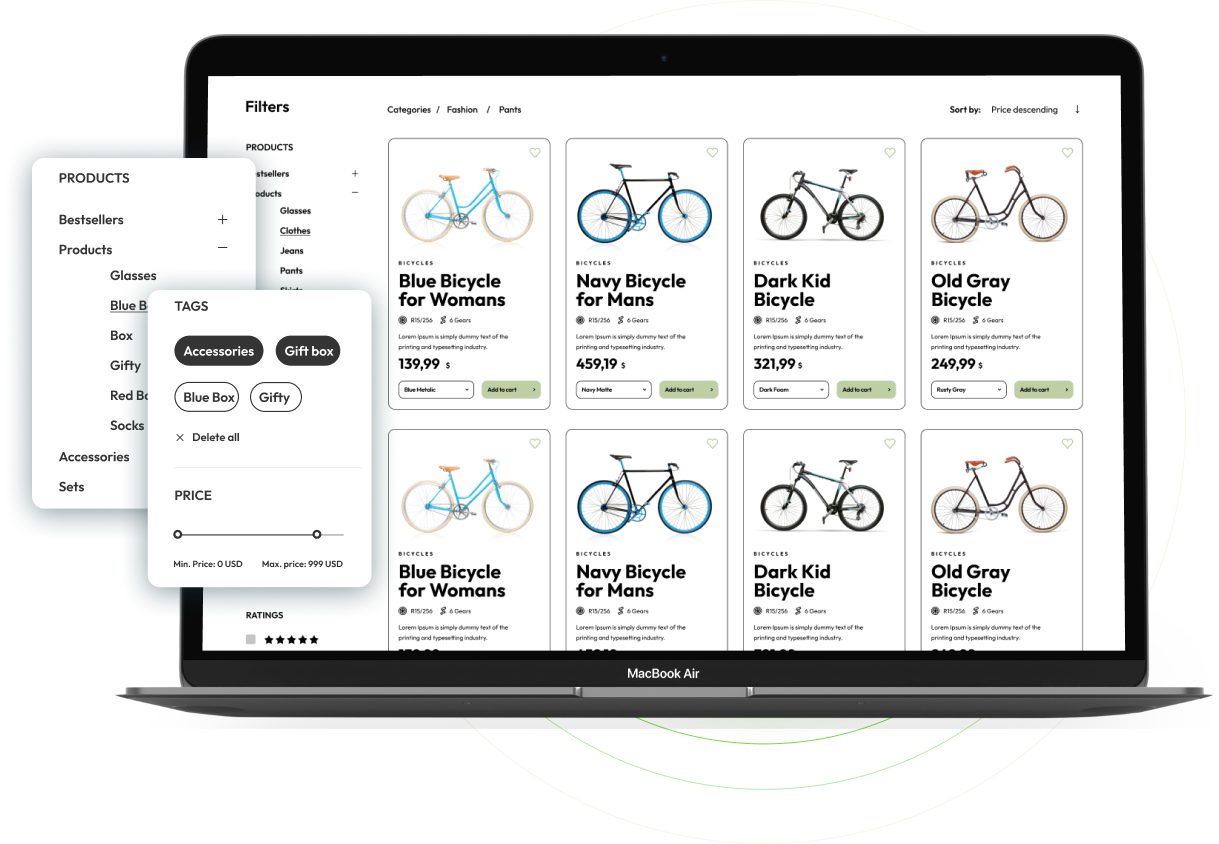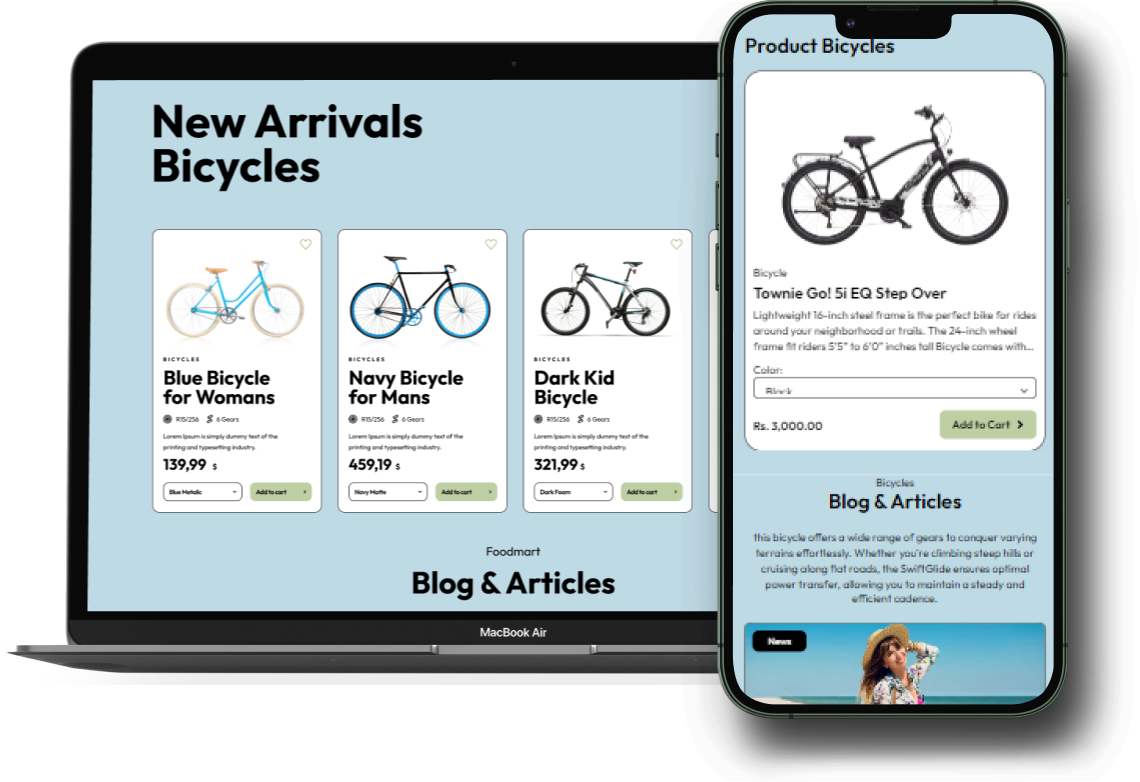 Let Your Customer Have a

Different Experience
Our theme provides an effortless and enjoyable shopping experience with a responsive design that works perfectly on any device. Enjoy the convenience of having a mobile-friendly store where customers can purchase your products quickly and securely, no matter how or where they access your store.
With Bicycle theme, you build a store that helps you stay ahead of the competition, sell your products faster, and have a huge conversion rate than conventionally designed websites.
Give Your Audience a

Reason to Stay

With millions of stores already there, its easy for the audience to turn away and sign into
another one with a click. Make them stay with you by choosing a Bicycle theme.
Product Wishlists
Let your customers create personalized wishlists to save items they're interested in for later. Use this data to send them tailored offers and personalized product recommendations, making it easy for them to find the perfect item and encouraging them to come back and make a purchase.
Dynamic Filters
Make it easy to find what you need with dynamic filtering. Style offers customers the ability to browse products quickly and accurately, with filter options including but not limited to product availability, price, color, size, product type, and brand.
Video Detailing
Link videos directly in the product gallery and mix them with images to create a fully immersive customer experience. Send customers on a journey as they explore your products, allowing them to make their own decisions while viewing the items they're interested in.
Attractive Product Pages
Make it easy for visitors to find the items they're looking for with a simple and attractive design. Provide key details on the product page, giving customers all the information they need to make informed decisions about their purchase.
Responsive Layout
Ensure your customers enjoy a hassle-free shopping experience on any device with a mobile-friendly theme. Our team has tested this theme extensively on various modern mobile devices, giving you the confidence of knowing that it will work perfectly no matter what device your audience uses to access your store. With this optimized design, you can guarantee a seamless and enjoyable shopping experience for all your customers.
Faster Loading
Speed is essential for both user experience and SEO. That's why we make sure our themes are clean and speed-optimized, ensuring they deliver top performance. We always pay extra attention to the code behind the scenes, ensuring it's optimized to ensure pages load quickly, boosting your website search rankings and helping you convert more visitors into customers.
Coding Security
We take security seriously. Before we release any of our themes to the public, we thoroughly check their code integrity and security. We also regularly update our themes with the latest security features, ensuring your store and its customers are protected at all times.
Get All the eCommerce Features


in a Single Theme

Check out different faces and select one of your taste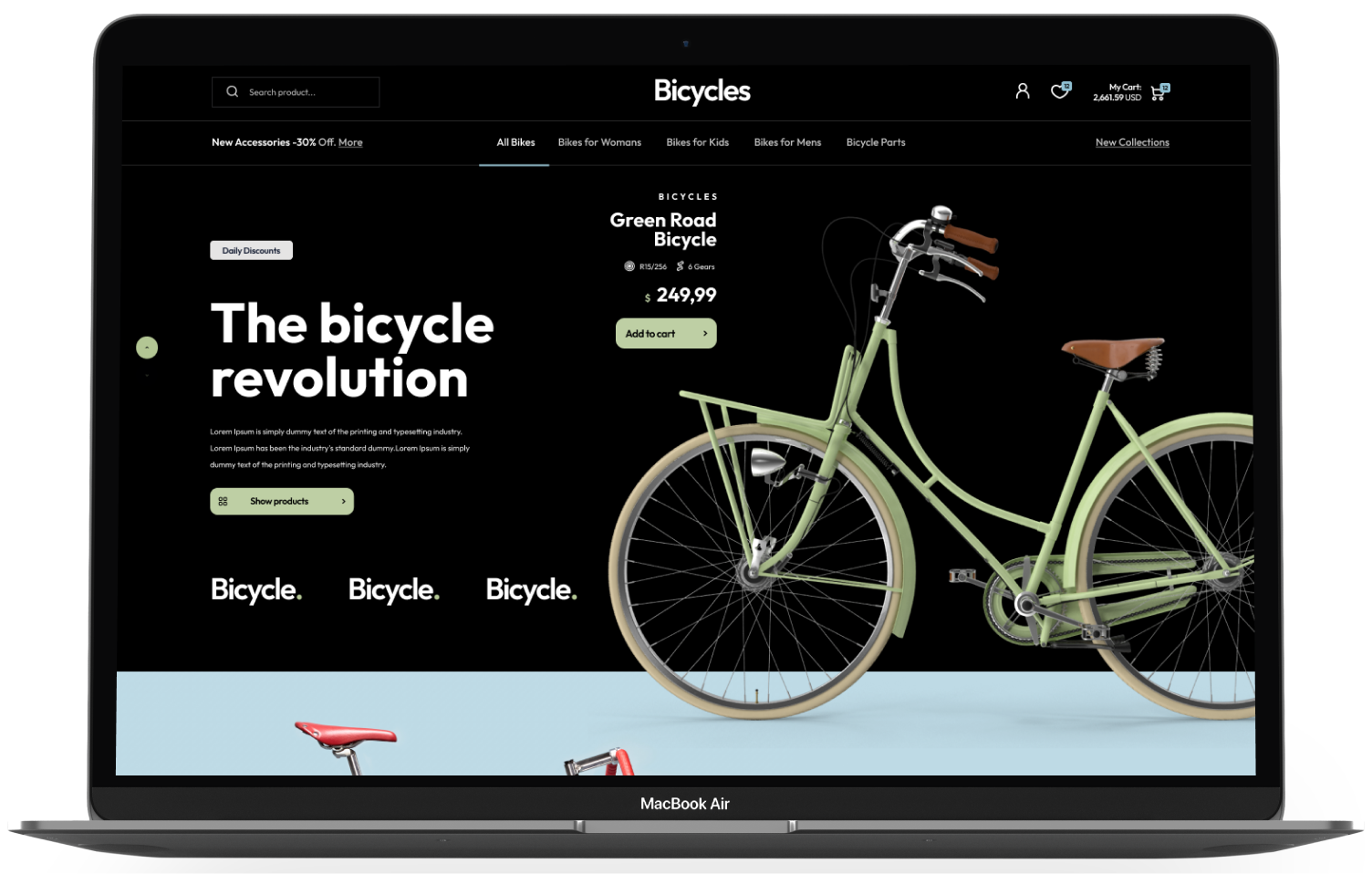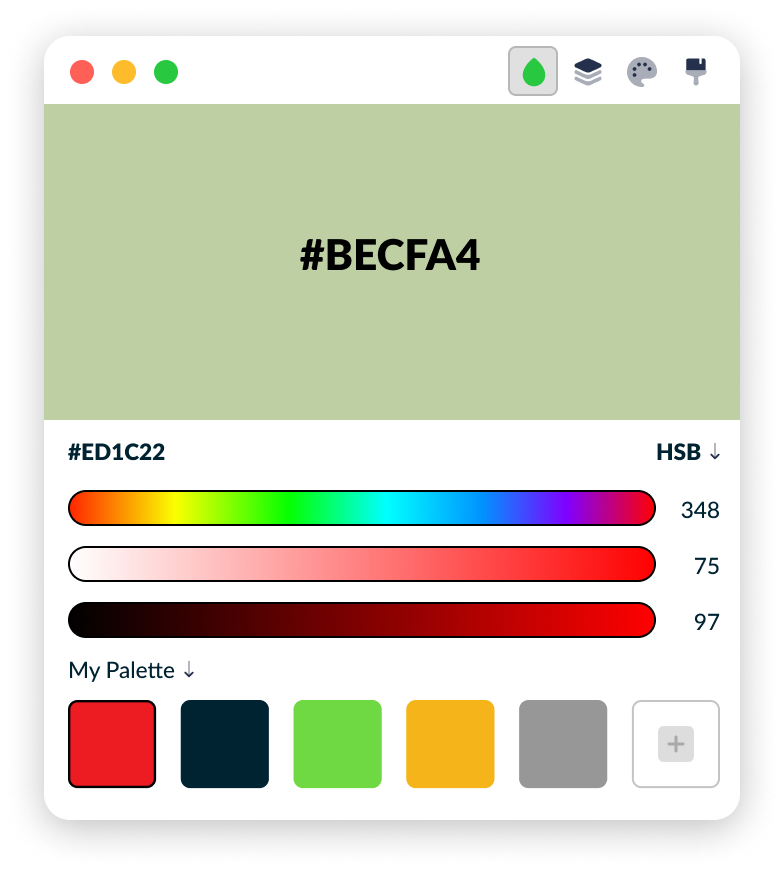 Built

By eCommerce Experts
You Can Trust

The experienced eCommerce coders put their experience into Bicycle Theme
Provides All You Need to Start Selling
Our team has years of eCommerce experience, and we've used that knowledge to create a theme that provides everything you need to launch and manage an online store. From setting up your shop to optimizing for sales, our comprehensive theme will have you ready to start selling in no time! Get the features you need with no hassle, and make the most of today's eCommerce opportunities with our one-stop solution.
Boosts Conversions
Our years of eCommerce experience have given us the unique insight needed to create a theme that is optimized for conversion. Everything you need, from speedy loading times to product page elements and layouts, is covered. Trust our team to provide a comprehensive solution for your store.
Exclusive to Your Niche
Whether you specialize in fashion, home decor, or any other industry, our Style theme offers everything you need to create and grow your online store. From enhanced product page elements to secure payment processing, our theme provides the tools you need to make a successful start in eCommerce today!
Easy Integration Possible
With this theme, you have the ability to add a range of integrations to your store quickly and easily. From popular autoresponders to payment gateways, our theme simplifies the process of connecting with essential eCommerce apps – giving you everything you need to run your business efficiently.
Get The Bicycle

Theme And More

Enjoy a store complete with an appealing outlook and user-friendly features.
Exclusive Theme
Make sure your business has a strong, modern start with Style — a fast and responsive eCommerce theme designed specifically for fashion. With all the features you need to attract, convert and keep customers, this theme is optimized to help you succeed.
Brand-Friendly Design
Build trust and confidence with your customers from the beginning with a modern Style eCommerce theme. Make sure your store looks great and functions flawlessly, so customers will feel safe to buy from you. Take advantage of this theme's features and start building a recognizable, reliable brand today!
Start Selling Faster
Looking for a fast way to get your eCommerce store up and running? Look no further! Our eCommerce package has all you need to start selling in days, not months. Enjoy the convenience of having a complete store ready to go without wasting time on setup — get started now with this incredible package!
Questions and Answers
Frequently Asked Questions