A Flexible Theme Tailored for
Every Business
Every element has been thoughtfully designed to ensure that your business's essence shines through. From color palettes that echo your brand's personality to layouts that elegantly present your products or services, 'Versatility Redefined' transforms your website into an inviting, immersive experience. Seamlessly transition between styles, elements, and functionalities as your business evolves – all while maintaining a cohesive and compelling online presence.
Luxury Perfumes
Artisan Fragrances
Aromatherapy Scents
Fragrance Gift Shop
Perfume Boutique
Scented Oils
Exquisite Scents
Fragrance Subscription
Niche Perfumery
Air Fresheners
Custom Perfume
Fragrance Accessories
Theme Features
Google's SEO

Mobile Optimized

Shopify's Font Picker

Lazy Loading Image

Custom Product Tabs

GDPR Cookie Popup

Builder Sections Home

Sticky Add to Cart

Ajax Cart popup

Custom logo

Newsletter Signup

HTML5 and CSS3 Tableless

Multiple Currencies

Stock Countdown

Product Reviews (app)

Compare Product

Wishlist Product

Quick View Product
Multiple Languages
You can create multiple Shopify stores, each dedicated to a specific language, and then link them together.
Theme That Boosts
Demand
So each theme is the result of years of eCommerce experience. Because of this, our themes offer you the capabilities
you need to expand your eCommerce site in addition to having a nice appearance.
Our package allows for multiple product images and videos to be added for each product, providing customers with detailed information to assist in the buying decision. This helps build credibility and trust and ultimately increases the conversion rate.
Having an organized and clear navigation is essential for any successful e-commerce store. This package includes advanced filtering and search functionality to help customers easily find what they are looking for. It also includes features to organize aroma by categorizing them, making it easy for customers to explore the products offered in your store.
Providing a seamless and enjoyable bag shopping experience is crucial. This package is designed with responsive and fast performance to ensure a smooth and consistent customer experience. Regardless of which device they use to access your store, customers can easily buy products from anywhere.
When you create an online store using our aroma theme, you are not just creating a platform for customers to purchase products. You are building a brand with which customers will connect and develop loyalty. By fostering a relationship with your audience, they will continue to return to your store to buy more products.
Your Clients Can Access Dozens More


Businesses With A Simple Click

You give customers countless reasons to pick your business with the Bags theme.
Wishlist For Products
Encouraging repeat customers by enabling them to create a list of their favorite products, and using this information, can be an effective way to drive additional sales and increase revenue.
Easy Filtering
Efficient product filters help customers to find what they're looking for easily. The package includes customizable filters based on availability, price, color, size, type, and brand to make the browsing and searching experience smoother.
Videos For Products
Incorporating video content can enhance sales and increase the conversion rate. This package allows linking videos directly to the product gallery and images to create a more engaging and interactive customer experience.
Friendly Pages For Products
Simplifying the shopping experience is key. Our package design is tailored to highlight important, easily relocatable product details and helps customers make informed purchase decisions.
Interactive Design
A substantial portion of online sales now occur on mobile devices, and providing a seamless shopping experience across all devices is important. Our package is designed to be mobile-friendly. We test it on multiple modern mobile devices for that reason.
Good Loading Speed
Speed is crucial for both customer experience and search engine optimization, as it's a major ranking factor affecting the conversion rate. To ensure this, we design our themes with clean and well-optimized code for maximum performance.
Safe Backend
We thoroughly test our themes for code integrity and security before releasing them to the public, and we regularly release updates with added security features to ensure the safety of your store and its customers' data.
Essential Features

Embedded
Into A Single Theme

View the multiple elements of the theme.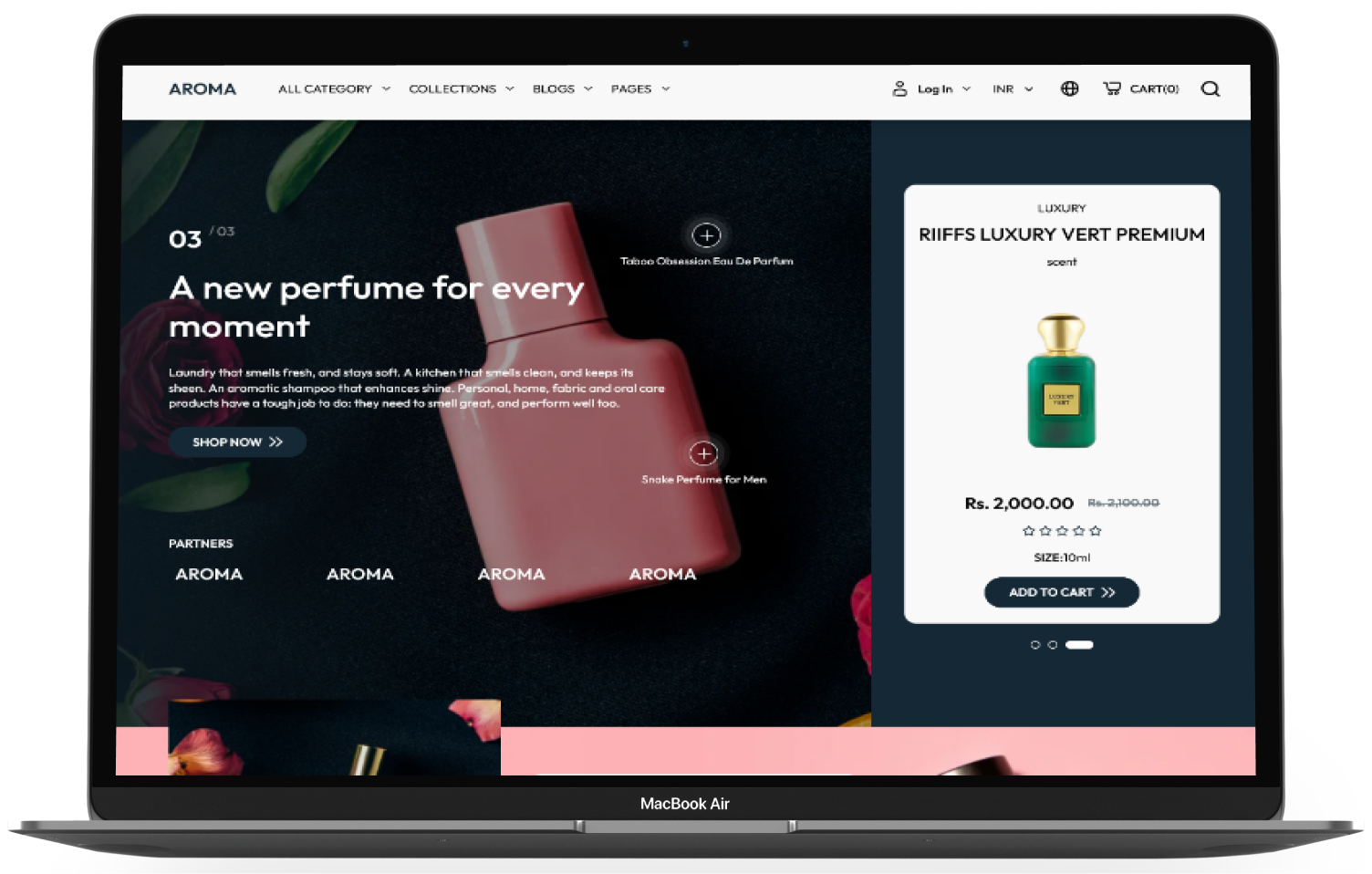 Built

By eCommerce Professionals

Coded using years of eCommerce experience.
Everything You Require for Successful Sales
Our team, comprised of experienced professionals who have dedicated extensive time to managing and growing eCommerce ventures, has crafted a theme that encompasses all the essential elements for establishing and operating a thriving online store.
Boosting Conversions with our Optimized Theme
Leveraging our eCommerce expertise, we present a high-conversion theme, finely tuned for speed and product page layout optimization. Please note that while we provide these essential features, we do not create product images for your store.
Tailored to Your Niche
In a sea of eCommerce themes, selecting one curated for your unique industry or niche is paramount for optimal results. Our theme is meticulously designed with your industry in mind, incorporating all the essential features required to establish a prosperous online store.
Seamless Integrations
A theme serves as the cornerstone, but to unlock the full potential of your eCommerce store, seamless integration with third-party tools is essential. Our aroma theme offers easy integration with a wide array of popular eCommerce apps. This encompasses a range of autoresponders and payment gateways, granting you the flexibility to select the optimal choices for your business needs.
Looking For Something

More Than A Theme ?

Get a fully-equipped online business that is prepared for you to sell.
Theme-Specific
Acquire a responsive and efficient eCommerce theme that will assist you in selling your products. This modern theme is designed for a high conversion rate and is tailored to the industry. The theme provides all the essential features to attract and maintain your customers.
Brand-Optimized Layout
Establish a professional and trustworthy eCommerce store where your audience will feel secure shopping. Utilize our Bag theme's great features to construct a well-known and reliable brand.
Get Started
Efficiently utilize your time by selecting our eCommerce package. It includes a fully functional store ready to start making sales almost immediately. This package can be set up in a matter of days rather than spending months on setup.
Questions and Answers
Frequently Asked Questions