A Flexible Theme Tailored for
Every Business
Every element has been thoughtfully designed to ensure that your business's essence shines through. From color palettes that echo your brand's personality to layouts that elegantly present your products or services, 'Versatility Redefined' transforms your website into an inviting, immersive experience. Seamlessly transition between styles, elements, and functionalities as your business evolves – all while maintaining a cohesive and compelling online presence.
Steps shoes
Footwear fashion
Comfortable shoes
Stylish footwear
Trendy sneakers
Elegant heels
Shoe shop
Fashionable footwear
Individuality in shoes
Shoe collection
Footwear variety
Step in style
Theme Features
OpenCart 4.0.1.1

Responsive theme

Multi currency

Easy theme setup

Custom Product Tabs

Dummy data provide

default modules redesigned

List/grid product view

Cloud Zoom effect

Carousel displays

Custom top menu feature

Product "Sale" badge

Product Reviews

Stock Countdown

Wishlist Product
Theme Built to
Help You Sell
Give Your Audience More Reasons to Buy from You
Let Visitors See Every Detail
of Your Product
Buying footwear online when you can't touch or try them on is a hard decision to make.
Step's advanced zoom and the ability to list product details right on the image give your audience all they need to know about your products.
This, in turn, helps your audience make a buying decision and encourages them to take action.
Help Your Audience Navigate

to the Right Product
Make sure your audience doesn't waste a single second trying to find the right shoes. If they do - they might become impatient and go to one of your competitors.
The theme's advanced navigation and filtering ensure your potential customers can get to the right product in a few quick steps.
Make Shopping at Your Store

Quick and Easy
Your customers want their shopping to be quick and easy - otherwise, they'll go elsewhere
Steps helps you make their entire buyer's journey - from picking a product to making a payment - easy to go through for anyone.
We designed Steps to help you create a secure shopping environment that your audience can trust. This, in turn, helps you drive more sales and build long-term relationships with your customers who'll want to keep coming back.
Customers Can Pick from Dozens of Stores


Help Them Choose Yours

The Steps theme allows your audience
Easy Wishlists
Build stronger relationships with your audience. Let them pick their favorite products and save them for later with ease. Remind them about their choices and give them a reason to keep coming back.
Filtered Search Results
Help your audience find their ideal pair in just a few clicks. Thanks to intuitive filtering functionality, they can narrow down search results to the right fit in just a few clicks.
Promotional Product Videos
There's no doubt that video sells. Steps' product galleries allow you to add videos together with images. This, in turn, helps boost your conversion rate and drives your sales up.
Detailed Landing Pages
Some customers need more product details than others - especially when buying shoes. Our product pages help you provide your audience with all the information they need to make an informed buying decision.
Mobile-Friendly
Today, it's no longer enough to have a store that just looks good on mobile. If you want customers to shop at your store, you need a theme that'll make it easy for your audience to navigate and buy from on all modern mobile devices.
Fast & Reliable
Your customers are impatient. If they have to wait for too long for your site to load, they won't just become unhappy - they'll go to one of your competitors. To help you prevent that from happening, we optimized Steps for speed right during the development process.
Secure Architecture
If you're serious about your business in the long run, you need to build it on a secure foundation. When developing Steps, we used only modern, widely respected PHP frameworks. On top of that, we thoroughly test and frequently update all our themes.
Get Steps and

Customize
It to Suit Your Brand

Easily change the theme's layout or color in just a few clicks.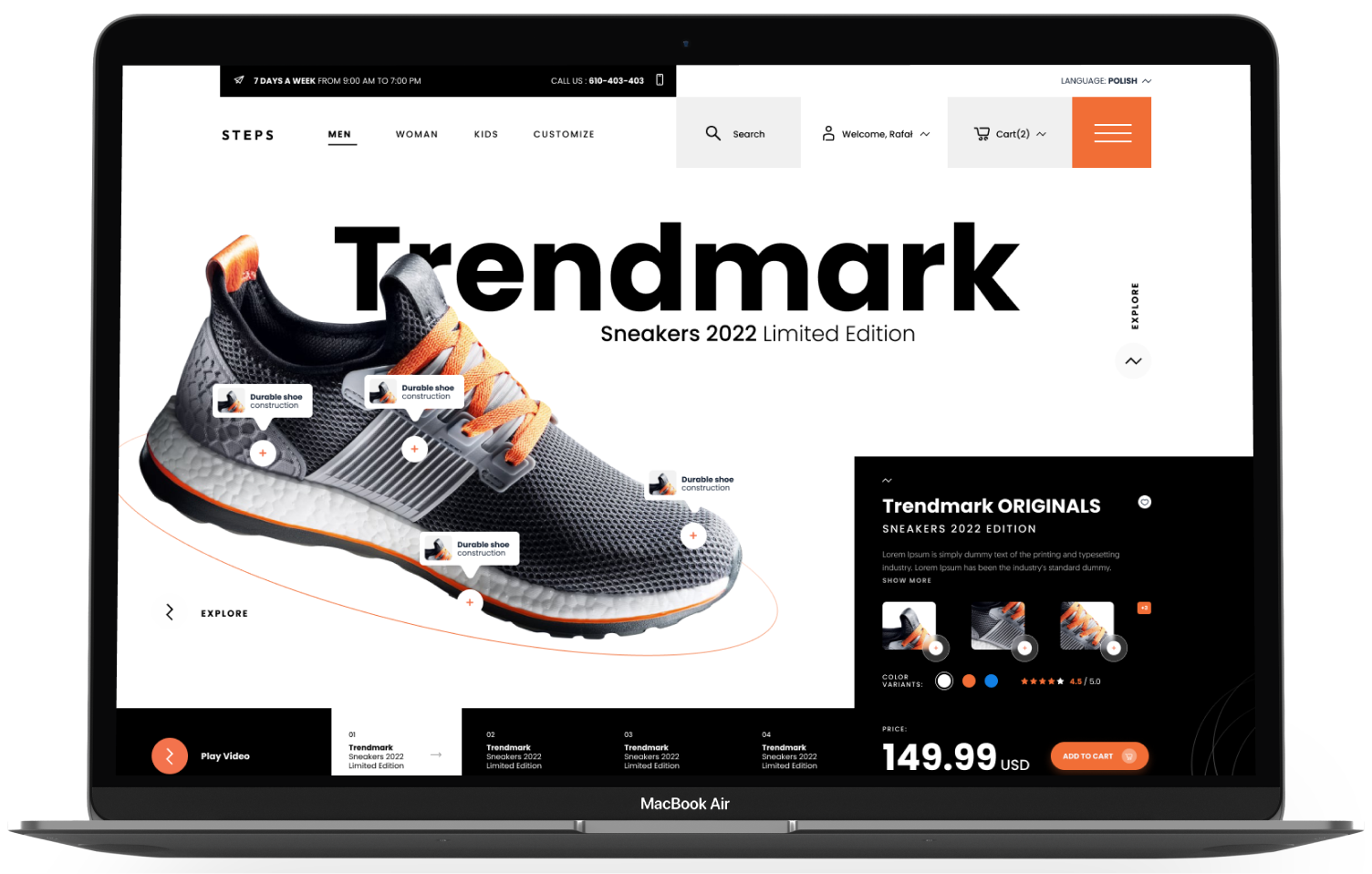 Built

by eCommerce Professionals

We've taken years of eCommerce expertise and put it into a theme that helps you sell.
Ease of Getting Started
Get all the features you need to start selling and just do it! Simply pick a platform (WordPress, Shopify or Opencart), install the theme, and customize it to your liking. Then, use the intuitive dashboard to add products and creatives and start promoting your store to drive sales!
High-Converting Product Pages
You don't have to be a conversion wizard or eCommerce pro to build high-converting product pages that'll sell your products. Thanks to Steps' predefined layouts, you can convert people into buyers even if you've never sold anything online before.
Design that Suits Your Industry
Generic themes are just that… they're generic. By choosing a theme that's developed with your industry in mind you get an instant edge over your competitors. Steps gives you the exact features you need to build a successful store in the Shoe niche.
Ease of Adding New Features
Need to add an email opt-in, a payment gateway, or third-party integrations? The theme is optimized for most integrations that you can add on either of the platforms that you decide to host it on. Thanks to that, you can expand the functionalities of your store in new features with just a few clicks.
Need More Than

Just a Theme?

Get a complete eCommerce store that comes ready for you to start selling.
Design Focused on Your Niche
Grab the Steps' theme and take advantage of an industry-focused design. Sell more of your products and give your online store an edge. Attract customers, build relationships, and create a shoe brand your audience will stay with for years to come.
A Solid Foundation for Your Brand
Get your eCommerce store created with a fast, responsive theme that's designed to help you build a brand. Easily customize the colors, design, and layouts to suit your branding and create a store your audience will trust and love to shop from.
Opportunity to Start Selling Sooner
The sooner you get your store up and running, the sooner you can start attracting customers and creating relationships with them. After all, every day that you're not selling is a day that your potential customers go to your competition.
Questions and Answers
Frequently Asked Questions