A Flexible Theme Tailored for
Every Business
Every element has been thoughtfully designed to ensure that your business's essence shines through. From color palettes that echo your brand's personality to layouts that elegantly present your products or services, 'Versatility Redefined' transforms your website into an inviting, immersive experience. Seamlessly transition between styles, elements, and functionalities as your business evolves – all while maintaining a cohesive and compelling online presence.
Perfume
Cosmetics
Fragrance shop
Beauty products
Makeup essentials
Signature scents
Artistic fragrances
Beauty rituals
Personal expression
Sensory experiences
Perfume collection
Cosmetic elegance
Theme Features
OpenCart 4.0.1.1

Responsive theme

Multi currency

Easy theme setup

Custom Product Tabs

Dummy data provide

default modules redesigned

List/grid product view

Cloud Zoom effect

Carousel displays

Custom top menu feature

Product "Sale" badge

Product Reviews

Stock Countdown

Wishlist Product
A Theme Designed
with Sales in Mind
Get a theme that gives you everything you need to start selling online.
Help Your Audience Make
a Buying Decision
Selling fragrance online can be tricky - after all, potential buyers can't smell what they're buying.
Scent's high-converting landing pages give you all you need to succeed in a tough niche like that.
Establish credibility, build trust, and present your products in a way that increases the chance of scoring a sale.
Help Customers Find the

Fragrance They'll Love
Stop wasting your audience's time by forcing them to browse through products they're not interested in.
With Scent, your potential customers can find their ideal products in minutes. Let them filter by brand, size, or price and speed up the buying process. .
Give Your Audience an Experience
They'll Love
If you want your customers to buy, you've got to guide them through the entire process. You need a store with an intuitive layout that's easy to navigate and works great on all devices.
We built Scent to help you do exactly that.
Its modern, responsive design lets your customers buy their favorite fragrances wherever they are.
With Scent, you get all the features you need to tap into a highly competitive but lucrative fragrance industry. The theme doesn't just help you sell products. It helps you build a solid foundation for an eCommerce brand your customers will trust.
There Are Dozens of Stores


Selling Fragrance Online

With the Scent theme, you can build a store that'll encourage your audience to shop at yours.
Shopping Wishlists
Keep your customers engaged with intuitive product wishlists. Let them create personalized lists of products they're interested in buying. Then, use that data to entice them to keep coming back for more!
Product Filtering System
Help your audience find the fragrance they're looking for in seconds with a dynamic filtering system. Let them sort and filter the products in a few clicks by brand, price, and several other filters.
Videos Mixed with Images
Videos mixed with images make your product pages more engaging, improving user experience. And, because they help you show even more details about your products, they have a positive impact on your site's conversion rate.
High-Converting Product Pages
Use Scent's intuitive, high-converting product pages to drive your sales up. Share all the details your site visitors need to help them make faster buying decisions. Then, encourage them to take action with a strong CTA.
Mobile-Friendly
Let's face it: you can't compete without a mobile-friendly, responsive eCommerce store. There are just too many online sales coming from mobile to ignore it. Scent is a modern, responsive theme that helps users easily navigate to their favorite products and buy them with a few finger taps.
Speed-Optimized
Today, website speed is of the essence. If you want your online store to convert and rank high in search engine results, you need to make it fast. With its speed-optimized code and clean architecture, the theme helps you keep your store fast. This, in turn, makes people more willing to buy from you, increasing your conversion rate.
Secure Code
Your customers want to know that you can keep their data safe. To help you do that (and to keep your store secure) we put a lot of work into securing our theme. The code of each of our themes is thoroughly tested and helps keep your audience data (and online store) safe.
Different Looks,

Same
eCommerce Features

Discover how the theme would look with your brand colors: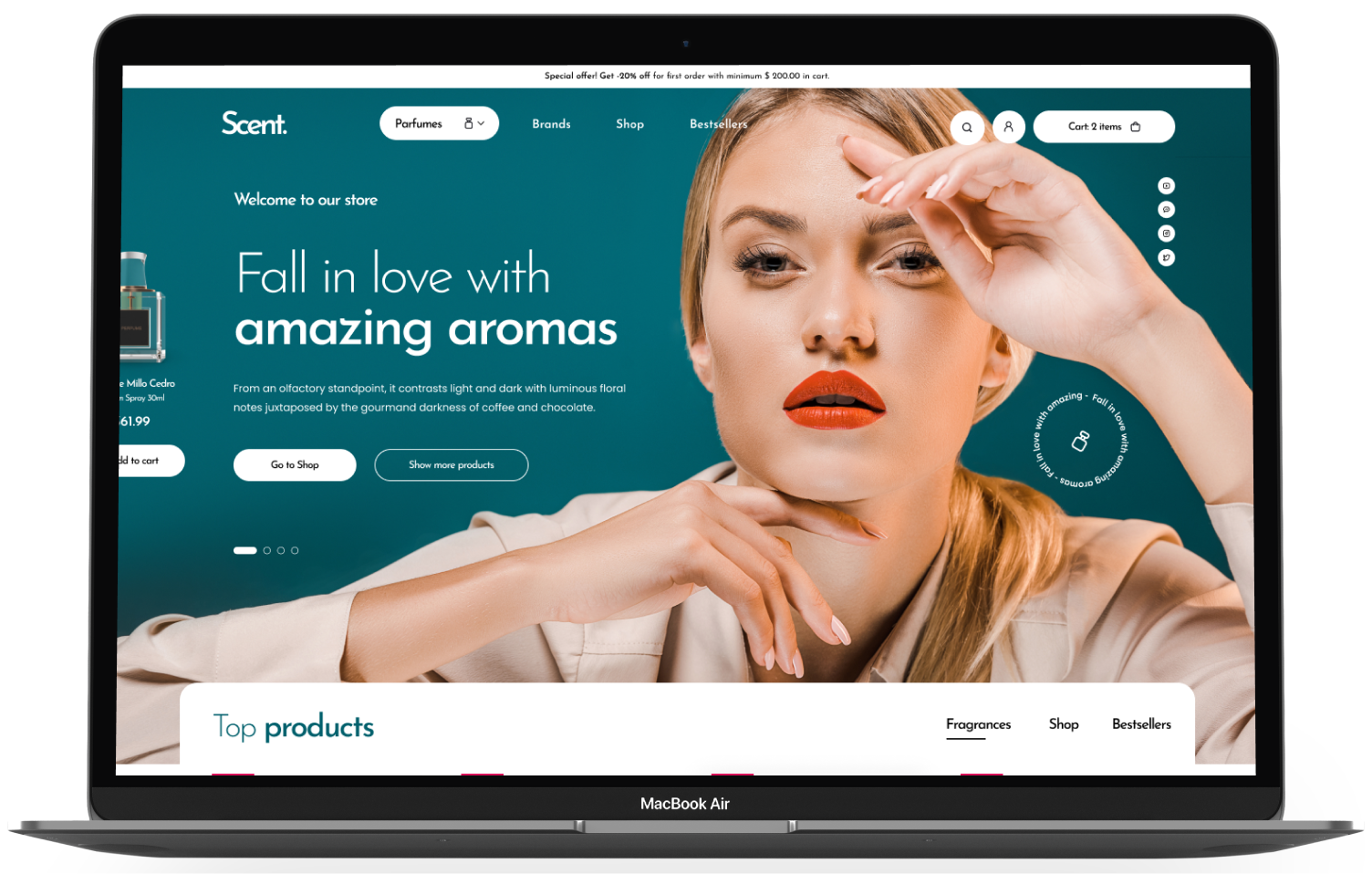 Built By a Team

with Years of
Hands-On Experience

When developing Scent, we ensured you'd get everything we'd want to see in a theme ourselves:
All the Key Features to Start Selling
No matter which version of the theme you choose, Scent comes packed with everything you need to start selling. Take advantage of its intuitive dashboard, inventory management, and discounts. Manage your online store with ease and focus on driving sales.
High-Converting Product Pages
You can have the best-looking online store on Earth. But if its product pages don't sell your product, your business will fail. Scent helps you create high-converting landing pages without you having to write a single line of code.
Industry-Focus
With dozens of eCommerce themes available for each platform, it can be hard to make a choice. But to build a successful fragrance business, you can't go with just any theme. Rather, you want a theme that's focused on your industry and comes optimized for selling your specific products.
Compatibility with Most Integrations
Scent has everything you need to start selling - but what if you want to customize your store even more? Thankfully, Scent's design makes it easy to integrate it with most popular third-party apps or plugins. This allows you to add new functionalities to your site and take its user experience to the next level.
Need More Than

Just the Scent Theme?

Let us build you a complete fragrance eCommerce store. Enjoy all the features of the Scent theme and start selling your products even sooner!
A Theme for Selling Perfumes
The fragrance industry is a tricky one for eCommerce. But, with the right theme, you can increase your chances of success. Scent is a high-responsive, speed-optimized theme that gives you all the features you need to start selling. Add products, present them to your audience, and encourage visitors to take action.
Store Designed with Your Brand in Mind
If you want your store to stand out, you need a brand that your audience recognizes and trusts. Scent's modern design and high-converting product pages help establish credibility and trust. This gives you a solid foundation for all your future branding and marketing efforts.
Massive Time Savings
Forget about manually setting everything up and customizing your store. Let us deploy Scent and do the entire customization work for you. Save time and focus on things that'll help you attract customers, drive product sales and, ultimately, grow your online store.
Questions and Answers
Frequently Asked Questions