A Flexible Theme Tailored for
Every Business
Every element has been thoughtfully designed to ensure that your business's essence shines through. From color palettes that echo your brand's personality to layouts that elegantly present your products or services, 'Versatility Redefined' transforms your website into an inviting, immersive experience. Seamlessly transition between styles, elements, and functionalities as your business evolves – all while maintaining a cohesive and compelling online presence.
Mountain gear
Hiking equipment
Outdoor adventure
Camping essentials
Peak exploration
Trail gear
Outdoor apparel
Backcountry tools
Mountain shop
Adventure gear
Outdoor exploration
Nature equipment
Theme Features
OpenCart 4.0.1.1

Responsive theme

Multi currency

Easy theme setup

Custom Product Tabs

Dummy data provide

default modules redesigned

List/grid product view

Cloud Zoom effect

Carousel displays

Custom top menu feature

Product "Sale" badge

Product Reviews

Stock Countdown

Wishlist Product
Drive Sales Like
Never Before
Our Mountains theme has all the features and tools you need to attract
mountain climbers to your awesome products.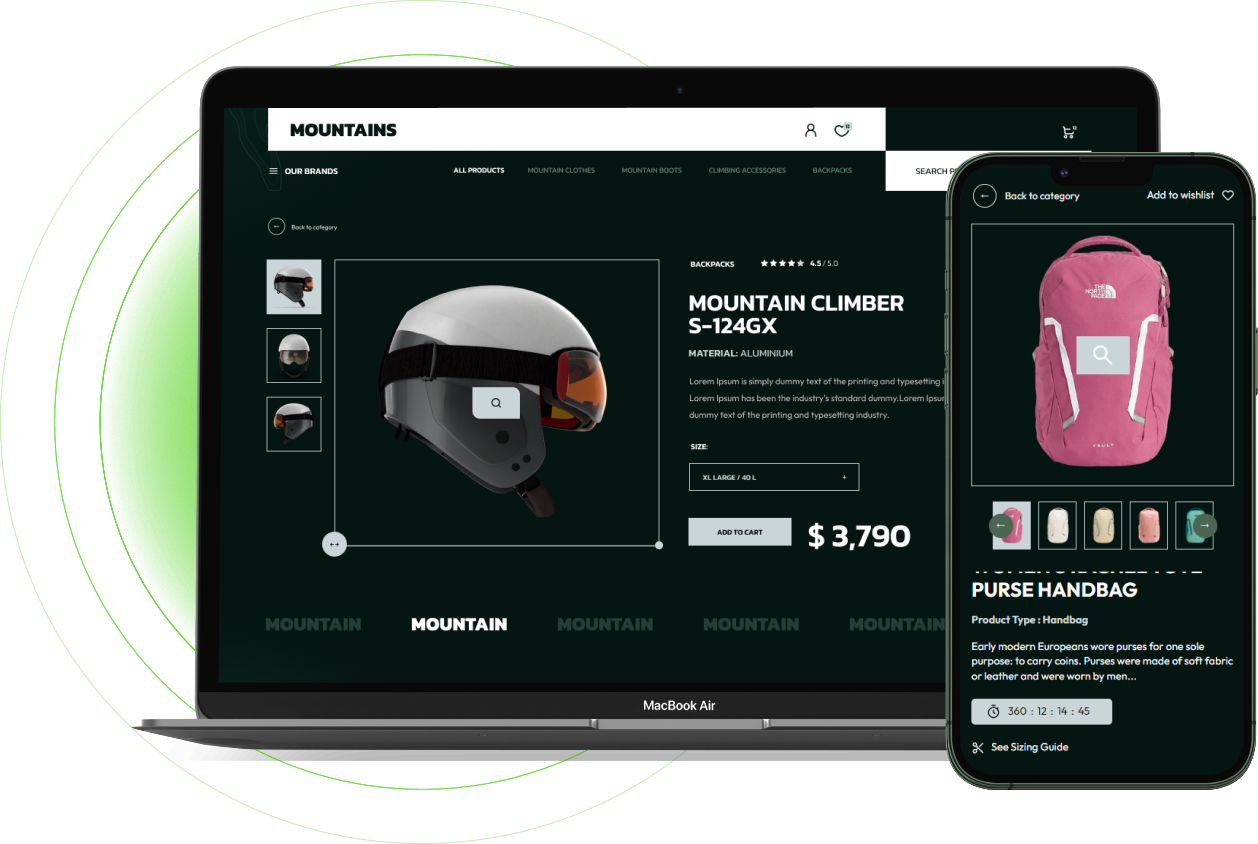 Focus On The Minute
Details
Customers wish to know about each and every detail of a product before they make their purchase. With Mountains, you get to offer proper detail, high-quality images, and fine videos that aid the customer in making the right decision. Especially one that tips the scales in your favor.
Landing on the right product in the shortest possible amount of time makes customers more willing to buy a certain product.
The Mountains theme offers precise navigation tools that help your customers find their desired products in no more than just a few clicks.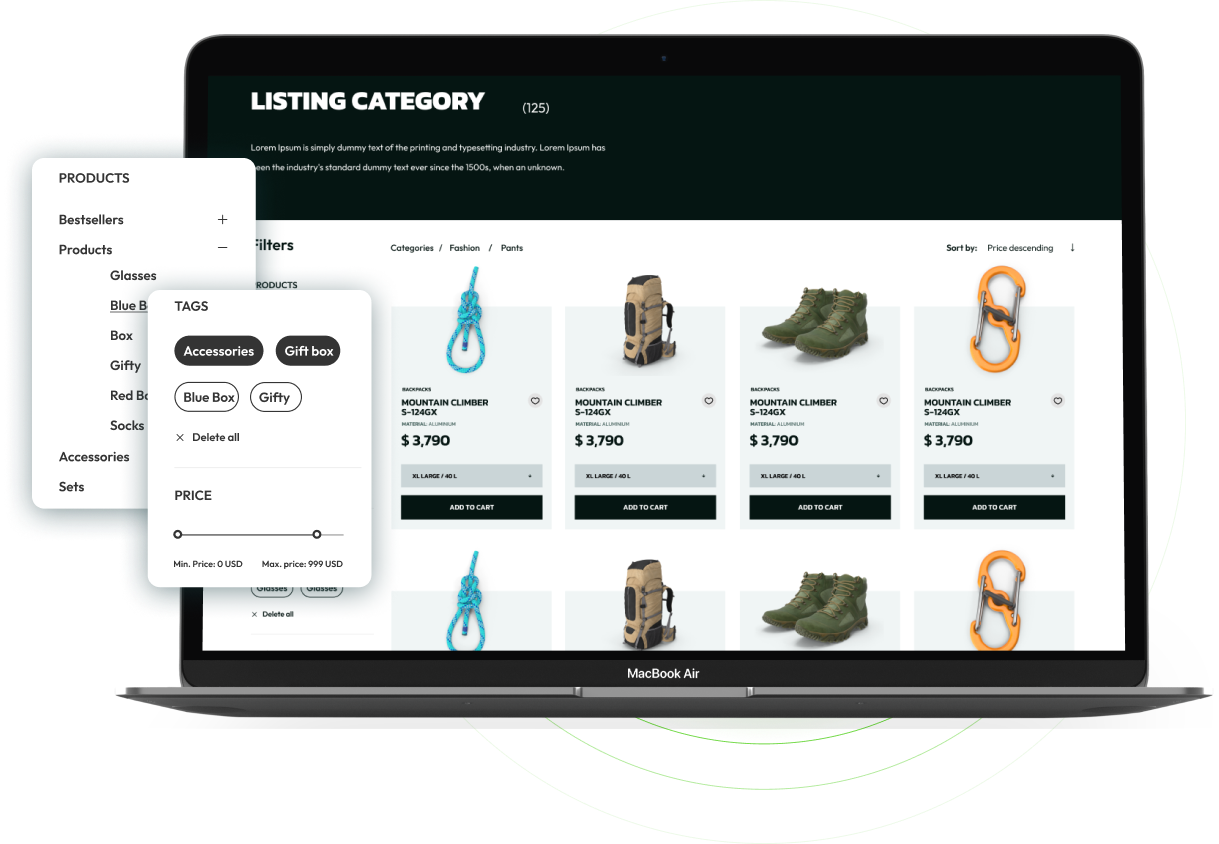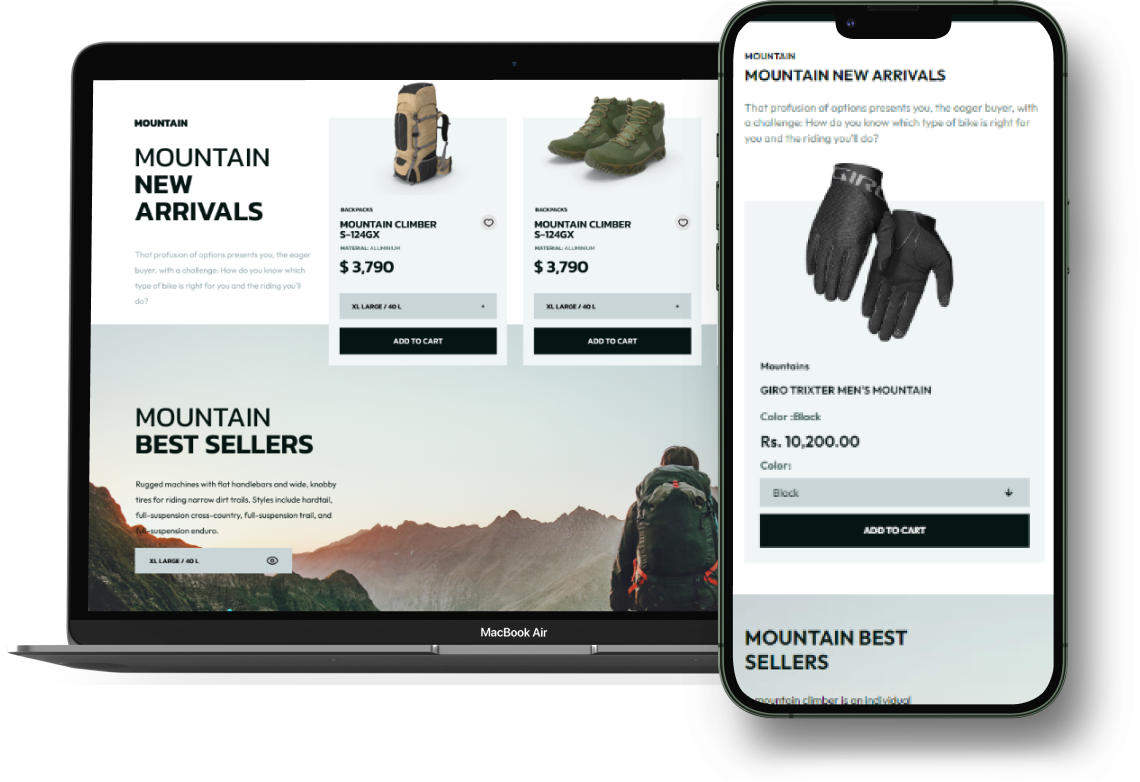 Offer A User Experience
Like
The Mountains theme does not only focus on navigation and minute details, but it also allows you to offer an outstanding customer experience.
Looking for a fast, secure, responsive, and versatile theme for your trekking products? Then the Mountains theme is your best possible choice. It makes shopping fun, and smooth and caters to both mobile and PC users.
The Mountains theme allows you to create something that is beyond a simple online store, you get to establish a brand that can attract the masses through credibility, trust, and modern features. The theme provides a platform that shoppers will love and will keep coming back to. With products like bags, shoes, equipment, and accessories; you can easily go viral.
Compel Your Audience


To Buy From You

The eCommerce market is hot and there are dozens of websites selling products similar to yours. Therefore, you need a theme that not only
attracts
the audience but turns all visitors into customers. With the Mountains theme, all of this becomes a breeze.
Customer Wishlists
Customer wish lists not only allow consumers to save products they hope to buy in the future, but it also gives them a reason to come back. Wishlists allow a brand like yours to learn more about potential customers and use this data to skyrocket sales.
Smart Filtering
Smart filters like price, color, size, product type, and brand allow your customers to find the exact product they are looking for. The more easily a customer lands on their desired product, the more likely they are to make a purchase.
Video Galore
Nothing is more interactive than a video that lists all features and specs perfectly. The Mountains theme allows you to create a video and image library to make this possible.
Attractive Product Pages
Make shopping simpler by providing accurate and precise details on each product page.
Responsive And Reliable
Mobile commerce is growing day by day. We tested the Mountains theme on various devices and platforms to ensure that each and every customer that visits your website is provided with a superb user experience.
Speed-Optimized
We coded the Mountains theme with special care so it loads up fast, responds on time, and does not lag. A fast theme means there is a reduced chance of visitors navigating away due to impatience.
Secure
For online product purchases, customers need to share private data. Therefore, a secure website that can gain the trust of the user is utmost essential. Our updated frameworks and smart coding practices ensure each theme is exceptionally safe for online transactions
A Dynamic And Powerful Theme

All The
Features You Need To Drive Sales

Pick out one of your favorites from several design variations so your website can stand out.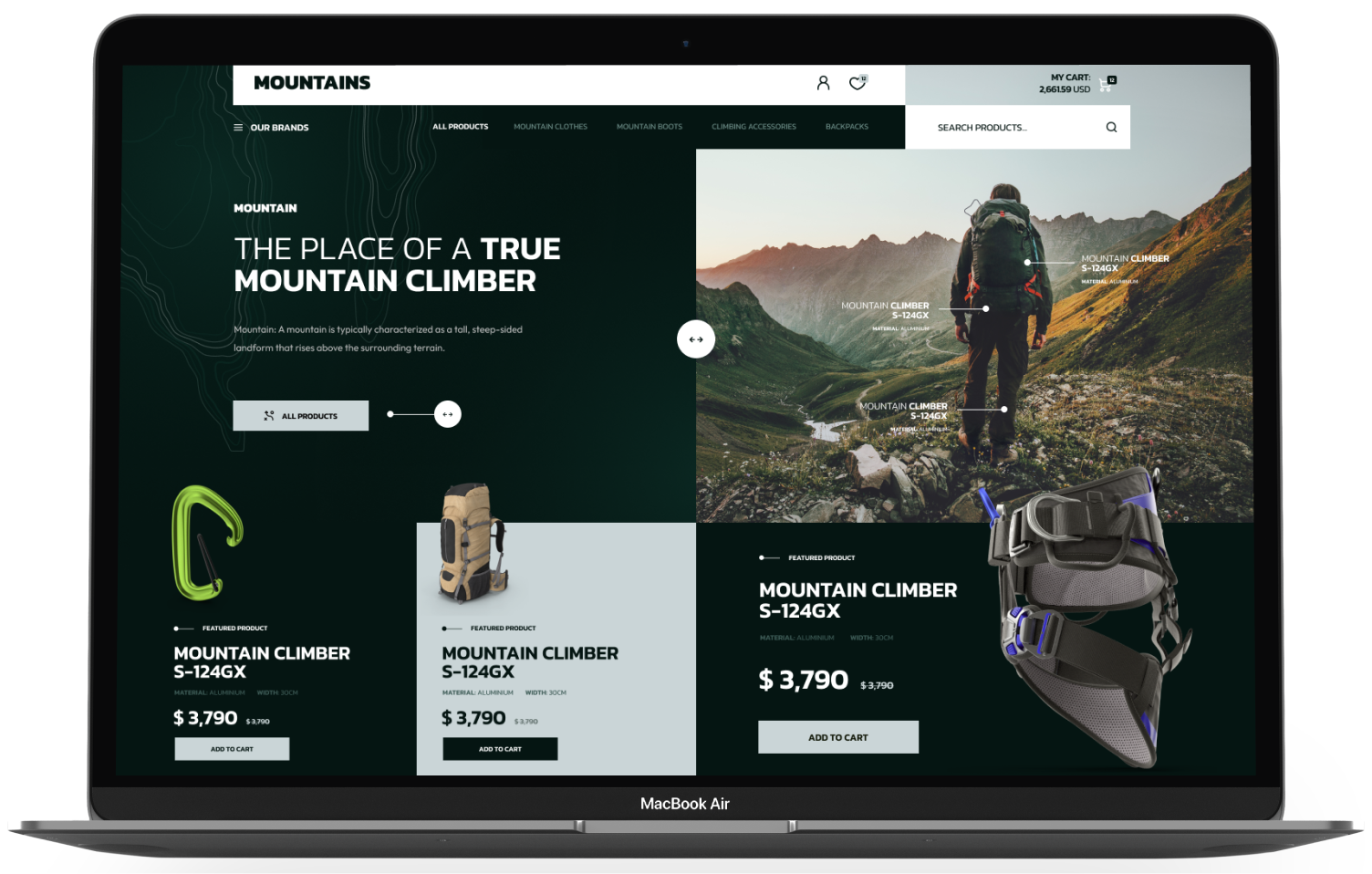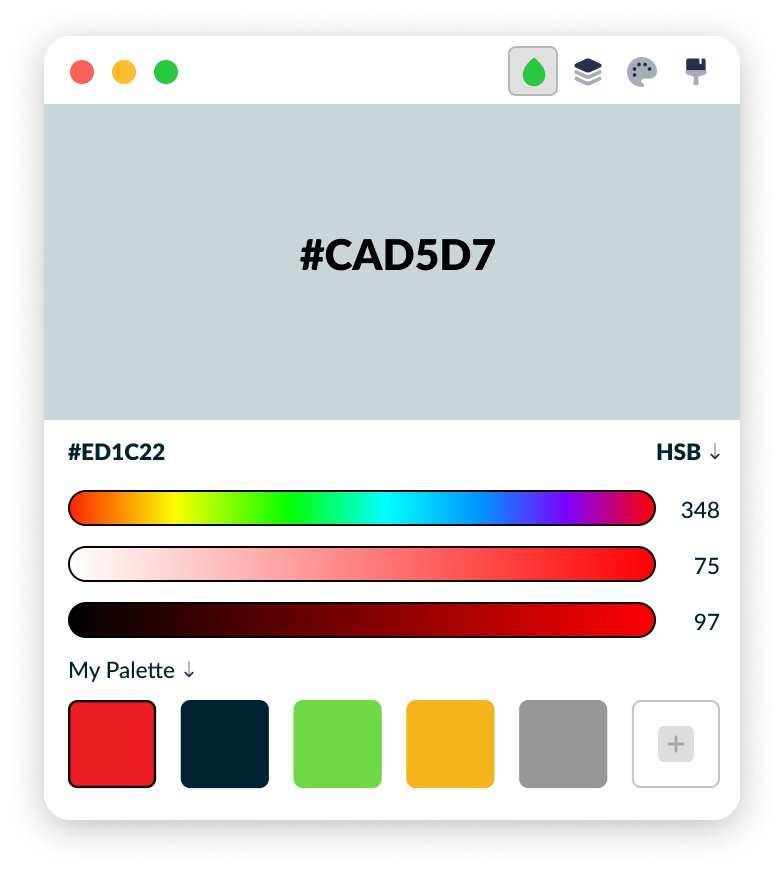 Made With Love

By A Team Of Experienced eCommerce Developers

We combined the expertise of various developers to design powerful code.
All In One Functionality
The Mountains theme was designed by developers that have several years of professional experience in the eCommerce industry. You simply need to install and customize the theme after which you can start selling your desired products right away.
Spike Conversions
Years of professional experience in the industry means we were able to create code that is a surefire way to drive sales from leads. With the Mountains theme, you will notice your conversion rate spike. Loading speed, navigation tools, product elements, and a perfect layout are the perfect formula for success.
Target Your Niche
With hundreds of themes available, it can get quite difficult to make a pick. Our specially designed themes ensure that your website can target the audience in your niche precisely. You can create a strong brand image as you sell bags, shoes, hiking equipment, and other accessories.
Integrate Freely
Without integrations, no online store is complete. We offer seamless integration with the Mountains theme so your UX can truly stand out. Potential customers will be ultimately offered a site that is user-friendly and also offers various payment gateways, newsletter opt-ins, and third-party app integrations.
Need Something More

Sophisticated
Than A Mountain Theme ?

We can easily design a complete online store for you with excellent functionality and features that boost revenue.
A Theme That Boosts Revenue
Mountains is a super fast and responsive theme that targets your audience and caters to your niche smartly. You get to start selling soon after installation and the best part is that you will find all the features and functions to encourage customers to keep coming back.
Brand-Friendly Layout
Our theme provides a solid platform for your eCommerce store. The polished design makes you stand out, seem unique, and helps you establish brand credibility. A modern touch also means that your audience will be attracted at first glance and is likely to stick by.
We Buck Up Your Business
When you pick our theme, you get to sit back, relax and enjoy our development. We will take care of your business setup, marketing, inventory, and other development tasks based on the platform you choose.
Questions and Answers
Frequently Asked Questions