A Flexible Theme Tailored for
Every Business
Every element has been thoughtfully designed to ensure that your business's essence shines through. From color palettes that echo your brand's personality to layouts that elegantly present your products or services, 'Versatility Redefined' transforms your website into an inviting, immersive experience. Seamlessly transition between styles, elements, and functionalities as your business evolves – all while maintaining a cohesive and compelling online presence.
Eyewear
Prescription glasses
Fashion eyewear
Sunglasses
Optical accessories
Eye care
Vision correction
Stylish frames
Clear vision
Eye fashion
Glasses shop
Designer eyewear
Theme Features
OpenCart 4.0.1.1

Responsive theme

Multi currency

Easy theme setup

Custom Product Tabs

Dummy data provide

default modules redesigned

List/grid product view

Cloud Zoom effect

Carousel displays

Custom top menu feature

Product "Sale" badge

Product Reviews

Stock Countdown

Wishlist Product
Theme Designed to Make
Selling Easy
Thanks to years of eCommerce experience put into code, it's never been
easier to start selling online.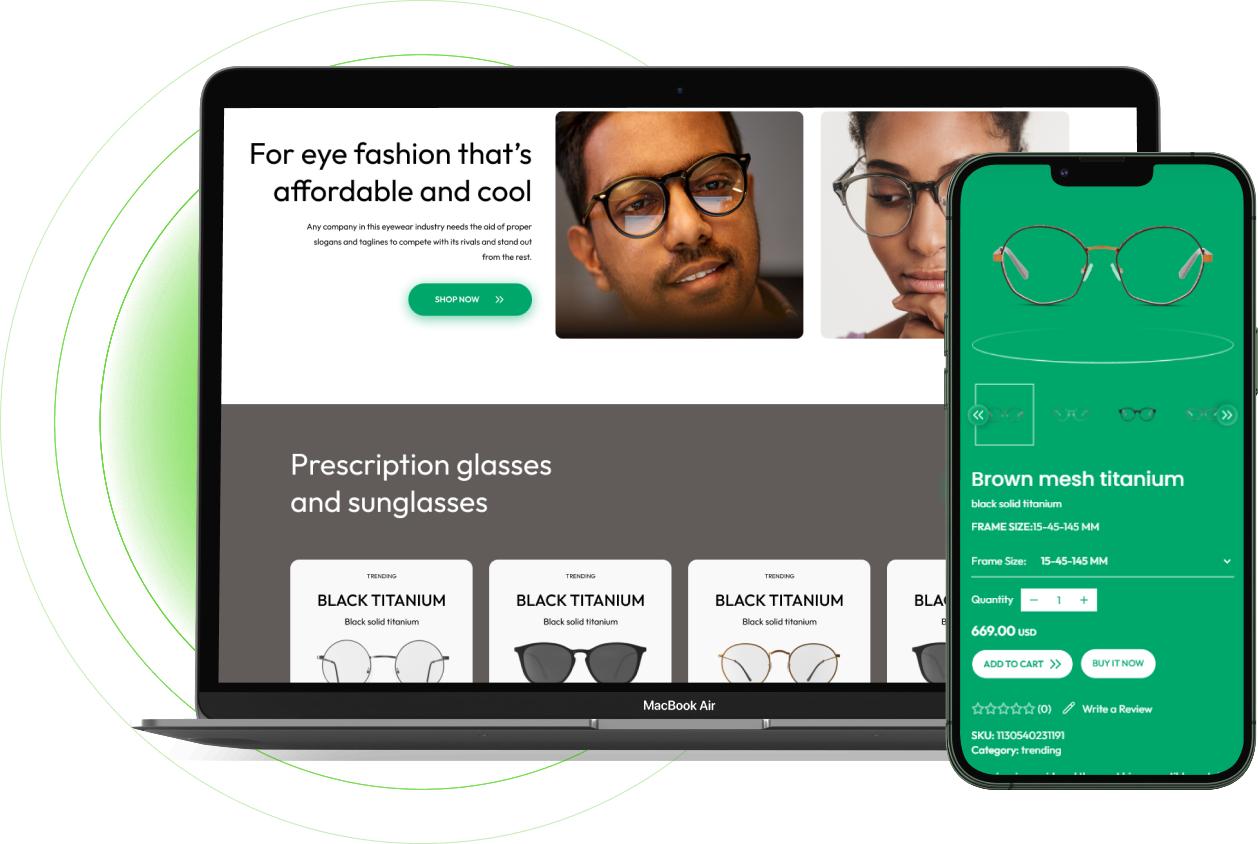 Give Your Audience More
Reasons to Buy
Before they make a buying decision, customers want to learn as much as possible about the product. With Eyewear, you can give them all the reasons they need to buy right on the product page. Share product details right on the images and use advanced zoom to help your audience make an informed decision.
Make Finding the Right Glasses

A Smooth Process
Your visitors are busy and impatient. They're in a hurry. Yet, finding the ideal pair of glasses can be time-consuming.
Thankfully, Eyewear's intuitive filtering and navigation helps your audience to get to their dream pair in a few clicks of a mouse button.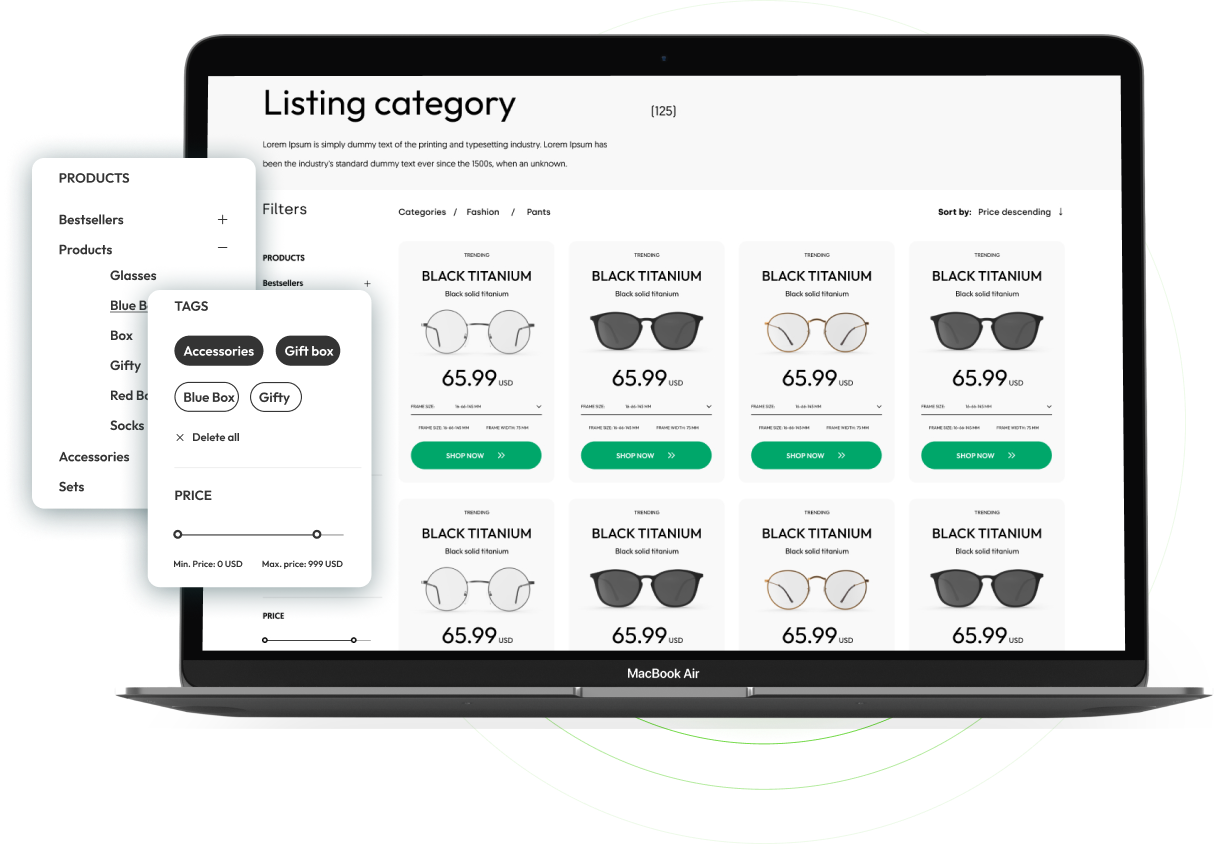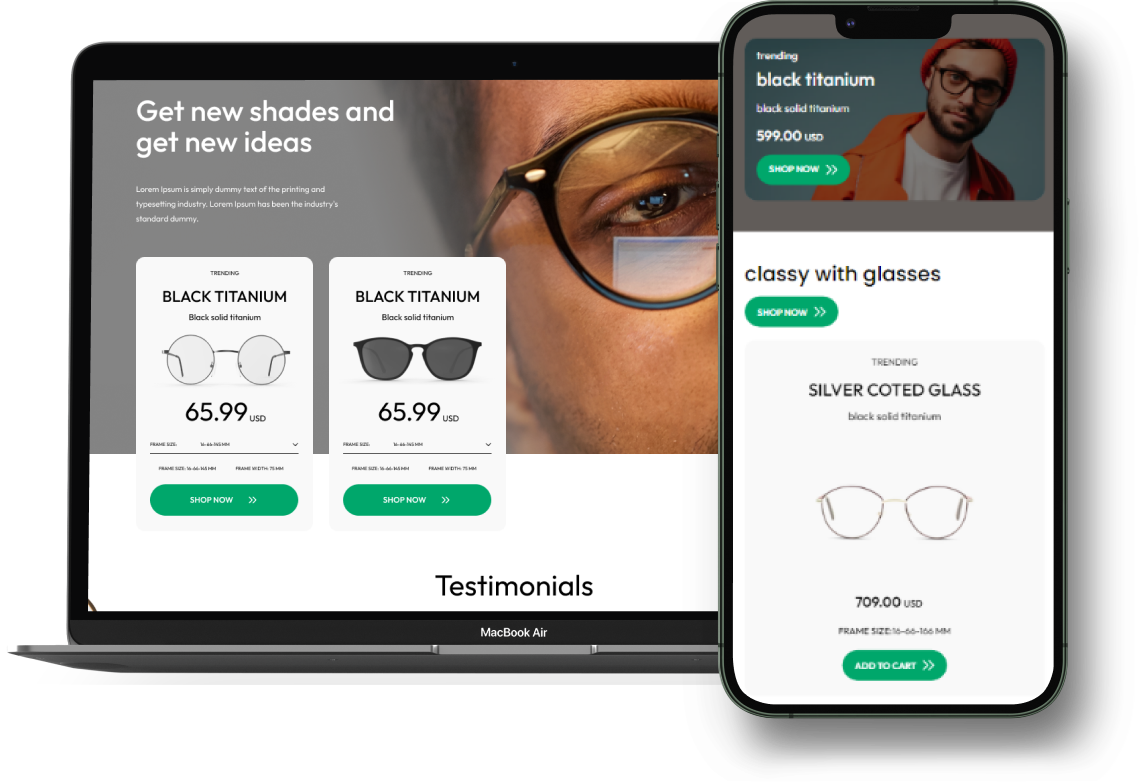 Guide Your Audience Straight

to the Checkout
If you want your customers to buy, you've got to offer them excellent UX and guide them through the entire process.
Thanks to Eyewear's responsive design and intuitive layout, you can do exactly that. Give your audience a convenient way of buying glasses - no matter the device they're using to visit your store.
With the Eyewear theme, you can create an online store that's just easy to buy from. The theme's intuitive design and user-friendly layout give you everything you need to guide your users straight to the checkout
Your Potential Customers Can Choose


from Dozens of Online Stores

Here are a couple of ways how Eyewear helps you ensure they'll choose yours:
User-Friendly Wishlists
Not all customers will buy everything they need in one go. But, that doesn't mean you can't encourage them to shop from you again. Let them save their favorite products using user-friendly, one-click wishlists and give them a reason to come back.
Easy Search & Filtering
Make your store even easier to buy from with smart product filters. Give your customers a convenient way to search for their favorite glasses in a few clicks. Then, give them the option to narrow down the results to the exact pair that fits their needs and sense of style.
Video Product Galleries
Up your eCommerce game, add videos to your product pages, and let them do the selling for you. With Eyewear, you can mix videos and images to make the user experience more interactive and increase the product conversion rate.
Product Pages that Sell
Every product page is designed to ensure that buying your products is as easy as possible. All key details are clearly visible and call-to-action buttons are encouraging to click. This ensures your audience gets all the information they need to buy and entices them to act.
Responsive Design
As the popularity of mobile commerce skyrockets, it's critical that your store looks good on all modern mobile devices. With Eyewear, your audience can enjoy a smooth shopping experience no matter the device they choose to visit your store.
Speed-Optimized
Thanks to Eyewear's speed-optimized architecture, you don't have to worry about your store being slow. This is especially important today, when speed is a key factor for both SEO and user experience. The latter is also the reason why speed has a huge impact on your conversion rate.
Secure Code
The security of your customers' data is our top priority. That's why we built Eyewear using the latest and most secure PHP framework. To further increase the security of your online business, we test each theme and provide frequent security updates.
With Eyewear,

You Can Customize
Theme Design in Minutes

Here you can check how your store will look with different theme colors.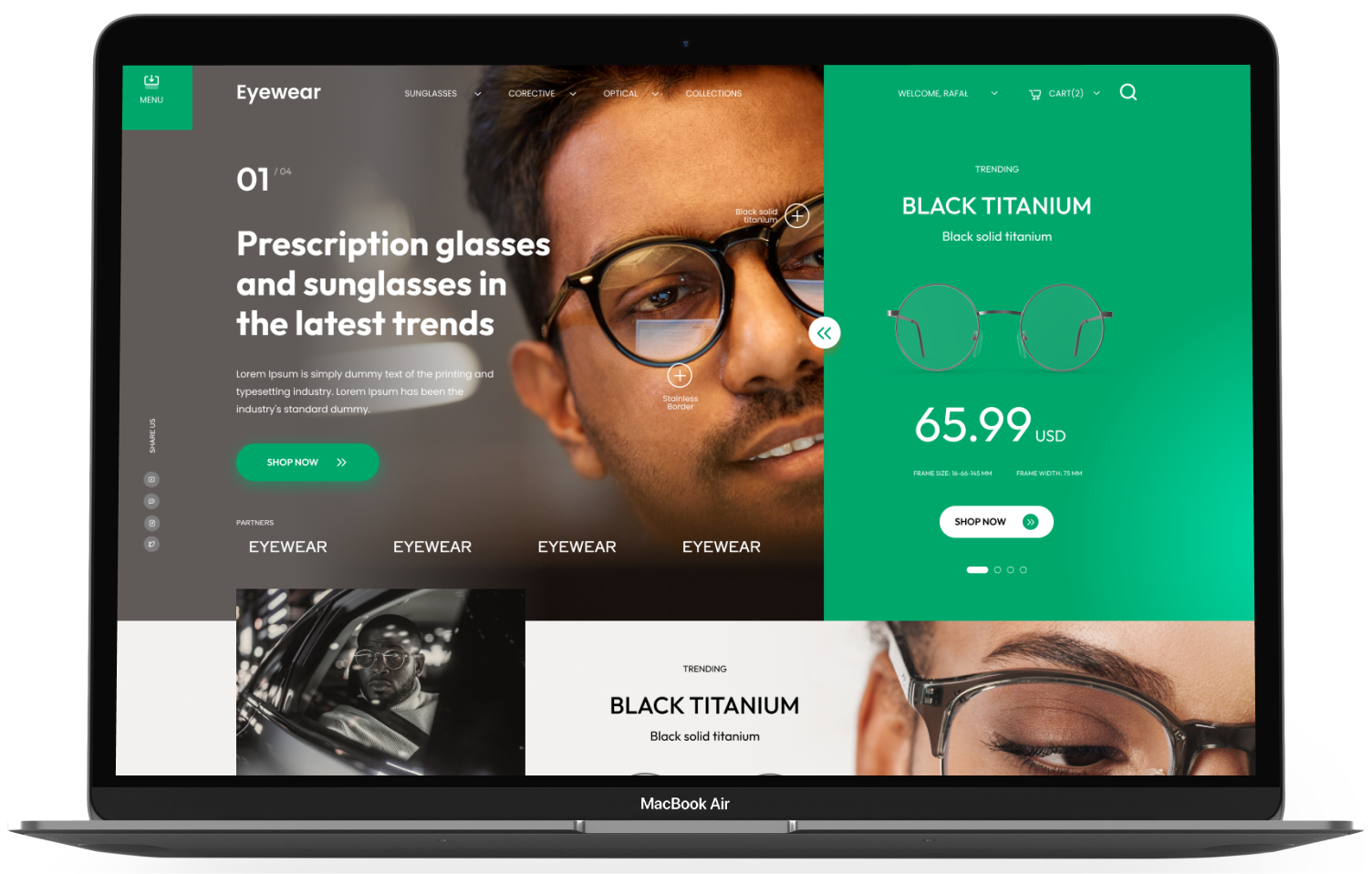 Years

of eCommerce Experience
Put Into Development

Our team spent the last several years developing and managing eCommerce businesses. They then took all that experience and put it into code.
Get Everything You Need to Sell Online
Thanks to our team's hands-on eCommerce experience, you get a theme that comes with everything you need to run a successful online store. Eyewear makes it super easy to add and edit products, create discounts and manage product sales.
Conversion-Optimized Theme
One of the biggest advantages of Eyewear is that you don't need any conversion-optimization skills to create product pages that sell. Simply use the user-friendly dashboard to add product details and upload creatives. Then, polish the pre-made, high-converting product page layouts and start driving sales.
Designed for the Eyewear Industry
To create a successful store in the eyewear industry, you need a theme that's created with that industry in mind. Eyewear's unique combination of features gives you everything you need to succeed at selling different kinds of glasses.
Ease of Adding Integrations
A theme is important - but your store is often only as good as the third-party tools that you integrate with it. No matter which platform you choose, Eyewear's easy to integrate with popular payment gateways, as well as marketing apps and plugins.
Want More than

Just the Theme ?

Get a complete eCommerce store developed on a platform of your choice and start selling immediately.
A Theme That's All About Eyewear
Eyewear is a fast, responsive theme that's built to help you sell different eyewear products. The theme gives you all the features you need to create eye-catching, high-converting landing pages. This, in turn, helps you sell your products and encourages your audience to keep coming back.
A Recognizable Brand
Stand out with a recognizable brand that your audience will trust. Get a modern online store the design of which helps you build credibility. Use it to build a solid foundation for your brand and help your customers trust you. Then, use that trust and credibility to create lasting relationships with your audience.
Significant Time Savings
Don't waste any time setting up the store from scratch. Let us do the work and use the time you save to focus on other key areas of your business. Get started earlier and get your first sales in a matter of days.
Questions and Answers
Frequently Asked Questions