Designed To Hook Your Clients
To Your Services
Get access to all the features you need to attract more clients and increase the number of leads.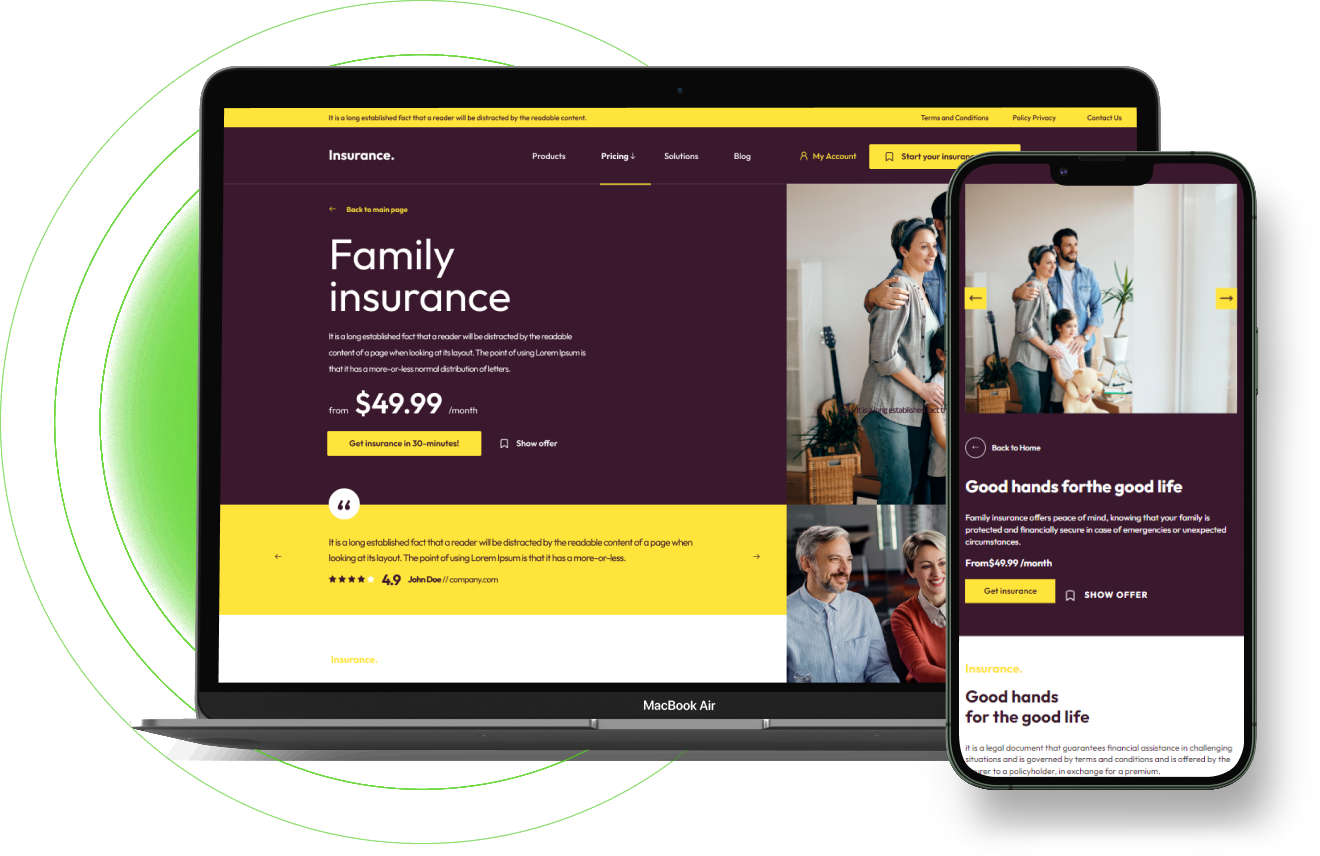 Enhance The Purchasing
Experience
Provide your customers with a reliable and convenient way to find what they need. Add engaging visuals and descriptions to build customer trust and credibility.
Provide A Wide Range

Of Options
Give your customers access to a wide range of insurance options and the ability to easily find and purchase the service that's right for them.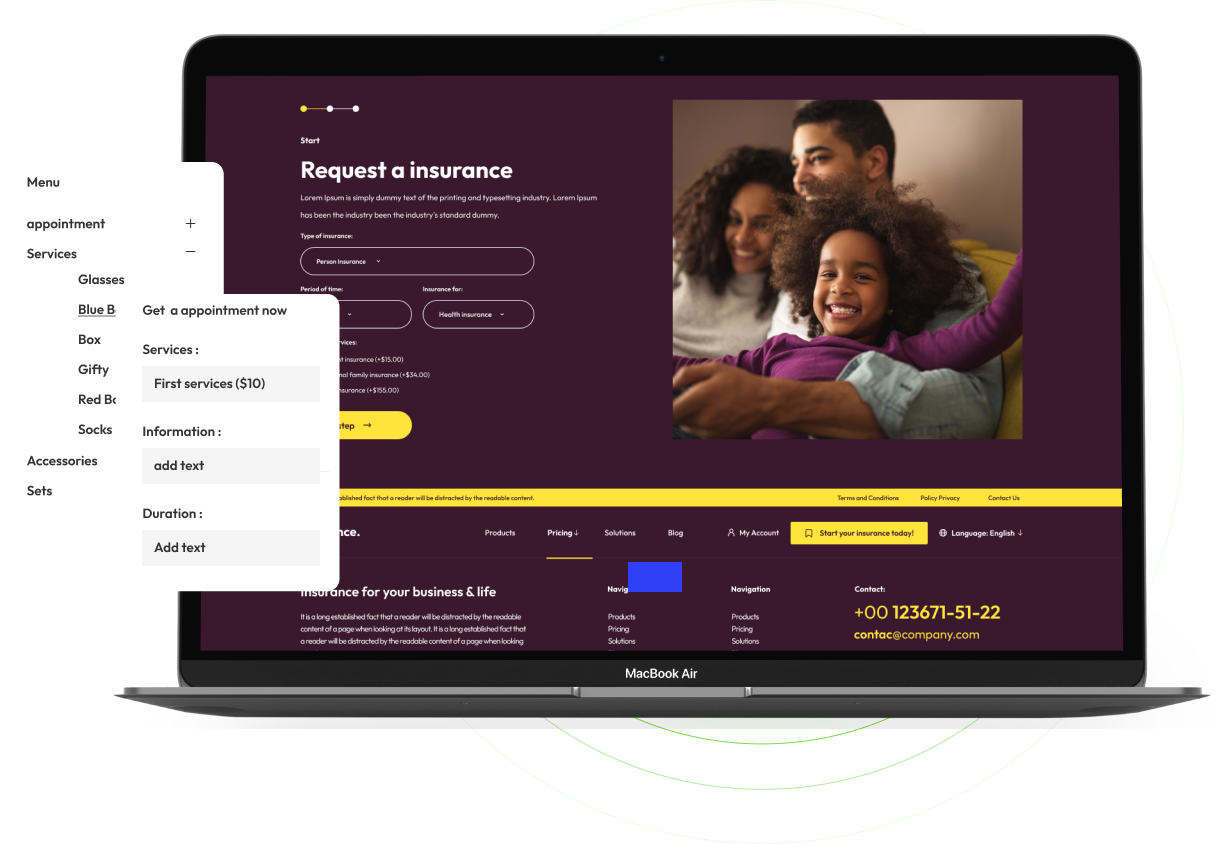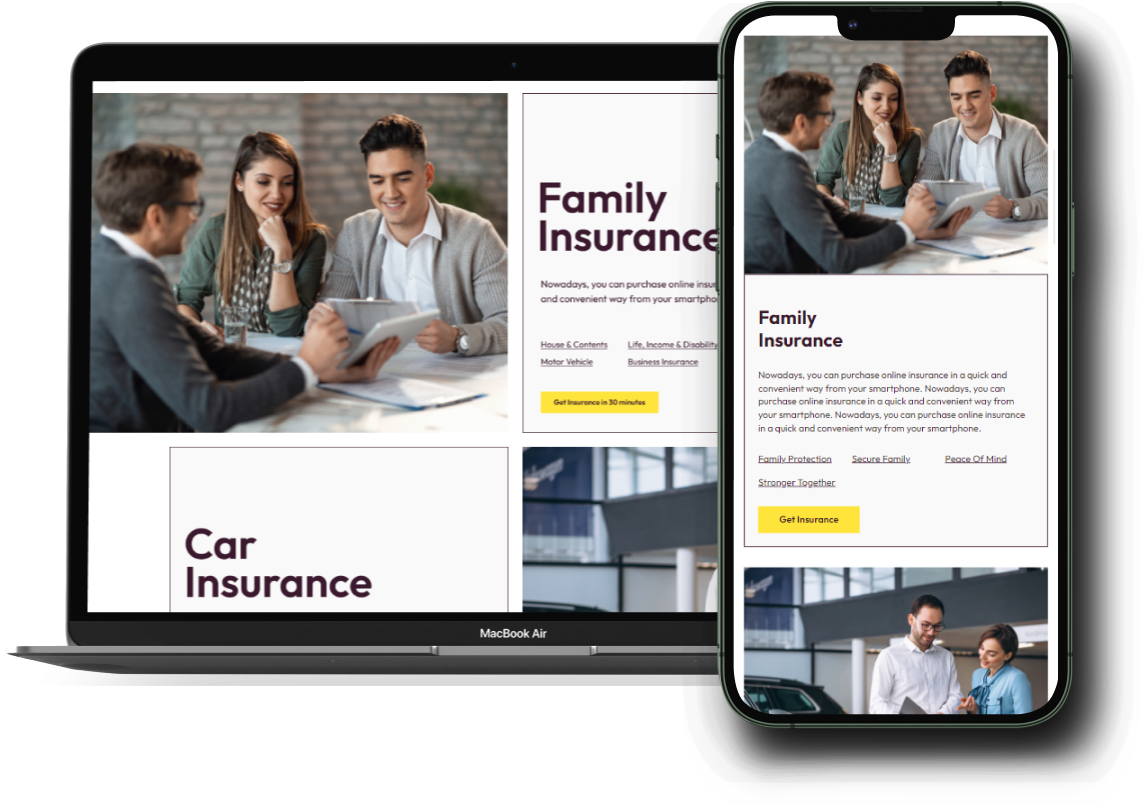 Create a Top-Notch

User Experience
Provide a seamless and intuitive user experience for your customers. Offer them a range of features and functionality to help them easily find the coverage they need. Entrust us to craft an unmatched user experience for your business that will leave a lasting impression on your valued clients.
The Insurance theme is designed to provide a delightful online experience for your customers. The theme's high-converting landing pages will help you sell more, ensuring your business grows at every step.
Get A Trusted Partner For Your


Insurance Business

Your audience has many options when choosing an insurance provider. Our insurance theme is
designed to encourage them to stay and explore the services you offer.
Create Wishlists
Offer your customers a personalized experience by allowing them to create lists of products they want to buy. Utilize this data to generate more sales by encouraging your customers to return and purchase them.
Find The Right Product
Allow your customers to easily and quickly find what they are searching for with the help of integrated product filters.
Product Visuals
Leverage the power of videos and images to increase your conversion rate and make your product gallery more visually appealing for customers to witness product details.
Easy To Navigate Product Pages
With the Insurance theme, design your product pages to showcase all the key crucial features of a product and make it easy for the customers to navigate and aid their purchasing decision.
Smooth Operations
The Insurance theme has been tested on multiple mobile devices to ensure your customers experience a seamless experience when using your site, regardless of the device they use.
Unmatched Speed
Since speed is a key factor in achieving good SEO and user-experience results, we ensure our theme's code is clean and optimized for delivering fast loading speeds.
High Security
Prior to releasing our themes, we thoroughly test their codes to ensure they are stable and secure. Moreover, our regular security updates aim to protect the crucial data of your customers and your business.
All The Features You Need To Start


Selling, Combined In One Theme

Examine the design variations of the Insurance theme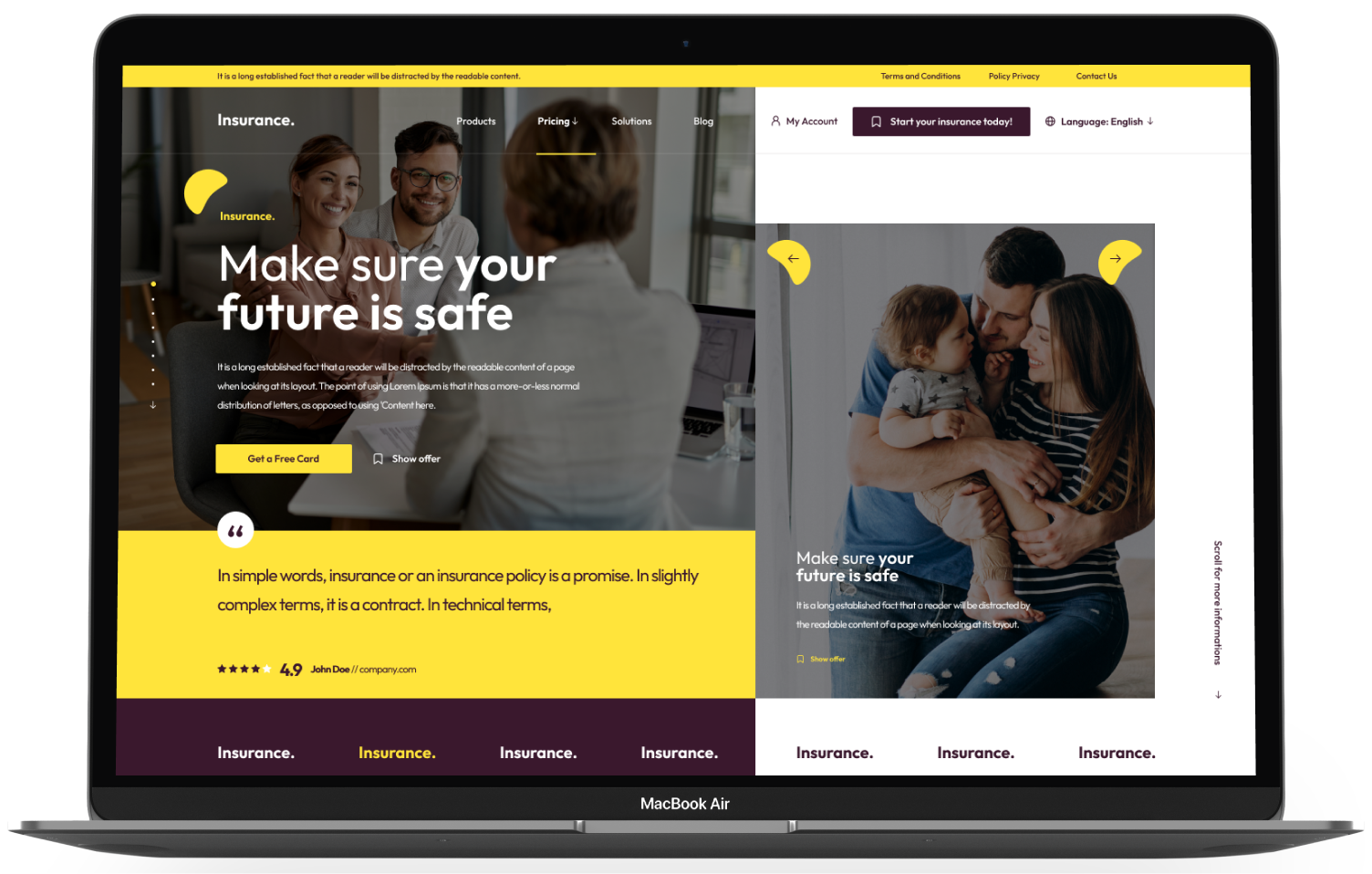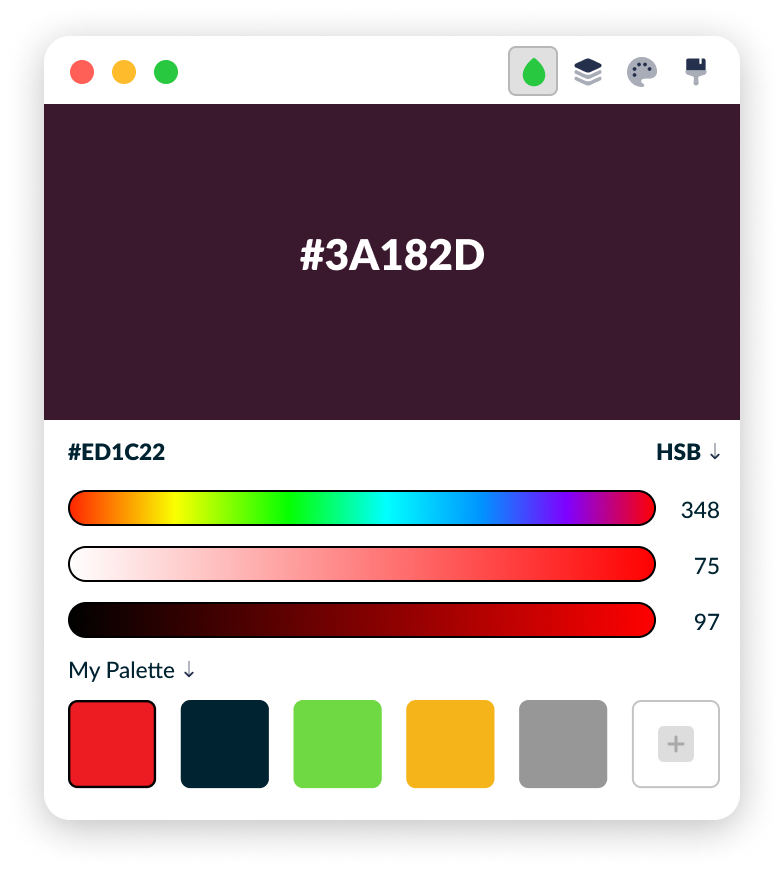 Developed By A Team With

Years
Of eCommerce Experience

We've taken years of our expertise and integrated it into our Insurance theme code.
A Complete Solution
The Insurance theme is ready to go out of the box. Simply install it on your preferred platform and begin selling. Customize it to match your business needs, and then start attracting traffic. It's that easy!
Built To Attract Audience
Insurance theme has been designed to be user-friendly and effective in driving business. Whether you are just starting or are an established company, the Insurance theme can help take your insurance sales to the next level.
Focused On Your Industry
Get a theme designed for your business to build a strong brand image. Manage your services with ease while promoting your business to potential customers.
Integration-Ready
With the Insurance theme, you can integrate third-party tools such as apps, payment gateways, and autoresponders to expand your business services.
Need More Than

Just The Insurance Theme ?

Get an all-in-one package that can help you sell your services right away!
Insurance-Centered
Our Insurance theme is designed with modern industry standards. It incorporates all the essentials your eCommerce business requires to manage smooth operations, retain customers, and generate sales.
Trustable Brand Image
The Insurance theme is designed with all the crucial features that will make your store stand out from the rest and give customers a reason to buy from you.
Enable Early Selling
Our Insurance eCommerce theme package comes with an all-in-one store that does not need any further adjustments, helping you save time to start your operations within days.
Questions and Answers
Frequently Asked Questions