A Theme That Helps

Boost Sales
Drawing on our years of eCommerce experience, we've created themes that look great and come
packed with the essential features you need to drive growth in your online business.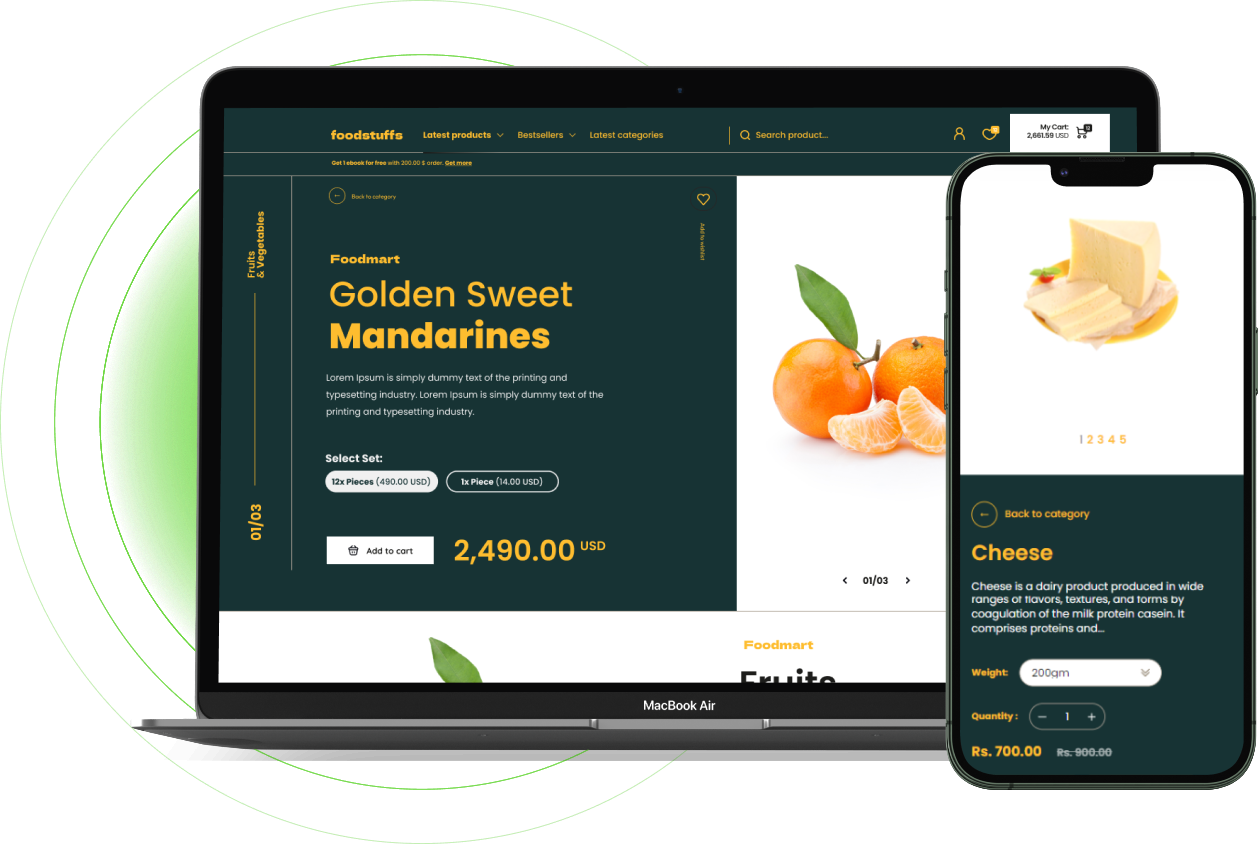 Allow The Buyer Every To Get
Every Bit of Product Details
Enhance your product descriptions and increase customer trust with the Food Stuffs theme's ability to add multiple high-quality images and videos. Provide your customers with all the necessary details they need to make an informed purchasing decision. With this feature, you can showcase the quality of your products and boost your conversion rate.
Ensure Your Customer Get What

They Are Looking For
Advanced filtering and search capabilities are essential components of a successful eCommerce store's foundation. With the ability to add product features and categorize them, your audience can easily find what they need. The Food Stuffs theme provides a clear navigation system that allows your customers to explore your store's offerings effortlessly.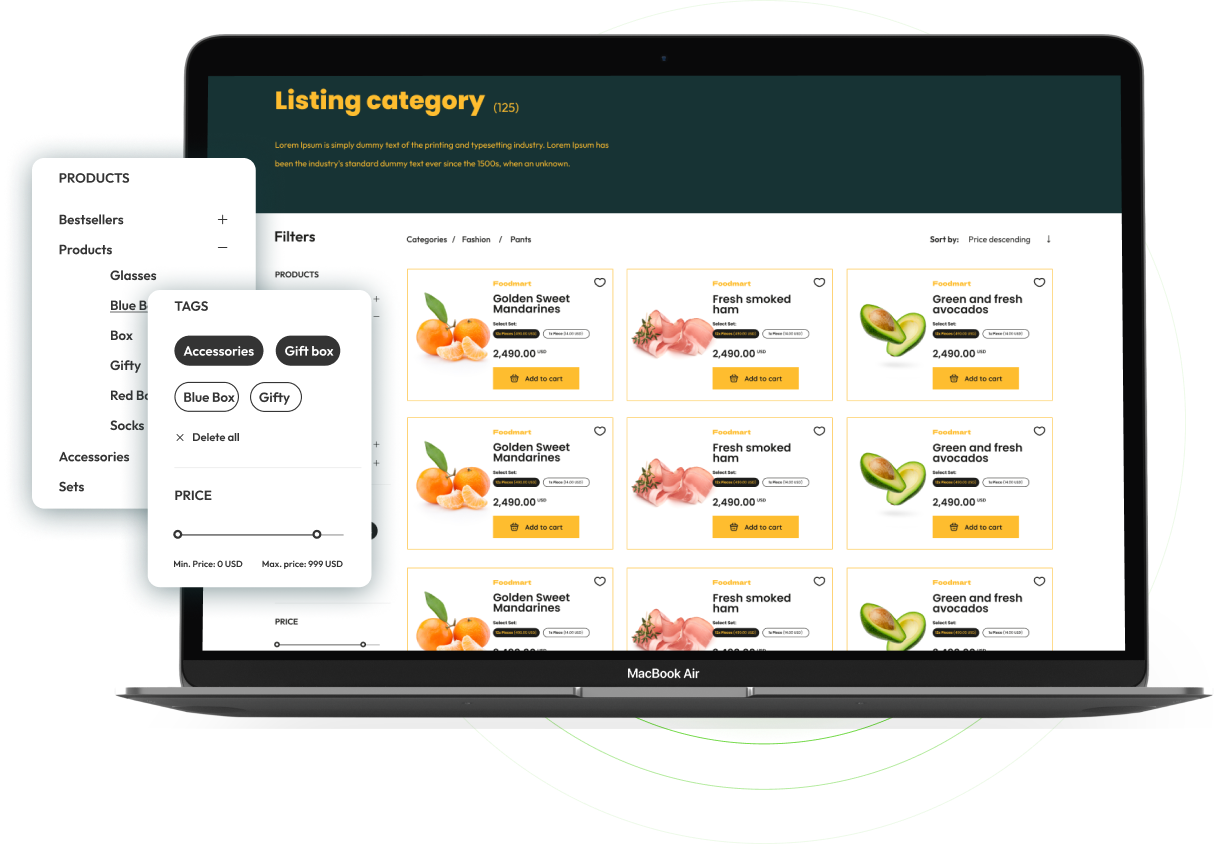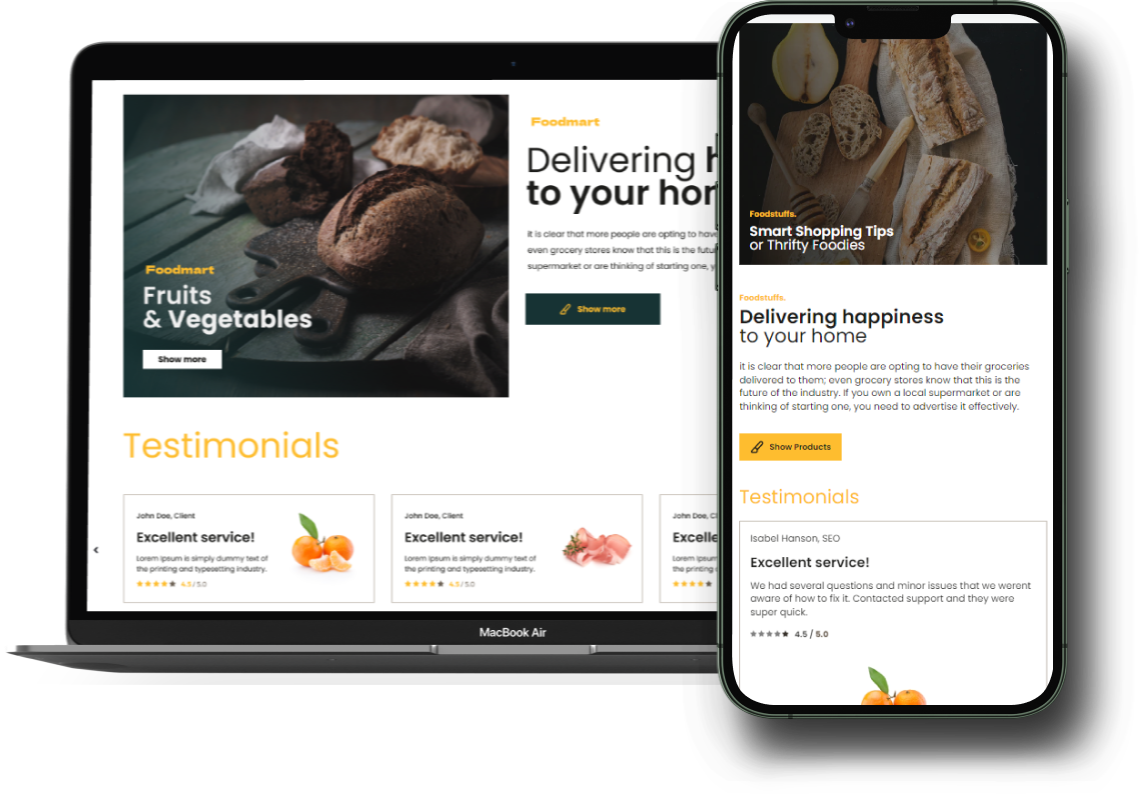 Provide Your Customers An
Exceptional Shopping Experience
This theme ensures a seamless and delightful shopping experience for your customers, allowing you to create a responsive and fast online store that performs exceptionally well on all modern mobile devices. Empower your customers to shop on the go and make purchases from anywhere, on any device. Whether they access your store through a desktop, tablet, or smartphone, your customers will enjoy a seamless and hassle-free shopping experience.
Let people buy your products wherever they are, no matter how they choose to visit your store.
"This theme goes beyond just creating an eCommerce store. It helps you build a brand that resonates with your audience. Build a lasting relationship with your customers and keep them coming back for more.
The Buyer Has Access

to Numerous
Stores Just A Click Away

This theme gives them a good reason to opt for yours.
Product Wishlists
Encourage repeat purchases by allowing your audience to create personalized product lists. Use this data to inspire their future purchases and increase your revenue.
Product Filters
Utilize dynamic product filtering to assist your audience in locating the products they require.
Intuitive Graphics
Enhance your sales with the power of videos. Elevate your product gallery from static images to high-resolution videos. Connect them to your product pages and offer your audience an engaging and interactive shopping experience.
Smart Page Layout
Make it easy for customers to shop at your store by ensuring that every product page showcases all the details that can help them make an informed purchasing decision.
Receptive Design
Assure your audience a hassle-free shopping experience with a fully optimized theme thoroughly tested to function on all modern mobile devices.
Super-fast Configuration
Our Food Stuffs theme is optimized for speed to provide a seamless user experience, which in turn helps to increase conversion rates.
Foolproof Code
Before making our themes publicly available, we thoroughly test them to ensure their integrity and security. We also regularly release theme updates to our customers to ensure the safety and privacy of their data.
Get All the Essential eCommerce

Features in A Single Powerful Theme To Kickstart Your Online Store

Here are the various looks or versions of the theme available for you to explore.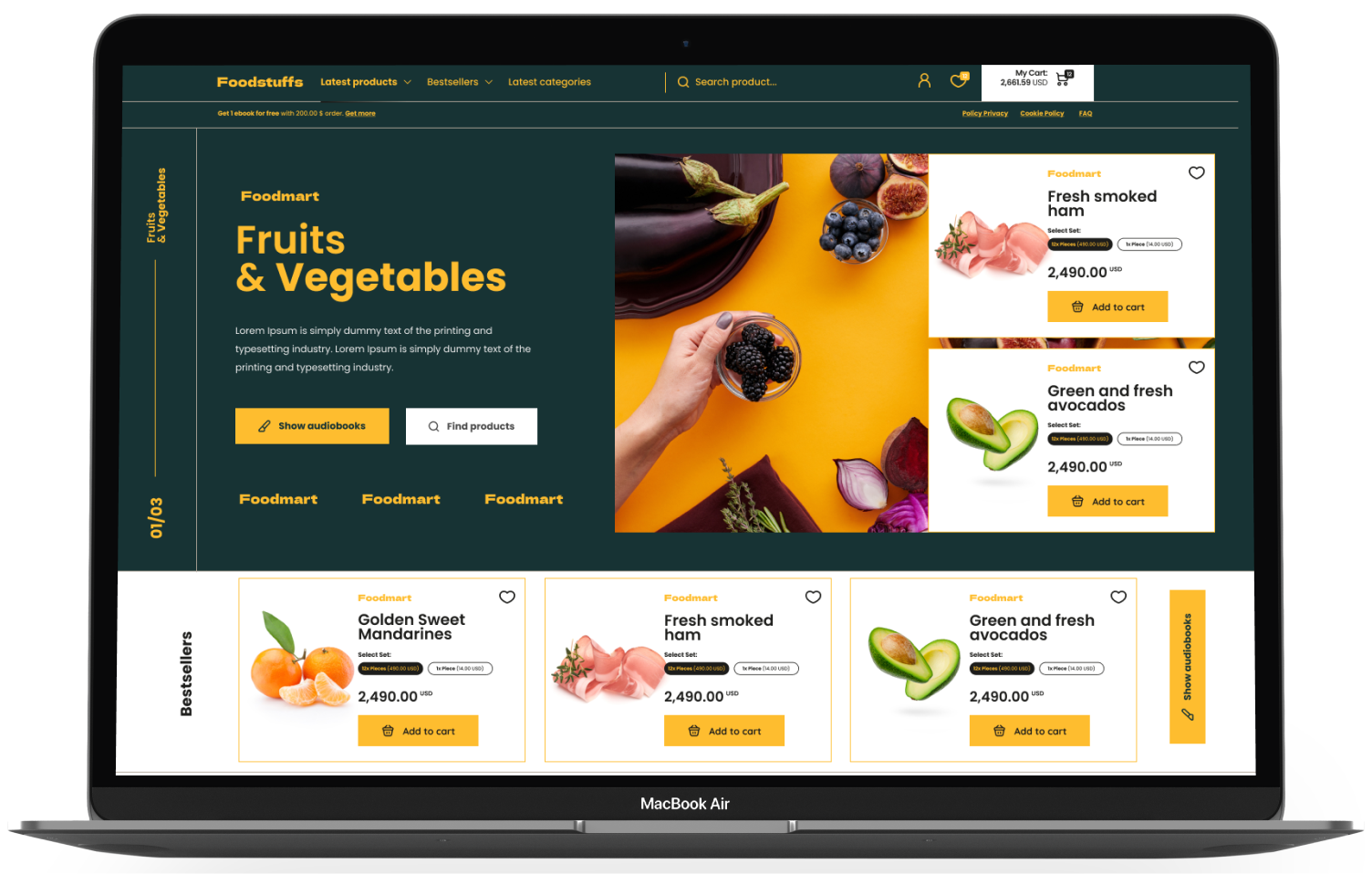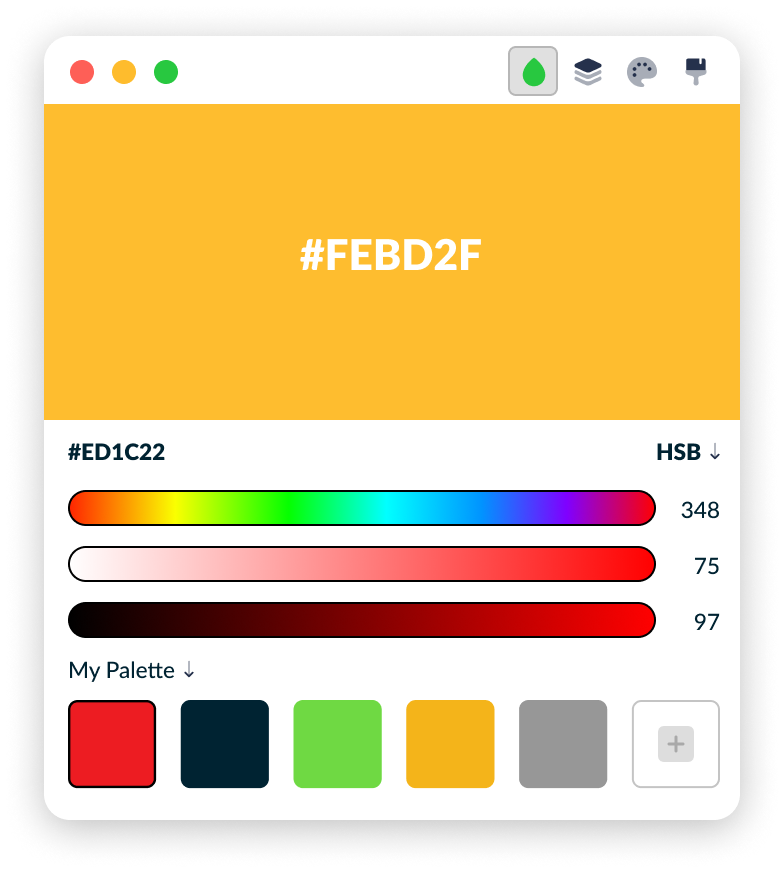 Created By Professionals

With Extensive
Experience In eCommerce.

Years of eCommerce expertise transmuted into code.
Have All the Features To Boost Your Sales
Our extensive experience in eCommerce operations has equipped us with the skills to develop themes that offer all the necessary features for a successful online store.
A Theme That Converts
With extensive experience in the industry, we've gained a deep understanding of the ins and outs of eCommerce businesses. While we can't offer to create product images for you, we can provide a theme designed to boost conversions. We've got you covered whether you're looking for speed, product page optimization, or an attractive layout.
Carefully Tailored For Your Niche
While numerous eCommerce themes are available, not all can guarantee a successful store. What you need is a theme customized to your specific needs, and that's precisely what we offer. Our theme comes with everything you need and more to create a thriving eCommerce store.
Hassle-Free Incorporations
The success of a theme heavily relies on the integration of third-party tools. This theme ensures seamless integration with popular eCommerce applications, including autoresponders and payment gateways, to provide the convenience of adding integrations without hassle.
Looking For More

Than Just a Theme ?

Why not try your hand at a pre-made eCommerce store primed for selling?
A Food-Centric Theme
Benefit from a responsive and high-speed eCommerce theme that boosts sales. The Food Stuffs theme is customized to align with the latest trends in the food industry, catering to everything from attracting to retaining customers. Get all the features you need for a successful online store.
Product-Friendly Design
Begin your eCommerce journey with a modern online store that instills trust and confidence in your audience. Utilize the exceptional features of this theme to establish a dependable brand right from the start.
Begin Boosting Sales
Launching an online store can be a time-intensive process, but not anymore! Acquire our eCommerce package and commence your sales today.
Questions and Answers
Frequently Asked Questions