Developed to Boost
the Revenue
Get this Flowers to offer an unparalleled online store to your customers every time they visit you.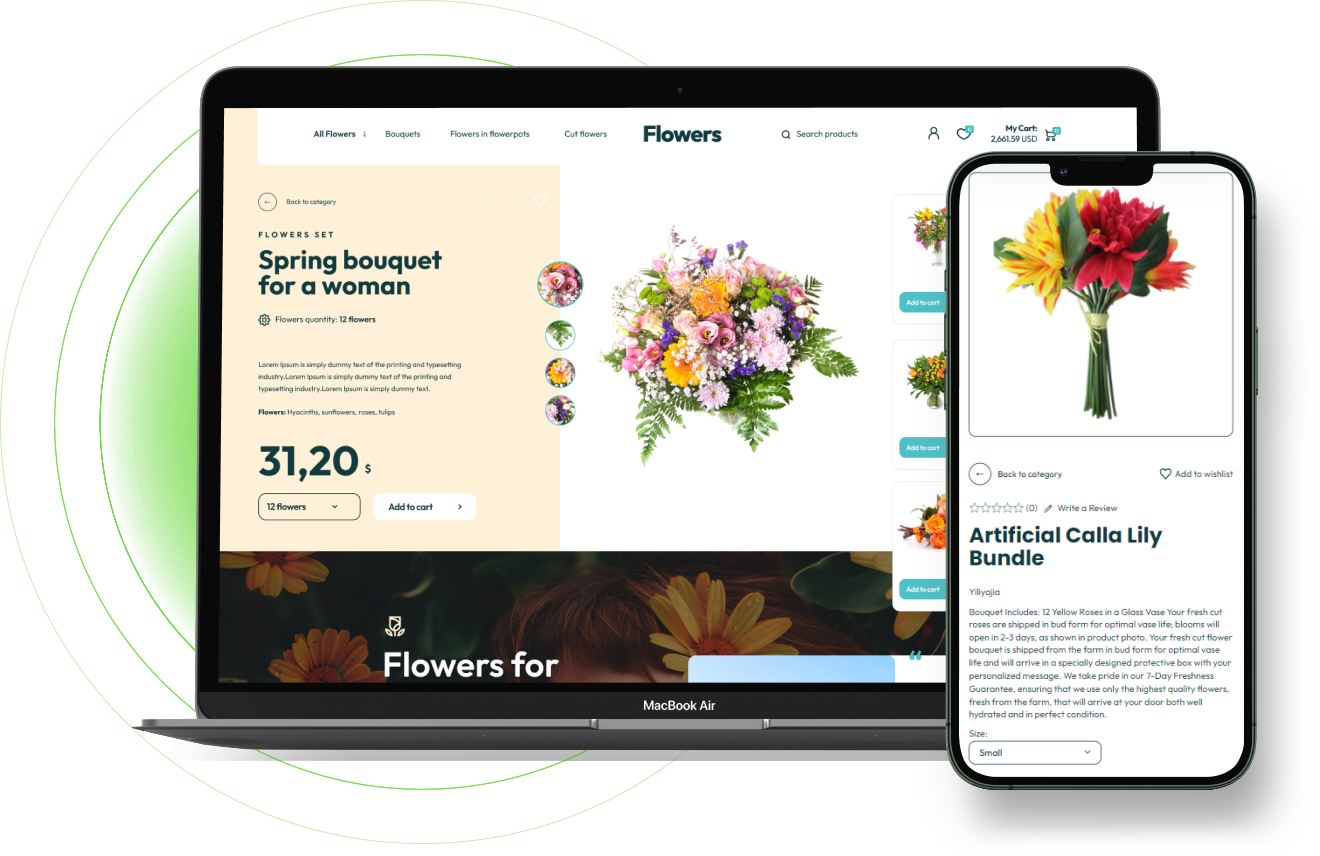 Flowers allows you to add videos and images of your products so customers can make informed decisions. Adding videos and images would not only engage the visitors but also adds credibility to your brand.
Quick and Easy

Navigation
Visitors can be impatient at times, and a complicated theme would reduce the chances of purchase. Flowers has advanced filtering functionality that helps customers access their desired products seamlessly.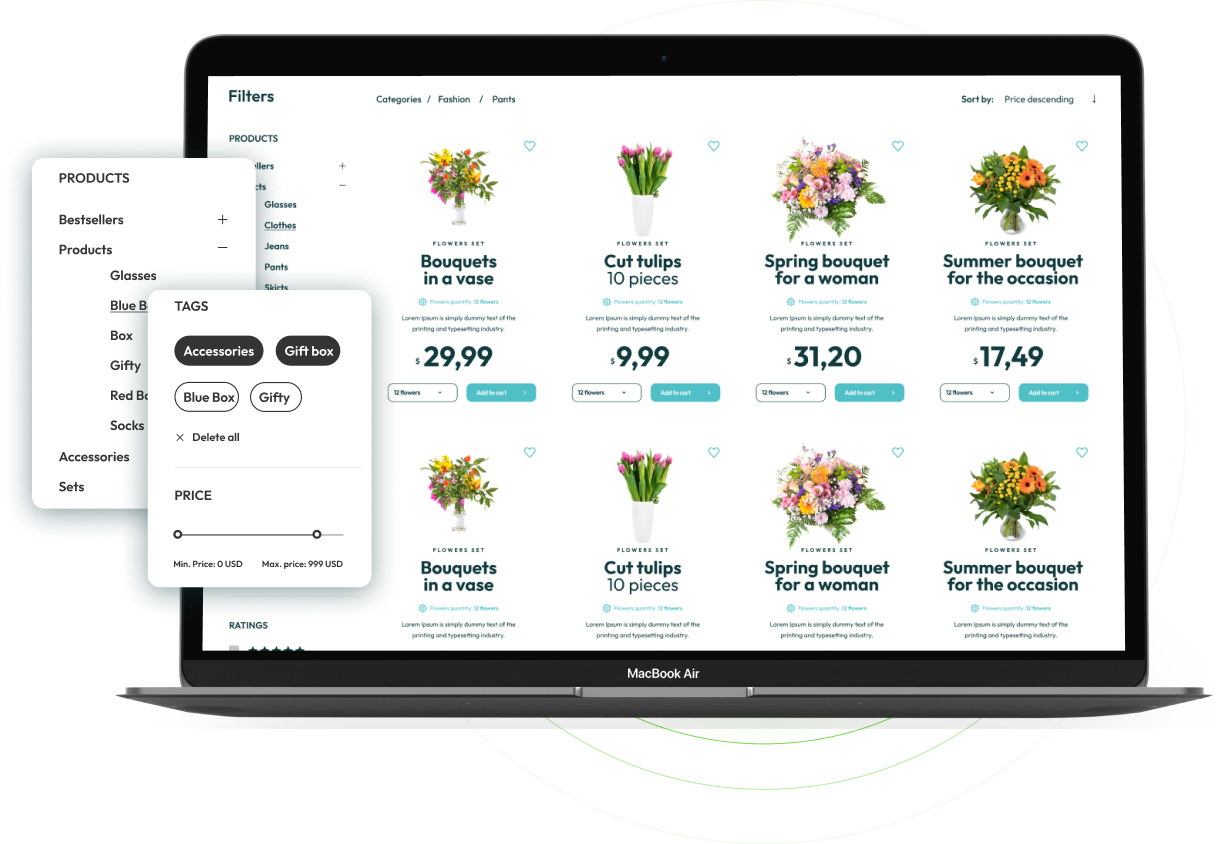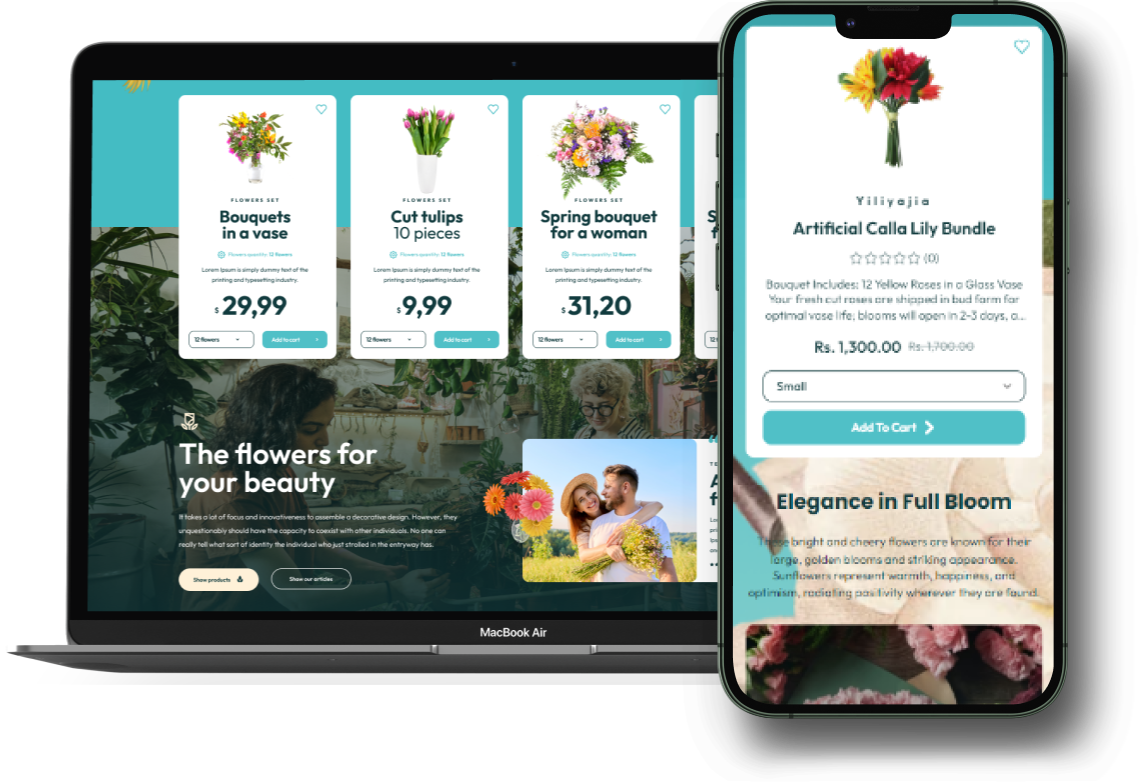 Impeccable User

Experience
With a user-friendly interface and niche-specific design, Flowers makes the entire shopping experience a breeze for your customers. It ensures that your customers always find a reason to return for more shopping.
The Flowers allows you to grow a business beyond a simple online store. With all essential features and key functionalities, it helps you create a brand that your customers can trust over the years..
Ensures that Your Visitors


Would Choose You

With the availability of so many online stores out there, you must give your customers enough reasons to buy from you only.
This theme ensures that your visitors become loyal customers over the years.
Personal Wishlist
Wishlist feature allows your customers to add their desired products and save them for a later purchase, so they will always come back for more.
Advanced Filtering
Filters like price, color, and size makes accessing the desired product more convenient. It helps find the required product within a few seconds.
Video Gallery
Adding videos and images of your products is always a good idea. Your customers would get to know more about the product and make an informed decision.
Appealing Product Pages
A user-friendly interface with clear navigation makes the shopping experience a breeze. Flowers helps influence the buying decision of your customers to a great extent.
Responsive And Reliable
Mobile eCommerce is booming these days. Flowers is developed by a team of experts tested rigorously to ensure it would work all right on all platforms.
Speed-Optimized
Flowers is fast and responsive, so your customers don't have to wait for web loading and get the desired product instantly.
High-end Security
You would not want to risk the private details of your loyal customers. The Flower theme has a secure code regularly updated with advanced security features to provide a reliable shopping platform for your visitors.
A Dynamic And Powerful Theme

for Your Online
Business Includes All Key Features

Pick out one of your favorites from several design variations so your website can stand out.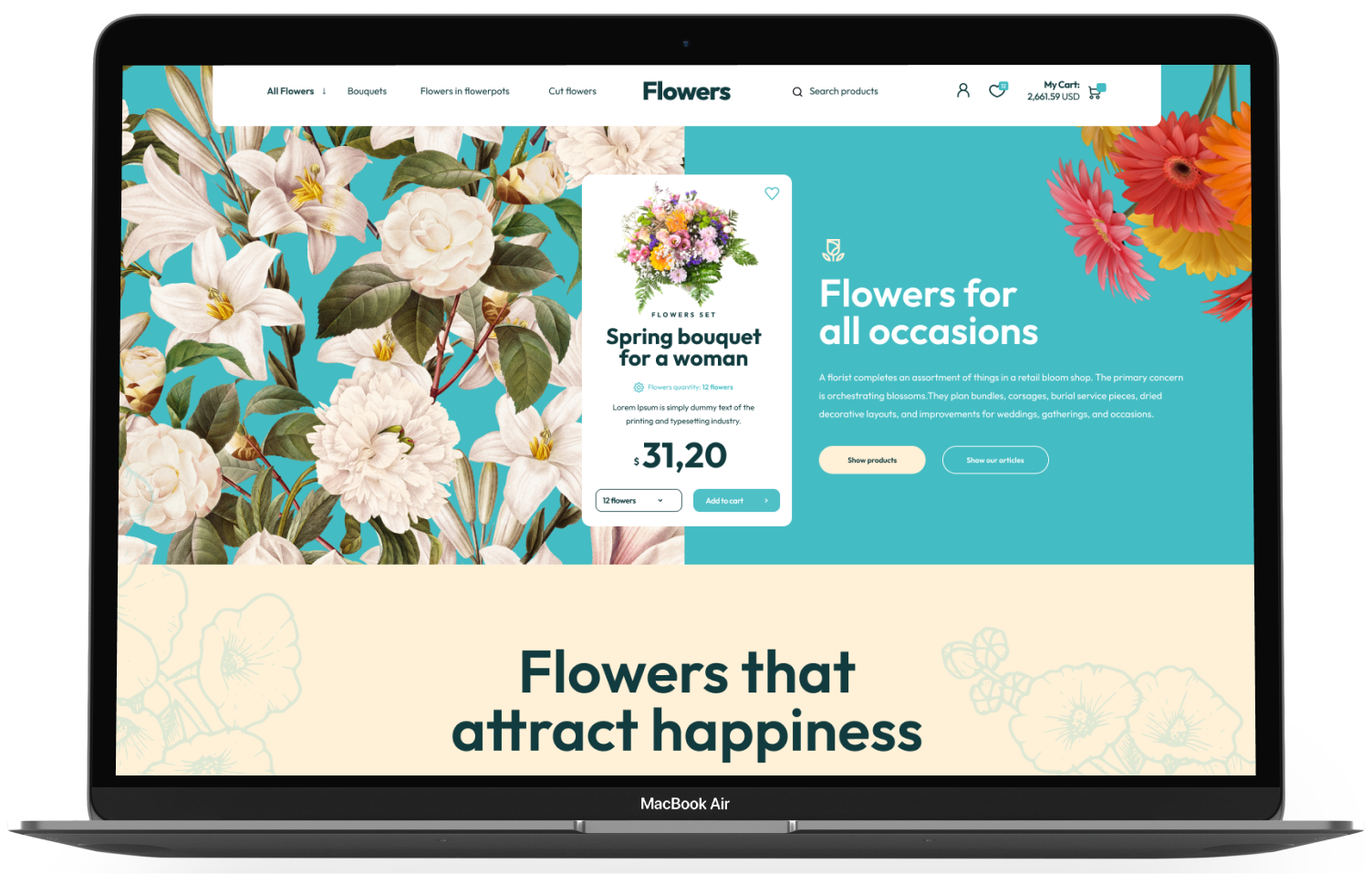 Developed

By An Experienced
eCommerce Team

We have a dedicated team of eCommerce experts behind this theme.
All In One Theme
Flowers comes with all significant features to run an online business instantly. All you need is to install it and add products, and you are good to go.
Increase Conversions
Our experts know what works and doesn't for your online store. Developed with a nice design and important features, the flower theme is meant to spike your conversion rates.
Niche-Specific
Picking a niche-specific theme helps engage the customers, thereby increasing the chances of your sales. Flowers gives the right platform to shop for high-quality products.
Integration-Ready
Flowers allows quick and easy integrations so you can provide a user-friendly platform to the customers. It allows you to integrate various gateways, newsletter opt-ins, and popular apps.
Need Something More

Sophisticated
Than A Flowers ?

Get a successful selling platform with excellent functionality to boost the revenue.
A Theme Designed to Spike Sales
Targeting your potential audience is the key to boom your sales. Flowers is fast and user-friendly to offer an unforgettable shopping experience to customers.
Brand-Friendly Design
With a polished design and modern touch, Flowers provides a solid business foundation for your online store.
A Head Start to Your Business
Creating a business store takes much effort. Leave the hassle of development, inventory, and marketing to us, and just focus on your idea to establish your brand.
Questions and Answers
Frequently Asked Questions