Bikes That Facilitate
in Sales
Every theme is built with experience, so our Bikes look not only good but also provide you
with the features you necessitate to grow your eCommerce business.
Allow Visitors to Examine Every
Detail of Your Product
Addition of as many product images and high-quality videos as possible for each product will bring more audience. Give your audience the information they need to make a purchasing decision. Increase your conversion rate by demonstrating credibility and trust.
Make Navigation
Easy
One clear-cut fact is that every profitable online store is built on clear steering. Your audience can easily find what they need thanks to advanced filtering and search by adding product features, characterising them, and allowing your audience to immerse themselves in your store's offerings. This brings a more positive impact on sales.
Provide an Incomparable User

Experience to Your Audience
Your target audience expects you to make the entire shopping experience pleasurable. This theme will assist you in creating a responsive, fast store that will look great on all modern mobile devices. This way, you can allow people to buy your products no matter where they are or how they choose to visit your store.
Let people buy your products wherever they are, no matter how they choose to visit your store.
You create an ideal brand that your target audience can become devoted to, proving it's not just about making an online store with Bikes. Allowing the audience to develop a relationship with you and watching them return for more products, who wouldn't want that?
Your Target Audience Has Access to Dozens


of Stores with The Click of a Mouse Button

You can give them many reasons to choose yours with Bikes.
Product Wishlists
Give your audience an experience that makes them want to return! Allow them to create personalized shopping lists of products they want to purchase. Use the data to entice them to return and purchase, and your revenue will skyrocket.
Interactive Filtering
Smart sellers know using smart product filters to help visitors find the exact product they're looking for is a high move. Product availability, price, colour, size, product type, and brand are examples of sample filters that can enable more engagement.
Video Galleries
Videos are popular. Utilizing them for your online store is not a bad idea, as you can increase your conversion rate by going beyond product images. Connect them directly in the product gallery and combine them with images to make the entire experience more interactive.
Interactive Product Pages
Simplify shopping at your store! Every product page is designed so that all key details are easily visible and reachable. This, in turn, aids your visitors in making a purchasing decision.
Design for Responsiveness
Mobile commerce now accounts for nearly half of all online sales. Allow your customers a pleasant shopping experience regardless of the device they use to access your store. To assist you, we tested the theme on various modern mobile devices.
Speed-Optimized
Speed is critical for user experience and SEO. It is an important ranking factor that significantly impacts your conversion rate. As a result, we keep the code of every theme we create clean and speed-optimized.
Safe Code
Before releasing a theme to the public, we thoroughly test its code for integrity and security. We also release theme updates regularly, which often include new security features. This ensures that your store and its customers (and their data) are always secure.
All of the Important

eCommerce
Features in One Strong Theme

You can see the Bikes' multiple aspects.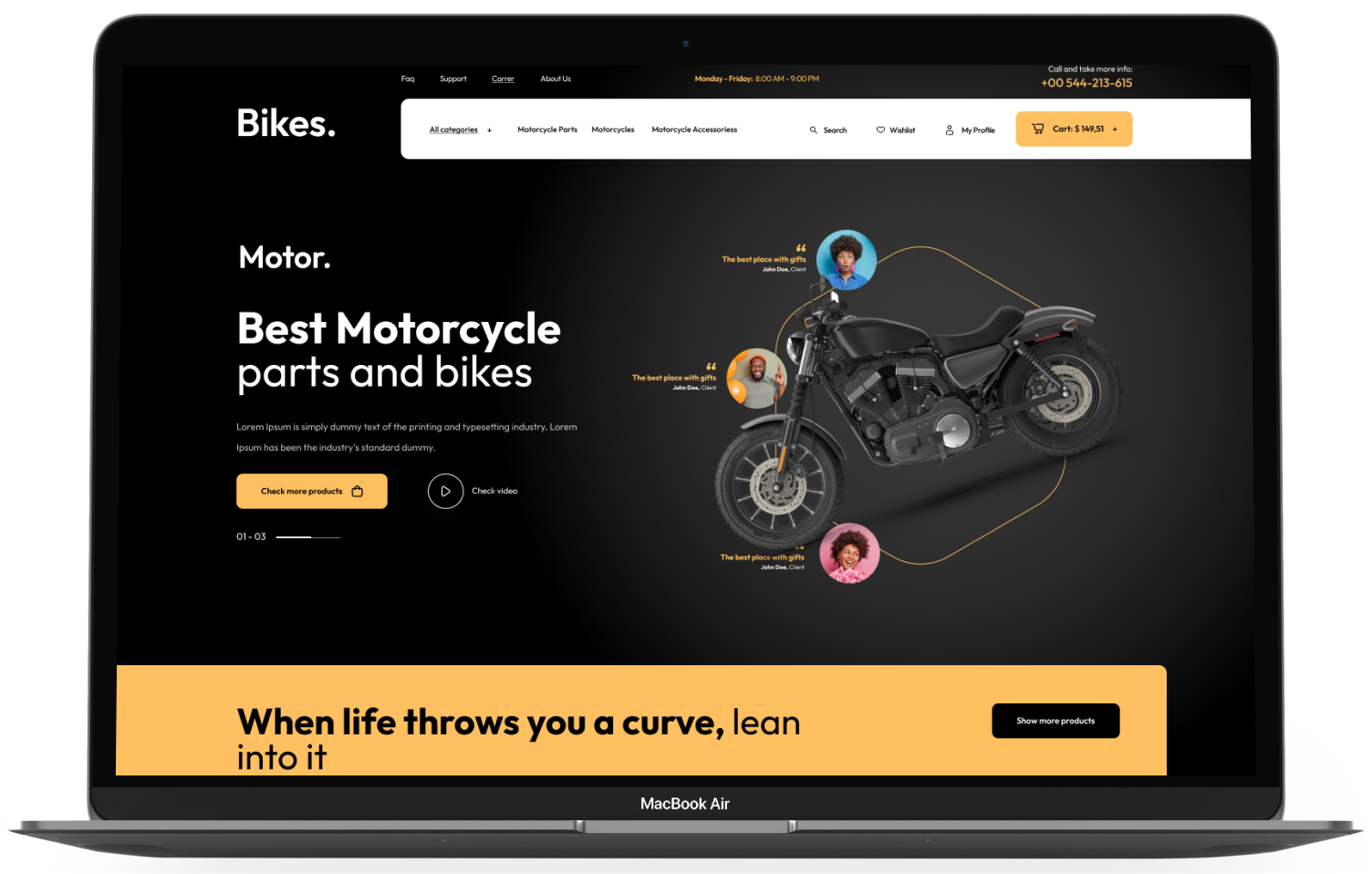 Built

by eCommerce Professionals

Years of eCommerce experience coded.
Get Everything You Need to Sell on the Internet
Some of our team members have extensive experience running and growing eCommerce businesses. As a result, we were able to create a theme that includes all of the features required to build and run a successful online store.
A Convertible Theme
Years spent in the industry have taught us what works and what doesn't. While creating product images may not be feasible, we can provide you with a conversion-optimised theme. This includes things like speed, product page elements, and layout.
Designed for Your Specific Market.
There are numerous eCommerce themes available. However, you'll need a theme designed specifically for your niche or industry to build a truly successful store. You get everything you need to start a successful online Bikes business with our Bikes theme.
Adding Integrations is Simple
A theme is only the starting point, and there's always more ahead. You should integrate your eCommerce store with third-party tools to get the most out of it. Bikes integrate easily with dozens of popular eCommerce apps. Leading autoresponders and payment gateways are examples of these.
Do You Require

More Than a Theme ?

Get a complete eCommerce store that is ready to sell right away.
A Bikes-Related Theme
Get a fast, responsive eCommerce theme to help you sell your products. Bike is a modern theme designed with the Bikes industry in mind. The theme includes everything you need to attract and retain customers.
Brand-Friendly Design
Get a modern eCommerce store that your audience will feel comfortable purchasing from. Use all of the great features that the Bikes theme has to offer to start building a recognizable, trustworthy brand right away.
Begin Selling Sooner
Don't squander any time setting up the store. Our eCommerce package includes a fully functional store that is ready to sell. All of this in a matter of days rather than months!
Questions and Answers
Frequently Asked Questions